Comprehensive phylogenomics and molecular dating support a Triassic origin for flowering plants that is substantially earlier than their appearance in the fossil record, leaving a puzzling gap spanning the entire Jurassic period.
Access options
Subscribe to Journal
Get full journal access for 1 year
$119.00
only $9.92 per issue
All prices are NET prices.
VAT will be added later in the checkout.
Tax calculation will be finalised during checkout.
Rent or Buy article
Get time limited or full article access on ReadCube.
from$8.99
All prices are NET prices.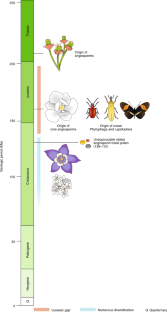 References
1.

Friedman, W. E. Am. J. Bot. 96, 5–21 (2009).

2.

Zeng, L. et al. Nat. Commun. 5, 4956 (2014).

3.

Li, H.-T. et al. Nat. Plants https://doi.org/10.1038/s41477-019-0421-0 (2019).

4.

Wickett, N. J. et al. Proc. Natl Acad. Sci. USA 111, E4859–E4868 (2014).

5.

Misof, B. et al. Science 346, 763–767 (2014).

6.

McKenna, D. D. et al. Syst. Entomol. 40, 835–880 (2015).

7.

Farrell, B. D. Science 24, 555–559 (1998).

8.

Beaulieu, J. M., O'Meara, B. C., Crane, P. & Donoghue, M. J. Syst. Biol. 64, 869–878 (2015).

9.

Johnson, M. et al. Syst. Biol. 0, 1–13 (2018).

10.

Li, Z. et al. Sci. Adv. 1, e1501084 (2015).
Ethics declarations
Competing interests
The author declares no competing interests.
About this article
Cite this article
Mandel, J.R. A Jurassic leap for flowering plants. Nat. Plants 5, 455–456 (2019). https://doi.org/10.1038/s41477-019-0423-y