Optimal plant growth requires an appropriate balance of mineral nutrients. A novel mechanism involving the physical interaction between nitrate and phosphate sensors in rice provides a regulatory framework for balanced acquisition and utilization of these nutrients.
Access options
Subscribe to Journal
Get full journal access for 1 year
$65.00
only $5.42 per issue
All prices are NET prices.
VAT will be added later in the checkout.
Rent or Buy article
Get time limited or full article access on ReadCube.
from$8.99
All prices are NET prices.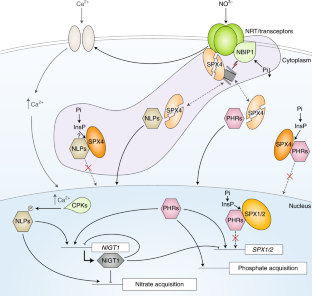 References
1.

Marschner, H. Mineral Nutrition of Higher Plants 2nd edn (Acad. Press, 1995).

2.

Wang, Y. Y., Cheng, Y. H., Chen, K. E. & Tsay, Y. F. Annu. Rev. Plant. Biol. 69, 85–122 (2018).

3.

Puga, M. I. et al. Curr. Opin. Plant Biol. 39, 40–49 (2017).

4.

Elser, J. J. et al. Ecol. Lett. 10, 1135–1142 (2007).

5.

Hu, B. et al. Nat. Plants https://doi.org/10.1038/s41477-019-0384-1 (2019).

6.

Liu, K. H. et al. Nature 545, 311–316 (2017).

7.

Riveras, E. et al. Plant Physiol. 169, 1397–1404 (2015).

8.

Maeda, Y. et al. Nat. Commun. 9, 1376 (2018).

9.

Kiba, T. et al. Plant Cell 30, 925–945 (2018).

10.

Bouguyon, E. et al. Nat. Plants 1, 15015 (2015).
Ethics declarations
Competing interests
The authors declare no competing interests.
About this article
Cite this article
Poza-Carrión, C., Paz-Ares, J. When nitrate and phosphate sensors meet. Nat. Plants 5, 339–340 (2019). https://doi.org/10.1038/s41477-019-0403-2