Abstract
Meristem fate is regulated by trehalose 6-phosphate phosphatases (TPPs), but their mechanism of action remains mysterious. Loss of the maize TPPs RAMOSA3 and TPP4 leads to reduced meristem determinacy and more inflorescence branching. However, analysis of an allelic series revealed no correlation between enzymatic activity and branching, and a catalytically inactive version of RA3 complements the ra3 mutant. Together with their nuclear localization, these findings suggest a moonlighting function for TPPs.
Your institute does not have access to this article
Relevant articles
Open Access articles citing this article.
Linying Du

,

Shumin Li

…

Hude Mao

BMC Plant Biology Open Access 16 March 2022

Kumar Gaurav

,

Sanu Arora

…

Brande B. H. Wulff

Nature Biotechnology Open Access 01 November 2021

Yang Zhu

,

Samantha Klasfeld

…

Doris Wagner

Nature Communications Open Access 12 October 2020
Access options
Subscribe to Nature+
Get immediate online access to the entire Nature family of 50+ journals
Subscribe to Journal
Get full journal access for 1 year
$119.00
only $9.92 per issue
All prices are NET prices.
VAT will be added later in the checkout.
Tax calculation will be finalised during checkout.
Buy article
Get time limited or full article access on ReadCube.
$32.00
All prices are NET prices.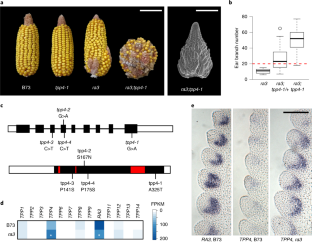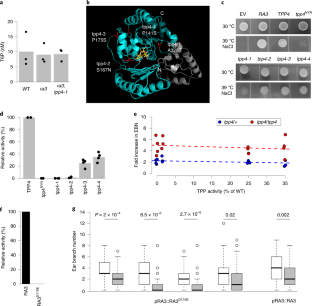 Data availability
The data that support the findings of this study are available from the corresponding author on request.
References
Tanaka, W., Pautler, M., Jackson, D. & Hirano, H.-Y. Plant Cell Physiol. 54, 313–324 (2013).

van Dijken, A. J. H., Schluepmann, H. & Smeekens, S. C. M. Plant Physiol. 135, 969–977 (2004).

Satoh-Nagasawa, N., Nagasawa, N., Malcomber, S., Sakai, H. & Jackson, D. Nature 441, 227–230 (2006).

Figueroa, C. M. & Lunn, J. E. Plant Physiol. 172, 7–27 (2016).

Nunes, C. et al. Plant Physiol. 162, 1720–1732 (2013).

Figueroa, C. M. et al. Plant J. 85, 410–423 (2016).

Nuccio, M. L. et al. Nat. Biotechnol. 33, 862–869 (2015).

Griffiths, C. A. et al. Nature 540, 574–578 (2016).

Eveland, A. L. et al. Genome Res. 24, 431–443 (2014).

Kafri, R., Levy, M. & Pilpel, Y. Proc. Natl Acad. Sci. USA 103, 11653–11658 (2006).

De Virgilio, C. et al. Eur. J. Biochem. 212, 315–323 (1993).

Vandesteene, L. et al. Plant Physiol. 160, 884–896 (2012).

Kretzschmar, T. et al. Nat. Plants 1, 15124 (2015).

Copley, S. D. Bioessays 34, 578–588 (2012).

Cho, Y.-H., Yoo, S. D. & Sheen, J. Cell 127, 579–589 (2006).

Cho, Y.-H. & Yoo, S.-D. PLoS Genet. 7, e1001263 (2011).

Spector, D. L. & Lamond, A. I. Cold Spring Harb. Perspect. Biol. 3, a000646 (2011).

Brown, P. J. et al. PLoS Genet. 7, e1002383 (2011).

Hufford, M. B. et al. Nat. Genet. 44, 808–811 (2012).

Freeling, M. & Walbot, V. The Maize Handbook (Springer, 1994).

Li, H. Preprint at https://arxiv.org/abs/1303.3997 (2013).

McKenna, A. et al. Genome Res. 20, 1297–1303 (2010).

Lei, Y. et al. Mol. Plant 7, 1494–1496 (2014).

Wu, Q., Regan, M., Furukawa, H. & Jackson, D. PLoS Genet. 14, e1007374 (2018).

Char, S. N. et al. Plant Biotechnol. J. 15, 257–268 (2017).

Kim, D., Langmead, B. & Salzberg, S. L. Nat. Methods 12, 357–360 (2015).

Anders, S., Pyl, P. T. & Huber, W. Bioinformatics 31, 166–169 (2015).

Robinson, M. D., McCarthy, D. J. & Smyth, G. K. Bioinformatics 26, 139–140 (2010).

Zhou, M.-L. et al. J. Plant Growth Regul. 33, 256–271 (2014).

Jackson, D., Veit, B. & Hake, S. Development 120, 405–413 (1994).

Kelley, L. A., Mezulis, S., Yates, C. M., Wass, M. N. & Sternberg, M. J. E. Nat. Protoc. 10, 845–858 (2015).

Shan, S., Min, H., Liu, T., Jiang, D. & Rao, Z. FASEB J. 30, 3989–3996 (2016).

Miao, Y. et al. Proc. Natl Acad. Sci. USA 113, 7148–7153 (2016).

Miao, Y. et al. mBio 8, e00643-17 (2017).

Asención Diez, M. D. et al. J. Biol. Chem. 292, 945–954 (2017).

Karimi, M., Inzé, D. & Depicker, A. Trends Plant Sci. 7, 193–195 (2002).

Xu, F., Copeland, C. & Li, X. Bio-protocol 5, e1520 (2015).

Voinnet, O., Rivas, S., Mestre, P. & Baulcombe, D. Plant J. 33, 949–956 (2003).

Smith, L. G., Greene, B., Veit, B. & Hake, S. Development 116, 21–30 (1992).

Turner, B. M. & Franchi, L. J. Cell Sci. 87, 269–282 (1987).

Fang, Y., Hearn, S. & Spector, D. L. Mol. Biol. Cell 15, 2664–2673 (2004).
Acknowledgements
We thank P. Van Dijck for sharing the pYX212 vector, K. Rao for discussion of RA3 protein structure, T. Mulligan for plant care, and S. Pouzet, G. Carver and all other Jackson lab summer students for their enthusiastic involvement in some of this work. This work was supported by funding from the National Science Foundation (IOS-1238202 and IOS-1755141), a collaborative agreement with Dupont Pioneer, the European Molecular Biology Organization (Long-Term Fellowship to H.C.) and the Vietnam National Foundation for Science and Technology Development (under grant number 106-NN.01-2014.48 to S.L.V.). The metabolite analysis was supported by the Max Planck Society (R.F. and J.E.L.).
Ethics declarations
Competing interests
The authors declare no competing interests.
Additional information
Journal peer review information: Nature Plants thanks Yuling Jiao and other anonymous reviewer(s) for their contribution to the peer review of this work.
Publisher's note: Springer Nature remains neutral with regard to jurisdictional claims in published maps and institutional affiliations.
Supplementary information
Supplementary Figures 1–7.
About this article
Cite this article
Claeys, H., Vi, S.L., Xu, X. et al. Control of meristem determinacy by trehalose 6-phosphate phosphatases is uncoupled from enzymatic activity. Nat. Plants 5, 352–357 (2019). https://doi.org/10.1038/s41477-019-0394-z
Received:

Accepted:

Published:

Issue Date:

DOI: https://doi.org/10.1038/s41477-019-0394-z