Abstract
The African baobab is the biggest and longest-living angiosperm tree. By using radiocarbon dating we identified the stable architectures that enable baobabs to reach large sizes and great ages. We report that 9 of the 13 oldest and 5 of the 6 largest individuals have died, or at least their oldest parts/stems have collapsed and died, over the past 12 years; the cause of the mortalities is still unclear.
This is a preview of subscription content
Access options
Subscribe to Journal
Get full journal access for 1 year
$119.00
only $9.92 per issue
All prices are NET prices.
VAT will be added later in the checkout.
Tax calculation will be finalised during checkout.
Rent or Buy article
Get time limited or full article access on ReadCube.
from$8.99
All prices are NET prices.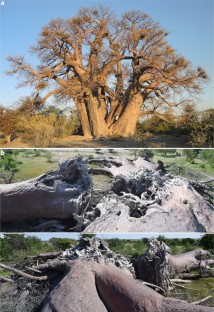 References
1.

Wickens, G. E. & Lowe, P. The Baobabs: Pachycauls of Africa, Madagascar and Australia (Springer, Dordrecht, 2008).

2.

Wickens, G. E. Kew Bull. 47, 173–209 (1983).

3.

Baum, D. A. Ann. Mo. Bot. Gard. 82, 440–471 (1995).

4.

Patrut, A. et al. Ann. For. Sci. 68, 993–1003 (2011).

5.

Patrut, A., von Reden, K. F., Mayne, D. H., Lowy, D. A. & Patrut, R. T. Nucl. Instrum. Methods Phys. Rev. B 294, 622–626 (2013).

6.

Patrut, A. et al. PLoS ONE 10, e0117193 (2015).

7.

Patrut, A. et al. Radiocarbon 59, 435–448 (2017).

8.

Patrut, A. et al. Tree Physiol. 27, 1569–1574 (2007).

9.

Alexander, J., McGregor, J. A. & Ranger, T. Violence & Memory, One Hundred Years in the 'Dark Forests' of Matabeleland (Currey, Oxford, 2000).

10.

Mullin, L. J. Historic Trees of Zimbabwe (CBC, Bath, 2003).

11.

Patrut, A. et al. Radiocarbon 52, 717–726 (2010).

12.

Engelbrecht, F. et al. Environ. Res. Lett. 10, 085004 (2015).

13.

Bronk Ramsey, C. et al. Radiocarbon 51, 337–360 (2009).

14.

Hogg, A. G. et al. Radiocarbon 55, 1889–1903 (2013).
Acknowledgements
The investigation and collection of samples from the trees was approved and authorised by the South African National Parks, the Kruger National Park, the Mapungubwe National Park, the Ministry of Environment and Tourism of Namibia and the Department of Wildlife and National Parks of Botswana, the South Luangwa National Park. We thank H. and D. van Heerden, P. Philips and J. Chidgey, C. and Y. Liversage, L. Duplessis and R. and A. Whittall for granting permission for on-site investigation of baobabs located on their private lands. We also thank D.H. Mayne, M. Hofmeyr, S. Venter, A. Alberts, R. Wittmann, D. Dube and O. (Leon) Tsamkgao for helping to obtain permits and for participating at several field investigations. Special thanks go to J. Alexander for providing the photograph of Panke. This research was supported by the Romanian Ministry of National Education CNCS-UEFISCDI under grant PN-II-ID-PCE-2013-76 and by the Romanian Ministry of Research and Innovation CNCS-UEFISCDI under grant PN-III-P4-ID-PCE-2016-0776, no. 90/2017.
Ethics declarations
Competing interests
The authors declare no competing interests.
Additional information
Publisher's note: Springer Nature remains neutral with regard to jurisdictional claims in published maps and institutional affiliations.
Supplementary information
Supplementary Figs. 1–3, Supplementary Tables 1 and 2
About this article
Cite this article
Patrut, A., Woodborne, S., Patrut, R.T. et al. The demise of the largest and oldest African baobabs. Nature Plants 4, 423–426 (2018). https://doi.org/10.1038/s41477-018-0170-5
Received:

Accepted:

Published:

Issue Date:
Further reading
Nature Plants (2021)

Irka Hajdas
Philippa Ascough
Minoru Yoneda

Nature Reviews Methods Primers (2021)

Nature (2018)