Auxin-induced callus formation, known as a type of cell reprogramming, involves several transcription factors that act in lateral root initiation for plant development. Now, a new partnership of transcription factors is identified to reveal the regulatory network of auxin-induced cell reprogramming.
Access options
Subscribe to Journal
Get full journal access for 1 year
$59.00
only $4.92 per issue
All prices are NET prices.
VAT will be added later in the checkout.
Tax calculation will be finalised during checkout.
Rent or Buy article
Get time limited or full article access on ReadCube.
from$8.99
All prices are NET prices.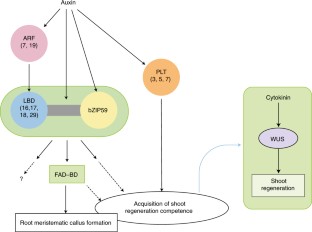 References
1.

Ikeuchi, M., Ogawa, Y., Iwase, A. & Sugimoto, K. Development 143, 1442–1451 (2016).

2.

Fan, M., Xu, C., Xu, K. & Hu, Y. Cell Res. 22, 1169–1180 (2012).

3.

Xu, C. et al. Nat. Plants https://doi.org/10.1038/s41477-017-0095-4 (2018).

4.

Radhakrishnan, D. et al. Curr. Opin. Plant Biol. 41, 23–31 (2018).

5.

Goh, T., Joi, S., Mimura, T. & Fukaki, H. Development 139, 883–893 (2012).

6.

Kareem, A. et al. Curr. Biol. 25, 1017–1030 (2015).

7.

Zhang, T.-Q. et al. Plant Cell 29, 1073–1087 (2017).

8.

Rosspopoff, O. et al. Development 144, 1187–1200 (2017).

9.

Daniel, B. et al. J. Biol. Chem. 290, 18770–18781 (2015).
Ethics declarations
Competing interests
The author declares no competing financial interests.
About this article
Cite this article
Sugiyama, M. Partnership for callusing. Nature Plants 4, 69–70 (2018). https://doi.org/10.1038/s41477-018-0104-2
Further reading
Marion O. Harris

&

Andrea Pitzschke

New Phytologist (2020)