High-throughput chromosome conformation capture studies comparing diploid and polyploid cotton varieties revealed evidence for stereotypical changes in chromatin contacts upon polyploidization.
Access options
Subscribe to Journal
Get full journal access for 1 year
$59.00
only $4.92 per issue
All prices are NET prices.
VAT will be added later in the checkout.
Tax calculation will be finalised during checkout.
Rent or Buy article
Get time limited or full article access on ReadCube.
from$8.99
All prices are NET prices.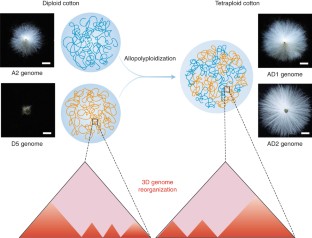 References
1.

Wang, M. et al. Nat. Plants https://doi.org/10.1038/s41477-017-0096-3 (2018).

2.

Pecinka, A. et al. Chromosoma 113, 258–269 (2004).

3.

Lieberman-Aiden, E. et al. Science 326, 289–293 (2009).

4.

Liu, C. et al. Genome Res. 26, 1057–1068 (2016).

5.

Liu, C., Cheng, Y.-J., Wang, J.-W. & Weigel, D. Nat. Plants 3, 742–748 (2017).

6.

Wang, M. et al. Nat. Genet. 49, 579–587 (2017).

7.

Senchina, D. S. et al. Mol. Biol. Evol. 20, 633–643 (2003).

8.

Zhu, W. et al. Genome Biol. 18, 157 (2017).
Ethics declarations
Competing interests
The author declares no competing financial interests.
About this article
Cite this article
Lam, E. Mixing genomes alters nuclear architecture. Nature Plants 4, 65–66 (2018). https://doi.org/10.1038/s41477-018-0103-3