Abstract
The outermost cell layer of plant roots (epidermis) constantly encounters environmental challenges. The epidermal outer plasma membrane domain harbours the PENETRATION3 (PEN3)/ABCG36/PDR8 ATP-binding cassette transporter that confers non-host resistance to several pathogens. Here, we show that the Arabidopsis ENDOPLASMIC RETICULUM-ARRESTED PEN3 (EAP3) BTB/POZ-domain protein specifically mediates PEN3 exit from the endoplasmic reticulum and confers resistance to a root-penetrating fungus, providing prime evidence for BTB/POZ-domain protein-dependent membrane trafficking underlying disease resistance.
Your institute does not have access to this article
Access options
Subscribe to Nature+
Get immediate online access to the entire Nature family of 50+ journals
Subscribe to Journal
Get full journal access for 1 year
$119.00
only $9.92 per issue
All prices are NET prices.
VAT will be added later in the checkout.
Tax calculation will be finalised during checkout.
Buy article
Get time limited or full article access on ReadCube.
$32.00
All prices are NET prices.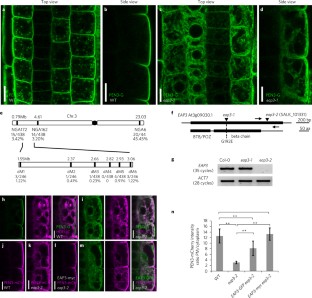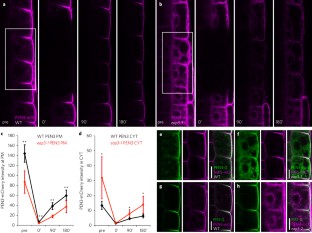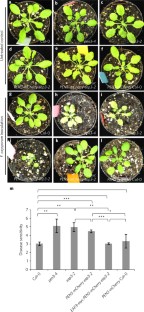 References
Stein, M. et al. Plant Cell 18, 731–746 (2006).

Loehrer, M., Langenbach, C., Goellner, K., Conrath, U. & Schaffrath, U. Mol. Plant Microbe Interact. 21, 1421–1430 (2008).

Underwood, W. & Somerville, S. C. Proc. Natl Acad. Sci. USA 110, 12492–12497 (2013).

Xin, X. F., Nomura, K., Underwood, W. & He, S. Y. Mol. Plant Microbe Interact. 26, 861–867 (2013).

Strader, L. C. & Bartel, B. Plant Cell 21, 1992–2007 (2009).

Łangowski, Ł., Růžička, K., Naramoto, S., Kleine-Vehn, J. & Friml, J. Curr. Biol. 20, 904–908 (2010).

Takano, J. et al. Proc. Natl Acad. Sci. USA 107, 5220–5225 (2010).

Uehara, M. et al. Plant Cell Physiol. 55, 704–714 (2014).

Mao, H., Nakamura, M., Viotti, C. & Grebe, M. Plant Physiol. 172, 2245–2260 (2016).

Underwood, W., Ryan, A. & Somerville, S. C. Mol. Plant 10, 805–820 (2017).

Fendrych, M. et al. Mol. Biol. Cell 24, 510–520 (2013).

Czymmek, K. J. et al. Fungal Genet. Biol. 44, 1011–1023 (2007).

Genschik, P., Sumara, I. & Lechner, E. EMBO J. 32, 2307–2320 (2013).

Dieterle, M. et al. Plant J. 41, 386–399 (2005).

Weber, H. et al. Plant Physiol. 137, 83–93 (2005).

Gingerich, D. J. et al. J. Biol. Chem. 280, 18810–18821 (2005).

Jin, L. et al. Nature 482, 495–500 (2012).

Gorur, A. et al. J. Cell Biol. 216, 1745–1759 (2017).

Dharmasiri, S. et al. Science 312, 1218–1220 (2006).

González, E., Solano, R., Rubio, V., Leyva, A. & Paz-Ares, J. Plant Cell 17, 3500–3512 (2005).
Acknowledgements
We are grateful to D.W. Ehrhardt, J. Friml, N. Geldner, B. Scheres and S.C. Somerville for making available published materials used in this study, as well as to M. Lenhard for critical reading of the manuscript. We thank the Nottingham Arabidopsis Stock Centre for providing seed stocks. This work was supported by ERC consolidator grant ERC-STG-2010 No. 260699 Green-Lat-Pol to M.Gr. and by SNF grant 31003A_165877 to M.Ge.
Ethics declarations
Competing interests
The authors declare no competing financial interests.
Additional information
Publisher's note: Springer Nature remains neutral with regard to jurisdictional claims in published maps and institutional affiliations.
Electronic supplementary material
Supplementary Methods, Supplementary References, Supplementary Tables 1 and 2, Supplementary Figures 1–6, Supplementary Methods
About this article
Cite this article
Mao, H., Aryal, B., Langenecker, T. et al. Arabidopsis BTB/POZ protein-dependent PENETRATION3 trafficking and disease susceptibility. Nature Plants 3, 854–858 (2017). https://doi.org/10.1038/s41477-017-0039-z
Received:

Accepted:

Published:

Issue Date:

DOI: https://doi.org/10.1038/s41477-017-0039-z