Plastids are integrated into the cellular metabolism by several metabolite and ion transporters. The first crystal structure of one of these transporters, a member of the plastid phosphate transporter family, unravels a rocker-switch transport mode and serves as lead structure for other plastidial and endomembrane system transporters.
Access options
Subscribe to Journal
Get full journal access for 1 year
$65.00
only $5.42 per issue
All prices are NET prices.
VAT will be added later in the checkout.
Rent or Buy article
Get time limited or full article access on ReadCube.
from$8.99
All prices are NET prices.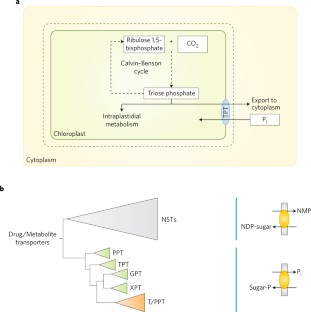 References
1.

Yoon, H. S., Hackett, J. D., Ciniglia, C., Pinto, G. & Bhattacharya, D. Mol. Biol. Evol. 21, 809–818 (2004).

2.

Flügge, U. I. Annu. Rev. Plant Physiol. Plant Mol. Biol. 50, 27–45 (1999).

3.

Lee, Y. et al. Nat. Plants https://doi.org/10.1038/s41477-017-0022-8 (2017).

4.

Flügge, U. I. Biochim. Biophys. Acta 815, 299–305 (1985).

5.

Flügge, U. I. J. Exp. Bot. 46, 1317–1323 (1995).

6.

Gross, A., Brückner, G., Heldt, H. W. & Flügge, U. I. Planta 180, 262–271 (1990).

7.

Brooks, C. F. et al. Cell Host Microbe 7, 62–73 (2010).

8.

Weber, A. P. M., Linka, M. & Bhattacharya, D. Eukaryot. Cell 5, 609–612 (2006).

9.

Orellana, A., Moraga, C., Araya, M. & Moreno, A. J. Mol. Biol. 428, 3150–3165 (2016).
Ethics declarations
Competing interests
The authors declare no competing financial interests.
About this article
Cite this article
Fischer, K., Weber, A.P.M. Sometimes a rocker-switch motion. Nature Plants 3, 771–772 (2017). https://doi.org/10.1038/s41477-017-0026-4