Abstract
Urologic implant revision carries a higher infection risk than virgin implantation. Historically, exchanging device components at the time of revision was performed to reduce infection risk. We hypothesize that revision without replacement of any parts of the device may not be associated with increased infection risk. A single-center, retrospective cohort study was performed on patients undergoing urologic implant revision from 2000 to 2021. Revisions involving exchange of any/all device components (+CE) were compared to revisions without exchange of any components (−CE). The primary outcome was infection or erosion within 12 weeks of revision. Infection rates were compared using Fischer exact test. Infection-free survival (IFS) was compared with Kaplan-Meier (KM) log-rank test and Cox proportional hazards (CPH) model. 551 revisions were included, including 497 revisions with CE and 54 without CE. Among those with at least 12 weeks follow-up, no difference was seen in infection rates within 12 weeks of revision [−CE 3/39 (7.7%) vs. +CE 10/383 (2.6%)], p = 0.109). In addition, IFS was comparable between groups (log-rank test p = 0.22, HR for −CE 1.65 (0.65–4.21). Revision surgery for IPP or AUS without CE may not present an elevated risk of infection in the properly selected patient.
Access options
Subscribe to Journal
Get full journal access for 1 year
$119.00
only $14.88 per issue
All prices are NET prices.
VAT will be added later in the checkout.
Tax calculation will be finalised during checkout.
Buy article
Get time limited or full article access on ReadCube.
$32.00
All prices are NET prices.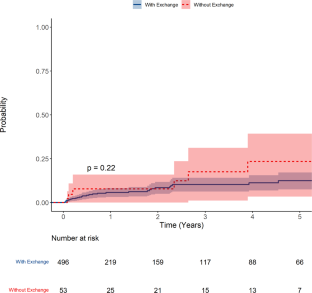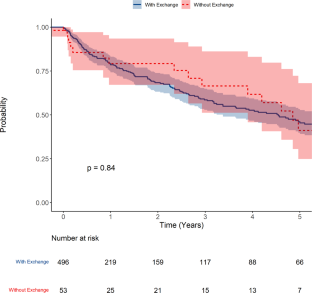 Data availability
Raw data for this project is contained in an IRB approved database at Duke University Medical Center. This data can be made available upon request to Scott Campbell, MD at scott.p.campbell@duke.edu.
References
Darouiche RO. Treatment of infections associated with surgical implants. N Engl J Med. 2004;350:1422–9.

Baas W, O'Connor B, Welliver C, Stahl PJ, Stember DS, Wilson SK, et al. Worldwide trends in penile implantation surgery: data from over 63,000 implants. Transl Androl Urol. 2020;9:31–7.

Lee R, Te AE, Kaplan SA, Sandhu JS. Temporal trends in adoption of and indications for the artificial urinary sphincter. J Urol. 2009;181:2622–7.

Matsushita K, Chughtai BI, Maschino AC, Lee RK, Sandhu JS. International variation in artificial urinary sphincter use. Urology. 2012;80:667–72.

Trost LW, McCaslin R, Linder B, Hellstrom WJ. Long-term outcomes of penile prostheses for the treatment of erectile dysfunction. Expert Rev Med Dev. 2013;10:353–66.

Lledo-Garcia E, Jara-Rascon J, Moncada Iribarren I, Pinero-Sanchez J, Aragon-Chamizo J, Hernandez-Fernandez C. Penile Prosthesis First and Replacement Surgeries: Analysis of Patient and Partner Satisfaction. J Sex Med. 2015;12:1646–53.

Kucuk EV, Tahra A, Bindayi A, Onol FF. Erectile dysfunction patients are more satisfied with penile prosthesis implantation compared with tadalafil and intracavernosal injection treatments. Andrology. 2016;4:952–6.

Zargaroff S, Sharma V, Berhanu D, Pearl JA, Meeks JJ, Dupree JM, et al. National trends in the treatment of penile prosthesis infections by explantation alone vs. immediate salvage and reimplantation. J Sex Med. 2014;11:1078–85.

Ghanem H, Ghazy S, El-Meliegy A. Corporeal counter incisions: a simplified approach to penile prosthesis implantation in fibrotic cases. Int J Impot Res. 2000;12:153–6.

Wilson SK, Simhan J, Gross MS. Cylinder insertion into scarred corporal bodies: prosthetic urology's most difficult challenge: some suggestions for making the surgery easier. Int J Impot Res. 2020;32:483–94.

Darouiche RO, Wall MJ Jr, Itani KM, Otterson MF, Webb AL, Carrick MM, et al. Chlorhexidine-Alcohol versus Povidone-Iodine for Surgical-Site Antisepsis. N Engl J Med. 2010;362:18–26.

Lee I, Agarwal RK, Lee BY, Fishman NO, Umscheid CA. Systematic review and cost analysis comparing use of chlorhexidine with use of iodine for preoperative skin antisepsis to prevent surgical site infection. Infect Control Hosp Epidemiol. 2010;31:1219–29.

Eid JF, Wilson SK, Cleves M, Salem EA. Coated implants and "no touch" surgical technique decreases risk of infection in inflatable penile prosthesis implantation to 0.46%. Urology. 2012;79:1310–5.

Eid JF. Penile Implant: Review of a "No-Touch" Technique. Sex Med Rev. 2016;4:294–300.

Dhabuwala C. In vitro assessment of antimicrobial properties of rifampin-coated Titan(®) Coloplast penile implants and comparison with Inhibizone(®). J Sex Med. 2010;7:3516–9.

Dhabuwala C, Sheth S, Zamzow B. Infection rates of rifampin/gentamicin-coated Titan Coloplast penile implants. Comparison with Inhibizone-impregnated AMS penile implants. J Sex Med. 2011;8:315–20.

Manka MG, Yang D, Andrews J, Chalmers B, Hebert K, Köhler TS, et al. Intraoperative Use of Betadine Irrigation is Associated With a 9-Fold Increased Likelihood of Penile Prosthesis Infection: Results From a Retrospective Case-Control Study. Sex Med. 2020;8:422–7.

Henry GD, Wilson SK, Delk JR 2nd, Carson CC, Wiygul J, Tornehl C, et al. Revision washout decreases penile prosthesis infection in revision surgery: a multicenter study. J Urol. 2005;173:89–92.

Carson CC, Mulcahy JJ, Harsch MR. Long-term infection outcomes after original antibiotic impregnated inflatable penile prosthesis implants: up to 7.7 years of followup. J Urol. 2011;185:614–8.

Jani K, Smith C, Delk JR, Carson CC, Donatucci CF, Cleves MA, et al. Infection Retardant Coatings Impact on Bacterial Presence in Penile Prosthesis Surgery: a multicenter study. Urology. 2018;119:104–8.

Wilson SK, Zumbe J, Henry GD, Salem EA, Delk JR, Cleves MA. Infection reduction using antibiotic-coated inflatable penile prosthesis. Urology. 2007;70:337–40.

Mulcahy JJ, Carson CC 3rd. Long-term infection rates in diabetic patients implanted with antibiotic-impregnated versus nonimpregnated inflatable penile prostheses: 7-year outcomes. Eur Urol. 2011;60:167–72.

Gon LM, de Campos CCC, Voris BRI, Passeri LA, Fregonesi A, Riccetto CLZ. A systematic review of penile prosthesis infection and meta-analysis of diabetes mellitus role. BMC Urol. 2021;21:35.

Montgomery BD, Lomas DJ, Ziegelmann MJ, Trost LW. Infection risk of undergoing multiple penile prostheses: an analysis of referred patient surgical histories. Int J Impot Res. 2018;30:147–52.

Litwiller SE, Kim KB, Fone PD, White RW, Stone AR. Post-prostatectomy incontinence and the artificial urinary sphincter: a long-term study of patient satisfaction and criteria for success. J Urol. 1996;156:1975–80.

Van der Aa F, Drake MJ, Kasyan GR, Petrolekas A, Cornu JN. The artificial urinary sphincter after a quarter of a century: a critical systematic review of its use in male non-neurogenic incontinence. Eur Urol. 2013;63:681–9.

Lai HH, Hsu EI, Teh BS, Butler EB, Boone TB. 13 years of experience with artificial urinary sphincter implantation at Baylor College of Medicine. J Urol. 2007;177:1021–5.

Ramsay AK, Granitsiotis P, Conn IG. The use of the artificial urinary sphincter in the West of Scotland: a single centre 10-year experience. Scott Med J. 2007;52:14–7.

Singh G, Thomas DG. Artificial urinary sphincter for post-prostatectomy incontinence. Br J Urol. 1996;77:248–51.

Trigo Rocha F, Gomes CM, Mitre AI, Arap S, Srougi M. A prospective study evaluating the efficacy of the artificial sphincter AMS 800 for the treatment of postradical prostatectomy urinary incontinence and the correlation between preoperative urodynamic and surgical outcomes. Urology. 2008;71:85–9.

Walsh IK, Williams SG, Mahendra V, Nambirajan T, Stone AR. Artificial urinary sphincter implantation in the irradiated patient: safety, efficacy and satisfaction. BJU Int. 2002;89:364–8.

Gousse AE, Madjar S, Lambert MM, Fishman IJ. Artificial urinary sphincter for post-radical prostatectomy urinary incontinence: long-term subjective results. J Urol. 2001;166:1755–8.

Carvajal A, Benavides J, García-Perdomo HA, Henry GD. Risk factors associated with penile prosthesis infection: systematic review and meta-analysis. Int J Impot Res. 2020;32:587–97.

Lotan Y, Roehrborn CG, McConnell JD, Hendin BN. Factors influencing the outcomes of penile prosthesis surgery at a teaching institution. Urology. 2003;62:918–21.

Henry GD, Wilson SK, Delk JR 2nd, Carson CC, Silverstein A, Cleves MA, et al. Penile prosthesis cultures during revision surgery: a multicenter study. J Urol. 2004;172:153–6.

Henry GD, Carson CC, Wilson SK, Wiygul J, Tornehl C, Cleves MA, et al. Revision washout decreases implant capsule tissue culture positivity: a multicenter study. J Urol. 2008;179:186–90.

Palmisano F, Boeri L, Ievoli R, Sánchez-Curbelo J, Spinelli MG, Gregori A et al. Ten-year experience with penile prosthetic surgery for the treatment of erectile dysfunction: outcomes of a tertiary referral center and predictors of early prosthetic infection. Asian J Androl. 2022;24:32–9.

Austin PC. A tutorial on multilevel survival analysis: methods, models and applications. Int Stat Rev. 2017;85:185–203.

Austin PC. The performance of different propensity score methods for estimating marginal hazard ratios. Stat Med. 2013;32:2837–49.

Nosé BD, Grimberg DCD, Lentz AC. Update on Intraoperative Cultures, Biofilms, and Modifiable Factors During Revision of Clinically Non-Infected Penile Implants. Sex Med Rev. 2021;9:160–8.

Henry GD, Donatucci CF, Conners W, Greenfield JM, Carson CC, Wilson SK, et al. An outcomes analysis of over 200 revision surgeries for penile prosthesis implantation: a multicenter study. J Sex Med. 2012;9:309–15.
Ethics declarations
Competing interests
ACL is a consultant and speaker for Boston Scientific and Coloplast.
Ethics approval
Institutional review board approval was obtained for this study.
Additional information
Publisher's note Springer Nature remains neutral with regard to jurisdictional claims in published maps and institutional affiliations.
Supplementary information
Rights and permissions
Springer Nature or its licensor (e.g. a society or other partner) holds exclusive rights to this article under a publishing agreement with the author(s) or other rightsholder(s); author self-archiving of the accepted manuscript version of this article is solely governed by the terms of such publishing agreement and applicable law.
About this article
Cite this article
Campbell, S.P., Kim, C.J., Allkanjari, A. et al. Infection rates following urologic prosthetic revision without replacement of any device components compared to partial or complete device exchange: a single-center retrospective cohort study. Int J Impot Res (2022). https://doi.org/10.1038/s41443-022-00616-x
Received:

Revised:

Accepted:

Published:

DOI: https://doi.org/10.1038/s41443-022-00616-x