Abstract
Surgical treatments for ischemic priapism (IP) include shunts or penile implants. Non-ischemic priapism (NIP) is usually the result of penile/perineal trauma causing an arterial fistula and embolisation may be required. We conducted a systematic review on behalf of the EAU Sexual and Reproductive health Guidelines panel to analyse the available evidence on efficacy and safety of surgical modalities for IP and NIP. Outcomes were priapism resolution, sexual function and adverse events following surgery. Overall, 63 studies (n = 923) met inclusion criteria up to September 2021. For IP (n = 702), surgery comprised distal (n = 274), proximal shunts (n = 209) and penile prostheses (n = 194). Resolution occurred in 18.7-100% for distal, 5.7–100% for proximal shunts and 100% for penile prostheses. Potency rate was 20–100% for distal, 11.1–77.2% for proximal shunts, and 26.3–100% for penile prostheses, respectively. Patient satisfaction was 60–100% following penile prostheses implantation. Complications were 0–42.5% for shunts and 0–13.6% for IPP. For NIP (n = 221), embolisation success was 85.7–100% and potency 80–100%. The majority of studies were retrospective cohort studies. Risk of bias was high. Overall, surgical shunts have acceptable success rates in IP. Proximal/venous shunts should be abandoned due to morbidity/ED rates. In IP > 48 h, best outcomes are seen with penile prostheses implantation. Embolisation is the mainstay technique for NIP with high resolution rates and adequate erectile function.
Access options
Subscribe to Journal
Get full journal access for 1 year
$119.00
only $14.88 per issue
All prices are NET prices.
VAT will be added later in the checkout.
Tax calculation will be finalised during checkout.
Buy article
Get time limited or full article access on ReadCube.
$32.00
All prices are NET prices.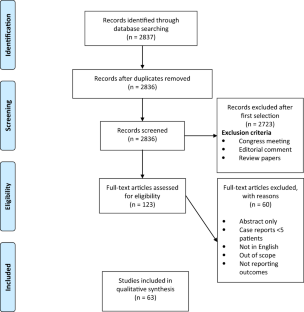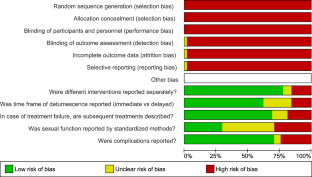 References
Salonia A, Bettocchi C, Boeri L, Capogrosso P, Carvalho J, Cilesiz NC. et al. European Association of Urology Guidelines on Sexual and Reproductive Health-2021 Update: Male Sexual Dysfunction. Eur Urol. 2021;80:333–57.

Muneer A, Ralph D. Guideline of guidelines: priapism. BJU Int 2017;119:204–8.

Broderick GA, Kadioglu A, Bivalacqua TJ, Ghanem H, Nehra A, Shamloul R. Priapism: Pathogenesis, epidemiology, and management. J Sex Med 2010;7:476–500.

Muneer A, Brown G, Dorkin T, Lucky M, Pearcy R, Shabbir M, et al. BAUS consensus document for the management of male genital emergencies: priapism. BJU Int 2018;121:835–9.

Bullock N, Steggall M, Brown G. Emergency Management of Priapism in the United Kingdom: A Survey of Current Practice. J Sex Med 2018;15:476–9.

Spycher MA, Hauri D. The ultrastucture of the erectile tissue in priapism. J Urol. 1986;135:142–7. https://doi.org/10.1016/S0022-5347(17)45549-2.

Ralph DJ, Borley NC, Allen C, Kirkham A, Freeman A, Minhas S, et al. The use of high-resolution magnetic resonance imaging in the management of patients presenting with priapism. BJU Int 2010;106:1714–8.

Muneer A, Alnajjar HM, Ralph D. Recent advances in the management of priapism. 7, F1000Research. Faculty of 1000 Ltd. 2018. Accessed 19 May 2021. https://pmc/articles/PMC5765390/.

Ralph DJ, Garaffa G, Muneer A, Freeman A, Rees R, Christopher AN, et al. The Immediate Insertion of a Penile Prosthesis for Acute Ischaemic Priapism. Eur Urol 2009;56:1033–8.

View of Erectile Function and Dysfunction Following Low Flow Priapism: A comparison of Distal and Proximal Shunts. Accessed 19 May 2021. https://journals.sbmu.ac.ir/urolj/index.php/uj/article/view/760/499.

Qi T, Ye L, Chen Z, Huang Z, sen, Wang B, Li H, et al. Efficacy and Safety of Treatment of High-flow Priapism with Superselective Transcatheter Embolization. Curr Med Sci 2018;38:101–6.

Kumar M, Garg G, Sharma A, Pandey S, Singh M, Sankhwar SN. Comparison of outcomes in malignant vs. non-malignant ischemic priapism: 12-year experience from a tertiary center. Turkish J Urol. 2019;45:340–4.

Macaluso JN, Sullivan JW. Priapism: Review of 34 cases. Urology. 1985;26:233–6.

Nixon RG, O'Connor JL, Milam DF. Efficacy of shunt surgery for refractory low flow priapism: A report on the incidence of failed detumescence and erectile dysfunction. J Urol. 2003;170:883–6.

Pal DK, Biswal D, Ghosh B. Outcome and erectile function following treatment of priapism: An institutional experience. Urol Ann. 2016;8:46–50.

Zheng DC, Yao HJ, Zhang K, Xu MX, Chen Q, Chen YB, et al. Unsatisfactory outcomes of prolonged ischemic priapism without early surgical shunts: Our clinical experience and a review of the literature. Asian J Androl. 2013;15:75–8.

Vorobets D, Banyra O, Stroy A, Shulyak A. Our experience in the treatment of priapism. Central European. J Urol. 2011;64:80–3.

Raveenthiran V. A modification of Winter's shunt in the treatment of pediatric low-flow priapism. J Pediatr Surg. 2008;43:2082–6. https://doi.org/10.1016/j.jpedsurg.2008.02.006.

Chary KSN, Rao MS, Kumar S, Palaniswamy R, Chandrasekar D, Vaidyanathan S, et al. Creation of caverno-glandular shunt for treatment of priapism. Eur Urol. 1981;7:343–5. https://doi.org/10.1159/000473261.

Zacharakis E, Garaffa G, Raheem AA, Christopher AN, Muneer A, Ralph DJ. Penile prosthesis insertion in patients with refractory ischaemic priapism: Early vs delayed implantation. BJU Int. 2014;114:576–81.

Zacharakis E, de Luca F, Raheem AA, Garaffa G, Christopher N, Muneer A, et al. Early insertion of a malleable penile prosthesis in ischaemic priapism allows later upsizing of the cylinders. Scand J Urol. 2015;49:468–71. https://doi.org/10.3109/21681805.2015.1059359.

Zacharakis E, Raheem AA, Freeman A, Skolarikos A, Garaffa G, Christopher AN, et al. The efficacy of the T-shunt procedure and intracavernous tunneling (snake maneuver) for refractory ischemic priapism. J Urol. 2014;191:164–8. https://doi.org/10.1016/j.juro.2013.07.034.

Lund K, Ebbehøj J. Results of glando-cavernous anastomosis in 18 cases of priapism. Scand J Plast Reconstructive Surg Hand Surg. 1980;14:269–72.

Ortaç M, Çevik G, Akdere H, Ermeç B, Kadıoğlu A. Anatomic and Functional Outcome Following Distal Shunt and Tunneling for Treatment İschemic Priapism: A Single-Center Experience. J Sex Med. 2019;16:1290–6.

Brant WO, Garcia MM, Bella AJ, Chi T, Lue TF. T-Shaped Shunt and Intracavernous Tunneling for Prolonged Ischemic Priapism. J Urol. 2009;181:1699–705. https://doi.org/10.1016/j.juro.2008.12.021.

Canguven O, Çetinel C, Horuz R, Tarhan F, Hamarat B, Goktas C. Transient distal penile corporoglanular shunt as an adjunct to aspiration and irrigation procedures in the treatment of early ischemic priapism. Korean J Urol. 2013;54:394–8.

Klufio GO, Quartey JM. Priapism: experience with the caverno glandular shunt. West Afr J Med. 1991;10:222–5.

Lian W, Lv J, Cui W, Jin Z, Liu T, Li W, et al. Al-Ghorab shunt plus intracavernous tunneling for prolonged ischemic priapism. J Androl. 2010;31:466–71.

Tabibi A, Abdi H, Mahmoudnejad N. Erectile function and dysfunction following low flow priapism: A comparison of distal and proximal shunts. Urol J. 2010;7:174–7.

Ugwumba FO, Ekwedigwe HC, Echetabu KN, Okoh AD, Nnabugwu I, Ugwuidu ES. Ischemic priapism in South-East Nigeria: Presentation, management challenges, and aftermath issues. Niger J Clin Pract. 2016;19:207–11.

Segal RL, Readal N, Pierorazio PM, Burnett AL, Bivalacqua TJ. Corporal burnett "snake" surgical maneuver for the treatment of ischemic priapism: Long-term followup. J Urol. 2013;189:1025–9. https://doi.org/10.1016/j.juro.2012.08.245.

Muneer A, Garaffa G, Minhas S, Ralph DJ. The management of stuttering priapism within a specialist unit—A 25-Year experience. J Clin Urol. 2009;2:11–6.

Moloney PJ, Elliott GB, Johnson HW. Experiences with priapism. J Urol. 1975;114:72–6. https://doi.org/10.1016/S0022-5347(17)66946-5.

Nelson JH, Winter CC. Priapism: evolution of management in 48 patients in a 22 year series. J Urol. 1977;117:455–8. https://doi.org/10.1016/S0022-5347(17)58497-9.

Pantaleo-Gandais M, Chacon O, Chalbaud R, Plaza N. Priapism: evaluation and treatment. Urology. 1984;24:345–6.

Lawani J, Aken' Ova YA, Shittu OB. Priapism: an appraisal of surgical treatment. Afr J Med Med Sci. 1999;28:21–3.

Kihl B, Bratt CG, Knutsson U, Seeman T. Priapism: Evaluation of treatment with special reference to saphenocavernous shunting in 26 patients. Scandinavian. J Urol Nephrol. 1980;14:1–5.

Kilinc M. Temporary Cavernosal-Cephalic Vein Shunt in Low-Flow Priapism Treatment. Eur Urol. 2009;56:559–63.

Aghaji AE. Priapism in adult Nigerians. BJU Int. 2000;85:493–5.

Carter RG, Thomas CE, Tomskey GC. Cavernospongiosum shunts in treatment of priapism. Urology. 1976;7:292–5.

Klein LA, Hall RL, Smith RB. Surgical treatment of priapism: with a note on heparin-induced priapism. J Urol. 1972;108:104–6. https://doi.org/10.1016/S0022-5347(17)60653-0.

Larocque MA, Cosgrove MD. Priapism: a review of 46 cases. J Urol. 1974;112:770–3. https://doi.org/10.1016/S0022-5347(17)59848-1.

Richard F, Fourcade R, le Guillou M, Jardin A, Kuss R. Etiological aspects and interest of early surgical management of priapism. Eur Urol. 1979;5:179–81.

Wendel EF, Grayhack JT. Corpora cavernosa-glans penis shunt for priapism. Surg Gynecol Obstet. 1981;153:586–8.

Wasmer JM, Carrion HM, Mekras G, Politano VA. Evaluation and treatment of priapism. J Urol. 1981;125:204–7. https://doi.org/10.1016/S0022-5347(17)54969-1.

Srougi M, Borrelli M, Dénes FT, de Gòes GM. Cavernospongiosum shunt in management of priapism: Is it a reliable method? Int Urol Nephrol. 1978;10:229–35.

Baumgarten AS, VanDyke ME, Yi YA, Keith CG, Fuchs JS, Ortiz NM, et al. Favourable multi-institutional experience with penoscrotal decompression for prolonged ischaemic priapism. BJU Int. 2020;126:441–6.

Rees RW, Kalsi J, Minhas S, Peters J, Kell P, Ralph DJ. The management of low-flow priapism with the immediate insertion of a penile prosthesis. BJU Int. 2002;90:893–7.

Salem EA, el Aasser O. Management of Ischemic Priapism by Penile Prosthesis Insertion: Prevention of Distal Erosion. J Urol. 2010;183:2300–3. https://doi.org/10.1016/j.juro.2010.02.014.

Sedigh O, Rolle L, Negro CLA, Ceruti C, Timpano M, Galletto E, et al. Early insertion of inflatable prosthesis for intractable ischemic priapism: Our experience and review of the literature. Int J Impot Res. 2011;23:158–64.

Tausch TJ, Zhao LC, Morey AF, Siegel JA, Belsante MJ, Seideman CA, et al. Malleable penile prosthesis is a cost-effective treatment for refractory ischemic priapism. J Sex Med. 2015;12:824–6.

Baba Y, Hayashi S, Ueno K, Nakajo M. Superselective arterial embolization for patients with high-flow priapism: Results of follow-up for five or more years. Acta Radiol. 2007;48:351–4.

Bastuba MD, de Tejada IS, Dinlenc CZ, Sarazen A, Krane RJ, Goldstein I. Arterial priapism: Diagnosis, treatment and long-term followup. J Urol. 1994;151:1231–7. https://doi.org/10.1016/S0022-5347(17)35219-9.

Bartsch G, Kuefer R, Engel O, Volkmer BG. High-flow priapism: Colour-Doppler ultrasound-guided supraselective embolization therapy. World. J Urol. 2004;22:368–70.

Liu B, Xing, Xin Z, Cheng, Zou Y, Hua, Tian L, Wu Y, Guang, Wu XJun, et al. High-Flow Priapism: Superselective Cavernous Artery Embolization with Microcoils. Urology 2008;72:571–3.

Miller SF, Chait PG, Burrows PE, Steckler RE, Khoury AE, McLorie GA, et al. Posttraumatic arterial priapism in children management with embolization. Radiology. 1995;196:59–62.

Numan F, Cantasdemir M, Ozbayrak M, Sanli O, Kadioglu A, Hasanefendioglu A, et al. Posttraumatic nonischemic priapism treated with autologous blood clot embolization. J Sex Med. 2008;5:173–9.

Kim KR, Shin JH, Song HY, Ko GY, Yoon HK, Sung KB, et al. Treatment of High-flow Priapism with Superselective Transcatheter Embolization in 27 Patients: A Multicenter Study. J Vasc Interventional Radiol. 2007;18:1222–6.

Cantasdemir M, Gulsen F, Solak S, Numan F. Posttraumatic high-flow priapism in children treated with autologous blood clot embolization: Long-term results and review of the literature. Pediatr Radiol. 2011;41:627–32.

Chick JFB J, Bundy J, Gemmete JJ, Srinivasa RN, Dauw C, Srinivasa RN. Selective Penile Arterial Embolization Preserves Long-Term Erectile Function in Patients with Nonischemic Priapism: An 18-Year Experience. Urology. 2018;122:116–20. https://doi.org/10.1016/j.urology.2018.07.026.

Ciampalini S, Savoca G, Buttazzi L, Gattuccio I, Mucelli FP, Bertolotto M, et al. High-flow priapism: Treatment and long-term follow-up. Urology. 2002;59:110–3.

Görich J, Ermis C, Krämer SC, Fleiter T, Wisianowsky C, Basche S, et al. Interventional treatment of traumatic priapism. J Endovasc Ther. 2002;9:614–7.

O'Sullivan P, Browne R, McEniff N, Lee MJ. Treatment of "high-flow" priapism with superselective transcatheter embolization: A useful alternative to surgery. CardioVascular Interventional Radiol. 2006;29:198–201.

Savoca G, Pietropaolo F, Scieri F, Bertolotto M, Mucelli FP, Belgrano E. Sexual function after highly selective embolization of cavernous artery in patients with high flow priapism: Long-term followup. J Urol. 2004;172:644–7.

Tønseth KA, Egge T, Kolbenstvedt A, Hedlund H. Evaluation of patients after treatment of arterial priapism with selective micro-embolization. Scand J Urol Nephrol. 2006;40:49–52.

Wan X, Yao HJ, Zheng DC, Liu C, Fu SB, Guo JH, et al. Posttraumatic Arterial Priapism Treated with Superselective Embolization: Our Clinical Experience and a Review of the Literature. Adv Ther. 2019;36:684–90. https://doi.org/10.1007/s12325-019-0875-5.

Öztürk MH, Gümüş M, Dönmez H, Peynircioǧlu B, Önal B, Dinç H. Materials in embolotherapy of high-flow priapism: Results and long-term follow-up. Diagnostic Interventional Radiol. 2009;15:215–20.

Pei R, Yang M, Wang C, Wang J, Tong X, Zou Y. Superselective Transcatheter Artery Embolization in Patients with Non-ischemic Priapism. CardioVascular Interventional Radiol. 2018;41:867–71. https://doi.org/10.1007/s00270-018-1895-2.

Puppo P, Belgrano E, Germinale F, Bottino P, Giuliani L. Angiographic treatment of high-flow priapism. Eur Urol. 1985;11:397–400.

Zhao S, Zhou J, Zhang YF, Zhang XL, Long QY. Therapeutic embolization of high-flow priapism 1 year follow up with color Doppler sonography. Eur J Radiol. 2013;82:e769–74. https://doi.org/10.1016/j.ejrad.2013.08.051.

Bi Y, Yi M, Yu Z, Han X, Ren J. Superselective embolization for high-flow priapism refractory to medical and surgical treatments. BMC Urol. 2020;20:79.

de Magistris G, Pane F, Giurazza F, Corvino F, Coppola M, Borzelli A, et al. Embolization of high-flow priapism: technical aspects and clinical outcome from a single-center experience. Radiologia Med. 2020;125:288–95. https://doi.org/10.1007/s11547-019-01113-w.

Lowe FC, Jarow JP. Placebo-controlled study of oral terbutaline and pseudoephedrine in management of prostaglandin E1-induced prolonged erections. Urology 1993;42:51–3.

GA Broderick RH. Pharmacologic erection: time-dependent changes in the corporal environment - PubMed. Int J Impot Res. 1994;6:9–16.

Viswanathan M, Patnode CD, Berkman ND, Bass EB, Chang S, Hartling L, et al. Recommendations for assessing the risk of bias in systematic reviews of health-care interventions. J Clin Epidemiol. 2018;97:26–34.

Dalziel K, Round A, Stein K, Garside R, Castelnuovo E, Payne L. Do the findings of case series studies vary significantly according to methodological characteristics?. 9, Health Technology Assessment. National Co-ordinating Centre for HTA; 2005. Accessed 7 Jun 2021. https://pubmed.ncbi.nlm.nih.gov/15588556/.

Micoogullari U, Unal S, Alijla A, Okulu E, Micoogullari LD, Kayigil O. Effectiveness of the caverno-dorsal vein shunt (Barry shunt) on prolonged ischaemic priapism and its effect on the post-operative long-term erectile function. Andrologia. 2021;53:e13945.
Ethics declarations
Competing interests
The authors declare no competing interests.
Additional information
Publisher's note Springer Nature remains neutral with regard to jurisdictional claims in published maps and institutional affiliations.
Supplementary information
Rights and permissions
Springer Nature or its licensor (e.g. a society or other partner) holds exclusive rights to this article under a publishing agreement with the author(s) or other rightsholder(s); author self-archiving of the accepted manuscript version of this article is solely governed by the terms of such publishing agreement and applicable law.
About this article
Cite this article
Milenkovic, U., Cocci, A., Veeratterapillay, R. et al. Surgical and minimally invasive treatment of ischaemic and non-ischaemic priapism: a systematic review by the EAU Sexual and Reproductive Health Guidelines panel. Int J Impot Res (2022). https://doi.org/10.1038/s41443-022-00604-1
Received:

Revised:

Accepted:

Published:

DOI: https://doi.org/10.1038/s41443-022-00604-1