Abstract
Premature ejaculation is the most common male sexual dysfunction, with therapies including selective serotonin reuptake inhibitors, clomipramine, topical anesthetics, dapoxetine and tramadol. However, it is currently unknown how many men are receiving pharmacotherapy for premature ejaculation. Using the TriNetX Research network, a large multicenter database containing over 75 million patient records from hospitals across the United States, we evaluated prescribing patterns for treatment of premature ejaculation and assessed variations in prescription patterns among patients from 2015–2021. In addition, we examined if the prescription patterns for tramadol changed with the establishment of Prescription Drug Monitoring Programs. We found that most men (51.7%) were not receiving any pharmacotherapy for premature ejaculation. However, men with mental health disorders, were more likely (56.0%), to have been treated than those without (44.4%). On further analysis, men with mental health diagnoses were significantly more likely to be treated with Selective Serotonin Reuptake Inhibitors (45.0 vs 32.2%) and Tramadol (5.1% vs 3.5%). While the pharmacotherapy for premature ejaculation has been well researched, our findings revealed that most patients diagnosed with premature ejaculation do not receive pharmacotherapy and that patients are more likely to be prescribed premature ejaculation medications if they have a pre-existing mental health diagnosis.
Access options
Subscribe to Journal
Get full journal access for 1 year
$119.00
only $14.88 per issue
All prices are NET prices.
VAT will be added later in the checkout.
Tax calculation will be finalised during checkout.
Buy article
Get time limited or full article access on ReadCube.
$32.00
All prices are NET prices.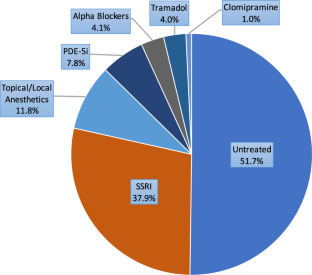 References
Saitz TR, Serefoglu EC. The epidemiology of premature ejaculation. Transl Androl Urol. 2016;5:409–15.

Serefoglu EC, McMahon CG, Waldinger MD, Althof SE, Shindel A, Adaikan G, et al. An evidence-based unified definition of lifelong and acquired premature ejaculation: report of the second international society for sexual medicine ad hoc committee for the definition of premature ejaculation. Sex Med. 2014;2:41–59.

Shindel AW, Althof SE, Carrier S, Chou R, McMahon CG, Mulhall JP, et al. Disorders of ejaculation: an AUA/SMSNA guideline. J Urol. 2022;207:504–12.

Salonia A, Bettocchi C, Boeri L, Capogrosso P, Carvalho J, Cilesiz NC, et al. European association of urology guidelines on sexual and reproductive health—2021 update: male sexual dysfunction. Eur Urol. 2021;80:333–57.

Eassa BI, El-Shazly MA. Safety and efficacy of tramadol hydrochloride on treatment of premature ejaculation. Asian J Androl. 2013;15:138–42.

Rosen RC, Althof S. Impact of premature ejaculation: the psychological, quality of life, and sexual relationship consequences. J Sex Med. 2008;5:1296–307.

Rowland DL. Psychological impact of premature ejaculation and barriers to its recognition and treatment. Curr Med Res Opin. 2011;27:1509–18.

D'Souza RS, Lang M, Eldrige JS. Prescription Drug Monitoring Program. StatPearls. Treasure Island (FL): StatPearls Publishing; 2021.

Rutkow L, Chang HY, Daubresse M, Webster DW, Stuart EA, Alexander GC. Effect of Florida's prescription drug monitoring program and pill mill laws on opioid prescribing and use. JAMA Intern Med. 2015;175:1642–9.

Henry SG, Shev AB, Crow D, Stewart SL, Wintemute GJ, Fenlon C, et al. Impacts of prescription drug monitoring program policy changes and county opioid safety coalitions on prescribing and overdose outcomes in California, 2015-2018. Prev Med. 2021;153:106861.

Jern P, Johansson A, Piha J, Westberg L, Santtila P. Antidepressant treatment of premature ejaculation: discontinuation rates and prevalence of side effects for dapoxetine and paroxetine in a naturalistic setting. Int J Impot Res. 2015;27:75–80.

Salonia A, Rocchini L, Sacca A, Pellucchi F, Ferrari M, Carro UD, et al. Acceptance of and discontinuation rate from paroxetine treatment in patients with lifelong premature ejaculation. J Sex Med. 2009;6:2868–77.

Luján S, García-Fadrique G, Morales G, Morera J, Broseta E, Jiménez-Cruz JF. Are urology residents ready to treat premature ejaculation after their training? J Sex Med. 2012;9:404–10.

Saleh R, Majzoub A, Abu El-Hamd M. An update on the treatment of premature ejaculation: a systematic review. Arab J Urol. 2021;19:281–302.

Fulton-Kehoe D, Lofy KH, Le V, Sterling R, Sears JM, Franklin G. Opioid-prescribing metrics in Washington State: trends and challenges. J Public Health Manag Pr. 2020;26:214–21.

Breeden MA, Jacobs CK, Witthaus M, Salas J, Everard KM, Penton E, et al. Prescribing patterns and use of risk-reduction tools after implementing an opioid-prescribing protocol. J Am Board Fam Med. 2020;33:27–33.

Champagne-Langabeer T, Madu R, Giri S, Stotts AL, Langabeer JR. Opioid prescribing patterns and overdose deaths in Texas. Subst Abus. 2021;42:161–7.

Wu T, Yue X, Duan X, Luo D, Cheng Y, Tian Y, et al. Efficacy and safety of tramadol for premature ejaculation: a systematic review and meta-analysis. Urology. 2012;80:618–24.

Sharma AP, Sharma G, Tyagi S, Devana SK, Mavuduru RS, Bora GS, et al. Safety and efficacy of "on-demand" tramadol in patients with premature ejaculation: an updated meta-analysis. Int Braz J Urol. 2021;47:921–34.
Ethics declarations
Competing interests
The authors declare no competing interests.
Additional information
Publisher's note Springer Nature remains neutral with regard to jurisdictional claims in published maps and institutional affiliations.
About this article
Cite this article
Zucker, I., Nackeeran, S., Kulkarni, N. et al. Majority of men with premature ejaculation do not receive pharmacotherapy. Int J Impot Res (2022). https://doi.org/10.1038/s41443-022-00599-9
Received:

Revised:

Accepted:

Published:

DOI: https://doi.org/10.1038/s41443-022-00599-9