Abstract
Low testosterone affects an increasing number of patients each year resulting in a steady increase in prescriptions for testosterone replacement therapy (TRT). In 2018, the American Urological Association (AUA) and the Endocrine Society (ES) published their guidelines for treating patients with low testosterone. While the two guidelines are similar, significant differences exist. In this review, we compare and analyze the AUA and ES guidelines in terms of diagnosis and definition, workup, monitoring of side effects, treatment outcomes for TRT, and how these guidelines are applied in our practice.
Access options
Subscribe to Journal
Get full journal access for 1 year
$119.00
only $14.88 per issue
All prices are NET prices.
VAT will be added later in the checkout.
Tax calculation will be finalised during checkout.
Buy article
Get time limited or full article access on ReadCube.
$32.00
All prices are NET prices.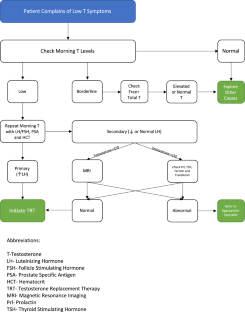 References
Mulhall J, Trost L, Brannigan R, Kurtz E, Redmon J, Chiles K, et al. Evaluation and management of testosterone deficiency: AUA guideline. J Urol. 2018;200:423–32.

Bhasin S, Brito J, Cunningham G, Hayes F, Hodis H, Matsumoto A, et al. Testosterone therapy in men with hypogonadism: an Endocrine Society Clinical Practice Guideline. J Clin Endocrinol Metab. 2018;103:1715–44.

Seftel A. Male hypogonadism. Part I: epidemiology of hypogonadism. Int J Impot Res. 2006;18:115–20.

Muncey W, Omil-Lima D, Jesse E, Gupta K, El Shafei A, Heflick C, et al. Assessment of public interest and current trends in testosterone replacement therapy. Int J Impot Res. 2021. [Epub ahead of print].

Layton J, Kim Y, Alexander G, Emery S. Association between direct-to-consumer advertising and testosterone testing and initiation in the United States, 2009-2013. JAMA. 2017;317:1159.

Wang Y, Gay G, Botelho J, Caudill S, Vesper H. Total testosterone quantitative measurement in serum by LC-MS/MS. Clin Chim Acta. 2014;436:263–7.

Buvat J. Hyperprolactinemia and sexual function in men: a short review. Int J Impot Res. 2003;15:373–7.

Majumdar A, Mangal N. Hyperprolactinemia. J Hum Reprod Sci. 2013;6:168–75.

Ohlander S, Varghese B, Pastuszak A. Erythrocytosis following testosterone therapy. Sex Med Rev. 2018;6:77–85.

Gagnon D, Zhang T, Brand F, Kannel W. Hematocrit and the risk of cardiovascular disease–the Framingham study: a 34-year follow-up. Am Heart J. 1994;127:674–82.

Carter H, Albertsen P, Barry M, Etzioni R, Freedland S, Greene K, et al. Early detection of prostate cancer: AUA guideline. J Urol. 2013;190:419–26.

Ilic D, Djulbegovic M, Jung J, Hwang E, Zhou Q, Cleves A, et al. Prostate cancer screening with prostate-specific antigen (PSA) test: a systematic review and meta-analysis. BMJ. 2018;5:362.

Mulligan T, Frick M, Zuraw Q, Stemhagen A, Mcwhirter C. Prevalence of hypogonadism in males aged at least 45 years: the HIM study. Int J Clin Pract. 2006;60:762–9.
Ethics declarations
Competing interests
The authors declare no competing interests.
Additional information
Publisher's note Springer Nature remains neutral with regard to jurisdictional claims in published maps and institutional affiliations.
About this article
Cite this article
Zucker, I.J., Masterson, T.A. Comparison of American Urological Association and Endocrine Society guidelines on testosterone replacement. Int J Impot Res 34, 626–629 (2022). https://doi.org/10.1038/s41443-021-00477-w
Received:

Revised:

Accepted:

Published:

Issue Date:

DOI: https://doi.org/10.1038/s41443-021-00477-w