Abstract
Peyronie's disease (PD) has a negative impact on overall quality of life for many patients and their partners. There is a significant portion of patients who elect noninvasive therapy and in this scenario we have little data with which to counsel patients. We aim to evaluate long-term patient-reported outcomes in a cohort of men with PD who elected conservative treatment. We identified all males with a diagnosis of PD evaluated at our institution by a single provider between May 2012 and January 2018. We excluded men who were <18 years old or had undergone surgical or intralesional injection (ILI) treatments. A PD-specific questionnaire was sent to those who met our inclusion criteria. 88/514 patients completed the survey and met the inclusion criteria. Penile curvature subjectively improved in 49%, remained stable in 34%, and worsened in 17%. Penile shortening was reported in 89% of patients. Penile shortening subjectively improved in 27%, remained stable in 59%, and worsened in 14%. Roughly 60% reported worsened intercourse satisfaction and erectile function. 60% reported that PD had negatively impacted their self-esteem and 69% felt that PD negatively impacted their sexual partner. Patients who utilized penile traction therapy (PTT) were significantly more likely to report improvements in penile curvature, shortening, and ability to engage in penetrative intercourse. Our survey provides important data on patient-reported outcomes in men with PD electing nonsurgical and non-ILI interventions. Although 49% of men noted at least a mild subjective improvement in their curvature over time, a majority had declining erectile function, decreased intercourse satisfaction, and psychosocial distress. These data can be used when counseling patients with a new diagnosis of PD who are considering treatment options.
Access options
Subscribe to Journal
Get full journal access for 1 year
$119.00
only $14.88 per issue
All prices are NET prices.
VAT will be added later in the checkout.
Tax calculation will be finalised during checkout.
Rent or Buy article
Get time limited or full article access on ReadCube.
from$8.99
All prices are NET prices.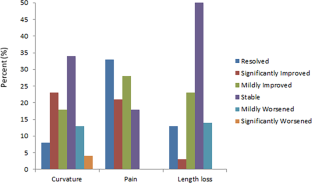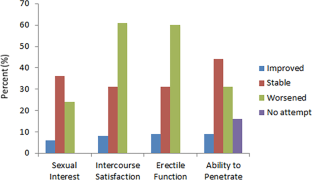 References
1.

Al-Thakafi S, Al-Hathal N. Peyronie's disease: a literature review on epidemiology, genetics, pathophysiology, diagnosis and work-up. Transl Androl Urol. 2016;5:280–9.

2.

Herati AS, Pastuszak AW. The genetic basis of peyronie disease: a review. Sex Med Rev. 2016;4:85–94.

3.

Arafa M, Eid H, El-Badry A, Ezz-Eldine K, Shamloul R. The prevalence of Peyronie's disease in diabetic patients with erectile dysfunction. Int J Impot Res. 2007;19:213–7.

4.

Mulhall JP, Creech SD, Boorjian SA, Ghaly S, Kim ED, Moty A, et al. Subjective and objective analysis of the prevalence of Peyronie's disease in a population of men presenting for prostate cancer screening. J Urol. 2004;171:2350–3.

5.

Schwarzer U, Sommer F, Klotz T, Braun M, Reifenrath B, Engelmann U. The prevalence of Peyronie's disease: results of a large survey. BJU Int. 2001;88:727–30.

6.

Tal R, Heck M, Teloken P, Siegrist T, Nelson CJ, Mulhall JP. Peyronie's disease following radical prostatectomy: incidence and predictors. J Sex Med. 2010;7:1254–61.

7.

Tsambarlis P, Levine LA. Nonsurgical management of Peyronie's disease. Nat Rev Urol. 2019;16:172–86.

8.

Barrett-Harlow B, Wang R. Oral therapy for Peyronie's disease, does it work? Transl Androl Urol. 2016;5:296–302.

9.

Nehra A, Alterowitz R, Culkin DJ, Faraday MM, Hakim LS, Heidelbaugh JJ, et al. Peyronie's disease: AUA guideline. J Urol. 2015;194:745–53.

10.

Moncada I, Krishnappa P, Romero J, et al. Penile traction therapy with the new device 'Penimaster PRO' is effective and safe in the stable phase of Peyronie's disease: a controlled multicentre study. BJU Int. 2019;123:694–702.

11.

Martinez-Salamanca JI, Egui A, Moncada I, Minaya J, Ballesteros CM, Del Portillo L, et al. Acute phase Peyronie's disease management with traction device: a nonrandomized prospective controlled trial with ultrasound correlation. J Sex Med. 2014;11:506–15.

12.

Gelbard M, Goldstein I, Hellstrom WJ, McMahon CG, Smith T, Tursi J, et al. Clinical efficacy, safety and tolerability of collagenase clostridium histolyticum for the treatment of peyronie disease in 2 large double-blind, randomized, placebo controlled phase 3 studies. J Urol. 2013;190:199–207.

13.

Chung E. Penile reconstructive surgery in peyronie disease: challenges in restoring normal penis size, shape, and function. World J Mens Health. 2020;38:1–8.

14.

Raheem OA, Hsieh TC. Penile prosthetic surgery for the management of Peyronie's disease. Transl Androl Urol. 2017;6:S815–21.

15.

Nelson CJ, Mulhall JP. Psychological impact of Peyronie's disease: a review. J Sex Med. 2013;10:653–60.

16.

Ziegelmann M, Bole R, Avant R, Yang D, Montgomery B, Trost L. Conservatively managed Peyronie's disease-long-term survey results from patients undergoing nonsurgical and noninjection therapies. Urology. 2018;113:99–104.

17.

Williams JL, Thomas GG. The natural history of Peyronie's disease. J Urol. 1970;103:75–6.

18.

Gelbard MK, Dorey F, James K. The natural history of Peyronie's disease. J Urol. 1990;144:1376–9.

19.

Mulhall JP, Schiff J, Guhring P. An analysis of the natural history of Peyronie's disease. J Urol. 2006;175:2115–8. discussion 2118.

20.

Haney NM, Kohn TP, Nichols PE, Hellstrom W. The effect of adjunct mechanical traction on penile length in men undergoing primary treatment for Peyronie's disease: a systematic review and meta-analysis. Urology. 2018;122:110–15.

21.

Abern MR, Larsen S, Levine LA. Combination of penile traction, intralesional verapamil, and oral therapies for Peyronie's disease. J Sex Med. 2012;9:288–95.

22.

Davis S, Ferrar S, Sadikaj G, Binik Y, Carrier S. Shame, catastrophizing, and negative partner responses are associated with lower sexual and relationship satisfaction and more negative affect in men with Peyronie's disease. J Sex Marital Ther. 2017;43:264–76.

23.

Hellstrom WJ, Feldman R, Rosen RC, Smith T, Kaufman G, Tursi J. Bother and distress associated with Peyronie's disease: validation of the Peyronie's disease questionnaire. J Urol. 2013;190:627–34.
Ethics declarations
Conflict of interest
LL is a speaker and consultant to Boston Scientific and Coloplast. The other authors declare that they have no conflict of interest.
Additional information
Publisher's note Springer Nature remains neutral with regard to jurisdictional claims in published maps and institutional affiliations.
Supplementary information
About this article
Cite this article
Capoccia, E., Ziegelmann, M., Emmerson, J. et al. Long-term patient-reported outcomes in men with Peyronie's disease undergoing nonsurgical and nonintralesional injection management. Int J Impot Res 33, 75–81 (2021). https://doi.org/10.1038/s41443-020-0231-y
Received:

Revised:

Accepted:

Published:

Issue Date: