Abstract
Penile fracture is a rare condition that describes the rupture of the corpus cavernosum following direct, high-pressure trauma to the erect penis. There is no standardized management algorithm for these patients. We performed a systematic review of the past 10 years regarding management of penile fractures. A complete PRISMA-P 2015 checklist was performed where we reviewed English articles published over the past 10 years to identify 105 articles, where 63 articles were of relevance and subsequently narrowed to a total of 28 articles into the final review for this study. We determined that immediate penile exploration and tunica repair is considered the most common and current management of penile fractures with experts demonstrating that it leads to the fastest in recovery in erectile function and positive cosmetic outcomes. However, we also determined that the specific algorithm can be variable—down to the suture material, use of catheterization, urethroplasty when involved, and length of recovery/follow-up. In the last several decades, men with penile fracture have been treated, in most cases, with immediate surgical intervention. This review highlights the varying practices regarding surgical exploration, injury repair, and postoperative management in men with a penile fracture. Immediate penile exploration and tunica repair have been the mainstay approach of management.
Access options
Subscribe to this journal
Receive 8 print issues and online access
$259.00 per year
only $32.38 per issue
Rent or buy this article
Get just this article for as long as you need it
$39.95
Prices may be subject to local taxes which are calculated during checkout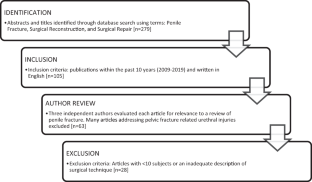 References
Mydlo JH. Surgeon experience with penile fracture. J Urol. 2001;166:526–8. Discussion 8–9.

Zargooshi J. Sexual function and tunica albuginea wound healing following penile fracture: An 18-year follow-up study of 352 patients from Kermanshah, Iran. J Sex Med. 2009;6:1141–50.

Falcone M, Garaffa G, Castiglione F, Ralph DJ. Current management of penile fracture: an up-to-date systematic review. Sex Med Rev. 2018;6:253–60.

Ateyah A, Mostafa T, Nasser TA, Shaeer O, Hadi AA, Al-Gabbar MA. Penile fracture: surgical repair and late effects on erectile function. J Sex Med. 2008;5:1496–502.

Beilan JA, Wallen JJ, Baumgarten AS, Morgan KN, Parker JL, Carrion RE. Intralesional injection of collagenase Clostridium histolyticum may increase the risk of late-onset penile fracture. Sex Med Rev. 2018;6:272–8.

Amer T, Wilson R, Chlosta P, AlBuheissi S, Qazi H, Fraser M, et al. Penile fracture: a meta-analysis. Urol Int. 2016;96:315–29.

Hassali MA, Nouri AI, Hamzah AA, Verma AK. Role of penile doppler as a diagnostic tool in penile fracture. J Med Ultrasound. 2018;26:48–51.

Mydlo JH, Hayyeri M, Macchia RJ. Urethrography and cavernosography imaging in a small series of penile fractures: a comparison with surgical findings. Urology. 1998;51:616–9.

Saglam E, Tarhan F, Hamarat MB, Can U, Coskun A, Camur E, et al. Efficacy of magnetic resonance imaging for diagnosis of penile fracture: a controlled study. Investig Clin Urol. 2017;58:255–60.

Kitrey ND, Djakovic N, Hallscheidt P, Kuehhas FE, Lumen N, Serafetinidis E, et al. EAU Guidelines on Urological Trauma. EAU Guidelines presented at the EAU Annual Congress Copenhagen 2018.

Malis J. Zur Kausuistik der fractura penis. Arch Klin Chir. 1924;129:651.

Gross M, Arnold TL, Waterhouse K. Fracture of the penis: rationale of surgical management. J Urol. 1971;106:708–10.

Ozorak A, Hoscan MB, Oksay T, Guzel A, Kosar A. Management and outcomes of penile fracture: 10 years' experience from a tertiary care center. Int Urol Nephrol. 2014;46:519–22.

Yamacake KG, Tavares A, Padovani GP, Guglielmetti GB, Cury J, Srougi M. Long-term treatment outcomes between surgical correction and conservative management for penile fracture: retrospective analysis. Korean J Urol. 2013;54:472–6.

Yapanoglu T, Aksoy Y, Adanur S, Kabadayi B, Ozturk G, Ozbey I. Seventeen years' experience of penile fracture: conservative vs. surgical treatment. J Sex Med. 2009;6:2058–63.

Bali RS, Rashid A, Mushtaque M, Nabi S, Thakur SA, Bhat RA. Penile fracture: experience from a third world country. Adv Urol. 2013;2013:708362.

Gamal WM, Osman MM, Hammady A, Aldahshoury MZ, Hussein MM, Saleem M. Penile fracture: long-term results of surgical and conservative management. J Trauma. 2011;71:491–3.

Agarwal MM, Singh SK, Sharma DK, Ranjan P, Kumar S, Chandramohan V, et al. Fracture of the penis: a radiological or clinical diagnosis? A case series and literature review. Can J Urol. 2009;16:4568–75.

Khan ZI. Management of penile fracture and its outcome. J Coll Physicians Surg Pak. 2013;23:802–5.

Kozacioglu Z, Degirmenci T, Arslan M, Yuksel MB, Gunlusoy B, Minareci S. Long-term significance of the number of hours until surgical repair of penile fractures. Urol Int. 2011;87:75–9.

Kozacioglu Z, Ceylan Y, Aydogdu O, Bolat D, Gunlusoy B, Minareci S. An update of penile fractures: long-term significance of the number of hours elapsed till surgical repair on long-term outcomes. Turk J Urol. 2017;43:25–9.

Moreno Sierra J, Garde Garcia H, Fernandez Perez C, Galante Romo I, Chavez Roa C, Senovilla Perez JL, et al. Surgical repair and analysis of penile fracture complications. Urol Int. 2011;86:439–43.

Reis LO, Cartapatti M, Marmiroli R, de Oliveira Junior EJ, Saade RD, Fregonesi A. Mechanisms predisposing penile fracture and long-term outcomes on erectile and voiding functions. Adv Urol. 2014;2014:768158.

El-Assmy A, El-Tholoth HS, Mohsen T, Ibrahiem el HI. Long-term outcome of surgical treatment of penile fracture complicated by urethral rupture. J Sex Med. 2010;7:3784–8.

Al Ansari A, Talib RA, Shamsodini A, Hayati A, Canguven O, Al Naimi A. Which is guilty in self-induced penile fractures: marital status, culture or geographic region? A case series and literature review. Int J Impot Res. 2013;25:221–3.

El-Assmy A, El-Tholoth HS, Abou-El-Ghar ME, Mohsen T, Ibrahiem EH. Risk factors of erectile dysfunction and penile vascular changes after surgical repair of penile fracture. Int J Impot Res. 2012;24:20–5.

Gedik A, Kayan D, Yamis S, Yilmaz Y, Bircan K. The diagnosis and treatment of penile fracture: our 19-year experience. Ulus Travma Acids Cerrahi Derg. 2011;17:57–60.

Hatzichristodoulou G, Dorstewitz A, Gschwend JE, Herkommer K, Zantl N. Surgical management of penile fracture and long-term outcome on erectile function and voiding. J Sex Med. 2013;10:1424–30.

Swanson DE, Polackwich AS, Helfand BT, Masson P, Hwong J, Dugi DD 3rd, et al. Penile fracture: outcomes of early surgical intervention. Urology. 2014;84:1117–21.

Tijani KH, Ogo CN, Ojewola RW, Akanmu NO. Increase in fracture of the penis in south-west Nigeria. Arab J Urol. 2012;10:440–4.

Zare Mehrjardi M, Darabi M, Bagheri SM, Kamali K, Bijan B. The role of ultrasound (US) and magnetic resonance imaging (MRI) in penile fracture mapping for modified surgical repair. Int Urol Nephrol. 2017;49:937–45.

Hoag NA, Hennessey K, So A. Penile fracture with bilateral corporeal rupture and complete urethral disruption: case report and literature review. Can Urological Assoc J. 2011;5:E23–6.

Ekeke ON, Eke N. Fracture of the penis in the Niger delta region of Nigeria. J West Afr Coll Surg. 2014;4:1–19.

Sokolakis I, Schubert T, Oelschlaeger M, Krebs M, Gschwend JE, Holzapfel K, et al. The role of magnetic resonance imaging in the diagnosis of penile fracture in real-life emergency settings: comparative analysis with intraoperative findings. J Urol. 2019. 101097JU0000000000000211.

Nawaz H, Khan M, Tareen FM, Khan S. Penile fracture: presentation and management. J Coll Physicians Surg Pak. 2010;20:331–4.

Penbegul N, Bez Y, Atar M, Bozkurt Y, Sancaktutar AA, Soylemez H, et al. No evidence of depression, anxiety, and sexual dysfunction following penile fracture. Int J Impot Res. 2012;24:26–30.

Rivas JG, Dorrego JM, Hernandez MM, Portella PF, Gonzalez SP, Valle JA, et al. Traumatic rupture of the corpus cavernosum: surgical management and clinical outcomes. A 30 years review. Cent Eur J Urol. 2014;67:88–92.

Moslemi MK. Evaluation of epidemiology, concomitant urethral disruption and seasonal variation of penile fracture: a report of 86 cases. Can Urol Assoc J. 2013;7:E572–5.

Nason GJ, McGuire BB, Liddy S, Looney A, Lennon GM, Mulvin DW, et al. Sexual function outcomes following fracture of the penis. Can Urol Assoc J. 2013;7:252–7.

Aderounmu AO, Salako AA, Olatoke SA, Eziyi AK, Agodinrin O. Penile fracture at LAUTECH Teaching Hospital, Osogbo. Niger J Clin Pr. 2009;12:330–2.

De Stefani S, Stubinski R, Ferneti F, Simonato A, Carmignani G. Penile fracture and associated urethral injury. Sci World J. 2004;4:92–9.

Fergany AF, Angermeier KW, Montague DK. Review of Cleveland clinic experience with penile fracture. Urology. 1999;54:352–5.

Zargooshi J. Penile fracture in Kermanshah, Iran: report of 172 cases. J Urol. 2000;164:364–6.

Phillips EA, Esposito AJ, Munarriz R. Acute penile trauma and associated morbidity: 9-year experience at a tertiary care center. Andrology. 2015;3:632–6.

Barros R, Schul A, Ornellas P, Koifman L, Favorito LA. Impact of surgical treatment of penile fracture on sexual function. Urology. 2018;126:128–33.

De Luca F, Garaffa G, Falcone M, Raheem A, Zacharakis E, Shabbir M, et al. Functional outcomes following immediate repair of penile fracture: a tertiary referral centre experience with 76 consecutive patients. Scand J Urol. 2017;51:170–5.
Ethics declarations
Conflict of interest
The authors declare that they have no conflict of interest.
Additional information
Publisher's note Springer Nature remains neutral with regard to jurisdictional claims in published maps and institutional affiliations.
About this article
Cite this article
Kominsky, H., Beebe, S., Shah, N. et al. Surgical reconstruction for penile fracture: a systematic review. Int J Impot Res 32, 75–80 (2020). https://doi.org/10.1038/s41443-019-0212-1
Received:

Revised:

Accepted:

Published:

Issue Date:

DOI: https://doi.org/10.1038/s41443-019-0212-1
This article is cited by
William M. Hughes
Caleb Natale
Wayne J. G. Hellstrom

Current Urology Reports (2021)