Abstract
Chronic obstructive pulmonary disease (COPD) is a common chronic disease. Mounting evidence shows that male patients with COPD have an increased risk of developing erectile dysfunction (ED). The aim of this meta-analysis was to assess the relationship between COPD and the risk of ED. To identify relevant studies, the PubMed, Cochrane Library and Embase databases, Chinese Biomedical Literature (CBM), China National Knowledge Infrastructure (CNKI) were systematically searched up to September 2018. Relative risks (RR) and corresponding 95% confidence intervals (CI) were used to estimate the strength of association between COPD and the risk of ED by using random-effects models. Finally, four studies (three cross-sectional, one cohort study) involving 58,307 participants were included. Synthesis results demonstrated that patients with COPD was not significantly associated with an increased overall prevalence of ED (RR = 1.31, 95% CI: 0.95–1.81, P = 0.099) compared to the healthy controls. However, the subgroup analyses showed that the prevalence of moderate ED (RR = 2.44, 95% CI: 1.29–4.59, P = 0.006) and severe ED (RR = 2.77, 95% CI: 1.57–4.94, P = 0.001) were significantly higher in patients with COPD. Evidence from this meta-analysis revealed that patients with COPD had a significantly increased susceptibility to moderate and severe ED, which should remind both clinicians and patients to be aware of the potential hazardous effect of COPD for developing ED.
Access options
Subscribe to Journal
Get full journal access for 1 year
$119.00
only $14.88 per issue
All prices are NET prices.
VAT will be added later in the checkout.
Tax calculation will be finalised during checkout.
Rent or Buy article
Get time limited or full article access on ReadCube.
from$8.99
All prices are NET prices.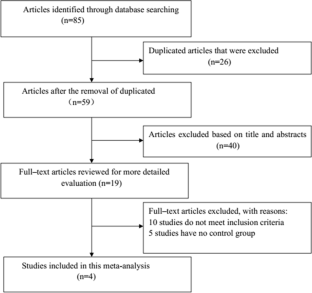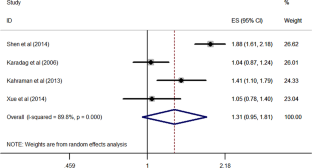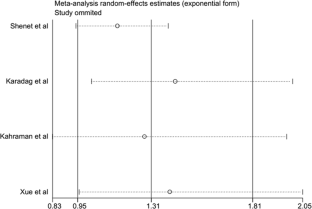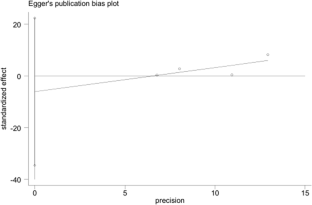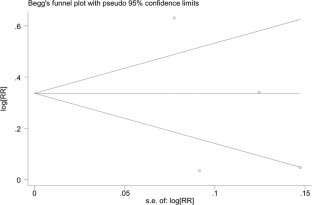 References
1.

Lue TF. Erectile dysfunction. N Engl J Med. 2000;342:1802–13.

2.

Mola JR. Erectile dysfunction in the older adult male. Urol Nurs. 2015;35:87–93.

3.

Pushkar' D, Kamalov AA, Al'-Shukri SK, Erkovich AA, Kogan MI, Pavlov VN, et al. Analysis of the results of epidemiological study on prevalence of erectile dysfunction in the Russian Federation. Urologiia. 2012;6:5–9.

4.

Corona G, Lee DM, Forti G, O'Connor DB, Maggi M, O'Neill TW, et al. Age-related changes in general and sexual health in middle-aged and older men: results from the European Male Ageing Study (EMAS). J Sex Med. 2010;7(Pt 1):1362–80.

5.

Selvin E, Burnett AL, Platz EA. Prevalence and risk factors for erectile dysfunction in the US. Am J Med. 2007;120:151–7.

6.

McCabe MP, Althof SE. A systematic review of the psychosocial outcomes associated with erectile dysfunction: does the impact of erectile dysfunction extend beyond a man's inability to have sex? J Sex Med. 2014;11:347–63.

7.

Somers KJ, Philbrick KL. Sexual dysfunction in the medically ill. Curr Psychiatry Rep. 2007;9:247–54.

8.

Bacon CG, Mittleman MA, Kawachi I, Giovannucci E, Glasser DB, Rimm EB. Sexual function in men older than 50 years of age: results from the health professionals follow-up study. Ann Intern Med. 2003;139:161–8.

9.

Isidori AM, Buvat J, Corona G, Goldstein I, Jannini EA, Lenzi A, et al. A critical analysis of the role of testosterone in erectile function: from pathophysiology to treatment—a systematic review. Eur Urol. 2014;65:99–112.

10.

Global strategy for the diagnosis, management, and prevention of chronic obstructive pulmonary disease: 2017 report. http://www.goldcopd.org/.

11.

Fabbri LM, Rabe KF. From COPD to chronic systemic inflammatory syndrome? Lancet. 2007;370:797–9.

12.

Areias V, Carreira S, Anciães M, Pinto P, Bárbara C. Comorbidities in patients with gold stage 4 chronic obstructive pulmonary disease. Rev Port Pneumol. 2014;20:5–11.

13.

Sin DD, Anthonisen NR, Soriano JB, Agusti AG. Mortality in COPD: role of comorbidities. Eur Respir J. 2006;28:1245–57.

14.

Kahraman H, Sen B, Koksal N, Kilinç M, Resim S. Erectile dysfunction and sex hormone changes in chronic obstructive pulmonary diseasepatients. Multidiscip Respir Med. 2013;8:66.

15.

Shen TC, Chen WC, Lin CL, Chen CH, Tu CY, Hsia TC, et al. The risk of erectile dysfunction in chronic obstructive pulmonary disease: a population-based cohort study in Taiwan. Medicine (Baltimore) 2015;94:e448.

16.

Karadag F, Ozcan H, Karul AB, Ceylan E, Cildag O. Correlates of erectile dysfunction in moderate-to-severe chronic obstructive pulmonary disease patients. Respirology 2007;12:248–53.

17.

Xue Q, Jiao WK, Deng XY, Gan YY, Fang GJ, Wang CJ, et al. Investigation of erectile dysfunction in patients with chronic obstructive pulmonary disease. J Clin Pulm Med. 2014;19:1572–5.

18.

Moher D, Liberati A, Tetzlaff J, Altman DG, PRISMA Group. Preferred reporting items for systematic reviews and meta-analyses: the PRISMA statement. PLoS Med. 2009;6:e1000097.

19.

Rosen RC, Cappelleri JC, Smith MD, Lipsky J, Pena BM. Development and evaluation of an abridged, 5-item version of the International Index of Erectile Function (IIEF-5) as a diagnostic tool for erectile dysfunction. Int J Impot Res. 1999;11:319–26.

20.

Liberati A, Altman DG, Tetzlaff J, Mulrow C, Gøtzsche PC, Ioannidis JP, et al. The PRISMA statement for reporting systematic reviews and meta-analyses of studies that evaluate health care interventions: explanation and elaboration. PLoS Med. 2009;6:e1000100.

21.

Whiting P, Rutjes AW, Reitsma JB, Bossuyt PM, Kleijnen J. The development of QUADAS: a tool for the quality assessment of studies of diagnostic accuracy included in systematic reviews. BMC Med Res Methodol. 2003;3:25.

22.

Stang A. Critical evaluation of the Newcastle-Ottawa scale for the assessment of the quality of nonrandomized studies in meta-analyses. Eur J Epidemiol. 2010;25:603–5.

23.

DerSimonian R, Kacker R. Random-effects model for metaanalysis of clinical trials: an update. Conte Clin Trials. 2007;28:105–14.

24.

Begg CB, Mazumdar M. Operating characteristics of a rank correlation test for publication bias. Biometrics. 1994;50:1088–101.

25.

Egger M, Davey Smith G, Schneider M, Minder C. Bias in metaanalysis detected by a simple, graphical test. Brit Med J. 1997;315:629–34.

26.

Ryan JG, Gajraj J. Erectile dysfunction and its association with metabolic syndrome and endothelial function among patients with type 2 diabetes mellitus. J Diabetes Complications. 2012;26:141–7.

27.

García-Cruz E, Piqueras M, Gosálbez D, Pérez-Márquez M, Peri L, Izquierdo L, et al. Erectile dysfunction and its severity are related to the number of cardiovascular risk factors. Actas Urol Esp. 2012;36:291–5.

28.

Fletcher EC, Martin RJ. Sexual dysfunction and erectile impotence in chronic obstructive pulmonary disease. Chest 1982;81:413–21.

29.

Köseoğlu N, Köseoğlu H, Ceylan E, Cimrin HA, Ozalevli S, Esen A. Erectile dysfunction prevalence and sexual function status in patients with chronic obstructive pulmonary disease. J Urol 2005;174:249–52.

30.

Collins EG, Halabi S, Langston M, Schnell T, Tobin MJ, Laghi F. Sexual dysfunction in men with COPD: impact on quality of life and survival. Lung 2012;190:545–56.

31.

Dias M, Oliveira MJ, Oliveira P, Ladeira I, Lima R, Guimarães M. Does any association exist between chronic obstructive pulmonary disease and erectile dysfunction? The DECODED study. Rev Port Pneumol (2006). 2017;23:259–65.

32.

Kaptein AA, van Klink RCJ, de Kok F, Scharloo M, Snoei L, Broadbent E, et al. Sexuality in patients with astma and COPD. Respir Med. 2008;102:198–204.

33.

Foresta C, Caretta N, Rossato M, Garolla A, Ferlin A. Role of androgens inerectile function. J Urol. 2004;171(Pt 1):2358–62.

34.

Makhlouf AA, Mohamed MA, Seftel AD, Niederberger C. Hypogonadism is associated with overt depression symptoms in men with erectile dysfunction. Int J Impot Res. 2008;20:157–61.

35.

Becker AJ, Uckert S, Stief CG, Scheller F, Knapp WH, Hartmann U, et al. Cavernous and systemic testosterone plasma levels during different penile conditions in healthy males and patients with erectile dysfunction. Urology. 2001;58:435–40.

36.

Morales A, Johnston B, Heaton JP, Lundie M. Testosterone supplementation for hypogonadal impotence: assessment of biochemical measures and therapeutic outcomes. J Urol. 1997;157:849–54.

37.

Turner HE, Wass JA. Gonadal function in men with chronic illness. Clin Endocrinol. 1997;47:379–403.

38.

d'A Semple P, Watson WS, Beastall GH, Bethel MI, Grant JK, Hume R, et al. Diet, absorption, and hormone studies in relation to body weight in obstructive airways disease. Thorax. 1979;34:783–8.

39.

Fabbri LM, Luppi F, Beghé B, Rabe KF. Complex chronic comorbidities of COPD. Eur Respir J. 2008;31:204–12.

40.

Melman A, Gingell JC. The epidemiology and pathophysiology of erectile dysfunction. J Urol. 1999;161:5–11.

41.

Meldrum DR, Gambone JC, Morris MA, Meldrum DA, Esposito K, Ignarro LJ. The link between erectile and cardiovascular health: the canary in the coal mine. Am J Cardiol. 2011;108:599–606.

42.

Verratti V, Di Giulio C, Berardinelli F, Pellicciotta M, Di Francesco S, Iantorno R, et al. The role of hypoxia in erectile dysfunction mechanisms. Int J Impot Res. 2007;19:496–500.

43.

Kim YW, Park SY, Kim JY, Huh JY, Jeon WS, Yoon CJ, et al. Metformin restores the penile expression of nitric oxide synthase in high-fat-fed obese rats. J Androl. 2007;28:555–60.

44.

Moreland RB. Is there a role of hypoxemia in penile fibrosis: a viewpoint presented to the Society for the Study of Impotence. Int J Impot Res. 1998;10:113–20.

45.

Sáenz de Tejada I, Angulo J, Cellek S, González-Cadavid N, Heaton J, Pickard R, et al. Physiology of erectile function. J Sex Med. 2004;1:254–65.

46.

Aasebø U, Gyltnes A, Bremnes RM, Aakvaag A, Slørdal L. Reversal of sexual impotence in male patients with chronic obstructive pulmonary disease and hypoxemia with longterm oxygen therapy. J Steroid Biochem Mol Biol. 1993;46:799–803.

47.

Eisner MD, Anthonisen N, Coultas D, Kuenzli N, Perez-Padilla R, Postma D, et al. An official American Thoracic Society public policy statement: novel risk factors and the global burden of chronic obstructive pulmonary disease. Am J Respir Crit Care Med. 2010;182:693–718.

48.

Zedan H, Hareadei AA, Abd-Elsayed AA, Abdel-Maguid EM. Cigarette smoking, hypertension and diabetes mellitus as risk factors for erectile dysfunction in upper Egypt. East Mediterr Health J. 2010;16:281–5.

49.

Bacon CG, Mittleman MA, Kawachi I, Giovannucci E, Glasser DB, Rimm EB. A prospective study of risk factors for erectile dysfunction. J Urol. 2010;176:217–21.

50.

Celermajer DS, Sorensen KE, Georgakopoulos D, Bull C, Thomas O, Robinson J, et al. Cigarette smoking is associated with dose-related and potentially reversible impairment of endothelium-dependent dilation in healthy young adults. Circulation. 1993;88:2149–55.

51.

Tostes RC, Carneiro FS, Lee AJ, Giachini FR, Leite R, Osawa Y, et al. Cigarette smoking and erectile dysfunction: focus on NO bioavailability and ROS generation. J Sex Med. 2008;5:1284–95.

52.

Zhang WZ, Venardos K, Chin-Dusting J, Kaye DM. Adverse effects of cigarette smoke on NO bioavailability: role of arginine metabolism and oxidative stress. Hypertension. 2006;48:278–85.

53.

Scho¨nhofer B. Sexuality in patients with restricted breathing. Med Klin (Munich). 2002;97:344–9.

54.

Janssen DJ, Spruit MA, Leue C, Gijsen C, Hameleers H, Schols JM, et al. Ciro network: symptoms of anxiety and depression in COPD patients entering pulmonary rehabilitation. Chron Respir Dis. 2010;7:147–57.
Ethics declarations
Conflict of interest
The authors declare that they have no conflict of interest.
Additional information
Publisher's note: Springer Nature remains neutral with regard to jurisdictional claims in published maps and institutional affiliations.
Supplementary information
About this article
Cite this article
Luo, L., Zhao, S., Wang, J. et al. Association between chronic obstructive pulmonary disease and risk of erectile dysfunction: a systematic review and meta-analysis. Int J Impot Res 32, 159–166 (2020). https://doi.org/10.1038/s41443-019-0165-4
Received:

Revised:

Accepted:

Published:

Issue Date:
Further reading
G. Corona

,

A. Sansone

,

F. Pallotti

,

A. Ferlin

,

R. Pivonello

,

A. M. Isidori

,

M. Maggi

&

E. A. Jannini

Journal of Endocrinological Investigation (2020)