Abstract
Data regarding the size of the adult penis is of great importance to both clinicians and researchers. Currently, there is no consensus regarding the preferred method for the evaluation of penile size. Various and conflicting methods are reported in the literature. We review the data on measurement methods of the flaccid, stretched, and erected penis with the aim of constructing a recommendation for best practice. A systematic search for articles on penile length and girth measurement techniques was performed using PubMed, Google Scholar, and Cochran Library. Only peer-reviewed articles published in English before August 2018 were reviewed. All authors evaluated the methods and results sections presented in each publication. Relevant, demonstrative publications are reported in this review. We did not find definitive evidence favoring one measuring method over the other. Therefore, we advocate the use of our recommendations for penile size measurement in future publications.
Access options
Subscribe to this journal
Receive 8 print issues and online access
$259.00 per year
only $32.38 per issue
Rent or buy this article
Prices vary by article type
from$1.95
to$39.95
Prices may be subject to local taxes which are calculated during checkout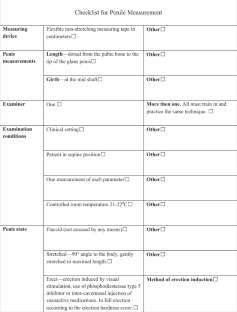 References
Veale D, Miles S, Read J, Troglia A, Carmona L, Fiorito C, et al. Penile dysmorphic disorder: development of a Screening Scale. Arch Sex Behav. 2015;44:2311–21.

Shah J, Christopher N. Can shoe size predict penile length? BJU Int. 2002;90:586–87.

Choi IH, Kim KH, Jung H, Yoon SJ, Kim SW, Kim TB. Second to fourth digit ratio: a predictor of adult penile length. Asian J Androl. 2011;13:710–14.

Lever J, Frederick DA, Peplau LA. Does size matter? Men's and women's views on penis size across the lifespan. Psychol Men Masc. 2006;7:129–43.

Dillon BE, Chama NB, Honig SC. Penile size and penile enlargement surgery: a review. Int J Impot Res. 2008;20:519–29.

Veale D, Miles S, Bramley S, Muir G, Hodsoll J. Am I normal? A systematic review and construction of nomograms for flaccid and erect penis length and circumference in up to 15 521 men. BJU Int. 2015;115:978–86.

Davoudzadeh EP, Davoudzadeh NP, Margolin E, Stahl PJ, Stember DS. Penile length: measurement technique and applications. Sex Med Rev. 2018;6:261–71.

Wessells H, Lue TF, McAninch JW. Penile length in the flaccid and erect states: guidelines for penile augmentation. J Urol. 1996;156:995–7.

Kamel I, Gadalla A, Ghanem H, Oraby M. Comparing penile measurements in normal and erectile dysfunction subjects. J Sex Med. 2009;6:2305–10.

Vasconcelos JS, Figueiredo RT, Nascimento FLB, Damião R, da Silva EA. The natural history of penile length after radical prostatectomy: a long-term prospective study. Urology. 2012;80:1293–7.

Berookhim BM, Nelson CJ, Kunzel B, Mulhall JP, Narus JB. Prospective analysis of penile length changes after radical prostatectomy. BJU Int. 2014;113:E131–6.

Khan S, Somani B, Lam W, Donat R. Establishing a reference range for penile length in Caucasian British men: a prospective study of 609 men. BJU Int. 2012;109:740–4.

Chen XB, Li RX, Yang HN, Dai JC. A comprehensive, prospective study of penile dimensions in Chinese men of multiple ethnicities. Int J Impot Res. 2014;26:172–6.

Schneider T, Sperling H, Lümmen G, Syllwasschy J, Rübben H. Does penile size in younger men cause problems in condom use? a prospective measurement of penile dimensions in 111 young and 32 older men. Urology. 2001;57:314–8.

Chen J, Gefen A, Greenstein A, Matzkin H, Elad D. Predicting penile size during erection. Int J Impot Res. 2000;12:328–33.

Herbenick D, Reece M, Schick V, Sanders SA. Erect penile length and circumference dimensions of 1,661 sexually active men in the United States. J Sex Med. 2014;11:93–101.

Kwon YS, Farber N, Yu JW, Rhee K, Han C, Ney P, et al. Longitudinal recovery patterns of penile length and the underexplored benefit of long-term phosphodiesterase-5 inhibitor use after radical prostatectomy. BMC Urol. 2018;18:37–44.

Gaither TW, Awad MA, Osterberg EC, Murphy GP, Allen IE, Chang A, et al. The natural history of erectile dysfunction after prostatic radiotherapy: a systematic review and meta-analysis. J Sex Med. 2017;14:1071–8.

Chen KK, Chou YH, Chang LS, Chen MT. Sonographic measurement of penile erectile volume. J Clin Ultrasound. 1992;20:247–53.

Savoie M, Kim SS, Soloway MS. A prospective study measuring penile length in men treated with radical prostatectomy for prostate cancer. J Urol. 2003;169:1462–4.

Promodu K, Shanmughadas KV, Bhat S, Nair KR. Penile length and circumference: an Indian study. Int J Impot Res. 2007;19:558–63.

Habous M, Muir G, Tealab A, Williamson B, Elkhouly M, Elhadek W, et al. Analysis of the interobserver variability in penile length assessment. J Sex Med. 2015;12:2031–5.

Awwad Z, Abu-Hijleh M, Basri S, Shegam N, Murshidi M, Ajlouni K. Penile measurements in normal adult Jordanians and in patients with erectile dysfunction. Int J Impot Res. 2005;17:191–5.

Habous M, Muir G, Soliman T, Farag M, Williamson B, Binsaleh S, et al. Outcomes of variation in technique and variation in accuracy of measurement in penile length measurement. Int J Impot Res. 2018;30:21–6.

Harding R, Golombok SE. Test-retest reliability of the measurement of penile dimensions in a sample of gay men. Arch Sex Behav. 2002;31:351–7.

Briganti A, Fabbri F, Salonia A, Gallina A, Chun FK-H, Dehò F, et al. Preserved postoperative penile size correlates well with maintained erectile function after bilateral nerve-sparing radical retropubic prostatectomy. Eur Urol. 2007;52:702–7.

Ponchietti R, Mondaini N, Bonafè M, Di Loro F, Biscioni S, Masieri L. Penile length and circumference: a study on 3,300 young Italian males. Eur Urol. 2001;39:183–6.

Yafi FA, Alzweri L, McCaslin IR, Libby RP, Sangkum P, Sikka SC, et al. Grower or shower? Predictors of change in penile length from the flaccid to erect state. Int J Impot Res. 2018;30:287–91.

Shirai M, Nakamura M, Ishii N, Mitsukawa S, Sawai Y. Determination of intrapenial blood volume using 99mTc-labeled autologous red blood cells. Tohoku J Exp Med. 1976;120:377–83.

Nelson RP, Lue TF. Determination of erectile penile volume by ultrasonography. J Urol. 1989;141:1123–6.

Margolin EJ, Mlynarczyk CM, Mulhall JP, Stember DS, Stahl PJ. Three-dimensional photography for quantitative assessment of penile volume-loss deformities in Peyronie's disease. J Sex Med. 2017;14:829–33.

Hricak H, Marotti M, Gilbert TJ, Lue TF, Wetzel LH, McAninch JW, et al. Normal penile anatomy and abnormal penile conditions: evaluation with MR imaging. Radiology. 1988;169:683–90.

Mulhall JP, Levine LA, Junemann KP. Erection hardness: a unifying factor for defining response in the treatment of erectile dysfunction. Urology. 2006;68:17–5.
Acknowledgements
Angelie Singh, M.D., M.P.H., M.Sc. is thanked for editorial and linguistic assistance.
Ethics declarations
Conflict of interest
The authors declare that they have no conflict of interest.
Additional information
Publisher's note: Springer Nature remains neutral with regard to jurisdictional claims in published maps and institutional affiliations.
About this article
Cite this article
Greenstein, A., Dekalo, S. & Chen, J. Penile size in adult men—recommendations for clinical and research measurements. Int J Impot Res 32, 153–158 (2020). https://doi.org/10.1038/s41443-019-0157-4
Received:

Revised:

Accepted:

Published:

Issue Date:

DOI: https://doi.org/10.1038/s41443-019-0157-4