Abstract
Fruit from the Prunus mume tree is a traditional food in Japan. Recently, bainiku-ekisu, an infused juice concentrate of Japanese Prunus mume, is attracting attention as a health promoting supplement. Angiotensin II (Ang II) plays a central role in development of hypertension. It has been reported that bainiku-ekisu treatment attenuates the growth-promoting signaling induced by Ang II in vascular smooth muscle cells. However, whether bainiku-ekisu has any effect on an animal model of hypertension remains unknown. Therefore, this study was designed to explore the potential anti-hypertensive benefit of bainiku-ekisu utilizing a mouse model of hypertension with Ang II infusion. Male C57BL/6 mice were infused with Ang II for 2 weeks and given 0.1% bainiku-ekisu containing water or normal water for 2 weeks with blood pressure evaluation. After 2 weeks, mice were euthanized, and the aortas were collected for evaluation of remodeling. Aortic medial hypertrophy was observed in control mice after Ang II infusion, which was attenuated in bainiku-ekisu group with Ang II infusion. Bainiku-ekisu further attenuated aortic induction of collagen producing cells and immune cell infiltration. Development of hypertension induced by Ang II was also prevented by bainiku-ekisu. Echocardiograph indicated protection of Ang II-induced cardiac hypertrophy by bainiku-ekisu. In vascular fibroblasts, bainiku-ekisu attenuated vascular cell adhesion molecule-1 induction, an endoplasmic reticulum stress marker, inositol requiring enzyme-1α phosphorylation, and enhancement in glucose consumption in response to Ang II. In conclusion, Bainiku-ekisu prevented Ang II-induced hypertension and inflammatory vascular remodeling. Potential cardiovascular health benefit to taking bainiku-ekisu should be further studied.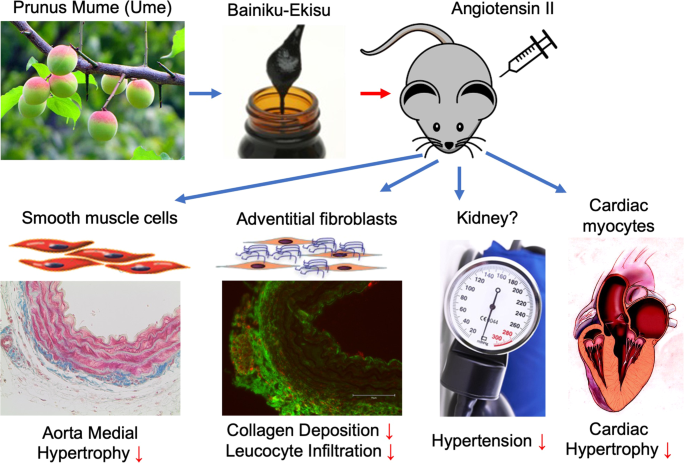 Access options
Subscribe to this journal
Receive 12 print issues and online access
$259.00 per year
only $21.58 per issue
Rent or buy this article
Prices vary by article type
from$1.95
to$39.95
Prices may be subject to local taxes which are calculated during checkout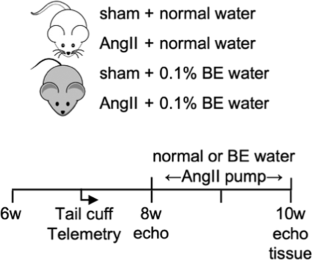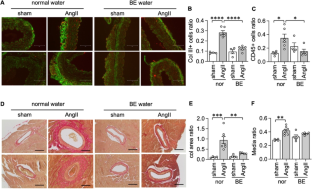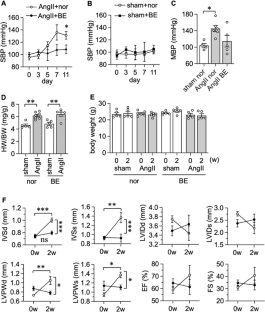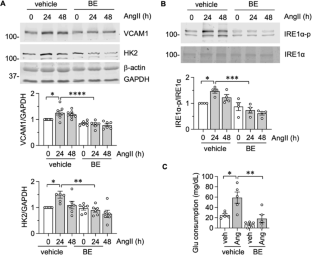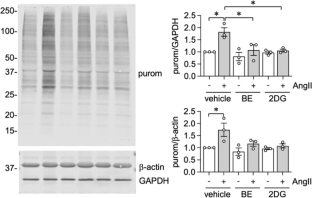 References
Mills KT, Bundy JD, Kelly TN, Reed JE, Kearney PM, Reynolds K, et al. Global disparities of hypertension prevalence and control: a systematic analysis of population-based studies from 90 countries. Circulation. 2016;134:441–50.

Asayama K, Satoh M, Murakami Y, Ohkubo T, Nagasawa SY, Tsuji I, et al. Cardiovascular risk with and without antihypertensive drug treatment in the Japanese general population: participant-level meta-analysis. Hypertension. 2014;63:1189–97.

Lieb W, Enserro DM, Sullivan LM, Vasan RS. Residual cardiovascular risk in individuals on blood pressure-lowering treatment. J Am Heart Assoc. 2015;4:e002155.

Forrester SJ, Booz GW, Sigmund CD, Coffman TM, Kawai T, Rizzo V, et al. Angiotensin II signal transduction: an update on mechanisms of physiology and pathophysiology. Physiol Rev. 2018;98:1627–738.

Naderi SH, Bestwick JP, Wald DS. Adherence to drugs that prevent cardiovascular disease: meta-analysis on 376,162 patients. Am J Med. 2012;125:882–7.e1.

Brown IAM, Diederich L, Good ME, DeLalio LJ, Murphy SA, Cortese-Krott MM, et al. Vascular smooth muscle remodeling in conductive and resistance arteries in hypertension. Arterioscler Thromb Vasc Biol. 2018;38:1969–85.

Chuda Y, Ono H, Ohnishi-Kameyama M, Matsumoto K, Nagata T, Kikuchi Y. Mumefural, citric acid derivative improving blood fluidity from fruit-juice concentrate of Japanese apricot (Prunus mume Sieb. et Zucc). J Agric Food Chem. 1999;47:828–31.

Utsunomiya H, Takekoshi S, Gato N, Utatsu H, Motley ED, Eguchi K, et al. Fruit-juice concentrate of Asian plum inhibits growth signals of vascular smooth muscle cells induced by angiotensin II. Life Sci. 2002;72:659–67.

Jo C, Kim B, Lee S, Ham I, Lee K, Choi HY. Vasorelaxant effect of Prunus mume (Siebold) Siebold & Zucc. Branch through the endothelium-dependent pathway. Molecules. 2019;24:3340.

Jo C, Kim B, Lee K, Choi HY. Vascular relaxation and blood pressure lowering effects of Prunus mume in rats. Bioengineering. 2023;10:74.

Takemura S, Yoshimasu K, Fukumoto J, Mure K, Nishio N, Kishida K, et al. Safety and adherence of Umezu polyphenols in the Japanese plum (Prunus mume) in a 12-week double-blind randomized placebo-controlled pilot trial to evaluate antihypertensive effects. Environ Health Prev Med. 2014;19:444–51.

Lerman LO, Kurtz TW, Touyz RM, Ellison DH, Chade AR, Crowley SD, et al. Animal models of hypertension: a scientific statement from the American Heart Association. Hypertension. 2019;73:e87–120.

Takayanagi T, Kawai T, Forrester SJ, Obama T, Tsuji T, Fukuda Y, et al. Role of epidermal growth factor receptor and endoplasmic reticulum stress in vascular remodeling induced by angiotensin II. Hypertension. 2015;65:1349–55.

Okuno K, Torimoto K, Cicalese SM, Preston K, Rizzo V, Hashimoto T, et al. Angiotensin II type 1A receptor expressed in smooth muscle cells is required for hypertensive vascular remodeling in mice infused with angiotensin II. Hypertension. 2023;80:668–77.

Cicalese S, Torimoto K, Okuno K, Elliott KJ, Rizzo V, Hashimoto T, et al. Endoplasmic reticulum chemical chaperone 3-hydroxy-2-naphthoic acid reduces angiotensin II-induced vascular remodeling and hypertension in vivo and protein synthesis in vitro. J Am Heart Assoc. 2022;11:e028201.

Haggerty CM, Mattingly AC, Gong MC, Su W, Daugherty A, Fornwalt BK. Telemetric blood pressure assessment in angiotensin II-infused ApoE-/- mice: 28 day natural history and comparison to tail-cuff measurements. PLoS ONE. 2015;10:e0130723.

Takayanagi T, Forrester SJ, Kawai T, Obama T, Tsuji T, Elliott KJ, et al. Vascular ADAM17 as a novel therapeutic target in mediating cardiovascular hypertrophy and perivascular fibrosis induced by angiotensin II. Hypertension. 2016;68:949–55.

Torimoto K, Okuno K, Kuroda R, Shanas N, Cicalese SM, Eguchi K, et al. Glucose consumption of vascular cell types in culture: toward optimization of experimental conditions. Am J Physiol Cell Physiol. 2022;322:C73–85.

Elliott KJ, Eguchi S. In vitro analysis of hypertensive signal transduction: kinase activation, kinase manipulation, and physiologic outputs. Methods Mol Biol. 2017;1527:201–11.

Su EJ, Lombardi DM, Siegal J, Schwartz SM. Angiotensin II induces vascular smooth muscle cell replication independent of blood pressure. Hypertension. 1998;31:1331–7.

Owens AP 3rd, Subramanian V, Moorleghen JJ, Guo Z, McNamara CA, Cassis LA, et al. Angiotensin II induces a region-specific hyperplasia of the ascending aorta through regulation of inhibitor of differentiation 3. Circ Res. 2010;106:611–9.

Ohtsu H, Dempsey PJ, Frank GD, Brailoiu E, Higuchi S, Suzuki H, et al. ADAM17 mediates epidermal growth factor receptor transactivation and vascular smooth muscle cell hypertrophy induced by angiotensin II. Arterioscler Thromb Vasc Biol. 2006;26:e133–7.

Eguchi S, Iwasaki H, Hirata Y, Frank GD, Motley ED, Yamakawa T, et al. Epidermal growth factor receptor is indispensable for c-Fos expression and protein synthesis by angiotensin II. Eur J Pharm. 1999;376:203–6.

Sparks MA, Stegbauer J, Chen D, Gomez JA, Griffiths RC, Azad HA, et al. Vascular type 1A angiotensin II receptors control BP by regulating renal blood flow and urinary sodium excretion. J Am Soc Nephrol. 2015;26:2953–62.

Wu J, Montaniel KR, Saleh MA, Xiao L, Chen W, Owens GK, et al. Origin of matrix-producing cells that contribute to aortic fibrosis in hypertension. Hypertension. 2016;67:461–8.

Lu S, Jolly AJ, Strand KA, Dubner AM, Mutryn MF, Moulton KS, et al. Smooth muscle-derived progenitor cell myofibroblast differentiation through KLF4 downregulation promotes arterial remodeling and fibrosis. JCI Insight. 2020;5:e139445.

Tummala PE, Chen XL, Sundell CL, Laursen JB, Hammes CP, Alexander RW, et al. Angiotensin II induces vascular cell adhesion molecule-1 expression in rat vasculature: a potential link between the renin-angiotensin system and atherosclerosis. Circulation. 1999;100:1223–9.

Forrester SJ, Elliott KJ, Kawai T, Obama T, Boyer MJ, Preston KJ, et al. Caveolin-1 deletion prevents hypertensive vascular remodeling induced by angiotensin II. Hypertension. 2017;69:79–86.

Yin L, Bai J, Yu WJ, Liu Y, Li HH, Lin QY. Blocking VCAM-1 prevents angiotensin II-induced hypertension and vascular remodeling in mice. Front Pharm. 2022;13:825459.

Lombardi AA, Gibb AA, Arif E, Kolmetzky DW, Tomar D, Luongo TS, et al. Mitochondrial calcium exchange links metabolism with the epigenome to control cellular differentiation. Nat Commun. 2019;10:4509.

Sparks MA, Rianto F, Diaz E, Revoori R, Hoang T, Bouknight L, et al. Direct actions of AT(1) (type 1 angiotensin) receptors in cardiomyocytes do not contribute to cardiac hypertrophy. Hypertension. 2021;77:393–404.

Nair AB, Jacob S. A simple practice guide for dose conversion between animals and human. J Basic Clin Pharm. 2016;7:27–31.

Weidmann E, Samadi N, Klems M, Heiden D, Seppova K, Ret D, et al. Mouse chow composition influences immune responses and food allergy development in a mouse model. Nutrients. 2018;10:1775.
Acknowledgements
We thank Dr. Katherine J Elliott for critical comments.
Funding
This work was supported by the National Institutes of Health Grant (RO1HL128324 to SE) and a research gift fund from Kobayashi Pharmaceutical Japan.
Ethics declarations
Conflict of interest
The authors declare no competing interests.
Additional information
Publisher's note Springer Nature remains neutral with regard to jurisdictional claims in published maps and institutional affiliations.
Supplementary information
Rights and permissions
Springer Nature or its licensor (e.g. a society or other partner) holds exclusive rights to this article under a publishing agreement with the author(s) or other rightsholder(s); author self-archiving of the accepted manuscript version of this article is solely governed by the terms of such publishing agreement and applicable law.
About this article
Cite this article
Okuno, K., Torimoto, K., Kuroda, R. et al. Infused juice concentrate of Japanese plum Prunus mume attenuates inflammatory vascular remodeling in a mouse model of hypertension induced by angiotensin II. Hypertens Res 46, 1923–1933 (2023). https://doi.org/10.1038/s41440-023-01332-9
Received:

Revised:

Accepted:

Published:

Issue Date:

DOI: https://doi.org/10.1038/s41440-023-01332-9
Keywords
This article is cited by
Masashi Mukohda
Risuke Mizuno
Hiroshi Ozaki

Hypertension Research (2023)