Abstract
Renin-angiotensin system inhibitors have been shown to prevent cancer metastasis in experimental models, but there are limited data in clinical studies. We aimed to explore whether renin-angiotensin system inhibitors administered during the period of cancer resection can influence the subsequent development of metastasis by analyzing multiple individual types of primary cancers. A total of 4927 patients who had undergone resection of primary cancers at Kyushu University Hospital from 2009 to 2014 were enrolled and categorized into 3 groups based on the use of antihypertensive drugs: renin-angiotensin system inhibitors, other drugs, and none. Cumulative incidence functions of metastasis, treating death as a competing risk, were calculated, and the difference was examined among groups by Gray's test. Fine and Gray's model was employed to evaluate multivariate-adjusted hazards of incidental metastasis. In the multivariate-adjusted analysis, patients with skin and renal cancers showed statistically higher risks of metastasis with the use of renin-angiotensin system inhibitors (hazard ratio [95% confidence interval], 5.81 [1.07–31.57] and 4.24 [1.71–10.53], respectively). Regarding pancreatic cancer, patients treated with antihypertensive drugs other than renin-angiotensin system inhibitors had a significantly increased risk of metastasis (hazard ratio [95% confidence interval], 3.31 [1.43–7.69]). Future larger studies are needed to ascertain whether renin-angiotensin system inhibitors can increase the risk of metastasis in skin and renal cancers, focusing on specific tissue types and potential factors associated with renin-angiotensin system inhibitor use.
Access options
Subscribe to Journal
Get full journal access for 1 year
$119.00
only $9.92 per issue
All prices are NET prices.
VAT will be added later in the checkout.
Tax calculation will be finalised during checkout.
Buy article
Get time limited or full article access on ReadCube.
$32.00
All prices are NET prices.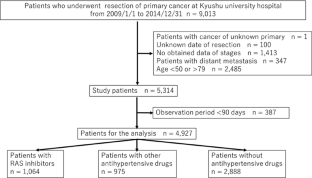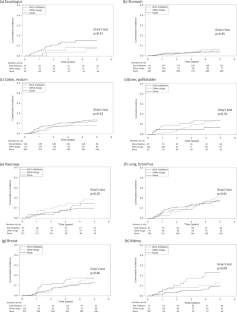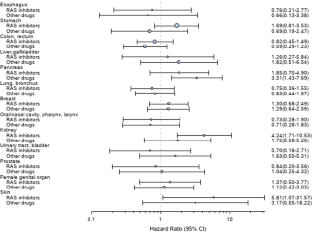 References
Dzau VJ. Circulating versus local renin-angiotensin system in cardiovascular homeostasis. Circulation. 1988;77:I4–13.

Uemura H, Ishiguro H, Nakaigawa N, Nagashima Y, Miyoshi Y, Fujinami K, et al. Angiotensin II receptor blocker shows antiproliferative activity in prostate cancer cells: a possibility of tyrosine kinase inhibitor of growth factor. Mol Cancer Ther. 2003;2:1139–47.

Chen X, Meng Q, Zhao Y, Liu M, Li D, Yang Y, et al. Angiotensin II type 1 receptor antagonists inhibit cell proliferation and angiogenesis in breast cancer. Cancer Lett. 2013;328:318–24.

Egami K, Murohara T, Shimada T, Sasaki K, Shintani S, Sugaya T, et al. Role of host angiotensin II type 1 receptor in tumor angiogenesis and growth. J Clin Invest. 2003;112:67–75.

Kinoshita J, Fushida S, Harada S, Yagi Y, Fujita H, Kinami S, et al. Local angiotensin II-generation in human gastric cancer: Correlation with tumor progression through the activation of ERK1/2, NF-kappaB and survivin. Int J Oncol. 2009;34:1573–82.

Koh SL, Ager EI, Costa PL, Malcontenti-Wilson C, Muralidharan V, Christophi C. Blockade of the renin-angiotensin system inhibits growth of colorectal cancer liver metastases in the regenerating liver. Clin Exp Metastasis. 2014;31:395–405.

Suganuma T, Ino K, Shibata K, Kajiyama H, Nagasaka T, Mizutani S, et al. Functional expression of the angiotensin II type 1 receptor in human ovarian carcinoma cells and its blockade therapy resulting in suppression of tumor invasion, angiogenesis, and peritoneal dissemination. Clin Cancer Res. 2005;11:2686–94.

Umemura S, Arima H, Arima S, Asayama K, Dohi Y, Hirooka Y, et al. The Japanese Society of Hypertension guidelines for the management of hypertension (JSH 2019). Hypertens Res. 2019;42:1235–481.

Yancy CW, Jessup M, Bozkurt B, Butler J, Casey DE Jr, Colvin MM, et al. 2017 ACC/AHA/HFSA focused update of the 2013 ACCF/AHA guideline for the management of heart failure: a report of the American College of Cardiology/American Heart Association Task Force on Clinical Practice guidelines and the Heart Failure Society of America. Circulation. 2017;136:e137–e161.

American Diabetes Association. Standards of medical care in diabetes—2009. Diabetes Care. 2009;32:S13–61.

Neo JH, Ager EI, Angus PW, Zhu J, Herath CB, Christophi C. Changes in the renin angiotensin system during the development of colorectal cancer liver metastases. BMC Cancer. 2010;10:134.

Miyajima A, Kosaka T, Asano T, Asano T, Seta K, Kawai T, et al. Angiotensin II type I antagonist prevents pulmonary metastasis of murine renal cancer by inhibiting tumor angiogenesis. Cancer Res. 2002;62:4176–9.

Ishikane S, Hosoda H, Nojiri T, Tokudome T, Mizutani T, Miura K, et al. Angiotensin II promotes pulmonary metastasis of melanoma through the activation of adhesion molecules in vascular endothelial cells. Biochem Pharm. 2018;154:136–47.

Takiguchi T, Takahashi-Yanaga F, Ishikane S, Tetsuo F, Hosoda H, Arioka M, et al. Angiotensin II promotes primary tumor growth and metastasis formation of murine TNBC 4T1 cells through the fibroblasts around cancer cells. Eur J Pharm. 2021;909:174415.

Fujita M, Hayashi I, Yamashina S, Itoman M, Majima M. Blockade of angiotensin AT1a receptor signaling reduces tumor growth, angiogenesis, and metastasis. Biochem Biophys Res Commun. 2002;294:441–7.

Neo JH, Malcontenti-Wilson C, Muralidharan V, Christophi C. Effect of ACE inhibitors and angiotensin II receptor antagonists in a mouse model of colorectal cancer liver metastases. J Gastroenterol Hepatol. 2007;22:577–84.

Miyajima A, Kosaka T, Kikuchi E, Oya M. Renin-angiotensin system blockade: Its contribution and controversy. Int J Urol. 2015;22:721–30.

Sun H, Li T, Zhuang R, Cai W, Zheng Y. Do renin-angiotensin system inhibitors influence the recurrence, metastasis, and survival in cancer patients?: Evidence from a meta-analysis including 55 studies. Medecine. 2017;96:e6394.

Ishikane S, Takahashi-Yanaga F. The role of angiotensin II in cancer metastasis: Potential of renin-angiotensin system blockade as a treatment for cancer metastasis. Biochem Pharm. 2018;151:96–103.

Hashemzehi M, Beheshti F, Hassanian SM, Ferns GA, Khazaei M, Avan A. Therapeutic potential of renin angiotensin system inhibitors in cancer cells metastasis. Pathol Res Pr. 2020;216:153010.

Zhou Q, Chen DS, Xin L, Zhou LQ, Zhang HT, Liu L, et al. The renin-angiotensin system blockers and survival in digestive system malignancies: a systematic review and meta-analysis. Medecine. 2020;99:e19075.

Tanaka N, Miyajima A, Kikuchi E, Matsumoto K, Hagiwara M, Ide H, et al. Prognonstic impact of renin-angiotensin system blockade in localised upper-tract urothelial carcinoma. Br J Cancer. 2012;106:290–6.

Miyajima A, Yazawa S, Kosaka T, Tanaka N, Shirotake S, Mizuno R, et al. Prognostic impact of renin-angiotensin system blockade on renal cell carcinoma after surgery. Ann Surg Oncol. 2015;22:3751–9.

Wang H, Liao Z, Zhuang Y, Liu Y, Levy LB, Xu T, et al. Incidental receipt of cardiac medications and survival outcomes among patients with stage III non-small-cell lung cancer after definitive radiotherapy. Clin Lung Cancer. 2015;16:128–36.

Morris ZS, Saha S, Magnuson WJ, Morris BA, Borkenhagen JF, Ching A, et al. Increased tumor response to neoadjuvant therapy among rectal cancer patients taking angiotensin-converting enzyme inhibitors or angiotensin receptor blockers. Cancer. 2016;122:2487–95.

Tohme S, Simmons RL, Tsung A. Surgery for cancer: a trigger for metastases. Cancer Res. 2017;77:1548–52.

Alieva M, van Rheenen J, Broekman MLD. Potential impact of invasive surgical procedures on primary tumor growth and metastasis. Clin Exp Metastasis. 2018;35:319–31.

Amano H, Ito Y, Ogawa F, Eshima K, Suzuki T, Oba K, et al. Angiotensin II type 1A receptor signaling facilitates tumor metastasis formation through p-selectin-mediated interaction of tumor cells with platelets and endothelial cells. Am J Pathol. 2013;182:553–64.

Higashi T, Nakamura F, Shibata A, Emori Y, Nishimoto H. The national database of hospital-based cancer registries: a nationwide infrastructure to support evidence-based cancer care and cancer control policy in Japan. Jpn J Clin Oncol. 2014;44:2–8.

Yamaguchi M, Inomata S, Harada S, Matsuzaki Y, Kawaguchi M, et al. Establishment of the MID‐NET® medical information database network as a reliable and valuable database for drug safety assessments in Japan. Pharmacoepidemiol Drug Saf. 2019;28:1395–404.

World Health Organization. International Classification of Diseases for Oncology. 3rd edn. https://apps.who.int/iris/bitstream/handle/10665/96612/9789241548496_eng.pdf.

Sobin L, Wittekind C. TNM Classification of Malignant Tumours (UICC). 6th edn. New York: John Wiley & Sons Inc; 2002.

Fine JP. Regression modeling of competing crude failure probabilities. Biostatistics. 2001;2:85–97.

Fine JP, Gray RJ. A proportional hazards model for the subdistribution of a competing risk. J Am Stat Assoc. 1999;94:496–509.

Carney K, Cousins M. Does hydrochlorothiazide increase the incidence of skin, lip and oral cancer in a UK population? Evid Based Dent. 2022;23:38–39.

Kreutz R, Algharably EAH, Douros A. Reviewing the effects of thiazide and thiazide-like diuretics as photosensitizing drugs on the risk of skin cancer. J Hypertens. 2019;37:1950–8.

Bendinelli B, Masala G, Garamella G, Palli D, Caini S. Do thiazide diuretics increase the risk of skin cancer? A critical review of the scientific evidence and updated meta-analysis. Curr Cardiol Rep. 2019;21:92.

Sahmoun AE, Case LD, Chavour S, Kareem S, Schwartz GG. Hypertension and risk of brain metastasis from small cell lung cancer: a retrospective follow-up study. Anticancer Res. 2004;24:3115–20.

Makino T, Izumi K, Iwamoto H, Kadomoto S, Naito R, Yaegashi H, et al. The impact of hypertension on the clinicopathological outcome and progression of renal cell carcinoma. Anticancer Res. 2020;40:4087–93.

Failing JJ, Finnes HD, Kottschade LA, Allred JB, Markovic SN. Effects of commonly used chronic medications on the outcomes of ipilimumab therapy in patients with metastatic melanoma. Melanoma Res. 2016;26:609–15.

Nakai Y, Isayama H, Ijichi H, Sasaki T, Sasahira N, Hirano K, et al. Inhibition of renin-angiotensin system affects prognosis of advanced pancreatic cancer receiving gemcitabine. Br J Cancer. 2010;103:1644–8.

Holmes S, Griffith EJ, Musto G, Minuk GY. Antihypertensive medications and survival in patients with cancer: a population-based retrospective cohort study. Cancer Epidemiol. 2013;37:881–5.

Schuster NA, Hoogendijk EO, Kok AAL, Twisk JWR, Heymans MW. Ignoring competing events in the analysis of survival data may lead to biased results: a nonmathematical illustration of competing risk analysis. J Clin Epidemiol. 2020;122:42–48.

Schmieder RE, Hilgers KF, Schlaich MP, Schmidt BMW. Renin-angiotensin system and cardiovascular risk. Lancet. 2007;369:1208–19.

Vecchio LD, Procaccio M, Viganò S, Cusi D. Mechanisms of disease: the role of aldosterone in kidney damage and clinical benefits of its blockade. Nat Clin Pr Nephrol. 2007;3:42–49.
Acknowledgements
We are grateful to M. Nogami and C. Yato for their helpful support in data collection. The authors would like to thank Enago (www.enago.jp) for the English language review.
Ethics declarations
Conflict of interest
The authors declare no competing interests.
Additional information
Publisher's note Springer Nature remains neutral with regard to jurisdictional claims in published maps and institutional affiliations.
Supplementary Information
Rights and permissions
Springer Nature or its licensor (e.g. a society or other partner) holds exclusive rights to this article under a publishing agreement with the author(s) or other rightsholder(s); author self-archiving of the accepted manuscript version of this article is solely governed by the terms of such publishing agreement and applicable law.
About this article
Cite this article
Hirata, A., Ishikane, S., Takahashi-Yanaga, F. et al. Increased risk of metastasis in patients with incidental use of renin-angiotensin system inhibitors: a retrospective analysis for multiple types of cancer based on electronic medical records. Hypertens Res 45, 1869–1881 (2022). https://doi.org/10.1038/s41440-022-01038-4
Received:

Revised:

Accepted:

Published:

Issue Date:

DOI: https://doi.org/10.1038/s41440-022-01038-4
Keywords
Cancer metastasis

Cumulative incidence function

Electronic medical records

Renin-angiotensin system inhibitors
This article is cited by
Kazuomi Kario
Satoshi Hoshide
Masaki Mogi

Hypertension Research (2022)

Satoshi Kidoguchi
Akira Nishiyama

Hypertension Research (2022)