Abstract
Finding complementary compelling novel therapeutic agents for better control of blood pressure in people with resistant hypertension is moving into unchartered territory. The latest therapeutic developments explore approaches in the clinical arena that were either not examined or could only be examined in animal models two decades ago. Four main mechanisms have now been explored and operationalized in drug development: (a) mineralocorticoid receptor blockade using a nonsteroidal structure with many fewer side effects, (b) an aminopeptidase A inhibitor that has central effects on vasopressin, (c) a combined endothelin A and B receptor blocker and (d) an aldosterone synthase inhibitor devoid of glucocorticoid activity. All these agents are either completing Phase II development and starting Phase III or are involved in the ongoing recruitment of Phase III trials. Additionally, novel agents use antisense inhibition to block angiotensinogen development in the liver. These agents are discussed only for completeness, as they are still in Phase II trial development. Last, another agent that was initially being developed as an antihypertensive and once the data were reviewed by the company clearly showed efficacy as a heart failure agent was sacubitril/valsartan, which was ultimately approved. However, there are some discussions about reinvigorating the quest for an indication for hypertension, although no such steps have been formally initiated.
Access options
Subscribe to Journal
Get full journal access for 1 year
$119.00
only $9.92 per issue
All prices are NET prices.
VAT will be added later in the checkout.
Tax calculation will be finalised during checkout.
Buy article
Get time limited or full article access on ReadCube.
$32.00
All prices are NET prices.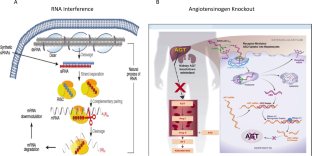 References
Harrison DG, Coffman TM, Wilcox CS. Pathophysiology of hypertension: The Mosaic Theory and Beyond. Circ Res. 2021;128:847–63.

Carey RM, Calhoun DA, Bakris GL, Brook RD, Daugherty SL, Dennison-Himmelfarb CR, et al. Resistant hypertension: detection, evaluation, and management: a scientific statement from the American Heart Association. Hypertension. 2018;72:e53–90.

Weber MA, Schiffrin EL, White WB, Mann S, Lindholm LH, Kenerson JG, et al. Clinical practice guidelines for the management of hypertension in the community: a statement by the American Society of Hypertension and the International Society of Hypertension. J Clin Hypertens (Greenwich). 2014;16:14–26.

Williams B, Mancia G, Spiering W, Agabiti Rosei E, Azizi M, Burnier M, et al. 2018 ESC/ESH Guidelines for the management of arterial hypertension. Eur Heart J. 2018;39:3021–104.

Oparil S, Acelajado MC, Bakris GL, Berlowitz DR, Cífková R, Dominiczak AF, et al. Hypertension. Nat Rev Dis Prim. 2018;4:18014.

Law MR, Wald NJ, Morris JK, Jordan RE. Value of low dose combination treatment with blood pressure lowering drugs: analysis of 354 randomised trials. Bmj. 2003;326:1427.

Gradman AH, Basile JN, Carter BL, Bakris GL. Combination therapy in hypertension. J Clin Hypertens (Greenwich). 2011;13:146–54.

Jamerson K, Weber MA, Bakris GL, Dahlöf B, Pitt B, Shi V, et al. Benazepril plus amlodipine or hydrochlorothiazide for hypertension in high-risk patients. N. Engl J Med. 2008;359:2417–28.

Bakris GL, Sarafidis PA, Weir MR, Dahlöf B, Pitt B, Jamerson K, et al. Renal outcomes with different fixed-dose combination therapies in patients with hypertension at high risk for cardiovascular events (ACCOMPLISH): a prespecified secondary analysis of a randomised controlled trial. Lancet. 2010;375:1173–81.

Rahman M, Pressel S, Davis BR, Nwachuku C, Wright JT Jr., Whelton PK, et al. Renal outcomes in high-risk hypertensive patients treated with an angiotensin-converting enzyme inhibitor or a calcium channel blocker vs a diuretic: a report from the Antihypertensive and Lipid-Lowering Treatment to Prevent Heart Attack Trial (ALLHAT). Arch Intern Med. 2005;165:936–46.

Wright JT Jr., Bakris G, Greene T, Agodoa LY, Appel LJ, Charleston J, et al. Effect of blood pressure lowering and antihypertensive drug class on progression of hypertensive kidney disease: results from the AASK trial. Jama. 2002;288:2421–31.

Randomised placebo-controlled trial of effect of ramipril on decline in glomerular filtration rate and risk of terminal renal failure in proteinuric, non-diabetic nephropathy. The GISEN Group (Gruppo Italiano di Studi Epidemiologici in Nefrologia). Lancet. 1997;349:1857–63.

Lewis EJ, Hunsicker LG, Clarke WR, Berl T, Pohl MA, Lewis JB, et al. Renoprotective effect of the angiotensin-receptor antagonist irbesartan in patients with nephropathy due to type 2 diabetes. N. Engl J Med. 2001;345:851–60.

Brenner BM, Cooper ME, de Zeeuw D, Keane WF, Mitch WE, Parving HH, et al. Effects of losartan on renal and cardiovascular outcomes in patients with type 2 diabetes and nephropathy. N. Engl J Med. 2001;345:861–9.

Kintscher U, Bakris GL, Kolkhof P. Novel non-steroidal mineralocorticoid receptor antagonists in cardiorenal disease. Br J Pharmacol. 2021. https://doi.org/10.1111/bph.15747.

Barrera-Chimal J, Jaisser F, Anders HJ. The mineralocorticoid receptor in chronic kidney disease. Br J Pharmacol. 2021. https://doi.org/10.1111/bph.15734.

Barrera-Chimal J, Kolkhof P, Lima-Posada I, Joachim A, Rossignol P, Jaisser F. Differentiation between emerging non-steroidal and established steroidal mineralocorticoid receptor antagonists: head-to-head comparisons of pharmacological and clinical characteristics. Expert Opin Investig Drugs. 2021;30:1141–57.

Chow CPLJ, Tan XJ, Huang ZH. Pharmacological Profile of Kbp-5074, a novel nonsteroidal mineralocorticoid receptor antagonist for the treatment of cardiorenal diseases. J Drug Res Dev. 2017;3:67–75.

Pitt B, Jaisser F, Bakris G. An evaluation of KBP-5074 in advanced chronic kidney disease with uncontrolled hypertension. Expert Opin Investig Drugs. 2021;30:1017–23.

Jaisser F, Tan X, Chi S, Liu J, Wang P, Bush M, et al. The non-steroidal mineralocorticoid receptor antagonist KBP-5074 limits Albuminuria and has improved therapeutic index compared with Eplerenone in a Rat Model With mineralocorticoid-induced renal injury. Front Pharm. 2021;12:604928.

Zhang B, Tan X, Ni S. Pharmacokinetics and safety of KBP-5074 in phase 1 single and multiple ascending dose studies. Paper presented at: Poster presented at American Society of Nephrology Kidney Week meeting 2016.

Zhang BCP, Smith WB, Lasseter K, Yang F, Tan X, Pelka P. Safety, tolerability and pharmacokinetics of KBP-5074 in patients with mild-to-moderate chronic kidney disease [Abstract PUB116]. J Am Soc Nephrol. 2016;27:931A.

Bakris G, Yang YF, Pitt B. Mineralocorticoid receptor antagonists for Hypertension management in advanced Chronic Kidney Disease: BLOCK-CKD Trial. Hypertension. 2020;76:144–9.

Bakris G, Pergola PE, Delgado B, Genov D, Doliashvili T, Vo N, et al. Effect of KBP-5074 on Blood Pressure in Advanced Chronic Kidney Disease: Results of the BLOCK-CKD Study. Hypertension. 2021;78:74–81.

Lazich I, Bakris GL. Prediction and management of hyperkalemia across the spectrum of chronic kidney disease. Semin Nephrol. 2014;34:333–9.

Trensz F, Bortolamiol C, Kramberg M, Wanner D, Hadana H, Rey M, et al. Pharmacological characterization of Aprocitentan, a dual Endothelin receptor antagonist, alone and in combination with blockers of the Renin Angiotensin System, in two models of experimental Hypertension. J Pharm Exp Ther. 2019;368:462–73.

Yanagisawa M, Kurihara H, Kimura S, Tomobe Y, Kobayashi M, Mitsui Y, et al. A novel potent vasoconstrictor peptide produced by vascular endothelial cells. Nature. 1988;332:411–5.

Schiffrin EL, Deng LY, Sventek P, Day R. Enhanced expression of endothelin-1 gene in resistance arteries in severe human essential hypertension. J Hypertens. 1997;15:57–63.

Gueneau de Mussy P, Sidharta PN, Wuerzner G, Maillard MP, Guérard N, Iglarz M, et al. Effects of the dual Endothelin receptor antagonist aprocitentan on body weight and fluid homeostasis in healthy subjects on a high Sodium diet. Clin Pharm Ther. 2021;109:746–53.

Iglarz M, Clozel M. At the heart of tissue: endothelin system and end-organ damage. Clin Sci (Lond). 2010;119:453–63.

Amiri F, Virdis A, Neves MF, Iglarz M, Seidah NG, Touyz RM, et al. Endothelium-restricted overexpression of human endothelin-1 causes vascular remodeling and endothelial dysfunction. Circulation. 2004;110:2233–40.

Sen S, Chen S, Feng B, Iglarz M, Chakrabarti S. Renal, retinal and cardiac changes in type 2 diabetes are attenuated by macitentan, a dual endothelin receptor antagonist. Life Sci. 2012;91:658–68.

McCoy EK, Lisenby KM. Aprocitentan (a Dual Endothelin-Receptor Antagonist) for Treatment-Resistant Hypertension. J Cardiovasc Pharm. 2021;77:699–706.

Dhaun N, Goddard J, Kohan DE, Pollock DM, Schiffrin EL, Webb DJ. Role of endothelin-1 in clinical hypertension: 20 years on. Hypertension. 2008;52:452–9.

Angeli F, Verdecchia P, Reboldi G. Aprocitentan, A Dual Endothelin Receptor Antagonist Under Development for the Treatment of Resistant Hypertension. Cardiol Ther. 2021;10:397–406.

Angeli F, Reboldi G, Verdecchia P. Interpretation of ambulatory blood pressure profile: a prognostic approach for clinical practice. J Hypertens. 2015;33:454–7.

Sidharta PN, Ulč I, Dingemanse J. Single-Dose Pharmacokinetics and Tolerability of Aprocitentan, a Dual Endothelin Receptor Antagonist, in Subjects with Severe Renal Function Impairment. Clin Drug Investig. 2019;39:1117–23.

Verweij P, Danaietash P, Flamion B, Ménard J, Bellet M. Randomized Dose-Response Study of the New Dual Endothelin Receptor Antagonist Aprocitentan in Hypertension. Hypertension. 2020;75:956–65.

Kohan DE, Pollock DM. Endothelin antagonists for diabetic and non-diabetic chronic kidney disease. Br J Clin Pharm. 2013;76:573–9.

Mann JF, Green D, Jamerson K, Ruilope LM, Kuranoff SJ, Littke T, et al. Avosentan for overt diabetic nephropathy. J Am Soc Nephrol. 2010;21:527–35.

Black HR, Bakris GL, Weber MA, Weiss R, Shahawy ME, Marple R, et al. Efficacy and safety of darusentan in patients with resistant hypertension: results from a randomized, double-blind, placebo-controlled dose-ranging study. J Clin Hypertens (Greenwich). 2007;9:760–9.

Burnier M. Update on Endothelin Receptor Antagonists in Hypertension. Curr Hypertens Rep. 2018;20:51.

Georgianos PI, Agarwal R. Endothelin A receptor antagonists in diabetic kidney disease. Curr Opin Nephrol Hypertens. 2017;26:338–44.

Smeijer JD, Kohan DE, Webb DJ, Dhaun N, Heerspink HJL. Endothelin receptor antagonists for the treatment of diabetic and nondiabetic chronic kidney disease. Curr Opin Nephrol Hypertens. 2021;30:456–65.

Heerspink HJL, Parving HH, Andress DL, Bakris G, Correa-Rotter R, Hou FF, et al. Atrasentan and renal events in patients with type 2 diabetes and chronic kidney disease (SONAR): a double-blind, randomised, placebo-controlled trial. Lancet. 2019;393:1937–47.

Reaux A, Fournie-Zaluski MC, David C, Zini S, Roques BP, Corvol P, et al. Aminopeptidase A inhibitors as potential central antihypertensive agents. Proc Natl Acad Sci USA. 1999;96:13415–20.

Bodineau L, Frugiere A, Marc Y, Inguimbert N, Fassot C, Balavoine F, et al. Orally active aminopeptidase A inhibitors reduce blood pressure: a new strategy for treating hypertension. Hypertension. 2008;51:1318–25.

Basting T, Lazartigues E. DOCA-Salt Hypertension: an Update. Curr Hypertens Rep. 2017;19:32.

Balavoine F, Azizi M, Bergerot D, De Mota N, Patouret R, Roques BP, et al. Randomised, double-blind, placebo-controlled, dose-escalating phase I study of QGC001, a centrally acting aminopeptidase a inhibitor prodrug. Clin Pharmacokinet. 2014;53:385–95.

Azizi M, Courand PY, Denolle T, Delsart P, Zhygalina V, Amar L, et al. A pilot double-blind randomized placebo-controlled crossover pharmacodynamic study of the centrally active aminopeptidase A inhibitor, firibastat, in hypertension. J Hypertens. 2019;37:1722–8.

Ferdinand KC, Balavoine F, Besse B, Black HR, Desbrandes S, Dittrich HC, et al. Efficacy and Safety of Firibastat, A First-in-Class Brain Aminopeptidase A Inhibitor, in Hypertensive Overweight Patients of Multiple Ethnic Origins. Circulation. 2019;140:138–46.

Lenzini L, Zanotti G, Bonchio M, Rossi GP. Aldosterone synthase inhibitors for cardiovascular diseases: A comprehensive review of preclinical, clinical and in silico data. Pharm Res. 2021;163:105332.

Ren L, Colafella KMM, Bovée DM, Uijl E, Danser AHJ. Targeting angiotensinogen with RNA-based therapeutics. Curr Opin Nephrol Hypertens. 2020;29:180–9.

Setten RL, Rossi JJ, Han SP. The current state and future directions of RNAi-based therapeutics. Nat Rev Drug Disco. 2019;18:421–46.

Liang XH, Sun H, Nichols JG, Crooke ST. RNase H1-Dependent Antisense Oligonucleotides Are Robustly Active in Directing RNA Cleavage in Both the Cytoplasm and the Nucleus. Mol Ther. 2017;25:2075–92.

Bertrand JR, Pottier M, Vekris A, Opolon P, Maksimenko A, Malvy C. Comparison of antisense oligonucleotides and siRNAs in cell culture and in vivo. Biochem Biophys Res Commun. 2002;296:1000–4.

Levin AA. Treating Disease at the RNA Level with Oligonucleotides. N. Engl J Med. 2019;380:57–70.

Springer AD, Dowdy SF. GalNAc-siRNA Conjugates: Leading the Way for Delivery of RNAi Therapeutics. Nucleic Acid Ther. 2018;28:109–18.

Prakash TP, Graham MJ, Yu J, Carty R, Low A, Chappell A, et al. Targeted delivery of antisense oligonucleotides to hepatocytes using triantennary N-acetyl galactosamine improves potency 10-fold in mice. Nucleic Acids Res. 2014;42:8796–807.

Morgan ES, Tami Y, Hu K, Brambatti M, Mullick AE, Geary RS, et al. Antisense Inhibition of Angiotensinogen With IONIS-AGT-L(Rx): Results of Phase 1 and Phase 2 Studies. JACC Basic Transl Sci. 2021;6:485–96.

Huang STJ, Casey S, Leung PM, Webb DJ, Desai AS, Cheng Y, et al. Durable Reductions in Circulating Angiotensinogen and Blood Pressure Six Months After Single Doses of ALN-AGT, an RNA Interference Therapeutic Targeting Hepatic Angiotensinogen Synthesis, in Hypertensive Patients. Circulation. 2021;144:A10974 https://doi.org/10.1161/circ.144.suppl_1.10974.

McMurray JJ, Packer M, Desai AS, Gong J, Lefkowitz MP, Rizkala AR, et al. Angiotensin-neprilysin inhibition versus enalapril in heart failure. N. Engl J Med. 2014;371:993–1004.

De Vecchis R, Soreca S, Ariano C. Anti-Hypertensive Effect of Sacubitril/Valsartan: A Meta-Analysis of Randomized Controlled Trials. Cardiol Res. 2019;10:24–33.

Zhao Y, Yu H, Zhao X, Ma R, Li N, Yu J. The Effects of LCZ696 in Patients With Hypertension Compared With Angiotensin Receptor Blockers: A Meta-Analysis of Randomized Controlled Trials. J Cardiovasc Pharm Ther. 2017;22:447–57.

Wang JG, Yukisada K, Sibulo A Jr., Hafeez K, Jia Y, Zhang J. Efficacy and safety of sacubitril/valsartan (LCZ696) add-on to amlodipine in Asian patients with systolic hypertension uncontrolled with amlodipine monotherapy. J Hypertens. 2017;35:877–85.

Kostis JB, Packer M, Black HR, Schmieder R, Henry D, Levy E. Omapatrilat and enalapril in patients with hypertension: the Omapatrilat Cardiovascular Treatment vs. Enalapril (OCTAVE) trial. Am J Hypertens. 2004;17:103–11.

Bavishi C, Messerli FH, Kadosh B, Ruilope LM, Kario K. Role of neprilysin inhibitor combinations in hypertension: insights from hypertension and heart failure trials. Eur Heart J. 2015;36:1967–73.

Gu J, Noe A, Chandra P, Al-Fayoumi S, Ligueros-Saylan M, Sarangapani R, et al. Pharmacokinetics and pharmacodynamics of LCZ696, a novel dual-acting angiotensin receptor-neprilysin inhibitor (ARNi). J Clin Pharm. 2010;50:401–14.

Segura J, Ruilope LM. Dual-acting angiotensin receptor-neprilysin inhibition. Curr Hypertens Rep. 2011;13:74–8.

Chrysant SG. Benefits and pitfalls of sacubitril/valsartan treatment in patients with hypertension. J Clin Hypertens (Greenwich). 2018;20:351–5.

Ruilope LM, Dukat A, Böhm M, Lacourcière Y, Gong J, Lefkowitz MP. Blood-pressure reduction with LCZ696, a novel dual-acting inhibitor of the angiotensin II receptor and neprilysin: a randomised, double-blind, placebo-controlled, active comparator study. Lancet. 2010;375:1255–66.

Perkovic V, Huxley R, Wu Y, Prabhakaran D, MacMahon S. The burden of blood pressure-related disease: a neglected priority for global health. Hypertension. 2007;50:991–7.

Kario K, Sun N, Chiang FT, Supasyndh O, Baek SH, Inubushi-Molessa A, et al. Efficacy and safety of LCZ696, a first-in-class angiotensin receptor neprilysin inhibitor, in Asian patients with hypertension: a randomized, double-blind, placebo-controlled study. Hypertension. 2014;63:698–705.

Kario K, Tamaki Y, Okino N, Gotou H, Zhu M, Zhang J. LCZ696, a First-in-Class Angiotensin Receptor-Neprilysin Inhibitor: The First Clinical Experience in Patients With Severe Hypertension. J Clin Hypertens (Greenwich). 2016;18:308–14.

Stamler J. The INTERSALT Study: background, methods, findings, and implications. Am J Clin Nutr. 1997;65:626s–42s.

Katsuya T, Ishikawa K, Sugimoto K, Rakugi H, Ogihara T. Salt sensitivity of Japanese from the viewpoint of gene polymorphism. Hypertens Res. 2003;26:521–5.

Wang TD, Tan RS, Lee HY, Ihm SH, Rhee MY, Tomlinson B, et al. Effects of Sacubitril/Valsartan (LCZ696) on Natriuresis, Diuresis, Blood Pressures, and NT-proBNP in Salt-Sensitive Hypertension. Hypertension. 2017;69:32–41.

Volpe M, Gallo G. Sacubitril/valsartan for heart failure with preserved ejection fraction and resistant hypertension: one shot for a double strike? Eur Heart J. 2021;42:3753–5.

Solomon SD, Zile M, Pieske B, Voors A, Shah A, Kraigher-Krainer E, et al. The angiotensin receptor neprilysin inhibitor LCZ696 in heart failure with preserved ejection fraction: a phase 2 double-blind randomised controlled trial. Lancet. 2012;380:1387–95.

Jackson AM, Jhund PS, Anand IS, Düngen HD, Lam CSP, Lefkowitz MP, et al. Sacubitril-valsartan as a treatment for apparent resistant hypertension in patients with heart failure and preserved ejection fraction. Eur Heart J. 2021;42:3741–52.

Anderson AH, Yang W, Townsend RR, Pan Q, Chertow GM, Kusek JW, et al. Time-updated systolic blood pressure and the progression of chronic kidney disease: a cohort study. Ann Intern Med. 2015;162:258–65.

Williams B, Cockcroft JR, Kario K, Zappe DH, Brunel PC, Wang Q, et al. Effects of Sacubitril/Valsartan Versus Olmesartan on Central Hemodynamics in the Elderly With Systolic Hypertension: The PARAMETER Study. Hypertension. 2017;69:411–20.

Williams B. Hypertension and the "J-curve". J Am Coll Cardiol. 2009;54:1835–6.

Ruiz-Hurtado G, Ruilope LM. Advantages of sacubitril/valsartan beyond blood pressure control in arterial hypertension. Eur Heart J. 2017;38:3318–20.

Iwata N, Tsubuki S, Takaki Y, Shirotani K, Lu B, Gerard NP, et al. Metabolic regulation of brain Abeta by neprilysin. Science. 2001;292:1550–2.

Hüttenrauch M, Baches S, Gerth J, Bayer TA, Weggen S, Wirths O. Neprilysin deficiency alters the neuropathological and behavioral phenotype in the 5XFAD mouse model of Alzheimer's disease. J Alzheimers Dis. 2015;44:1291–302.
Ethics declarations
Conflict of interest
VDS—None; GLB is supported by T32 NIH grant DK07011 and is a consultant to Bayer, KBP Biosciences, Ionis, Alnylam, Astra Zeneca, Quantum Genomics, Horizon, Novo Nordisk, Dia Medica Therapeutics, and InRegen.
Additional information
Publisher's note Springer Nature remains neutral with regard to jurisdictional claims in published maps and institutional affiliations.
Rights and permissions
Springer Nature or its licensor holds exclusive rights to this article under a publishing agreement with the author(s) or other rightsholder(s); author self-archiving of the accepted manuscript version of this article is solely governed by the terms of such publishing agreement and applicable law.
About this article
Cite this article
Salvador, V.D., Bakris, G.L. Novel antihypertensive agents for resistant hypertension: what does the future hold?. Hypertens Res 45, 1918–1928 (2022). https://doi.org/10.1038/s41440-022-01025-9
Received:

Revised:

Accepted:

Published:

Issue Date:

DOI: https://doi.org/10.1038/s41440-022-01025-9
Keywords
Hypertension

Neprilysin

Resistant hypertension

Kidney

Nephropathy