Abstract
Hypertension is common in black populations and is known to be associated with low nitric oxide (NO) bioavailability. We compared plasma and urinary NO-related markers and plasma creatine kinase (CK) levels between young healthy black and white adults along with the associations of these markers with the urinary albumin-to-creatinine ratio (uACR), which is a surrogate marker of endothelial and kidney function. We included 1105 participants (20–30 years). We measured the uACR, plasma CK, plasma and urinary arginine, homoarginine, asymmetric (ADMA) and symmetric dimethylarginine (SDMA), urinary ornithine/citrulline, nitrate and nitrite, and malondialdehyde (MDA). In addition, the urinary nitrate-to-nitrite ratio (UNOxR) was calculated and used as a measure of circulating NO bioavailability. The uACR was comparable between the groups, yet the black group had lower urinary nitrate (by −15%) and UNOxR values (by −18%) (both p ≤ 0.001), higher plasma (by +9.6%) and urinary (by +5.9%) arginine (both p ≤ 0.004), higher plasma (by +13%) and urinary (by +3.7%) ADMA (both p ≤ 0.033), and higher CK (by +9.5%) and MDA (by +19%) (both p < 0.001) compared with white adults. Plasma and urinary homoarginine were similar between the groups. In the multiple regression analysis, we confirmed the inverse associations of the uACR with both plasma (adj. R2 = 0.066; β = −0.209; p = 0.005) and urinary (adj. R2 = 0.066; β = −0.149; p = 0.010) homoarginine and with the UNOxR (adj. R2 = 0.060; β = −0.122; p = 0.031) in the black group only. The overall less favorable NO profile and higher CK and MDA levels in the black cohort along with the adverse associations with the uACR may reflect the vulnerability of this cohort to the early development of hypertension.
Relevant articles
Open Access articles citing this article.
Alistair James Marsden

,

David R. J. Riley

…

Pedro Beltran-Alvarez

Amino Acids Open Access 28 June 2021
Access options
Subscribe to Journal
Get full journal access for 1 year
$119.00
only $9.92 per issue
All prices are NET prices.
VAT will be added later in the checkout.
Tax calculation will be finalised during checkout.
Buy article
Get time limited or full article access on ReadCube.
$32.00
All prices are NET prices.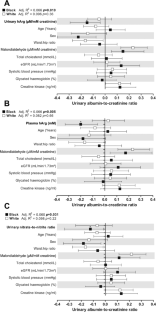 References
Fuchs FD, Whelton PK. High blood pressure and cardiovascular disease. Hypertension. 2020;75:285–92.

Opie HL, Seedat YK. Hypertension in sub-Saharan African populations. Circulation. 2005;112:3562–8.

Sander M, Chavoshan B, Victor RG. A large blood pressure-raising effect of nitric oxide synthase inhibition in humans. Hypertension. 1999;33:937–42.

Verma S, Buchanan MR, Anderson TJ. Endothelial function testing as a biomarker of vascular disease. Circulation. 2003;108:2054–9.

Anderson TJ. Prognostic significance of brachial flow-mediated vasodilation. Circulation. 2007;115:2373–5.

Celermajer DS, Sorensen KE, Gooch VM, Spiegelhalter DJ, Miller OI, Sullivan I, et al. Non-invasive detection of endothelial dysfunction in children and adults at risk of atherosclerosis. Lancet. 1992;340:1111–5.

Malik A, Sultan S, Turner S, Kullo IJ. Urinary albumin excretion is associated with impaired flow- and nitroglycerin-mediated brachial artery dilatation in hypertensive adults. J Hum Hypertens. 2007;21:231–8.

Glassock RJ. Is the presence of microalbuminuria a relevant marker of kidney disease? Curr Hypertens Rep. 2010;12:364–8.

Abdelhafiz AH, Ahmed S, El Nahas M. Microalbuminuria: marker or maker of cardiovascular disease. Nephron Exp Nephrol. 2011;119 Suppl 1:e6–10.

Jessani S, Levey AS, Chaturvedi N, Jafar TH. High normal levels of albuminuria and risk of hypertension in Indo-Asian population. Nephrol Dial Transpl. 2011;10:1093.

Matsushita K, van der Velde M, Astor BC, Woodward M, Levey AS, de Jong PE, et al. Association of estimated glomerular filtration rate and albuminuria with all-cause and cardiovascular mortality in general population cohorts: a collaborative meta-analysis. Lancet. 2010;375:2073–81.

Moncada S, Palmer RM, Higgs EA. Nitric oxide: physiology, pathophysiology, and pharmacology. Pharm Rev. 1991;43:109–42.

Lundberg JO, Weitzberg E, Gladwin MT. The nitrate-nitrite-nitric oxide pathway in physiology and therapeutics. Nat Rev Drug Disco. 2008;7:156–67.

Böger RH. Association of asymmetric dimethylarginine and endothelial dysfunction. Clin Chem Lab Med. 2003;41:1467–72.

Moncada S, Higgs A. The L-arginine-nitric oxide pathway. N Engl J Med. 1993;329:2002–12.

Ozkor MA, Rahman AM, Murrow JR, Kavtaradze N, Lin J, Manatunga A, et al. Differences in vascular nitric oxide and endothelium-derived hyperpolarizing factor bioavailability in blacks and whites. Arterioscl, Thromb, Vasc Biol. 2014;34:1320–7.

Choe CU, Atzler D, Wild PS, Carter AM, Böger RH, Ojeda F, et al. Homoarginine levels are regulated by L-arginine:glycine amidinotransferase and affect stroke outcome: results from human and murine studies. Circulation. 2013;128:1451–61.

Karamat FA, van Montfrans GA, Brewster LM. Creatine synthesis demands the majority of the bioavailable L-arginine. J Hyp. 2015;13:2368.

Handy D, Sclaro J, Chen J, Helang P, Loscalzo J. L-arginine increases plasma homocysteine in apoe-/-/inos-/-double knock out mice. Cell Mol Biol. 2004;50:903–9.

Mels CMC, Huisman HW, Smith W, Schutte R, Schwedhelm E, Atzler D, et al. The relationship of nitric oxide synthesis capacity, oxidative stress, and albumin-to-creatinine ratio in black and white men: the SABPA Study. Age. 2016;38:9.

Schutte R, Schmieder RE, Huisman HW, Smith W, van Rooyen JM, Fourie CM, et al. Urinary albumin excretion from spot urine sample predict all-cause and stroke mortality in Africans. Am J Hypertens. 2014;27:811–8.

Phalane E, Fourie CMT, Schutte AE. The metabolic syndrome and renal function in an African cohort infected with human immunodeficiency virus. SA J HIV Med. 2018;19:1–10.

Brewster LM, Coronel CM, Sluiter W, Clark JF, Van Montfrans GA. Ethnic differences in tissue creatine kinase activity: an observational study. PLoS One. 2012;7:e32471.

Brewster LM, Clark JF, van Montfrans GA. Is greater tissue activity of creatine kinase the genetic factor increasing hypertension risk in black people of sub-Saharan African descent? J Hypertens. 2000;18:1537–44.

Glyn MC, Anderssohn M, Luneberg N, Van Rooyen JM, Schutte R, Huisman HW, et al. Ethnic-specific differences in L-arginine status in South African men. J Hum Hypertens. 2012;26:737–43.

Melikian N, Wheatcroft SB, Ogah OS, Murphy C, Chowienczyk PJ, Wierzbicki AS, et al. Asymmetric dimethylarginine and reduced nitric oxide bioavailability in young Black African men. Hypertension. 2007;49:873–7.

Tsikas D, Hanff E, Bollenbach A, Kruger R, Phan VV, Chobanyan-Jurgens K, et al. Results, meta-analysis and a first evaluation of UNOxR, the urinary nitrate-to-nitrite molar ratio, as a measure of nitrite reabsorption in experimental and clinical settings. Amino Acids. 2018;50:799–821.

Perticone F, Sciacqua A, Maio R, Perticone M, Maas R, Böger RH, et al. Asymmetric dimethylarginine, L-arginine and endothelial dysfunction in essential hypertension. J Am Coll Cardiol. 2005;46:518–23.

Sydow K, Fortmann SP, Fair JM, Varady A, Hlatky MA, Go AS, et al. Distribution of asymmetric dimethylarginine among 980 healthy, older adults of different ethnicities. Clin Chem. 2010;56:111–20.

Leiper JM. The DDAH-ADMA-NOS pathway. Ther Drug Monit. 2005;27:744–6.

Schutte AE, Gona PN, Delles C, Uys AS, Burger A, Mels CMC, et al. The African prospective study on the early detection and identification of cardiovascular disease and hypertension (African-PREDICT): design, recruitment and initial examination. Eur J Prev Cardiol. 2019;26:458–70.

Carlson RV, Boyd KM, Webb DJ. The revision of the Declaration of Helsinki: past, present and future. Br J Clin Pharm. 2004;57:659–713.

Stewart A, Marfell-Jones M. International standards for anthropometric assessment. Lower Hutt, New Zealand: International Society for the Advancement of Kinanthropometry; 2011.

Pauca AL, O'Rourke MF, Kon ND. Prospective evaluation of a method for estimating ascending aortic pressure from radial artery pressure waveform. Hypertension. 2001;38:932–7.

Inker LA, Schmid CH, Tighiouart, Eckfeldt JH, Feldman HL, Greene T, et al. Estimating glomerular filtration rate from serum creatinine and cystatin C. N Eng. J Med. 2012;367:20–29.

Schwedhelm E, Tan-Andresen J, Maas R, Riederer U, Schulze F, Boger RH. Liquid chromatography-tandem mass spectrometry method for the analysis of asymmetric dimethylarginine in human plasma. Clin Chem. 2005;51:1268–71.

Atzler D, Mieth M, Maas R, Böger RH, Schwedhelm E. Stable isotope dilution assay for liquid chromatography-tandem mass spectrometric determination of L-homoarginine in human plasma. J Chromatogr B Analyt Technol Biomed Life Sci. 2011;879:2294–8.

Hanff E, Lützow M, Kayacelebi AA, Finkel A, Maassen M, Yanchev GR, et al. Simultaneous GC-ECNICI-MS measurement of nitrite, nitrate and creatinine in human urine and plasma in clinical settings. J Chromatogr B Analyt Technol Biomed Life Sci. 2017;2017:207–14.

Bartz SK, Caldas MC, Tomsa A, Krishnamurthy R, Bacha F. Urine albumin-to-creatinine ratio: a marker of early endothelial dysfunction in youth. J Clin Endocrinol Metab. 2015;100:3393–9.

Tsikas D, Sandmann J, Savva A, Luessen P, Böger RH, Gutzki FM, et al. Assessment of nitric oxide synthase activity in vitro and in vivo by gas chromatography-mass spectrometry. J Chromatogr B Biomed Sci Appl. 2000;742:143–53.

Tsikas D. Circulating and excretory nitrite and nitrate: their value as measures of nitric oxide synthesis, bioavailability and activity is inherently limited. Nitric Oxide. 2015;45:1–3.

Tsikas D. Assessment of lipid peroxidation by measuring malondialdehyde (MDA) and relatives in biological samples: analytical and biological challenges. Anal Biochem. 2017;524:13–30.

Schneider JY, Rothmann S, Schröder F, Langen J, Lücke T, Mariotti F, et al. Effects of chronic oral l-arginine administration on the L-arginine/NO pathway in patients with peripheral arterial occlusive disease or coronary artery disease: L-Arginine prevents renal loss of nitrite, the major NO reservoir. Amino Acids. 2015;47:1961–74.

Reimann M, Hammer M, Malan NT, Schlaich MP, Lambert GW, Ziemssen T, et al. Effects of acute and chronic stress on the L-arginine nitric oxide pathway in black and white South Africans: the sympathetic activity and ambulatory blood pressure in Africans study. Psychosom Med. 2013;75:751–8.

Moss MB, Brunini TM, Soares De Moura R, Novaes Malagris LE, Roberts NB, Ellory JC, et al. Diminished L-arginine bioavailability in hypertension. Clin Sci. 2004;107:391–7.

Morris CR, Poljakovic M, Lavrisha L, Machado L, Kuypers FA, Morris SM Jr. Decreased arginine bioavailability and increased serum arginase activity in asthma. Am J Respir Crit Care Med. 2004;170:148–53.

Iwata S, Tsujino T, Ikeda Y, Ishida T, Ueyama T, Gotoh T, et al. Decreased expression of arginase II in the kidneys of Dahl salt-sensitive rats. Hypertens Res. 2002;25:411–8.

Rodriguez S, Richert L, Berthelot A. Increased arginase activity in aorta of mineralocorticoid-salt hypertensive rats. Clin Exp Hypertens. 2000;22:75–85.

Hermann M, Flammer A, Lüscher TF. Nitric oxide in hypertension. J Clin Hypertens. 2006;8 12 Suppl 4:17–29.

Bastin J, Cambon N, Thompson M, Lowry OH, Burch HB. Change in energy reserves in different segments of the nephron during brief ischemia. Kidney Int. 1987;31:1239–47.

Brewster LM, Oudman I, Nannan Panday RV, Khoyska I, Haan YC, et al. Creatine kinase and renal sodium excretion in African and European men on a high sodium diet. J Clin Hypertens. 2018;20:334–41.

Yale BM, Yeldu MH. Serum Nitric Oxide and Malondialdehyde in a hypertensive population in Sokoto, Nigeria. Int. J Res Med Sci. 2018;6:3929–34.

Modun D, Krnic M, Vukovic J, Kokic V, Kukoc-Modun L, Tsikas D, et al. Plasma nitrite concentration decreases after hyperoxia-induced oxidative stress in healthy humans. Clin Physiol Funct Imaging. 2012;32:404–8.

Intengan HD. Structure and mechanical properties of resistance arteries in hypertension: tole of adhesion molecules and extracellular matrix determinants. Hypertension. 2000;36:312–8.

Edison EE, Brosnan ME, Meyer C, Brosnan JT. Creatine synthesis: production of guanidinoacetate by the rat and human kidney in vivo. Am J Physiol Ren Physiol. 2007;293:F1799–804.

Zinellu A, Paliogiannis P, Carru C, Mangoni AA. Homoarginine and all-cause mortality: a systematic review and meta-analysis. Eur J Clin Invest. 2018;48:e12960.

Frenay AR, Kayacelebi AA, Beckmann B, Soedamah-Muhtu SS, de Borst MH, van den Berg E, et al. High urinary homoarginine excretion is associated with low rates of all-cause mortality and graft failure in renal transplant recipients. Amino Acids. 2015;47:1827–36.

Kayacelebi AA, Minović I, Hanff E, Frenay AS, de Borst MH, Feelisch M, et al. Low plasma homoarginine concentration is associated with high rates of all-cause mortality in renal transplant recipients. Amino Acids. 2017;49:1193–202.

Hanff E, Said MY, Kayacelebi AA, Post A, Minovic I, van den Berg E, et al. High plasma guanidinoacetate-to-homoarginine ratio is associated with high all-cause and cardiovascular mortality rate in adult renal transplant recipients. Amino Acids. 2019;51:1485–99.
Acknowledgements
The authors are grateful to all individuals who participated voluntarily in the African-PREDICT study. The dedication of the support and research staff as well as the students at the Hypertension Research and Training Clinic at the North-West University (Potchefstroom campus) are also duly acknowledged.
Funding
The research funded in this manuscript is part of an ongoing research project financially supported by the South African Medical Research Council (SAMRC) with funds from the National Treasury under the Economic Competitiveness and Support Package; the South African Research Chairs Initiative (SARChI) of the Department of Science and Technology and National Research Foundation (NRF) of South Africa (GUN 86895); SAMRC with funds received from the South African National Department of Health, GlaxoSmithKline R&D (Africa Non-Communicable Disease Open Lab grant), the UK Medical Research Council with funds from the UK Government's Newton Fund; and corporate social investment grants from Pfizer (South Africa), Boehringer-Ingelheim (South Africa), Novartis (South Africa), the Medi Clinic Hospital (South Africa), and kind contributions from the Roche Group (South Africa). Any opinions, findings, conclusions, or recommendations expressed in this material are those of the authors, and therefore, the NRF does not accept any liability in this regard.
Ethics declarations
Conflict of interest
The authors declare that they have no conflict of interest.
Additional information
Publisher's note Springer Nature remains neutral with regard to jurisdictional claims in published maps and institutional affiliations.
Supplementary information
About this article
Cite this article
Craig, A., Mels, C.M.C., Schutte, A.E. et al. Urinary albumin-to-creatinine ratio is inversely related to nitric oxide synthesis in young black adults: the African-PREDICT study. Hypertens Res 44, 71–79 (2021). https://doi.org/10.1038/s41440-020-0514-1
Received:

Accepted:

Published:

Issue Date:

DOI: https://doi.org/10.1038/s41440-020-0514-1
Keywords
Urinary albumin-to-creatinine ratio

Nitric oxide

Homoarginine

Urinary nitrate-to-nitrite ratio

Hypertension
Further reading
Alistair James Marsden
David R. J. Riley
Pedro Beltran-Alvarez

Amino Acids (2022)