Abstract
Since obstructive sleep apnea (OSA) is known as a common cause of secondary hypertension, it is necessary to consider OSA a differential diagnosis in treating patients with hypertension. Apnea during sleep causes temporary and repeated hypoxia and subsequent sympathetic nerve activation. Furthermore, dysfunction of endothelial cells due to hypoxia is considered another mechanism leading to enhanced stiffness of the elastic artery and eventually, elevation of blood pressure (BP). As a result, OSA induces a nighttime or morning surge in BP, and long-standing severe OSA also causes daytime hypertension. Therefore, treatment of OSA may be important for BP control, especially in severe OSA cases. For the treatment of OSA, continuous positive airway pressure (CPAP) is a major treatment option, though alternative devices may be useful in CPAP-intolerant cases.
Access options
Subscribe to this journal
Receive 12 print issues and online access
$259.00 per year
only $21.58 per issue
Rent or buy this article
Get just this article for as long as you need it
$39.95
Prices may be subject to local taxes which are calculated during checkout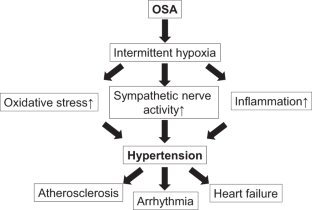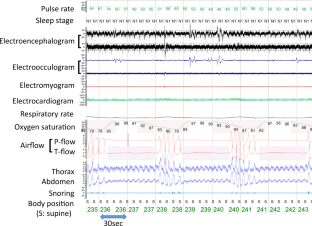 References
Collaboration NCDRF. Worldwide trends in blood pressure from 1975 to 2015: a pooled analysis of 1479 population-based measurement studies with 19.1 million participants. Lancet. 2017;389:37–55.

Carey RM, Calhoun DA, Bakris GL, Brook RD, Daugherty SL, Dennison-Himmelfarb CR, et al. Resistant hypertension: detection, evaluation, and management: a scientific statement from the American Heart Association. Hypertension. 2018;72:e53–90.

Whelton PK, Carey RM, Aronow WS, Casey DE Jr., Collins KJ, Dennison Himmelfarb C, et al. 2017 ACC/AHA/AAPA/ABC/ACPM/AGS/APhA/ASH/ASPC/NMA/PCNA guideline for the prevention, detection, evaluation, and management of high blood pressure in adults: a report of the American College of Cardiology/American Heart Association Task Force on Clinical Practice Guidelines. Hypertension. 2018;71:e13–115.

Funder JW, Carey RM, Fardella C, Gomez-Sanchez CE, Mantero F, Stowasser M, et al. Case detection, diagnosis, and treatment of patients with primary aldosteronism: an endocrine society clinical practice guideline. J Clin Endocrinol Metab. 2008;93:3266–81.

Carnethon MR, Johnson DA. Sleep and resistant hypertension. Curr Hypertens Rep. 2019;21:34.

Johnson DA, Thomas SJ, Abdalla M, Guo N, Yano Y, Rueschman M, et al. Association between sleep apnea and blood pressure control among blacks. Circulation. 2019;139:1275–84.

Tanaka M. Improving obesity and blood pressure. Hypertens Res. 2020;43:79–89.

Khalyfa A, Qiao Z, Gileles-Hillel A, Khalyfa AA, Akbarpour M, Popko B, et al. Activation of the integrated stress response and metabolic dysfunction in a murine model of sleep apnea. Am J Respir Cell Mol Biol. 2017;57:477–86.

He J, Kryger MH, Zorick FJ, Conway W, Roth T. Mortality and apnea index in obstructive sleep apnea. Experience 385 male patients. Chest. 1988;94:9–14.

Gami AS, Olson EJ, Shen WK, Wright RS, Ballman KV, Hodge DO, et al. Obstructive sleep apnea and the risk of sudden cardiac death: a longitudinal study of 10,701 adults. J Am Coll Cardiol. 2013;62:610–6.

Wellman A, Eckert DJ, Jordan AS, Edwards BA, Passaglia CL, Jackson AC, et al. A method for measuring and modeling the physiological traits causing obstructive sleep apnea. J Appl Physiol. 2011;110:1627–37.

Wellman A, Edwards BA, Sands SA, Owens RL, Nemati S, Butler J, et al. A simplified method for determining phenotypic traits in patients with obstructive sleep apnea. J Appl Physiol. 2013;114:911–22.

AlDabal L, BaHammam AS. Cheyne-Stokes respiration in patients with heart failure. Lung. 2010;188:5–14.

Javaheri S, Germany R, Greer JJ. Novel therapies for the treatment of central sleep apnea. Sleep Med Clin. 2016;11:227–39.

Chung F, Yegneswaran B, Liao P, Chung SA, Vairavanathan S, Islam S, et al. STOP questionnaire: a tool to screen patients for obstructive sleep apnea. Anesthesiology. 2008;108:812–21.

Johns MW. A new method for measuring daytime sleepiness: the Epworth sleepiness scale. Sleep. 1991;14:540–5.

Nieto FJ, Young TB, Lind BK, Shahar E, Samet JM, Redline S, et al. Association of sleep-disordered breathing, sleep apnea, and hypertension in a large community-based study. Sleep heart health study. JAMA. 2000;283:1829–36.

Logan AG, Perlikowski SM, Mente A, Tisler A, Tkacova R, Niroumand M, et al. High prevalence of unrecognized sleep apnoea in drug-resistant hypertension. J Hypertens. 2001;19:2271–7.

Dyken ME, Im KB. Obstructive sleep apnea and stroke. Chest. 2009;136:1668–77.

Floras JS. Hypertension and sleep apnea. Can J Cardiol. 2015;31:889–97.

Sapina-Beltran E, Santamaria-Martos F, Benitez I, Torres G, Masa JF, Sanchez-de-la-Torre M, et al. Normotensive patients with obstructive sleep apnoea: changes in 24-h ambulatory blood pressure monitoring with continuous positive airway pressure treatment. J Hypertens. 2019;37:720–7.

Kumar P, Prabhakar NR. Peripheral chemoreceptors: function and plasticity of the carotid body. Compr Physiol. 2012;2:141–219.

Jin ZN, Wei YX. Meta-analysis of effects of obstructive sleep apnea on the renin-angiotensin-aldosterone system. J Geriatr Cardiol. 2016;13:333–43.

Pimenta E, Calhoun DA, Oparil S. Sleep apnea, aldosterone, and resistant hypertension. Prog Cardiovasc Dis. 2009;51:371–80.

Lam SY, Liu Y, Ng KM, Liong EC, Tipoe GL, Leung PS, et al. Upregulation of a local renin-angiotensin system in the rat carotid body during chronic intermittent hypoxia. Exp Physiol. 2014;99:220–31.

May AM, Mehra R. Obstructive sleep apnea: role of intermittent hypoxia and inflammation. Semin Respir Crit Care Med. 2014;35:531–44.

Arnaud C, Poulain L, Levy P, Dematteis M. Inflammation contributes to the atherogenic role of intermittent hypoxia in apolipoprotein-E knock out mice. Atherosclerosis. 2011;219:425–31.

Yokoe T, Minoguchi K, Matsuo H, Oda N, Minoguchi H, Yoshino G, et al. Elevated levels of C-reactive protein and interleukin-6 in patients with obstructive sleep apnea syndrome are decreased by nasal continuous positive airway pressure. Circulation. 2003;107:1129–34.

McCord JM. Oxygen-derived free radicals in postischemic tissue injury. N Engl J Med. 1985;312:159–63.

Belaidi E, Morand J, Gras E, Pepin JL, Godin-Ribuot D. Targeting the ROS-HIF-1-endothelin axis as a therapeutic approach for the treatment of obstructive sleep apnea-related cardiovascular complications. Pharm Ther. 2016;168:1–11.

Semenza GL. Regulation of oxygen homeostasis by hypoxia-inducible factor 1. Physiology. 2009;24:97–106.

Kaoukis A, Deftereos S, Raisakis K, Giannopoulos G, Bouras G, Panagopoulou V, et al. The role of endothelin system in cardiovascular disease and the potential therapeutic perspectives of its inhibition. Curr Top Med Chem. 2013;13:95–114.

Zychowski KE, Sanchez B, Pedrosa RP, Lorenzi-Filho G, Drager LF, Polotsky VY, et al. Serum from obstructive sleep apnea patients induces inflammatory responses in coronary artery endothelial cells. Atherosclerosis. 2016;254:59–66.

Tam W, Ng SS, To KW, Ko FW, Hui DS. The interaction between hypertension and obstructive sleep apnea on subjective daytime sleepiness. J Clin Hypertens. 2019;21:390–6.

Tsai WH, Remmers JE, Brant R, Flemons WW, Davies J, Macarthur C. A decision rule for diagnostic testing in obstructive sleep apnea. Am J Respir Crit Care Med. 2003;167:1427–32.

Tobushi T, Ando SI, Kadokami T. Recurrent paroxysmal atrial fibrillation induced by marked hypoxia during sleep-disordered breathing. J Cardiol Cases. 2016;14:87–89.

Sawatari H, Chishaki A, Nishizaka M, Tokunou T, Adachi S, Yoshimura C, et al. Cumulative hypoxemia during sleep predicts vascular endothelial dysfunction in patients with sleep-disordered breathing. Am J Hypertens. 2016;29:458–63.

Martinez-Garcia MA, Capote F, Campos-Rodriguez F, Lloberes P, Diaz de Atauri MJ, Somoza M, et al. Effect of CPAP on blood pressure in patients with obstructive sleep apnea and resistant hypertension: the HIPARCO randomized clinical trial. JAMA. 2013;310:2407–15.

Browaldh N, Nerfeldt P, Lysdahl M, Bring J, Friberg D. SKUP3 randomised controlled trial: polysomnographic results after uvulopalatopharyngoplasty in selected patients with obstructive sleep apnoea. Thorax. 2013;68:846–53.

Zaghi S, Holty JE, Certal V, Abdullatif J, Guilleminault C, Powell NB, et al. Maxillomandibular advancement for treatment of obstructive sleep apnea: a meta-analysis. JAMA Otolaryngol Head Neck Surg. 2016;142:58–66.

Strollo PJ Jr., Soose RJ, Maurer JT, de Vries N, Cornelius J, Froymovich O, et al. Upper-airway stimulation for obstructive sleep apnea. N Engl J Med. 2014;370:139–49.

Ratneswaran D, Guni A, Pengo MF, Al-Sherif M, He B, Cheng MC. et al. Electrical stimulation as a therapeutic approach in obstructive sleep apnea—a meta-analysis. Sleep Breath. 2020. https://doi.org/10.1007/s11325-020-02069-2.
Ethics declarations
Conflict of interest
SA is supported by Teijin Pharma Co., Ltd, and Philips as research funding. TT has no conflict of interest.
Additional information
Publisher's note Springer Nature remains neutral with regard to jurisdictional claims in published maps and institutional affiliations.
About this article
Cite this article
Tokunou, T., Ando, Si. Recent advances in the management of secondary hypertension—obstructive sleep apnea. Hypertens Res 43, 1338–1343 (2020). https://doi.org/10.1038/s41440-020-0494-1
Received:

Revised:

Accepted:

Published:

Issue Date:

DOI: https://doi.org/10.1038/s41440-020-0494-1
Keywords
Obstructive sleep apnea

Secondary hypertension

Resistant hypertension

Continuous positive airway pressure
This article is cited by
John Brown
Farshid Yazdi
Efrain Reisin

Current Hypertension Reports (2022)

Yaxin Guo
Hao Wu
Yongxiang Wei

European Archives of Oto-Rhino-Laryngology (2022)

Francisca Soraya Lima Silva
Karina Couto Furlanetto
Camila Ferreira Leite

Sleep and Breathing (2022)