Abstract
Binge drinking (BD) during adolescence is related to hypertension. There are, however, few studies concerning the effects of BD on kidney function and osmotic balance in relation to arterial pressure. The mechanism by which BD affects kidney function is related to oxidation and inflammation. Recently, Se, an essential trace element possessing antioxidant properties, has also been shown to be related to renal Na+/K+-ATPase activity. This study examined the protective effects of 0.4 ppm selenite administered to adolescent rats in an intermittent i.p. BD model. BD consumption depleted kidney and serum Se deposits, decreased GPx activity, and increased biomolecule oxidation in these locations. In the kidneys, GPx1, GPx3, GPx4, and NF-κB expression also decreased, coinciding with an increase in caspase-3 expression. BD decreased creatinine clearance and fractional Na+ excretion (EFNa), increased transtubular K+ excretion (TTKG) and serum aldosterone (Aldo) levels, and reduced relative Aldo clearance. These effects led to hypernatremia, low urinary flow, and high systolic blood pressure. Se supplementation to BD rats significantly improved oxidative balance, and kidney GPx, NF-κB, and caspase-3 expression; slightly increased EFNa and slightly decreased TTKG and serum Aldo levels; and greatly increased relative Aldo clearance. Se supplementation did not, however, modify creatinine clearance. In conclusion, BD triggers kidney osmotic and ionic imbalances, which contribute to increasing systolic blood pressure. These disturbances could be related in part to Se and selenoprotein GPxs, which decrease oxidative, inflammatory and apoptotic alterations in the kidneys. Se supplementation prevents these changes, improves ionic disturbances, and decreases serum Aldo levels and systolic blood pressure.
Your institute does not have access to this article
Access options
Subscribe to Journal
Get full journal access for 1 year
$119.00
only $9.92 per issue
All prices are NET prices.
VAT will be added later in the checkout.
Tax calculation will be finalised during checkout.
Buy article
Get time limited or full article access on ReadCube.
$32.00
All prices are NET prices.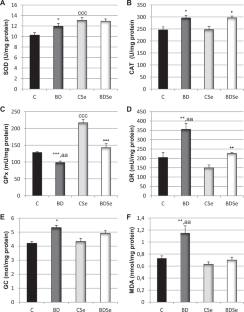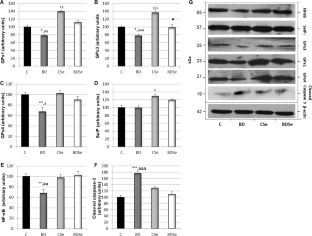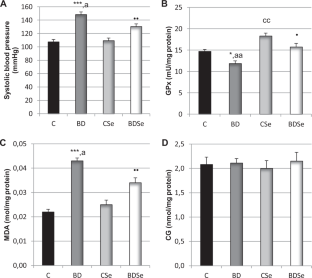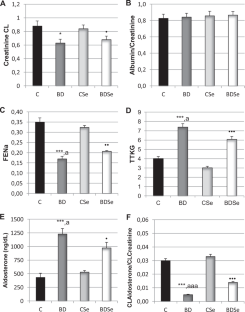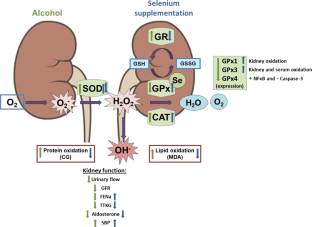 References
Martinotti G, Lupi M, Carlucci L, Santacroce R, Cinosi E, Acciavatti T, et al. Alcohol drinking patterns in young people: a survey-based study. J Health Psychol. 2017;22:1889–96. https://doi.org/10.1177/1359105316667795.

Piano MR, Mazzuco A, Kang M, Phillips SA. Cardiovascular consequences of binge drinking: an integrative review with implications for advocacy, policy, and research. Alcohol Clin Exp Res. 2017;41:487–96. https://doi.org/10.1111/acer.13329.

Hall JE. The kidney, hypertension, and obesity. Hypertension. 2003;41:625–33. https://doi.org/10.1161/01.HYP.0000052314.95497.78.

González J, Valls N, Brito R, Rodrigo R. Essential hypertension and oxidative stress: new insights. World J Cardiol. 2014;6:353–66. https://doi.org/10.4330/wjc.v6.i6.353.

Kumar SD, Vasudevan DM. Alcohol induced effects on kidney. Indian J Clin Biochem. 2008;23:4–9. Accessed 1 Jun 2018

Matsumoto A, Nagasawa Y, Yamamoto R, Shinzawa M, Hasuike Y, Kuragano T, et al. The association of alcohol and smoking with CKD in a Japanese nationwide cross-sectional survey. Hypertens Res. 2017;40:771–8. https://doi.org/10.1038/hr.2017.25.

Dinu D, Nechifor MT, Movileanu L. Ethanol-induced alterations of the antioxidant defense system in rat kidney. J Biochem Mol Toxicol. 2006;19:386–95. https://doi.org/10.1002/jbt.20101.

Rodrigo R, Thielemann L, Olea M, Muñoz P, Cereceda M, Orellana M. Effect of ethanol ingestion on renal regulation of water and electrolytes. Arch Med Res. 1998;29:209–18. http://www.ncbi.nlm.nih.gov/pubmed/9775453 Accessed 1 Jun 2018

Amet Y, Plée-Gautier E, Berthou F, Adas F, French SW. Adaptation to chronic ethanol administration emphasized by fatty acid hydroxylations in rat liver and kidney microsomes. Eur J Nutr. 2000;39:270–6. http://www.ncbi.nlm.nih.gov/pubmed/11395987 Accessed 1 Jun 2018

Rodrigo R, Rivera G. Renal damage mediated by oxidative stress: a hypothesis of protective effects of red wine. Free Radic Biol Med. 2002;33:409–22. http://www.ncbi.nlm.nih.gov/pubmed/12126763 Accessed 1 Jun 2018

Assadi FK. Acute effect of ethanol on renal electrolyte excretion in rats. Alcohol. 2018;6:257–60. http://www.ncbi.nlm.nih.gov/pubmed/2660849 Accessed 1 Jun 2018

Kim H-N, Kim S-H, Song S-W. Is alcohol drinking associated with renal impairment in the general population of South Korea? Kidney Blood Press Res. 2014;39:40–49. https://doi.org/10.1159/000355775.

Yang X, Li Y, Li Y, Ren X, Zhang X, Hu D, et al. Oxidative stress-mediated atherosclerosis: mechanisms and therapies. Front Physiol. 2017;8. https://doi.org/10.3389/fphys.2017.00600.

Carreras O, Ojeda ML, Nogales F. Chapter 11 – Selenium dietary supplementation and oxidative balance in alcoholism. In: Molecular aspects of alcohol and nutrition. 2016. p. 133–42. https://doi.org/10.1016/B978-0-12-800773-0.00011-2.

Ojeda ML, Rua RM, Murillo ML, Carreras O, Nogales F. Binge drinking during adolescence disrupts se homeostasis and its main hepatic selenoprotein expression. Alcohol Clin Exp Res. 2015;39:818–26 https://doi.org/10.1111/acer.12707.

Ojeda ML, Carreras O, Sobrino P, Murillo ML, Nogales F. Biological implications of selenium in adolescent rats exposed to binge drinking: oxidative, immunologic and apoptotic balance. Toxicol Appl Pharmacol. 2017;329:165–72. https://doi.org/10.1016/j.taap.2017.05.037.

Burk RF, Olson GE, Winfrey VP, Hill KE, Yin D. Glutathione peroxidase-3 produced by the kidney binds to a population of basement membranes in the gastrointestinal tract and in other tissues. Am J Physiol Liver Physiol. 2011;301:G32–G38. https://doi.org/10.1152/ajpgi.00064.2011.

Olson GE, Whitin JC, Hill KE, Winfrey VP, Motley AK, Austin LM, et al. Extracellular glutathione peroxidase (Gpx3) binds specifically to basement membranes of mouse renal cortex tubule cells. Am J Physiol Ren Physiol. 2010;298:F1244–53. https://doi.org/10.1152/ajprenal.00662.2009.

Hoffmann PR, Hoge SC, Li P-A, Hoffmann FW, Hashimoto AC, Berry MJ. The selenoproteome exhibits widely varying, tissue-specific dependence on selenoprotein P for selenium supply. Nucleic Acids Res. 2007;35:3963–73. https://doi.org/10.1093/nar/gkm355.

Brigelius-Flohé R, Flohé L. Selenium and redox signaling. Arch Biochem Biophys. 2017;617:48–59. https://doi.org/10.1016/j.abb.2016.08.003.

Ojeda ML, Nogales F, Murillo ML, Carreras O. Selenium or selenium plus folic acid-supplemented diets ameliorate renal oxidation in ethanol-exposed pups. Alcohol Clin Exp Res. 2012;36:404–12. https://doi.org/10.1111/j.1530-0277.2012.01788.x.

Ozkol H, Bulut G, Balahoroglu R, Tuluce Y, Ozkol HU. Protective effects of selenium, N-acetylcysteine and vitamin E against acute ethanol intoxication in rats. Biol Trace Elem Res. 2017;175:177–85. https://doi.org/10.1007/s12011-016-0762-8.

Spear L. Modeling adolescent development and alcohol use in animals. Alcohol Res Health. 2000;24:115–23. http://www.ncbi.nlm.nih.gov/pubmed/11199278 Accessed 19 Jun 2018

National Institute on Alcohol Abuse and Alcoholism. NIAAA council approves definition of binge drinking. NIAAA Newsletter. 2004;3:3.

Nogales F, Rua RM, Ojeda ML, Murillo ML, Carreras O. Oral or intraperitoneal binge drinking and oxidative balance in adolescent rats. Chem Res Toxicol. 2014;27:1926–33. https://doi.org/10.1021/tx5002628.

Ojeda ML, Nogales F, Vázquez B, Delgado MJ, Murillo ML, Carreras O. Pharmacology and cell metabolism: alcohol, gestation and breastfeeding: selenium as an antioxidant therapy. Alcohol Alcohol. 2009;44:272–7. https://doi.org/10.1093/alcalc/agp004.

Sindhu RK, Ehdaie A, Farmand F, Dhaliwal KK, Nguyen T, Zhan CD, et al. Expression of catalase and glutathione peroxidase in renal insufficiency. Biochim Biophys Acta. 2005;1743:86–92. https://doi.org/10.1016/j.bbamcr.2004.08.013.

Vaziri ND, Lin C-Y, Farmand F, Sindhu RK. Superoxide dismutase, catalase, glutathione peroxidase and NADPH oxidase in lead-induced hypertension. Kidney Int. 2003;63:186–94. https://doi.org/10.1046/j.1523-1755.2003.00711.x.

Knopp EA, Arndt TL, Eng KL, Caldwell M, LeBoeuf RC, Deeb SS, et al. Murine phospholipid hydroperoxide glutathione peroxidase: cDNA sequence, tissue expression, and mapping. Mamm Genome. 1999;10:601–5. http://www.ncbi.nlm.nih.gov/pubmed/10341094 Accessed 1 Jun 2018

Liang H, Yoo S-E, Na R, Walter CA, Richardson A, Ran Q. Short form glutathione peroxidase 4 is the essential isoform required for survival and somatic mitochondrial functions. J Biol Chem. 2009;284:30836–44. https://doi.org/10.1074/jbc.M109.032839.

Wullaert A, van Loo G, Heyninck K, Beyaert R. Hepatic tumor necrosis factor signaling and nuclear factor-kappaB: effects on liver homeostasis and beyond. Endocr Rev. 2007;28:365–86. https://doi.org/10.1210/er.2006-0031.

Greten FR, Eckmann L, Greten TF, Park JM, Li ZW, Egan LJ et al. IKKbeta links inflammation and tumorigenesis in a mouse model of colitis-associated cancer. Cell. 2004;118:285–96. https://doi.org/10.1016/j.cell.2004.07.013.

Nomura K, Imai H, Koumura T, Kobayashi T, Nakagawa Y. Mitochondrial phospholipid hydroperoxide glutathione peroxidase inhibits the release of cytochrome c from mitochondria by suppressing the peroxidation of cardiolipin in hypoglycaemia-induced apoptosis. Biochem J. 2000;351(Pt 1):183–93. http://www.ncbi.nlm.nih.gov/pubmed/10998361. Accessed 1 Jun 2018

Lu X-Y, Liu B-C, Wang L-H, Yang LL, Bao Q, Zhai YJ, et al. Acute ethanol induces apoptosis by stimulating TRPC6 via elevation of superoxide in oxygenated podocytes. Biochim Biophys Acta. 2015;1853:965–74. https://doi.org/10.1016/j.bbamcr.2015.01.007.

Huang H, You Y, Lin X, Tang C, Gu X, Huang M, et al. Inhibition of TRPC6 signal pathway alleviates podocyte injury induced by TGF-β1. Cell Physiol Biochem. 2017;41:163–72. https://doi.org/10.1159/000455985.

Latchoumycandane C, Nagy LE, McIntyre TM. Chronic ethanol ingestion induces oxidative kidney injury through taurine-inhibitable inflammation. Free Radic Biol Med. 2014;69:403–16. https://doi.org/10.1016/j.freeradbiomed.2014.01.001.

Latchoumycandane C, Nagy LE, McIntyre TM. Myeloperoxidase formation of PAF receptor ligands induces PAF receptor-dependent kidney injury during ethanol consumption. Free Radic Biol Med. 2015;86:179–90. https://doi.org/10.1016/j.freeradbiomed.2015.05.020.

Godino A, Abate P, Amigone JL, Vivas L, Molina JC. Prenatal binge-like alcohol exposure alters brain and systemic responses to reach sodium and water balance. Neuroscience. 2015;311:92–104. https://doi.org/10.1016/j.neuroscience.2015.10.004.

Willey AR, Anderson RI, Morales M, Ramirez RL, Spear LP. Effects of ethanol administration on corticosterone levels in adolescent and adult rats. Alcohol. 2012;46:29–36. https://doi.org/10.1016/j.alcohol.2011.08.005.

Rodrigo R, Trujillo S, Bosco C, Orellana M, Thielemann L, Araya J. Changes in (Na+K)-adenosine triphosphatase activity and ultrastructure of lung and kidney associated with oxidative stress induced by acute ethanol intoxication. Chest. 2002;121:589–96. http://www.ncbi.nlm.nih.gov/pubmed/11834676 Accessed 1 Jun 2018

Barrero MJ, Ojeda ML, Díaz Castro J, Nogales F, Murillo ML, Carreras O. The effects of ethanol upon hydric balance and arterial pressure in rats: folic acid as a possible hypotensor. Life Sci. 2012;90:337–42. https://doi.org/10.1016/j.lfs.2011.12.008.

Ojeda L, Nogales F, Murillo L, Carreras O. The role of folic acid and selenium against oxidative damage from ethanol in early life programming: a review. Biochem Cell Biol. 2018;96:178–188. https://doi.org/10.1139/bcb-2017-0069.
Acknowledgements
Grants from the Andalusian Regional Government supporting the CTS-193 research group.
Ethics declarations
Conflict of interest
The authors declare that they have no conflict of interest.
Additional information
Publisher's note: Springer Nature remains neutral with regard to jurisdictional claims in published maps and institutional affiliations.
About this article
Cite this article
Sobrino, P., Ojeda, M., Nogales, F. et al. Binge drinking affects kidney function, osmotic balance, aldosterone levels, and arterial pressure in adolescent rats: the potential hypotensive effect of selenium mediated by improvements in oxidative balance. Hypertens Res 42, 1495–1506 (2019). https://doi.org/10.1038/s41440-019-0265-z
Received:

Revised:

Accepted:

Published:

Issue Date:

DOI: https://doi.org/10.1038/s41440-019-0265-z
Keywords
Binge drinking

Systolic blood pressure

Kidney functions

Selenium

Glutathione peroxidase