Abstract
It remains unknown which surrogate markers can predict diagnostic test results for primary hyperaldosteronism (PA). The Secondary Hypertension Registry Investigation in Mie Prefecture (SHRIMP) study has sequentially and prospectively recruited 128 patients with hypertension with an aldosterone-to-renin ratio (ARR) greater than 20, evaluated the differences among essential hypertension (EHT), idiopathic hyperaldosteronism (IHA), and aldosterone-producing adenoma (APA), and analyzed the predictors for the confirmatory tests. The patients underwent saline-loading, captopril-challenge, and upright furosemide-loading tests. Carotid, renovascular, and cardiac echography, brachial ankle pulse wave velocity (baPWV), endothelial function, nocturnal blood pressure decline, and the apnea hypopnea index were evaluated. Multivariate regression analyses showed that the plasma aldosterone concentration (PAC) at screening was a strong predictor of the saline and captopril test results. The plasma renin activity (PRA) at screening, urine β2-microglobulin, and left ventricular mass index (LVMI) were independent predictors for the captopril test. The estimated saline PAC and captopril 60 and 90 min ARRs predicted by the equations were highly correlated with the real values. The ROC curve analysis showed PAC at screening among each of predictors for the diagnostic tests and PAC after the saline-loading test had the highest diagnostic abilities of APA. Patients with IHA were older and had glucose intolerance and increased U-Alb/gCre and resistive indices. In patients with APA, the levels of U-Alb/gCre and urine β2-microglobulin were increased, and levels of insulin and the HOMA-IR were decreased. In conclusion, our proposed equations may be useful for estimating saline PAC and captopril ARR. Diagnostic predictors may differ for each confirmatory test.
This is a preview of subscription content
Access options
Subscribe to Journal
Get full journal access for 1 year
$119.00
only $9.92 per issue
All prices are NET prices.
VAT will be added later in the checkout.
Tax calculation will be finalised during checkout.
Buy article
Get time limited or full article access on ReadCube.
$32.00
All prices are NET prices.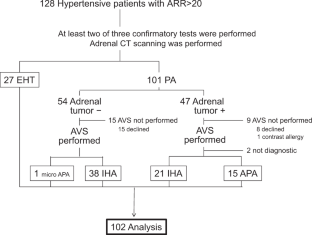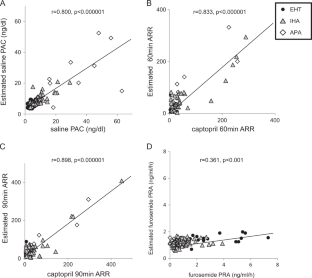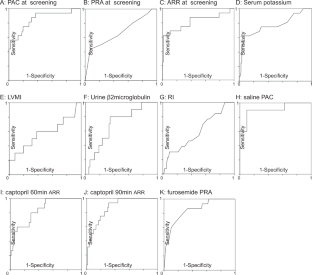 References
Funder JW, Carey RM, Fardella C, Gomez-Sanchez CE, Mantero F, Stowasser, et al. Endocrine Society. Case detection, diagnosis, and treatment of patients with primary aldosteronism: an endocrine society clinical practice guideline. J Clin Endocrinol Metab. 2008;93:3266–81.

Milliez P, Girerd X, Plouin PF, Blacher J, Safar ME, Mourad JJ. Evidence for an increased rate of cardiovascular events in patients with primary aldosteronism. J Am Coll Cardiol. 2005;45:1243–8.

Funder JW, Carey RM, Mantero F, Murad MH, Reincke M, Shibata H, et al. The management of primary aldosteronism: case detection, diagnosis, and treatment: an Endocrine Society Clinical Practice Guideline. J Clin Endocrinol Metab. 2016;101:1889–16.

Monticone S, Burrello J, Tizzani D, Bertello C, Viola A, Buffolo F, et al. Prevalence and clinical manifestations of primary aldosteronism encountered in primary care practice. J Am Coll Cardiol. 2017;69:1811–20.

Shimamoto K, Ando K, Fujita T, Hasebe N, Higaki J, Horiuchi M, et al. The Japanese Society of Hypertension Guidelines for the management of hypertension (JSH 2014). Hypertens Res. 2014;37:253–390.

Nishikawa T, Omura M, Satoh F, Shibata H, Takahashi K, Tamura N, et al. Task Force Committee on Primary Aldosteronism, The Japan Endocrine Society. Guidelines for the diagnosis and treatment of primary aldosteronism—the Japan Endocrine Society 2009. Endocr J. 2011;58:711–21.

Leung AA, Nerenberg K, Daskalopoulou SS, McBrien K, Zarnke KB, Dasgupta K, et al. Hypertension Canada's 2016 Canadian Hypertension Education Program Guidelines for blood pressure measurement, diagnosis, assessment of risk, prevention, and treatment of hypertension. Can J Cardiol. 2016;32:569–88.

Reznik Y, Amar L, Tabarin A. SFE/SFHTA/AFCE consensus on primary aldosteronism, part 3: Confirmatory testing. Ann Endocrinol (Paris). 2016;77:202–7.

Tanimura M, Dohi K, Matsuda M, Sato Y, Sugiura E, Kumagai N, et al. Renal resistive index as an indicator of the presence and severity of anemia and its future development in patients with hypertension. BMC Nephrol. 2015;16:45.

Matsumoto K, Yano Y, Gabazza EC, Araki R, Bruno NE, Suematsu M, et al. Inverse correlation between activated protein C generation and carotid atherosclerosis in Type 2 diabetic patients. Diabet Med. 2007;24:1322–8.

Somers VK, White DP, Amin R, Abraham WT, Costa F, Culebras A, et al. Sleep apnea and cardiovascular disease: an American Heart Association/american College Of Cardiology Foundation Scientific Statement from the American Heart Association Council for High Blood Pressure Research Professional Education Committee, Council on Clinical Cardiology, Stroke Council, and Council On Cardiovascular Nursing. In collaboration with the National Heart, Lung, and Blood Institute National Center on Sleep Disorders Research (National Institutes of Health). Circulation . 2008;118:1080–111.

Kandhai-Ragunath JJ, Jorstad HT, de Man FH, Peters RJ, von Birgelen C. Approaches for non-invasive assessment of endothelial function: focus on peripheral arterial tonometry. Neth Heart J. 2013;21:214–8.

Aro AL, Chugh SS. Clinical diagnosis of electrical versus anatomic left ventricular hypertrophy: prognostic and therapeutic implications. Circ Arrhythm Electrophysiol. 2016;9:e003629.

Melenovsky V, Borlaug BA, Rosen B, Hay I, Ferruci L, Morell CH, et al. Cardiovascular features of heart failure with preserved ejection fraction versus nonfailing hypertensive left ventricular hypertrophy in the urban Baltimore community: the role of atrial remodeling/dysfunction. J Am Coll Cardiol. 2007;49:198–207.

Yang Y, Zhu LM, Xu JZ, Tang XF, Gao PJ. Comparison of left ventricular structure and function in primary aldosteronism and essential hypertension by echocardiography. Hypertens Res. 2017;40:243–50.

Savard S, Amar L, Plouin PF, Steichen O. Cardiovascular complications associated with primary aldosteronism: a controlled cross-sectional study. Hypertension. 2013;62:331–6.

Ruilope LM, Rodicio JL. Renal surrogates in essential hypertension. Clin Exp Hypertens. 1999;21:609–14.

Bolignano D, Palmer SC, Navaneethan SD, Strippoli GF. Aldosterone antagonists for preventing the progression of chronic kidney disease. Cochrane Database Syst Rev. 2014;4:CD007004.

Cauwenberghs N, Kuznetsova T. Determinants and prognostic significance of the renal resistive index. Pulse (Basel). 2016;3:172–8.

Doi Y, Iwashima Y, Yoshihara F, Kamide K, Hayashi S, Kubota Y, et al. Renal resistive index and cardiovascular and renal outcomes in essential hypertension. Hypertension. 2012;60:770–7.

Stowasser M, Gordon RD. Primary aldosteronism: changing definitions and new concepts of physiology and pathophysiology both inside and outside the kidney. Physiol Rev. 2016;96:1327–84.

Iwakura Y, Ito S, Morimoto R, Kudo M, Ono Y, Nezu M, et al. Renal resistive index predicts postoperative blood pressure outcome in primary aldosteronism. Hypertension. 2016;67:654–60.

Hanslik G, Wallaschofski H, Dietz A, Riester A, Reincke M, Allolio B, et al. Increased prevalence of diabetes mellitus and the metabolic syndrome in patients with primary aldosteronism of the German Conn's Registry. Eur J Endocrinol. 2015;173:665–75.

Chen W, Li F, He C, Zhu Y, Tan W. Elevated prevalence of abnormal glucose metabolism in patients with primary aldosteronism: a meta-analysis. Ir J Med Sci. 2014;183:283–91.

Murase K, Nagaishi R, Takenoshita H, Nomiyama T, Akehi Y, Yanase T. Prevalence and clinical characteristics of primary aldosteronism in Japanese patients with type 2 diabetes mellitus and hypertension. Endocr J. 2013;60:967–76.

Matsumoto T, Oki K, Kajikawa M, Nakashima A, Maruhashi T, Iwamoto Y, et al. Effect of aldosterone-producing adenoma on endothelial function and Rho-associated kinase activity in patients with primary aldosteronism. Hypertension. 2015;65:841–8.

Zacharieva S, Orbetzova M, Elenkova A, Stoynev A, Yaneva M, Schigarminova R, et al. Diurnal blood pressure pattern in patients with primary aldosteronism. J Endocrinol Invest. 2006;29:26–31.

Kobayashi H, Haketa A, Ueno T, Suzuki R, Aoi N, Ikeda Y, et al. Subtype prediction in primary aldosteronism: measurement of circadian variation of adrenocortical hormones and 24-h urinary aldosterone. Clin Endocrinol (Oxf). 2016;84:814–21.

Umakoshi H, Tsuiki M, Takeda Y, Kurihara I, Itoh H, Katabami T, et al. Significance of computed tomography and serum potassium in predicting subtype diagnosis of primary aldosteronism. J Clin Endocrinol Metab. 2018;103:900–8.

Nanba K, Tsuiki M, Nakao K, Nanba A, Usui T, Tagami T, et al. A subtype prediction score for primary aldosteronism. J Hum Hypertens. 2014;28:716–20.

Fujii Y, Umakoshi H, Wada N, Ichijo T, Kamemura K, Matsuda Y, et al. Subtype prediction of primary aldosteronism by combining aldosterone concentrations in the left adrenal vein and inferior vena cava: a multicenter collaborative study on adrenal venous sampling. J Hum Hypertens. 2017;32:12–9.
Acknowledgments
The authors thank Masumi Matsuda, Hidetomo Onuma, Hitomi Kurata, and Mayumi Furlong for their excellent technical assistance.
Funding
This work was supported in part by Grants-in-Aid for Scientific Research from the Ministry of Education, Culture, Sports, Science and Technology, Japan (No. 24591113 to R.O.), the Japan Vascular Disease Research Foundation, the Mie Medical Foundation, and the Okasan-Kato Foundation (to R.O.).
Ethics declarations
Conflict of interest
The Department of Cardiology and Nephrology, Mie University Graduate School of Medicine, received research grants from Bristol-Myers Squibb, MSD K.K., Pfizer Japan Inc., Takeda Pharmaceutical Co., Ltd., Astellas Pharma Inc., Daiichi Sankyo Pharmaceutical Co., Ltd., Genzyme Japan, Shionogi & Co., Ltd., Sumitomo Dainippon Pharma Co., Ltd., Mitsubishi Tanabe Corporation, Otsuka Pharmaceutical Co., Ltd., Bayer Yakuhin, Ltd., AstraZeneca K.K., and Boehringer Ingelheim Co., Ltd. Masaaki Ito received lecture fees from Daiichi Sankyo Co. Pharmaceutical Co., Ltd., Mitsubishi Tanabe Corporation, Bayer Yakuhin, Ltd. and Takeda Pharmaceutical Co., Ltd.
Electronic supplementary material
Appendix
Appendix
The complete list of SHRIMP Study Investigators is as follows: Ryuji Okamoto, MD; Masaya Taniguchi, MD; Yuki Onishi, MD; Naoto Kumagai, MD; Junji Uraki, MD; Naoki Fujimoto, MD; Yasuhiro Hotta, MD; Ken Sasaki, MD; Noriko Furuta, MD; Eitato Fujii, MD; Yutaka Yano, MD; Norikazu Yamada, MD; Toru Ogura, PhD; Yoshiyuki Takei, MD; Hajime Sakuma, MD; Masaaki Ito, MD; Kaoru Dohi, MD; Kazuhito Eguchi, MD; Satoshi Fujita, MD; Shusuke Fukuoka, MD; Tomoyuki Fukuma, MD; Itaru Goto, MD; Rei Hashimoto, MD; Chisa Inoue, MD; Ryoichi Ishisu, MD; Junko Ishiura, MD; Masaki Ishiyama, MD; Yoshihiko Kagawa, MD; Kentaro Kakuta, MD; Akemi Kida, MD; Katsuhisa Konishi, MD; Manabu Kato, MD; Rikiya Kawarada, MD; Tairo Kurita, MD; Kanako Maki, MD; Akimasa Matsuda, MD; Hiroshi Matsuo, MD; Hana Mizutani, MD; Tatsuya Mori, MD; Keishi Moriwaki, MD; Yuki Muneyoshi, MD; Hiroshi Nakajima, MD; Shiro Nakamori, MD; Mashio Nakamura, MD; Tomoyuki Nakata, MD; Atsuhiro Nakatsuka, MD; Hitoshi Nakaya, MD; Kota Nishihama, MD; Shinya Okamoto, MD; Yuko Okano, MD; Yoshito Ogihara, MD; Taku Omori, MD; Masako Sakamoto, MD; Takeshi Sasaki, MD; Kei Sato, MD; Yuichi Sato, MD; Toshiki Sawai, MD Yoshiki Sugimura, MD; Yuichi Sugino, MD; Emiyo Sugiura, MD; Shinya Sugiura, MD; Toshinari Suzuki, MD; Yasuo Suzuki, MD; Takeo Takahashi, MD; Atsuro Takeshita, MD; Te-tsushiro Takeuchi, MD; Yasuyuki Tamai, MD; Muneyoshi Tanimura, MD; Yuji Ueda, MD; Mei Uemura, MD; Takashi Yamanaka, MD; Kiyotaka Watanabe, MD; and Taro Yasuma, MD.
About this article
Cite this article
Okamoto, R., Taniguchi, M., Onishi, Y. et al. Predictors of confirmatory test results for the diagnosis of primary hyperaldosteronism in hypertensive patients with an aldosterone-to-renin ratio greater than 20. The SHRIMP study. Hypertens Res 42, 40–51 (2019). https://doi.org/10.1038/s41440-018-0126-1
Received:

Revised:

Accepted:

Published:

Issue Date:

DOI: https://doi.org/10.1038/s41440-018-0126-1
Keywords
Primary aldosteronism

Hypertension

Aldosterone

Renin

Blood pressure