Abstract
We evaluated the relationship between blood pressure variability (BPV) and the development of hypertension during pregnancy. A total of 4163 pregnant women with normal blood pressure (BP) before 20 weeks of gestation were included in this study. The visit-to-visit blood pressure variability (VVV) was evaluated using the standard deviation (SD) of the systolic BP taken three times during pregnancy at approximately 10, 20, and 30 weeks of gestation. The VVV gradually decreased during pregnancy in normotensive subjects (SD: 7.2 ± 4.2 mmHg, 6.8 ± 3.9 mmHg, and 6.3 ± 3.6 mmHg at 10, 20, and 30 weeks, respectively). However, the VVV of hypertensive subjects did not decrease (SD: 8.2 ± 5.7 mmHg, 7.6 ± 5.0 mmHg, and 8.3 ± 5.3 mmHg at 10, 20, and 30 weeks, respectively) and was significantly greater than the VVV of normotensive subjects (p < 0.001). The VVV was significantly higher in patients who developed hypertension, and there was no decrease in VVV during pregnancy. Pregnancy complications were significantly increased in women with higher VVV at 10 and 30 weeks. Therefore, increased VVV during pregnancy may be a predictor of poor pregnancy outcomes.
Access options
Subscribe to Journal
Get full journal access for 1 year
$299.00
only $24.92 per issue
All prices are NET prices.
VAT will be added later in the checkout.
Rent or Buy article
Get time limited or full article access on ReadCube.
from$8.99
All prices are NET prices.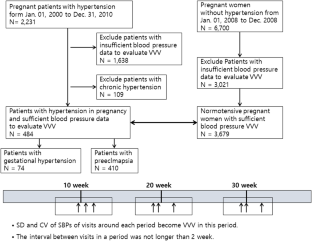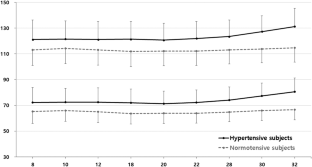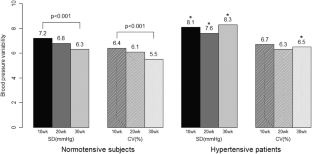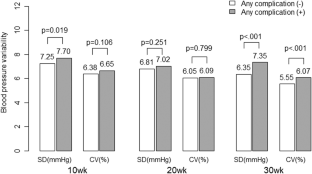 References
1.

Parati G, Ochoa JE, Lombardi C, Bilo G. Assessment and management of blood-pressure variability. Nat Rev Cardiol. 2013;10:143–55.

2.

Muntner P, Levitan EB, Joyce C, Holt E, Mann D, Oparil S, et al. Association between antihypertensive medication adherence and visit-to-visit variability of blood pressure. J Clin Hypertens. 2013;15:112–7.

3.

Nagai M, Hoshide S, Nishikawa M, Shimada K, Kario K. Sleep duration and insomnia in the elderly: associations with blood pressure variability and carotid artery remodeling. Am J Hypertens. 2013;26:981–9.

4.

Muntner P, Shimbo D, Tonelli M, Reynolds K, Arnett DK, Oparil S. The relationship between visit-to-visit variability in systolic blood pressure and all-cause mortality in the general population: findings from NHANES III, 1988 to 1994. Hypertension. 2011;57:160–6.

5.

Ekholm EM, Erkkola RU. Autonomic cardiovascular control in pregnancy. Eur J Obstet Gynecol Reprod Biol. 1996;64:29–36.

6.

Hunter S, Robson SC. Adaptation of the maternal heart in pregnancy. Br Heart J. 1992;68:540–3.

7.

Duvekot JJ, Peeters LL. Maternal cardiovascular hemodynamic adaptation to pregnancy. Obstet Gynecol Surv. 1994;49:S1–14.

8.

Hermida RC, Ayala DE, Iglesias M. Predictable blood pressure variability in healthy and complicated pregnancies. Hypertension. 2001;38:736–41.

9.

Voss A, Malberg H, Schumann A, Wessel N, Walther T, Stepan H, et al. Baroreflex sensitivity, heart rate, and blood pressure variability in normal pregnancy. Am J Hypertens. 2000;13:1218–25.

10.

Faber R, Baumert M, Stepan H, Wessel N, Voss A, Walther T. Baroreflex sensitivity, heart rate, and blood pressure variability in hypertensive pregnancy disorders. J Hum Hypertens. 2004;18:707–12.

11.

Flood P, McKinley P, Monk C, Muntner P, Colantonio LD, Goetzl L, et al. Beat-to-beat heart rate and blood pressure variability and hypertensive disease in pregnancy. Am J Perinatol. 2015;32:1050–8.

12.

Kintiraki E, Papakatsika S, Kotronis G, Goulis DG, Kotsis V. Pregnancy-Induced hypertension. Horm (Athens). 2015;14:211–23.

13.

Mol BWJ, Roberts CT, Thangaratinam S, Magee LA, de Groot CJM, Hofmeyr GJ. Pre-eclampsia. Lancet. 2016;387:999–1011.

14.

Iizuka M, Miyasaka N, Hirose Y, Toba M, Sakamoto S, Kubota T. Is there a differential impact of parity on factors regulating maternal peripheral resistance? Hypertens Res. 2016;39:737–43.

15.

Sanghavi M, Rutherford JD. Cardiovascular physiology of pregnancy. Circulation. 2014;130:1003–8.

16.

Robson SC, Hunter S, Boys RJ, Dunlop W. Serial study of factors influencing changes in cardiac output during human pregnancy. Am J Physiol. 1989;256:H1060–1065.

17.

Spracklen CN, Smith CJ, Saftlas AF, Robinson JG, Ryckman KK. Maternal hyperlipidemia and the risk of preeclampsia: a meta-analysis. Am J Epidemiol. 2014;180:346–58.

18.

Abhari FR, Ghanbari Andarieh M, Farokhfar A, Ahmady S. Estimating rate of insulin resistance in patients with preeclampsia using HOMA-IR index and comparison with nonpreeclampsia pregnant women. Biomed Res Int. 2014;2014:140851.

19.

Santillan MK, Santillan DA, Sigmund CD, Hunter SK. From molecules to medicine: a future cure for preeclampsia? Drug News Perspect. 2009;22:531–41.

20.

Parati G, Ochoa JE, Lombardi C, Bilo G. Blood pressure variability: assessment, predictive value, and potential as a therapeutic target. Curr Hypertens Rep. 2015;17:537.

21.

Madden JM, O'Flynn AM, Fitzgerald AP, Kearney PM. Correlation between short-term blood pressure variability and left-ventricular mass index: a meta-analysis. Hypertens Res. 2016;39:171–7.

22.

Parati G, Bilo G. Arterial baroreflex modulation of sympathetic activity and arterial wall properties: new evidence. Hypertension. 2012;59:5–7.

23.

Conway J, Boon N, Davies C, Jones JV, Sleight P. Neural and humoral mechanisms involved in blood pressure variability. J Hypertens. 1984;2:203–8.

24.

Schillaci G, Bilo G, Pucci G, Laurent S, Macquin-Mavier I, Boutouyrie P, et al. Relationship between short-term blood pressure variability and large-artery stiffness in human hypertension: findings from 2 large databases. Hypertension. 2012;60:369–77.

25.

Mancia G, Messerli F, Bakris G, Zhou Q, Champion A, Pepine CJ. Blood pressure control and improved cardiovascular outcomes in the International Verapamil SR-Trandolapril Study. Hypertension. 2007;50:299–305.

26.

Metoki H, Iwama N, Ishikuro M, Satoh M, Murakami T, Nishigori H. Monitoring and evaluation of out-of-office blood pressure during pregnancy. Hypertens Res. 2017;40:107–9.
Acknowledgements
The data were collected by the authors at Cheil General Hospital, Dankook University College of Medicine, Seoul, Korea (South).
Ethics declarations
Conflict of interest
The authors declare that they have no conflict of interest.
About this article
Cite this article
Kim, SA., Lee, JD. & Park, J.B. Differences in visit-to-visit blood pressure variability between normotensive and hypertensive pregnant women. Hypertens Res 42, 67–74 (2019). https://doi.org/10.1038/s41440-018-0112-7
Received:

Revised:

Accepted:

Published:

Issue Date:
Keywords
blood pressure variability

hypertension

pregnancy
Further reading
Jieyu Liu

,

Luoqi Yang

,

Haoyue Teng

,

Yingying Cao

,

Jiaxiang Wang

,

Bing Han

,

Linghua Tao

,

Bo Zhong

,

Fangfang Wang

,

Chengqi Xiao

,

Zhongxiao Wan

&

Jieyun Yin

Hypertension Research (2020)

Liu Jieyu

,

Cao Yingying

,

Gong Tian

,

Wang Jiaxiang

,

Lu Jiawen

,

Gu Yingjie

,

Yu Qingzhou

,

Teng Haoyue

,

Yin Jieyun

&

Pan Chenwei

Pregnancy Hypertension (2019)

Martin R. Salazar

,

Walter G. Espeche

,

Eduardo Balbín

,

Carlos E. Leiva Sisnieguez

,

Betty C. Leiva Sisnieguez

,

Rodolfo N. Stavile

,

Carlos March

,

Ricardo D. Olano

,

Adelaida Soria

,

Osvaldo Yoma

,

Marcelo Prudente

,

Soledad Torres

,

Florencia Grassi

,

Claudia Santillan

,

Patricia Carrera Ramos

&

Horacio A. Carbajal

Journal of Hypertension (2019)