Abstract
Spatial patterns of genetic variation compared across species provide information about the predictability of genetic diversity in natural populations, and areas requiring conservation measures. Due to their remarkable fish diversity, rivers in Neotropical regions are ideal systems to confront theory with observations and would benefit greatly from such approaches given their increasing vulnerability to anthropogenic pressures. We used SNP data from 18 fish species with contrasting life-history traits, co-sampled across 12 sites in the Maroni– a major river system from the Guiana Shield –, to compare patterns of intraspecific genetic variation and identify their underlying drivers. Analyses of covariance revealed a decrease in genetic diversity as distance from the river outlet increased for 5 of the 18 species, illustrating a pattern commonly observed in riverscapes for species with low-to-medium dispersal abilities. However, the mean within-site genetic diversity was lowest in the two easternmost tributaries of the Upper Maroni and around an urbanized location downstream, indicating the need to address the potential influence of local pressures in these areas, such as gold mining or fishing. Finally, the relative influence of isolation by stream distance, isolation by discontinuous river flow, and isolation by spatial heterogeneity in effective size on pairwise genetic differentiation varied across species. Species with similar dispersal and reproductive guilds did not necessarily display shared patterns of population structure. Increasing the knowledge of specific life history traits and ecological requirements of fish species in these remote areas should help further understand factors that influence their current patterns of genetic variation.
Access options
Subscribe to this journal
Receive 12 print issues and online access
$259.00 per year
only $21.58 per issue
Rent or buy this article
Prices vary by article type
from$1.95
to$39.95
Prices may be subject to local taxes which are calculated during checkout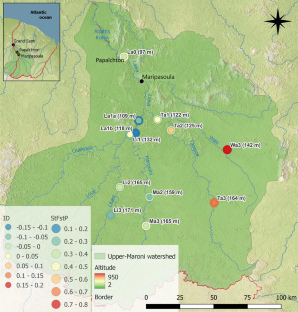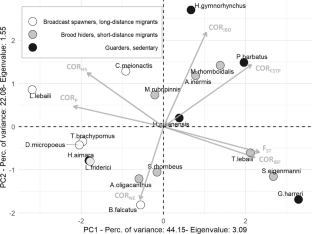 Data availability
Supplementary notes, figures, and tables for this article are provided in MARONI_Appendix1.pdf. Individual genotypes and genetic diversity data used in the current study are accessible through the Dryad repository https://doi.org/10.5061/dryad.dbrv15f5n, as well as sequence information about the 31 additional SNPs used for species C. meionactis. The R command lines used to analyze those data are provided and commented in MARONI_Appendix2.pdf. There are no financial benefits to report.
References
Abell R, Thieme ML, Revenga C, Bryer M, Kottelat M, Bogutskaya N et al. (2008) Freshwater ecoregions of the world: a new map of biogeographic units for freshwater biodiversity conservation. BioScience 58(5):403–414. https://doi.org/10.1641/B580507

Allendorf FW, England P, Luikart G, Ritchie P, Ryman N (2008) Genetic effects of harvest on wild animal populations. Trends Ecol Evolut 23(6):327–337. https://doi.org/10.1016/j.tree.2008.02.008

Alther R, Fronhofer E, Altermatt F (2021) Dispersal behaviour and riverine network connectivity shape the genetic diversity of freshwater amphipod metapopulations. Mol Ecol 00:1–15. https://doi.org/10.1111/mec.16201

Blanchet S, Rey O, Etienne R, Lek S, Loot G (2010) Species-specific responses to landscape fragmentation: implications for management strategies. Evolut Appl 3(3):291–304. https://doi.org/10.1111/j.1752-4571.2009.00110.x

Blanchet S, Prunier JG, Paz-Vinas I, Saint-Pé K, Rey O, Raffard A et al (2020) A river runs through it: the causes, consequences, and management of intraspecific diversity in river networks. Evolut Appl 1–19. https://doi.org/10.1111/eva.12941

Borstein S, Lucanus O, Gajapersad K, Singer R, Mol JHA and López-Fernández H (2022). Fish Diversity of the Upper Tapanahony River, Suriname. Museum of zoology, University of Michigan. https://doi.org/10.7302/4816

Breiman L (2001) Random forests. Mach Learn 45:5–32

Caballero A, Toro MA (2002) Analysis of genetic diversity for the management of conserved subdivided populations. Conserv Genet 3:289–299

Campbell Grant EH, Lowe WH, Fagan WF (2007) Living in the branches: population dynamics and ecological processes in dendritic networks. Ecol Lett 10(2):165–175. https://doi.org/10.1111/j.1461-0248.2006.01007.x

Chaput-Bardy A, Fleurant C, Lemaire C, Secondi J (2009) Modelling the effect of in-stream and overland dispersal on gene flow in river networks. Ecol Model 220(24):3589–3598. https://doi.org/10.1016/j.ecolmodel.2009.06.027

Crutsinger GM (2016) A community genetics perspective: opportunities for the coming decade. N. Phytol 210(1):65–70. https://doi.org/10.1111/nph.13537

Csilléry K, Blum MGB, Gaggiotti OE, François O (2010) Approximate Bayesian Computation (ABC) in practice. Trends Ecol Evolut 25(7):410–418. https://doi.org/10.1016/j.tree.2010.04.001

Davis CD, Epps CW, Flitcroft RL, Banks MA (2018) Refining and defining riverscape genetics: How rivers influence population genetic structure. WIREs Water 5:e1269. https://doi.org/10.1002/wat2.1269

Deck J, Gaither MR, Ewing R, Bird CE, Davies N, Meyer C et al. (2017) The Genomic Observatories Metadatabase (GeOMe): A new repository for field and sampling event metadata associated with genetic samples. PLOS Biol 15(8):e2002925

Delord C, Lassalle G, Oger A, Barloy D, Coutellec M-A, Delcamp A et al. (2018) A cost-and-time effective procedure to develop SNP markers for multiple species: A support for community genetics. Methods Ecol Evolut 9(9):1959–1974. https://doi.org/10.1111/2041-210X.13034

DeWoody J, Avise JC (2000) Microsatellite variation in marine, freshwater and anadromous fishes compared with other animals. J Fish Biol 56(3):461–473. https://doi.org/10.1006/jfbi.1999.1210

Do C, Waples RS, Peel D, Macbeth GM, Tillett BJ, Ovenden JR (2014) NeEstimator v2: re-implementation of software for the estimation of contemporary effective population size (Ne) from genetic data. Mol Ecol Resour 14(1):209–214. https://doi.org/10.1111/1755-0998.12157

Dobzhansky T (1965) Genetic diversity and fitness. Genet Today 3:541–552

Evangelista C, Dupeu J, Sandkjenn J, Pauli BD, Herland A, Meriguet J et al. (2021) Ecological ramifications of adaptation to size-selective mortality. R Soc Open Sci 8:210842. https://doi.org/10.1098/rsos.210842

Fisch-Muller S, Mol JHA, Covain R (2018) An integrative framework to reevaluate the Neotropical catfish genus Guyanancistrus (Siluriformes: Loricariidae) with particular emphasis on the Guyanancistrus brevispinis complex. PLoS One 13:e0189789

Fraimout A, Debat V, Fellous S, Hufbauer RA, Foucaud J, Pudlo P et al. (2017) Deciphering the routes of invasion of Drosophila suzukii by means of ABC random forest. Mol Biol Evolut 34:980–996

Frankham R (1995) Conservation genetics. Annu Rev Genet 29:305–327

Franklin IR (1980) Evolutionary change in small populations. In: Soulé M, Wilcox B (eds) Conservation biology: an evolutionary‐ecological perspective. Sinauer Associates, Sunderland, MA, p 135–149

Goudet J and Jombart T (2017) hierfstat: Estimation and Tests of Hierarchical F-Statistics. R package version 0.04-22. http://www.r-project.org, http://github.com/jgx65/hierfstat

Gutiérrez JP, Royo LJ, Álvarez I, Goyache F (2005) MolKin v2.0: a computer program for genetic analysis of populations using molecular coancestry information. J Heredity 96(6):718–721

Hilsdorf AWS, Hallerman EM (2017) Genetic Resources of Neotropical Fishes. Springer International Publishing, Cham, 10.1007/978-3-319-55838-7

Hoban S, Bruford MW, Funk C, Galbusera P, Griffith MP, Grueber CE et al (2021) Global commitments to conserving and monitoring genetic diversity are now necessary and feasible. BioSciences, biab054. https://doi.org/10.1111/eva.12197

Hoban SM, Hauffe HC, Pérez-Espona S, Arntzen JW, Bertorelle G, Bryja J et al. (2013) Bringing genetic diversity to the forefront of conservation policy and management. Conserv Genet Resour 5(2):593–598

Horne JB (2014) Emerging patterns and emerging challenges of comparative phylogeography. Front Biogeogr 6(4):166–168

Jégu M, Keith P (2005) Threatened fishes of the world: Tometes lebaili (Jégu, Keith and Belmont-Jégu 2002) (Characidae: Serrasalminae). Environ Biol Fishes 72(4):378–378. https://doi.org/10.1007/s10641-004-4126-4

Jenkins TL, Castilho R, Stevens JR (2018) Meta-analysis of northeast Atlantic marine taxa shows contrasting phylogeographic patterns following post-LGM expansions. PeerJ 6:e5684. https://doi.org/10.7717/peerj.5684

Jombart T, Devillard S, Balloux F (2010) Discriminant analysis of principal components: a new method for the analysis of genetically structured populations. BMC Genet 11(1):1–15

Keenan K, McGinnity P, Cross TF, Crozier WW, Prodöhl PA (2013) diveRsity: An R package for the estimation and exploration of population genetics parameters and their associated errors. Methods Ecol Evolut 4(8):782–788. https://doi.org/10.1111/2041-210X.12067

Lê S, Josse J, Husson F (2008) FactoMineR: An R package for multivariate analysis. J Stat Softw 25(1):1–18

Le Bail P-Y, Covain R, Jégu M, Fisch-Muller S, Vigouroux R, Keith P (2012) Updated checklist of the freshwater and estuarine fishes of French Guiana. Cybium 36(1):293–319

Leigh DM, van Rees CB, Millette KL, Breed MF, Schmidt C, Bertola L et al (2021) Opportunities and challenges of macrogenetic studies. Nat Rev Genet. https://doi.org/10.1038/s41576-021-00394-0

Lemopoulos A, Covain R (2019) Biogeography of the freshwater fishes of the Guianas using a partitioned parsimony analysis of endemicity with reappraisal of ecoregional boundaries. Cladistics 35(1):106–124. https://doi.org/10.1111/cla.12341

Lenth R (2018) emmeans: Estimated Marginal Means, aka Least-Squares Means. R package version 1.2.2. https://CRAN.R-project.org/package=emmeans

Lepais O, Chancerel E, Boury C, Salin F, Manicki A, Taillebois L et al. (2020) Fast sequence-based microsatellite genotyping development workflow. PeerJ 8:e9085. https://doi.org/10.7717/peerj.9085

Lino A, Fonseca C, Rojas D, Fischer E, Ramos Pereira MJ (2018) A meta-analysis of the effects of habitat loss and fragmentation on genetic diversity in mammals. Mamm Biol 94:69–76. https://doi.org/10.1016/j.mambio.2018.09.006

Longin G, Bonneau de Beaufort L, Fontenelle G, Rinaldo R, Roussel J-M, Le Bail P-Y (2021a) Fisher's perceptions of river resources: case study of French Guiana native populations using contextual cognitive mapping. Cybium 2021 45(1):5–20. https://doi.org/10.26028/cybium/2021-451-001.

Longin G, Fontenelle G, Bonneau de Beaufort L, Delord C, Launey S, Rinaldo R et al (2021b) When subsistence fishing meets conservation issues: survey of a small fishery in a neotropical river with high biodiversity value. Fisheries Res 241. https://doi.org/10.1016/j.fishres.2021.105995

Lujan NK, Armbruster JW (2011) The Guiana Shield. In: Albert JS, Reis RE (eds) Historical biogeography of neotropical freshwater fishes. University of California Press, Berkeley, p 211–224

Mathieu-Bégné E, Loot G, Chevalier M, Paz-Vinas I, Blanchet S (2018) Demographic and genetic collapses in spatially structured populations: insights from a long-term survey in wild fish metapopulations. Oikos 128:196–207. https://doi.org/10.1111/oik.05511

Meunier FJ, Rojas-Beltran R, Boujard T, Lecomte F (1994) Rythmes saisonniers de la croissance chez quelques Téléostéens de Guyane française. Rev d'hydrobiologie Tropicale 27(4):423–440

Morin PA, Luikart G, Wayne RK, the SNP workshop group (2004) SNPs in ecology, evolution and conservation. Trends Ecol Evolut 19(4):208–216. https://doi.org/10.1016/j.tree.2004.01.009

Palstra FP, Ruzzante DE (2011) Demographic and genetic factors shaping contemporary metapopulation effective size and its empirical estimation in salmonid fish. Heredity 107(5):444–455. https://doi.org/10.1038/hdy.2011.31

Papa Y, Le Bail P-Y, Covain R (2021) Genetic landscape clustering of a large DNA barcoding dataset reveals shared patterns of genetic divergence among freshwater fishes of the Maroni Basin. Mol Ecol Resour 21:2109–2124. https://doi.org/10.1111/1755-0998.13402

Pauls SU, Alp M, Bálint M, Bernabò P, Čiampor F, Čiamporová-Zaťovičová Z et al. (2014) Integrating molecular tools into freshwater ecology: developments and opportunities. Freshw Biol 59(8):1559–1576. https://doi.org/10.1111/fwb.12381

Paz-Vinas I, Blanchet S (2015) Dendritic connectivity shapes spatial patterns of genetic diversity: a simulation-based study. J Evolut Biol 28(4):986–994. https://doi.org/10.1111/jeb.12626

Paz-Vinas I, Loot G, Hermoso V, Veyssiere C, Poulet N, Grenouillet G et al. (2018) Systematic conservation planning for intraspecific genetic diversity. Proc R Soc B Biol Sci 285:20172746. 10

Paz-Vinas I, Loot G, Stevens VM, Blanchet S (2015) Evolutionary processes driving spatial patterns of intraspecific genetic diversity in river ecosystems. Mol Ecol 24(18):4586–4604. https://doi.org/10.1111/mec.13345

Pereira HM, Ferrier S, Walters M, Geller GN, Jongman RHG, Scholes RJ et al. (2013) Essential biodiversity variables. Science 339(6117):277–278. https://doi.org/10.1126/science.1229931

Pflüger FJ, Balkenhol N (2014) A plea for simultaneously considering matrix quality and local environmental conditions when analysing landscape impacts on effective dispersal. Mol Ecol 23(9):2146–2156. https://doi.org/10.1111/mec.12712

Pilger TJ, Gido KB, Propst DL, Whitney JE, Turner TF (2017) River network architecture, genetic effective size and distributional patterns predict differences in genetic structure across species in a dryland stream fish community. Mol Ecol 26(10):2687–2697. https://doi.org/10.1111/mec.14079

Planquette P, Keith P, Le Bail P-Y (1996) Atlas des poissons d'eau douce de Guyane (tome 1). In: Collection du Patrimoine Naturel (ed), vol 22. IEGB-M.N.H.N., INRA, CSP, Min. Env., Paris, p 429

Pritchard JK, Stephens M, Donnelly P (2000) Inference of population structure using multilocus genotype data. Genetics 155(2):945–959

Prunier JG, Dubut V, Chikhi L, Blanchet S (2017b) Contribution of spatial heterogeneity in effective population sizes to the variance in pairwise measures of genetic differentiation. Methods Ecol Evolut 8:1866–1877. https://doi.org/10.1101/031633

Prunier JG, Dubut V, Loot G, Tudesque L, Blanchet S (2017a) The relative contribution of river network structure and anthropogenic stressors to spatial patterns of genetic diversity in two freshwater fishes: a multiple-stressors approach. Freshw Biol 63:6–21. https://doi.org/10.1111/2041-210X.12820

Pudlo P, Marin J-M, Estoup A, Cornuet J-M, Gautier M, Robert CP (2016) Reliable ABC model choice via random forests. Bioinformatics 32(6):859–866

Radinger J, Wolter C (2014) Patterns and predictors of fish dispersal in rivers. Fish Fish 15(3):456–473. https://doi.org/10.1111/faf.12028

Reis RE, Albert JS, Di Dario F, Mincarone MM, Petry P, Rocha LA (2016) Fish biodiversity and conservation in South America. J Fish Biol 89(1):12–47. https://doi.org/10.1111/jfb.13016

Richmond JQ, Backlin AR, Galst-Cavalcante C, O'Brien JW, Fisher RN (2018) Loss of dendritic connectivity in southern California's urban riverscape facilitates decline of an endemic freshwater fish. Mol Ecol 27(2):369–386. https://doi.org/10.1111/mec.14445

Rougemont Q, Roux C, Neuenschwander S, Goudet J, Launey S, Evanno G (2016) Reconstructing the demographic history of divergence between European river and brook lampreys using approximate Bayesian computations. PeerJ 4:e1910. https://doi.org/10.7717/peerj.1910

Ruzzante DE, McCracken GR, Salisbury SJ, Brewis HT, Keefe D, Gaggiotti OE et al. (2019) Landscape, colonization, and life history: Their effects on genetic diversity in four sympatric species inhabiting a dendritic system. Can J Fish Aquat Sci 76(12):2288–2302. https://doi.org/10.1139/cjfas-2018-0416

Salisbury SJ, McCracken GR, Keefe D, Perry R, Ruzzante DE (2016) A portrait of a sucker using landscape genetics: how colonization and life history undermine the idealized dendritic metapopulation. Mol Ecol 25(17):4126–4145. https://doi.org/10.1111/mec.13757

Selkoe KA, Gaggiotti OE, ToBo Laboratory, Bowen BW, Toonen RJ (2014) Emergent patterns of population genetic structure for a coral reef community. Mol Ecol 23(12):3064–3079. https://doi.org/10.1111/mec.12804

Selkoe KA, Gaggiotti OE, Treml EA, Wren JLK, Donovan MK, Hawai'i Reef Connectivity Consortium. et al. (2016) The DNA of coral reef biodiversity: predicting and protecting genetic diversity of reef assemblages. Proc R Soc B: Biol Sci 283(1829):20160354. https://doi.org/10.1098/rspb.2016.0354

Thomaz AT, Christie MR, Knowles LL (2016) The architecture of river networks can drive the evolutionary dynamics of aquatic populations: Brief Communication. Evolution 70(3):731–739. https://doi.org/10.1111/evo.12883

Vellend M, Geber MA (2005) Connections between species diversity and genetic diversity. Ecol Lett 8(7):767–781. https://doi.org/10.1111/j.1461-0248.2005.00775.x

Waples RS, England PR (2011) Estimating contemporary effective population size on the basis of linkage disequilibrium in the face of migration. Genetics 189:633–644. https://doi.org/10.1534/genetics.111.132233

Waples RS, Antao T, Luikart G (2014) Effects of overlapping generations on linkage disequilibrium estimates of effective population size. Genetics 197(2):769–780. https://doi.org/10.1534/genetics.114.164822

Weir BS, Cockerham CC (1984) Estimating F-statistics for the analysis of population structure. Evolution 38(6):1358. https://doi.org/10.2307/2408641

Zbinden ZD, Douglas MR, Chafin TK, Douglas ME (2022) Riverscape community genomics: a comparative analytical approach to identify common drivers of spatial structure. Mol Ecol 00:1–23. https://doi.org/10.1111/mec.16806
Acknowledgements
We thank all residents and fishermen of villages in the Upper Maroni for their hospitality and support, including local mediators and fishermen who participated in sample collection: Pitoma Mekouanali, Janakale Makiloewala, Kutaka Aïtalé, Kuliwaïkë Menali, Moloko Atiwaïke, Palanaïwa Alikana, Sébastien Amaïpetit, Etulano Yamo, Mones Tokotoko, Marc Pinson, Hervé Tolinga, Kalou, and Alfred Djaba, with a particular thought for Raymond Essimon†. We thank all those involved in the fieldwork: Philippe Cerdan†, Sébastien Le Reun, Brian Senechal and Régis Vigouroux (Hydreco Guyane), Raphael Covain (MNHG), Jean-Luc Baglinière, Damien Fourcy, Catherine Le Penven and Marie Nevoux (UMR DECOD, INRAE). We also thank Anne-Laure Besnard and Thibaut Jousseaume for their help with DNA extraction, quantification, and dilution and we thank Raphael Covain for helping to identify a few ambiguous samples through COI barcoding. We are grateful to Oscar E. Gaggiotti (Scottish Ocean Institute), Olivier Lepais (UMR Biogeco, INRAE), and Ivan Paz-Vinas (EDB, Paul Sabatier University) for their greatly helpful advice throughout this study. Finally, we thank Daniel Ruzzante and two anonymous reviewers for their very constructive feedback about earlier versions of this manuscript.
Funding
This study was funded by the Parc Amazonien de Guyane under contract R&D-2003-06 to Pierre-Yves Le Bail and Jean-Marc Roussel, with financial support from the DREAL and the Office de l'Eau de Guyane. The genetic resources studied here were collected in accordance with ethical considerations defined in the convention APA-973-7 in relation with the Nagoya protocol.
Ethics declarations
Competing interests
The authors declare no competing interests.
Additional information
Publisher's note Springer Nature remains neutral with regard to jurisdictional claims in published maps and institutional affiliations.
Associate editor: Jane Hughes.
Supplementary information
Rights and permissions
Springer Nature or its licensor (e.g. a society or other partner) holds exclusive rights to this article under a publishing agreement with the author(s) or other rightsholder(s); author self-archiving of the accepted manuscript version of this article is solely governed by the terms of such publishing agreement and applicable law.
About this article
Cite this article
Delord, C., Petit, E.J., Blanchet, S. et al. Contrasts in riverscape patterns of intraspecific genetic variation in a diverse Neotropical fish community of high conservation value. Heredity 131, 1–14 (2023). https://doi.org/10.1038/s41437-023-00616-7
Received:

Revised:

Accepted:

Published:

Issue Date:

DOI: https://doi.org/10.1038/s41437-023-00616-7