Abstract
A key piece of information for ecosystem management is the relationship between the environment and population genetic structure. However, it is difficult to clearly quantify the effects of environmental factors on genetic differentiation because of spatial autocorrelation and analytical problems. In this study, we focused on stream ecosystems and the environmental heterogeneity caused by groundwater and constructed a sampling design in which geographic distance and environmental differences are not correlated. Using multiplexed ISSR genotyping by sequencing (MIG-seq) method, a fine-scale population genetics study was conducted in fluvial sculpin Cottus nozawae, for which summer water temperature is the determinant factor in distribution and survival. There was a clear genetic structure in the watershed. Although a significant isolation-by-distance pattern was detected in the watershed, there was no association between genetic differentiation and water temperature. Instead, asymmetric gene flow from relatively low-temperature streams to high-temperature streams was detected, indicating the importance of low-temperature streams and continuous habitats. The groundwater-focused sampling strategy yielded insightful results for conservation.
Access options
Subscribe to Journal
Get full journal access for 1 year
$119.00
only $9.92 per issue
All prices are NET prices.
VAT will be added later in the checkout.
Tax calculation will be finalised during checkout.
Rent or Buy article
Get time limited or full article access on ReadCube.
from$8.99
All prices are NET prices.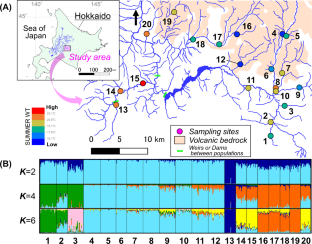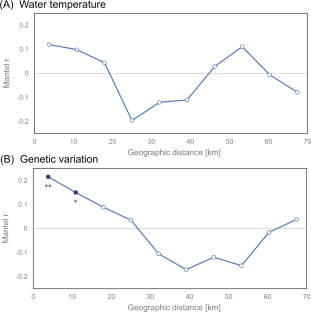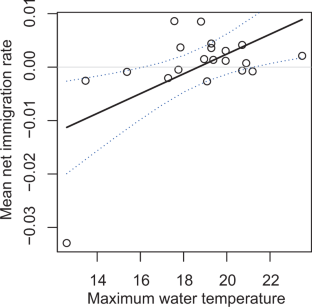 References
Almodóvar A, Nicola GG, Ayllón D, Elvira B (2012) Global warming threatens the persistence of Mediterranean brown trout. Glob Chang Biol 18:1549–1560

Arscott DB, Tockner K, Ward JV (2001) Thermal heterogeneity along a braided floodplain river (Tagliamento River, northeastern Italy). Can J Fish Aquat Sci 58:2359–2373

Baker DJ, Garnett ST, O'Connor J, Ehmke G, Clarke RH, Woinarski JCZ et al. (2019) Conserving the abundance of nonthreatened species. Conserv Biol 33:319–328

Blanchet S, Prunier JG, Paz-Vinas I, Saint-Pe K, Rey O, Raffard A et al. (2020) A river runs through it: the causes, consequences, and management of intraspecific diversity in river networks. Evol Appl 13:1195–1213

Blondel L, Paterson IG, Bentzen P, Hendry AP (2021) Resistance and resilience of genetic and phenotypic diversity to "black swan" flood events: a retrospective analysis with historical samples of guppies. Mol Ecol 30:1017–1028

Bolger AM, Lohse M, Usadel B (2014) Trimmomatic: a flexible trimmer for Illumina sequence data. Bioinformatics 30:2114–2120

Brown LE, Milner AM, Hannah DM (2007) Groundwater influence on alpine stream ecosystems. Freshw Biol 52:878–890

Caissie D (2006) The thermal regime of rivers: a review. Freshw Biol 51:1389–1406

Catchen J, Hohenlohe PA, Bassham S, Amores A, Cresko WA (2013) Stacks: an analysis tool set for population genomics. Mol Ecol 22:3124–3140

Dennenmoser S, Rogers SM, Vamosi SM (2014) Genetic population structure in prickly sculpin (Cottus asper) reflects isolation-by-environment between two life-history ecotypes. Biol J Linn Soc 113:943–957

Diniz-Filho JAF, De Campos Telles MP (2002) Spatial autocorrelation analysis and the identification of operational units for conservation in continuous populations. Conserv Biol 16:924–935

Diniz-Filho JAF, Soares TN, Lima JS, Dobrovolski R, Landeiro VL, Telles MP, de C et al. (2013) Mantel test in population genetics. Genet Mol Biol 36:475–485

Dray S, Bauman D, Blanchet G, Borcard D, Clappe S, Guenard G et al. (2020) adespatial: Multivariate Multiscale Spatial Analysis. R package version 0.3-8. https://CRAN.R-project.org/package=adespatial

Earl DA, vonHoldt BM (2012) STRUCTURE HARVESTER: A website and program for visualizing STRUCTURE output and implementing the Evanno method. Conserv Genet Resour 4:359–361

Evanno G, Regnaut S, Goudet J (2005) Detecting the number of clusters of individuals using the software STRUCTURE: a simulation study. Mol Ecol 14:2611–2620

Gilbert B, Bennett JR (2010) Partitioning variation in ecological communities: do the numbers add up? J Appl Ecol 47:1071–1082

Gilbert B, Lechowicz MJ (2004) Neutrality, niches, and dispersal in a temperate forest understory. Proc Natl Acad Sci USA 101:7651–7656

Goslee S, Urban D (2007) The ecodist package for dissimilarity-based analysis of ecological data. J Stat Softw 22:1–19

Goto A (1998) Life-history variations in the fluvial sculpin, Cottus nozawae (Cottidae), along the course of a small mountain stream. Environ Biol Fishes 52:203–212

Goudet J (1995) FSTAT (Version 1.2): a computer program to calculate F-statistics. J Hered 86:485–486

Griffith DA, Peres-Neto PR (2006) Spatial modeling in ecology: the flexibility of eigenfunction spatial analyses. Ecology 87:2603–2613

Guillot G, Rousset F (2013) Dismantling the Mantel tests. Methods Ecol Evol 4:336–344

Hänfling B, Weetman D (2006) Concordant genetic estimators of migration reveal anthropogenically enhanced source-sink population structure in the river sculpin, Cottus gobio. Genetics 173:1487–1501

Harmon LJ, Glor RE (2010) Poor statistical performance of the mantel test in phylogenetic comparative analyses. Evolution 64:2173–2178

Heino J, Grönroos M, Ilmonen J, Karhu T, Niva M, Paasivirta L (2013) Environmental heterogeneity and β diversity of stream macroinvertebrate communities at intermediate spatial scales. Freshw Sci 32:142–154

Hohenlohe PA, Funk WC, Rajora OP (2021) Population genomics for wildlife conservation and management. Mol Ecol 30:62–82

Hubisz MJ, Falush D, Stephens M, Pritchard JK (2009) Inferring weak population structure with the assistance of sample group information. Mol Ecol Resour 9:1322–1332

Iles DT, Williams NM, Crone EE (2018) Source-sink dynamics of bumblebees in rapidly changing landscapes. J Appl Ecol 55:2802–2811

Ito N, Gotoh RO, Shirakuma T, Araki Y, Hanzawa N (2018) Genetic structure of glacial-relict populations of a freshwater sculpin, Cottus nozawae, in Yamagata area of the Tohoku district. Biogeography 20:96–102

Junker J, Peter A, Wagner CE, Mwaiko S, Germann B, Seehausen O et al. (2012) River fragmentation increases localized population genetic structure and enhances asymmetry of dispersal in bullhead (Cottus gobio). Conserv Genet 13:545–556

Kanno Y, Vokoun JC, Letcher BH (2011) Fine-scale population structure and riverscape genetics of brook trout (Salvelinus fontinalis) distributed continuously along headwater channel networks. Mol Ecol 20:3711–3729

Kawecki TJ, Ebert D (2004) Conceptual issues in local adaptation. Ecol Lett 7:1225–1241

Koizumi I (2011) Integration of ecology, demography and genetics to reveal population structure and persistence: a mini review and case study of stream-dwelling Dolly Varden. Ecol Freshw Fish 20:352–363

Koizumi I, Maekawa K (2004) Metapopulation structure of stream-dwelling Dolly Varden charr inferred from patterns of occurrence in the Sorachi River basin, Hokkaido, Japan. Freshw Biol 49:973–981

Koizumi I, Yamamoto S, Maekawa K (2006) Decomposed pairwise regression analysis of genetic and geographic distances reveals a metapopulation structure of stream-dwelling Dolly Varden charr. Mol Ecol 15:3175–3189

Kopelman NM, Mayzel J, Jakobsson M, Rosenberg NA, Mayrose I (2015) CLUMPAK: a program for identifying clustering modes and packaging population structure inferences across. K Mol Ecol Resour 15:1179–1191

Lamphere BA, Blum MJ (2012) Genetic estimates of population structure and dispersal in a benthic stream fish. Ecol Freshw Fish 21:75–86

Legendre P, Fortin MJ, Borcard D (2015) Should the Mantel test be used in spatial analysis? Methods Ecol Evol 6:1239–1247

Legendre P, Legendre L (2012) Numerical Ecology, 3rd edn. Elsevier, Amsterdam

Lichstein JW (2007) Multiple regression on distance matrices: a multivariate spatial analysis tool. Plant Ecol 188:117–131

Lucek K, Keller I, Nolte AW, Seehausen O (2018) Distinct colonization waves underlie the diversification of the freshwater sculpin (Cottus gobio) in the Central European Alpine region. J Evol Biol 31:1254–1267

Meirmans PG (2012) The trouble with isolation by distance. Mol Ecol 21:2839–2846

Meirmans PG (2014) Nonconvergence in Bayesian estimation of migration rates. Mol Ecol Resour 14:726–733

Meirmans PG (2015) Seven common mistakes in population genetics and how to avoid them. Mol Ecol 24:3223–3231

Middaugh CR, Kessinger B, Magoulick DD (2018) Climate-induced seasonal changes in smallmouth bass growth rate potential at the southern range extent. Ecol Freshw Fish 27:19–29

Ministry of the Environment Government of Japan (2020) Red List of Japan. http://www.env.go.jp/press/107905.html. (In Japanese)

Mussmann SM, Douglas MR, Chafin TK, Douglas ME (2019) BA3-SNPs: contemporary migration reconfigured in BayesAss for next-generation sequence data. Methods Ecol Evol 10:1808–1813

Myers EA, Xue AT, Gehara M, Cox CL, Davis Rabosky AR, Lemos-Espinal J et al. (2019) Environmental heterogeneity and not vicariant biogeographic barriers generate community-wide population structure in desert-adapted snakes. Mol Ecol 28:4535–4548

Nagasaka A, Sugiyama S (2010) Factors affecting the summer maximum stream temperature of small streams in northern Japan. Bull Hokkaido Res Inst 47:35–43. (In Japanese with English abstract)

Nakajima S, Hirota SK, Matsuo A, Suyama Y, Nakamura F (2020) Genetic structure and population demography of white-spotted charr in the upstream watershed of a large dam. Water 12:2406

Nakamura F, Yamada H (2005) Effects of pasture development on the ecological functions of riparian forests in Hokkaido in northern Japan. Ecol Eng 24:539–550

Natsumeda T (2003) Effects of a severe flood on the movements of Japanese fluvial sculpin. Environ Biol Fishes 68:417–424

Nosil P, Vines TH, Funk DJ (2005) Perspective: reproductive isolation caused by natural selection against immigrants from divergent habitats. Evolution 59:705–719

Oksanen JF, Blanchet G, Friendly M, Kindt R, Legendre P, McGlinn D et al. (2019) vegan: Community Ecology Package. R package version 2.5-6. https://CRAN.R-project.org/package=vegan

Okumura N, Goto A (1996) Genetic variation and differentiation of the two river sculpins, Cottus nozawae and C. amblystomopsis, deduced from allozyme and restriction enzyme-digested mtDNA fragment length polymorphism analyses. Ichthyol Res 43:399–416

Olden JD, Naiman RJ (2010) Incorporating thermal regimes into environmental flows assessments: modifying dam operations to restore freshwater ecosystem integrity. Freshw Biol 55:86–107

Orsini L, Vanoverbeke J, Swillen I, Mergeay J, De Meester L (2013) Drivers of population genetic differentiation in the wild: isolation by dispersal limitation, isolation by adaptation and isolation by colonization. Mol Ecol 22:5983–5999

Paris JR, Stevens JR, Catchen JM (2017) Lost in parameter space: a road map for STACKS. Methods Ecol Evol 8:1360–1373

Peacock MM, Gustin MS, Kirchoff VS, Robinson ML, Hekkala E, Pizzarro-Barraza C et al. (2016) Native fishes in the Truckee River: are in-stream structures and patterns of population genetic structure related? Sci Total Environ 563–564:221–236

Peakall R, Smouse PE (2012) GenAlEx 6.5: Genetic analysis in Excel. Population genetic software for teaching and research-an update. Bioinformatics 28:2537–2539

Poff NL, Richter BD, Arthington AH, Bunn SE, Naiman RJ, Kendy E et al. (2010) The ecological limits of hydrologic alteration (ELOHA): A new framework for developing regional environmental flow standards. Freshw Biol 55:147–170

Pritchard JK, Stephens M, Donnelly P (2000) Inference of population structure using multilocus genotype data. Genetics 155:945–959

Raufaste N, Francois R (2001) Are partial Mantel tests adequate? Evolution 55:1703–1705

Richardson JL, Brady SP, Wang IJ, Spear SF (2016) Navigating the pitfalls and promise of landscape genetics. Mol Ecol 25:849–864

R Core Team (2019) R: a language and environment for statistical computing. R Foundation for Statistical Computing, Vienna, Austria. https://www.R-project.org/

Rousset F (2002) Partial Mantel tests: reply to Castellano and Balletto. Evolution 56:1874–1875

Ruppert JLW, James PMA, Taylor EB, Rudolfsen T, Veillard M, Davis CS et al. (2017) Riverscape genetic structure of a threatened and dispersal limited freshwater species, the Rocky Mountain Sculpin (Cottus sp.). Conserv Genet 18:925–937

Sexton JP, Hangartner SB, Hoffmann AA (2014) Genetic isolation by environment or distance: Which pattern of gene flow is most common? Evolution 68:1–15

Sexton JP, Hufford MB, Bateman AC, Lowry DB, Meimberg H, Strauss SY et al. (2016) Climate structures genetic variation across a species' elevation range: a test of range limits hypotheses. Mol Ecol 25:911–928

Suyama Y, Matsuki Y (2015) MIG-seq: an effective PCR-based method for genome-wide single-nucleotide polymorphism genotyping using the next-generation sequencing platform. Sci Rep. 5:1–12

Suzuki K, Ishiyama N, Koizumi I, Nakamura F (2021) Combined effects of summer water temperature and current velocity on the distribution of a cold-water-adapted scupin (Cottus nozawae). Water 13:975

Tague CL, Farrell M, Grant G, Lewis S, Rey S (2007) Hydrogeologic controls on summer stream temperatures in the McKenzie River basin, Oregon. Hydrol Process 21:3288–3300

Thomaz AT, Christie MR, Knowles LL (2016) The architecture of river networks can drive the evolutionary dynamics of aquatic populations. Evolution 70:731–739

Thorpe RS, Surget-Groba Y, Johansson H (2008) The relative importance of ecology and geographic isolation for speciation in anoles. Philos Trans R Soc B Biol Sci 363:3071–3081

Tsuda Y, Nakao K, Ide Y, Tsumura Y (2015) The population demography of Betula maximowicziana, a cool-temperate tree species in Japan, in relation to the last glacial period: Its admixture-like genetic structure is the result of simple population splitting not admixing. Mol Ecol 24:1403–1418

Uno H (2016) Stream thermal heterogeneity prolongs aquatic-terrestrial subsidy and enhances riparian spider growth. Ecology 97:2547–2553

Wang IJ, Bradburd GS (2014) Isolation by environment. Mol Ecol 23:5649–5662

Wang IJ, Summers K (2010) Genetic structure is correlated with phenotypic divergence rather than geographic isolation in the highly polymorphic strawberry poison-dart frog. Mol Ecol 19:447–458

Watz J, Otsuki Y, Nagatsuka K, Hasegawa K, Koizumi I (2019) Temperature-dependent competition between juvenile salmonids in small streams. Freshw Biol 64:1534–1541

Weir BS, Cockerham CC (1984) Estimating F-statistics for the analysis of population structure. Evolution 38:1358–1370

White SL, Hanks EM, Wagner T (2020) A novel quantitative framework for riverscape genetics. Ecol Appl 30:e02147

Wilson GA, Rannala B (2003) Bayesian inference of recent migration rates using multilocus genotypes. Genetics 163:1177–1191

Wright S (1943) Isolation by Distance. Genetics 28:114–138

Yagami T, Goto A (2000) Patchy distribution of a fluvial sculpin, Cottus nozawae, in the Gakko River system at the southern margin of its native range. Ichthyol Res 47:277–286

Zeileis A, Hothorn T (2002) Diagnostic checking in regression relationships. R News 2:7–10

Zeller KA, Creech TG, Millette KL, Crowhurst RS, Long RA, Wagner HH et al. (2016) Using simulations to evaluate Mantel-based methods for assessing landscape resistance to gene flow. Ecol Evol 6:4115–4128
Acknowledgements
We are grateful to Jorge García Molinos for support with the data preparation. We thank the staff of the University of Tokyo Hokkaido Forest for their cooperation in selecting study sites. We also thank Suzuki K., Hotta W., Nishio D., Motosugi N., Kawai H., and Zakoh K. of Hokkaido University for their help in conducting the field sampling and laboratory work. We appreciate anonymous reviewers for their valuable comments to the earlier versions of the manuscript. This study is partly supported by the research fund for the Ishikari and Tokachi Rivers provided by the Ministry of Land, Infrastructure, Transport, and Tourism of Japan.
Ethics declarations
Competing interests
The authors declare no competing interests.
Additional information
Publisher's note Springer Nature remains neutral with regard to jurisdictional claims in published maps and institutional affiliations.
Associate editor: Jane Hughes.
Supplementary information
About this article
Cite this article
Nakajima, S., Sueyoshi, M., Hirota, S.K. et al. A strategic sampling design revealed the local genetic structure of cold-water fluvial sculpin: a focus on groundwater-dependent water temperature heterogeneity. Heredity 127, 413–422 (2021). https://doi.org/10.1038/s41437-021-00468-z
Received:

Revised:

Accepted:

Published:

Issue Date: