Abstract
Horizontal gene transfer (HGT) plays an important role in evolutionary processes as organisms adapt to their environments, and now cases of gene duplication after HGT in eukaryotes are emerging at an increasing rate. However, the fate and roles of the duplicated genes over time in eukaryotes remain unclear. Here we conducted a comprehensive analysis of the evolution of cysteine synthase (CYS) in lepidopteran insects. Our results indicate that HGT-derived CYS genes are widespread and have undergone duplication following horizontal transfer in many lepidopteran insects. Moreover, lepidopteran CYS proteins not only have β-cyanoalanine synthase activity but also possess cysteine synthase activity that is involved in sulfur amino acid biosynthesis. Duplicated CYS genes show marked divergence in gene expression patterns and enzymatic properties, suggesting that they probably have undergone subfunctionalization and/or neofunctionalization in Lepidoptera. The gene transfer of CYS genes and subsequent duplication appears to have facilitated the adaptation of lepidopteran insects to different diets and promoted their ecological diversification. Overall, this study provides valuable insights into the ecological and evolutionary contributions of CYS in lepidopteran insects.
Access options
Subscribe to Journal
Get full journal access for 1 year
$399.00
only $33.25 per issue
All prices are NET prices.
VAT will be added later in the checkout.
Tax calculation will be finalised during checkout.
Rent or Buy article
Get time limited or full article access on ReadCube.
from$8.99
All prices are NET prices.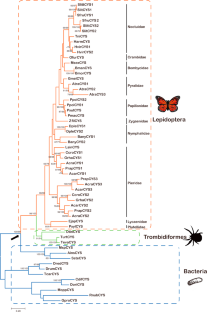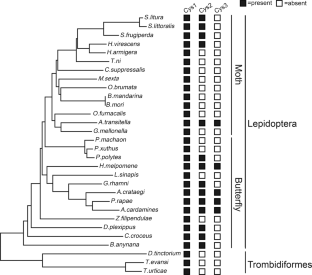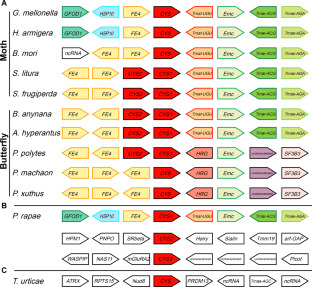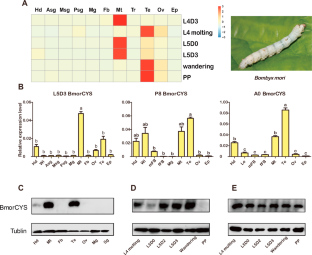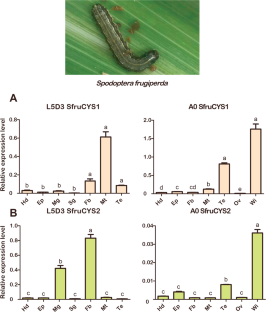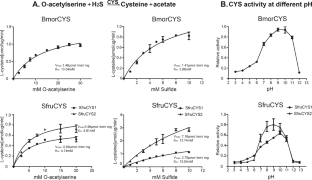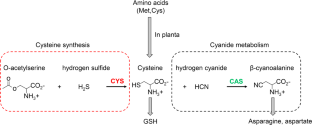 References
Acuna R, Padilla BE, Florez-Ramos CP, Rubio JD, Herrera JC, Benavides P et al. (2012) Adaptive horizontal transfer of a bacterial gene to an invasive insect pest of coffee. Proc Natl Acad Sci USA 109(11):4197–4202

Aoyama K, Watabe M, Nakaki T (2008) Regulation of neuronal glutathione synthesis. J Pharm Sci 108(3):227–238

Arias M, Meichanetzoglou A, Elias M, Rosser N, de-Silva DL, Nay B et al. (2016) Variation in cyanogenic compounds concentration within a Heliconius butterfly community: does mimicry explain everything? BMC Evol Biol 16(1):272

Baloch MN, Fan JY, Haseeb M, Zhang RZ (2020) Mapping potential distribution of Spodoptera frugiperda (Lepidoptera: Noctuidae) in central Asia. Insects 11(3):172

Barbehenn RV, Kochmanski J, Menachem B, Poirier LM (2013a) Allocation of cysteine for glutathione production in caterpillars with different antioxidant defense strategies: a comparison of Lymantria dispar and Malacosoma disstria. Arch Insect Biochem 84(2):90–103

Barbehenn RV, Niewiadomski J, Kochmanski J (2013b) Importance of protein quality versus quantity in alternative host plants for a leaf-feeding insect. Oecologia 173(1):1–12

Bogicevic B, Berthoud H, Portmann R, Meile L, Irmler S (2012) CysK from Lactobacillus casei encodes a protein with O-acetylserine sulfhydrylase and cysteine desulfurization activity. Appl Microbiol Biot 94(5):1209–1220

Bonner ER, Cahoon RE, Knapke SM, Jez JM (2005) Molecular basis of cysteine biosynthesis in plants: structural and functional analysis of O-acetylserine sulfhydrylase from Arabidopsis thaliana. J Biol Chem 280(46):38803–38813

Boto L (2014) Horizontal gene transfer in the acquisition of novel traits by metazoans. Proc Biol Sci 281(1777):20131834

Brown ES, Dewhurst CF (2009) The genus Spodoptera (Lepidoptera, Noctuidae) in Africa and the Near East. Bull Entomological Res 65(2):221–262

Budde MW, Roth MB (2011) The response of Caenorhabditis elegans to hydrogen sulfide and hydrogen cyanide. Genetics 189(2):521–532

Burkhard P, Rao GS, Hohenester E, Schnackerz KD, Cook PF, Jansonius JN (1998) Three-dimensional structure of O-acetylserine sulfhydrylase from Salmonella typhimurium. J Mol Biol 283(1):121–133

Dai X, Li R, Li X, Liang Y, Gao Y, Xu Y et al. (2019) Gene duplication and subsequent functional diversification of sucrose hydrolase in Papilio xuthus. Insect Mol Biol 28(6):862–872

Daimon T, Katsuma S, Iwanaga M, Kang WK, Shimada T (2005) The BmChi-h gene, a bacterial-type chitinase gene of Bombyx mori, encodes a functional exochitinase that plays a role in the chitin degradation during the molting process. Insect Biochem Mol Biol 35(10):1112–1123

Daimon T, Taguchi T, Meng Y, Katsuma S, Mita K, Shimada T (2008) Beta-fructofuranosidase genes of the silkworm, Bombyx mori - Insights into enzymatic adaptation of B. mori to toxic alkaloids in mulberry latex. J Biol Chem 283(22):15271–15279

Danchin EG, Rosso MN, Vieira P, de Almeida-Engler J, Coutinho PM, Henrissat B et al. (2010) Multiple lateral gene transfers and duplications have promoted plant parasitism ability in nematodes. Proc Natl Acad Sci USA 107(41):17651–17656

Darriba D, Taboada GL, Doallo R, Posada D (2011) ProtTest 3: fast selection of best-fit models of protein evolution. Bioinformatics 27(8):1164–1165

Doxey AC, Yaish MWF, Moffatt BA, Griffith M, McConkey BJ (2007) Functional divergence in the Arabidopsis beta-1,3-glucanase gene family inferred by phylogenetic reconstruction of expression states. Mol Biol Evol 24(4):1045–1055

Eddy SR (2011) Accelerated profile HMM searches. PLoS Comput Biol 7(10):e1002195

Edgar RC (2004) MUSCLE: a multiple sequence alignment method with reduced time and space complexity. Bmc Bioinforma 5:1–19

Fan X, Qiu H, Han W, Wang Y, Xu D, Zhang X et al. (2020) Phytoplankton pangenome reveals extensive prokaryotic horizontal gene transfer of diverse functions. Sci Adv 6(18):eaba0111

Farre D, Alba MM (2010) Heterogeneous patterns of gene-expression diversification in mammalian gene duplicates. Mol Biol Evol 27(2):325–335

Feldman-Salit A, Wirtz M, Hell R, Wade RC (2009) A mechanistic model of the cysteine synthase complex. J Mol Biol 386(1):37–59

Force A, Lynch M, Pickett FB, Amores A, Yan YL, Postlethwait J (1999) Preservation of duplicate genes by complementary, degenerative mutations. Genetics 151(4):1531–1545

Gaitonde MK (1967) A spectrophotometric method for direct determination of cysteine in presence of other naturally occurring amino acids. Biochem J 104(2):627–633

Gan Q, Zhang XW, Zhang DB, Shi L, Zhou Y, Sun TT et al. (2018) BmSUC1 is essential for glycometabolism modulation in the silkworm, Bombyx mori. BBA-Gene Regul Mech 1861(6):543–553

Ganko EW, Meyers BC, Vision TJ (2007) Divergence in expression between duplicated genes in Arabidopsis. Mol Biol Evol 24(10):2298–2309

Gao Y, Liu YC, Jia SZ, Liang YT, Tang Y, Xu YS et al. (2020) Imaginal disc growth factor maintains cuticle structure and controls melanization in the spot pattern formation of Bombyx mori. PLoS Genet 16(9):e1008980

Goldsmith MR, Shimada T, Abe H (2005) The genetics and genomics of the silkworm, Bombyx mori. Annu Rev Entomol 50:71–100

Gu X, Zhang ZQ, Huang W (2005) Rapid evolution of expression and regulatory divergences after yeast gene duplication. Proc Natl Acad Sci USA 102(3):707–712

Gu ZL, Nicolae D, Lu HHS, Li WH (2002) Rapid divergence in expression between duplicate genes inferred from microarray data. Trends Genet 18(12):609–613

Helmkampf M, Cash E, Gadau J (2015) Evolution of the insect desaturase gene family with an emphasis on social Hymenoptera. Mol Biol Evol 32(2):456–471

Hendrickson HR, Conn EE (1969) Cyanide metabolism in higher plants. IV. Purification and properties of the beta-cyanolanine synthase of blue lupine. J Biol Chem 244(10):2632–2640

Herfurth AM, van Ohlen M, Wittstock U (2017) Beta-cyanoalanine synthases and their possible role in Pierid host plant adaptation. Insects 8(2):62

Husnik F, McCutcheon JP (2018) Functional horizontal gene transfer from bacteria to eukaryotes. Nat Rev Microbiol 16(2):67–79

Jeschke V, Gershenzon J, Vassao DG (2016) A mode of action of glucosinolate-derived isothiocyanates: detoxification depletes glutathione and cysteine levels with ramifications on protein metabolism in Spodoptera littoralis. Insect Biochem Molec 71:37–48

Jiggins FM, Hurst GD (2011) Microbiology. Rapid insect evolution by symbiont transfer. Science 332(6026):185–186

Koonin EV, Makarova KS, Aravind L (2001) Horizontal gene transfer in prokaryotes: quantification and classification. Annu Rev Microbiol 55:709–742

Kumar S, Stecher G, Tamura K (2016) MEGA7: molecular evolutionary genetics analysis version 7.0 for bigger datasets. Mol Biol Evol 33(7):1870–1874

Lai KW, Yau CP, Tse YC, Jiang LW, Yip WK (2009) Heterologous expression analyses of rice OsCAS in Arabidopsis and in yeast provide evidence for its roles in cyanide detoxification rather than in cysteine synthesis in vivo. J Exp Bot 60(3):993–1008

Lee BS, Huang JS, Jayathilaka LP, Lee J, Gupta S (2016) Antibody production with synthetic peptides. Methods Mol Biol 1474:25–47

Lee HL, Irish VF (2011) Gene duplication and loss in a MADS box gene transcription factor circuit. Mol Biol Evol 28(12):3367–3380

Leite DJ, Baudouin-Gonzalez L, Iwasaki-Yokozawa S, Lozano-Fernandez J, Turetzek N, Akiyama-Oda Y et al. (2018) Homeobox gene duplication and divergence in arachnids. Mol Biol Evol 35(9):2240–2253

Li ZW, Shen YH, Xiang ZH, Zhang Z (2011) Pathogen-origin horizontally transferred genes contribute to the evolution of lepidopteran insects. Bmc Evolut Biol 11(1):356

Liu HJ, Tang ZX, Han XM, Yang ZL, Zhang FM, Yang HL et al. (2015) Divergence in enzymatic activities in the soybean GST supergene family provides new insight into the evolutionary dynamics of whole-genome duplicates. Mol Biol Evol 32(11):2844–2859

Lunn JE, Droux M, Martin J, Douce R (1990) Localization of atp sulfurylase and O-acetylserine(Thiol)lyase in spinach leaves. Plant Physiol 94(3):1345–1352

Lynch M, Force A (2000) The probability of duplicate gene preservation by subfunctionalization. Genetics 154(1):459–473

Nikoh N, McCutcheon JP, Kudo T, Miyagishima S, Moran NA, Nakabachi A (2010) Bacterial genes in the aphid genome: absence of functional gene transfer from Buchnera to its host. Plos Genet 6(2):e1000827

Novakova E, Moran NA (2012) Diversification of genes for carotenoid biosynthesis in aphids following an ancient transfer from a fungus. Mol Biol Evol 29(1):313–323

Ochman H, Lawrence JG, Groisman EA (2000) Lateral gene transfer and the nature of bacterial innovation. Nature 405(6784):299–304

Pallen MJ, Wren BW (2007) Bacterial pathogenomics. Nature 449(7164):835–842

Polz MF, Alm EJ, Hanage WP (2013) Horizontal gene transfer and the evolution of bacterial and archaeal population structure. Trends Genet 29(3):170–175

Rane RV, Walsh TK, Pearce SL, Jermiin LS, Gordon KH, Richards S et al. (2016) Are feeding preferences and insecticide resistance associated with the size of detoxifying enzyme families in insect herbivores? Curr Opin Insect Sci 13:70–76

Schramm K, Vassao DG, Reichelt M, Gershenzon J, Wittstock U (2012) Metabolism of glucosinolate-derived isothiocyanates to glutathione conjugates in generalist lepidopteran herbivores. Insect Biochem Molec 42(3):174–182

Stauber EJ, Kuczka P, van Ohlen M, Vogt B, Janowitz T, Piotrowski M et al. (2012) Turning the 'mustard oil bomb' into a 'cyanide bomb': aromatic glucosinolate metabolism in a specialist insect herbivore. Plos One 7(4):e35545

Sun BF, Xiao JH, He SM, Liu L, Murphy RW, Huang DW (2013) Multiple ancient horizontal gene transfers and duplications in lepidopteran species. Insect Mol Biol 22(1):72–87

Suzuki K, Moriguchi K, Yamamoto S (2015) Horizontal DNA transfer from bacteria to eukaryotes and a lesson from experimental transfers. Res Microbiol 166(10):753–763

Van Ohlen M, Herfurth AM, Kerbstadt H, Wittstock U (2016) Cyanide detoxification in an insect herbivore: molecular identification of beta-cyanoalanine synthases from Pieris rapae. Insect Biochem Molec 70:99–110

Wada M, Awano N, Yamazawa H, Takagi H, Nakamori S (2004) Purification and characterization of O-acetylserine sulfhydrylase of Corynebacterium glutamicum. Biosci Biotech Bioch 68(7):1581–1583

Wadleigh RW, Yu SJ (1988) Detoxification of isothiocyanate allelochemicals by glutathione transferase in three lepidopterous species. J Chem Ecol 14(4):1279–1288

Wagner A (2002) Asymmetric functional divergence of duplicate genes in yeast. Mol Biol Evol 19(10):1760–1768

Wybouw N, Dermauw W, Tirry L, Stevens C, Grbic M, Feyereisen R et al. (2014) A gene horizontally transferred from bacteria protects arthropods from host plant cyanide poisoning. Elife 3:e02365

Wybouw N, Pauchet Y, Heckel DG, Van Leeuwen T (2016) Horizontal gene transfer contributes to the evolution of arthropod herbivory. Genome Biol Evol 8(6):1785–1801

Yamaguchi Y, Nakamura T, Kusano T, Sano H (2000) Three arabidopsis genes encoding proteins with differential activities for cysteine synthase and beta-cyanoalanine synthase. Plant Cell Physiol 41(4):465–476

Yi H, Juergens M, Jez JM (2012) Structure of soybean beta-cyanoalanine synthase and the molecular basis for cyanide detoxification in plants. Plant Cell 24(6):2696–2706

Zhou YY, Li XT, Katsuma S, Xu YS, Shi LG, Shimada T et al. (2019) Duplication and diversification of trehalase confers evolutionary advantages on lepidopteran insects. Mol Ecol 28(24):5282–5298

Zhu B, Lou MM, Xie GL, Zhang GQ, Zhou XP, Li B et al. (2011) Horizontal gene transfer in silkworm, Bombyx mori. Bmc Genomics 12:248
Acknowledgements
We thank Professor Jianhong Xu for helpful comments on this study. We are indebted to Professor Yuxian He, Professor Wenwu Zhou, Shunze Jia, and Qiong Wu for technical support. This work was supported by the National Natural Science Foundation of China (Grant nos. 31970460, 31602010, and 31572321).
Ethics declarations
Conflict of interest
The authors declare no competing interests.
Additional information
Publisher's note Springer Nature remains neutral with regard to jurisdictional claims in published maps and institutional affiliations.
Associate editor Ben Evans
Supplementary information
About this article
Cite this article
Li, Y., Zhou, Y., Jing, W. et al. Horizontally acquired cysteine synthase genes undergo functional divergence in lepidopteran herbivores. Heredity (2021). https://doi.org/10.1038/s41437-021-00430-z
Received:

Revised:

Accepted:

Published: