Abstract
Muscle fiber diameter is an economically important trait because it affects meat yield and quality. However, the genetic basis underlying muscle fiber diameter has not been determined. In this study, we collected THREE muscular histological phenotypes in 479 ducks from an F2 segregating population generated by mallard × Pekin duck crosses. We performed genome-wide association studies (GWAS) and identified a quantitative trait locus (QTL) significantly associated with muscle fiber diameter on chromosome 3. Then, we discovered the selection signatures using the fixation index among 40 mallards and 30 Pekin ducks in this QTL region. Furthermore, we characterized the recombination event in this QTL region and identified a 6-kb block located on TASP1 that was significantly associated with muscle fiber diameter. Finally, five SNPs were screened as potential causative mutations within the 6-kb block. In conclusion, we demonstrated that TASP1 contributes to an increase in muscle fiber diameter, which helps to characterize muscle development and contributes to the genetic improvement of meat yield and quality in livestock.
Access options
Subscribe to Journal
Get full journal access for 1 year
$399.00
only $33.25 per issue
All prices are NET prices.
VAT will be added later in the checkout.
Tax calculation will be finalised during checkout.
Rent or Buy article
Get time limited or full article access on ReadCube.
from$8.99
All prices are NET prices.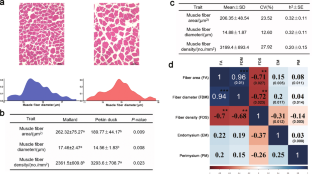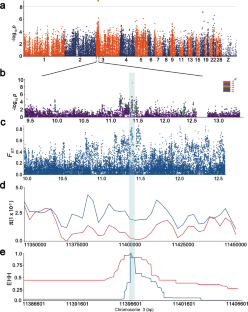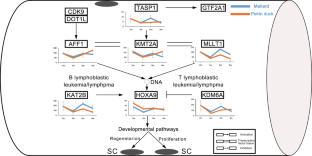 Data availability
All sequences have been deposited in the Sequence Read Archive (https://www.ncbi.nlm.nih.gov/sra) with the accession codes PRJNA471401 and PRJNA450892. We deposited the genome assembly, all of the sequence data and SNP information in BIG Data Center (http://bigd.big.ac.cn/)65. The accession numbers are PRJCA000651, PRJCA000647, and GVM000015. The Illumina sequencing data used in this study can be available at BIG Data Center (http://bigd.big.ac.cn/) with the accession code PRJCA001307. Other data sets supporting the results of this article are included within the article and its supplementary information.
References
An JY, Zheng JX, Li JY, Zeng D, Qu LJ, Xu GY et al. (2010) Effect of myofiber characteristics and thickness of perimysium and endomysium on meat tenderness of chickens. Poult Sci 89(8):1750–1754

Anders S, Pyl PT, Huber W (2015) HTSeq—a Python framework to work with high-throughput sequencing data. Bioinformatics 31(2):166–169

Brack AS, Conboy MJ, Roy S, Lee M, Kuo CJ, Keller C et al. (2007) Increased Wnt signaling during aging alters muscle stem cell fate and increases fibrosis. Science 317(5839):807–810

Carlson ME, Conboy MJ, Hsu M, Barchas L, Jeong J, Agrawal A et al. (2009) Relative roles of TGF‐β1 and Wnt in the systemic regulation and aging of satellite cell responses. Aging Cell 8(6):676–689

Chen DY, Lee Y, Van Tine BA, Searleman AC, Westergard TD, Liu H et al. (2012) A pharmacologic inhibitor of the protease Taspase1 effectively inhibits breast and brain tumor growth. Cancer Res 72(3):736–746

Chen XD, Ma QG, Tang MY, Ji C (2007) Development of breast muscle and meat quality in Arbor Acres broilers, Jingxing 100 crossbred chickens and Beijing fatty chickens. Meat Sci 77(2):220–227

Ciciliot S, Schiaffino S (2010) Regeneration of mammalian skeletal muscle: basic mechanisms and clinical implications. Curr Pharm Des 16(8):906–914

Danecek P, Auton A, Abecasis G, Albers CA, Banks E, DePristo MA et al. (2011) The variant call format and VCFtools. Bioinformatics 27(15):2156–2158

DePristo MA, Banks E, Poplin R, Garimella KV, Maguire JR, Hartl C et al. (2011) A framework for variation discovery and genotyping using next-generation DNA sequencing data. Nat Genet 43(5):491

Erfurth FE, Popovic R, Grembecka J, Cierpicki T, Theisler C, Xia Z-B et al. (2008) MLL protects CpG clusters from methylation within the Hoxa9 gene, maintaining transcript expression. Proc Natl Acad Sci 105(21):7517–7522

Faber J, Krivtsov AV, Stubbs MC, Wright R, Davis TN, van den Heuvel-Eibrink M et al. (2009) HOXA9 is required for survival in human MLL-rearranged acute leukemias. Blood 113(11):2375–2385

Fan W, Liu W, Liu H, Meng Q, Xu Y, Guo Y et al. (2020) Dynamic accumulation of fatty acids in duck (Anas platyrhynchos) breast muscle and its correlations with gene expression. BMC Genom 21(1):58

Gan J, Sonntag HJ, Tang MK, Cai D, Lee KK (2015) Integrative analysis of the developing postnatal mouse heart transcriptome. PLoS ONE 10(7):e0133288

Gilmour AR, Gogel BJ, Cullis BR, Thompson R (2009) ASReml user guide release 3.0. VSN International Ltd, Hemel Hempstead, UK. www.vsni.co.uk

Gondret F, Lefaucheur L, Juin H, Louveau I, Lebret B (2006) Low birth weight is associated with enlarged muscle fiber area and impaired meat tenderness of the longissimus muscle in pigs1,2. J Anim Sci 84(1):93–103

Gonyea W, Ericson GC, Bonde‐Petersen F (1977) Skeletal muscle fiber splitting induced by weight‐lifting exercise in cats. Acta Physiol Scand 99(1):105–109

Hsieh JJ, Cheng EH, Korsmeyer SJ (2003) Taspase1: a threonine aspartase required for cleavage of MLL and proper HOX gene expression. Cell 115(3):293–303

Hwang YH, Kim GD, Jeong JY, Hur SJ, Joo ST (2010) The relationship between muscle fiber characteristics and meat quality traits of highly marbled Hanwoo (Korean native cattle) steers. Meat Sci 86(2):456–461

Gille U, Salomon FV (1998) Muscle growth in wild and domestic ducks. Br Poult Sci 39(4):500–505

Janssen I, Heymsfield SB, Wang Z, Ross R (2000) Skeletal muscle mass and distribution in 468 men and women aged 18–88 yr. J Appl Physiol 89(1):81–88

Joo ST, Kim GD, Hwang YH, Ryu YC (2013) Control of fresh meat quality through manipulation of muscle fiber characteristics. Meat Sci 95(4):828–836

Khan JA, Dunn BM, Tong L (2005) Crystal structure of human Taspase1, a crucial protease regulating the function of MLL. Structure 13(10):1443–1452

Larzul C, Le Roy P, Gogué J, Talmant A, Jacquet B, Lefaucheur L et al. (1999) Selection for reduced muscle glycolytic potential in Large White pigs. II. Correlated responses in meat quality and muscle compositional traits. Genet Sel Evol 31(1):61

Lee JK, Hallock PT, Burden SJ (2017) Abelson tyrosine-protein kinase 2 regulates myoblast proliferation and controls muscle fiber length. eLife 6:e29905

Lee JT, Chen DY, Yang Z, Ramos AD, Hsieh JJD, Bogyo M (2009) Design, syntheses, and evaluation of Taspase1 inhibitors. Bioorg Medicinal Chem Lett 19(17):5086–5090

Li H, Durbin R (2009) Fast and accurate short read alignment with Burrows-Wheeler transform. Bioinformatics 25(14):1754–1760

Li HF, Zhu WQ, Song WT, Shu JT, Han W, Chen KW (2010) Origin and genetic diversity of Chinese domestic ducks. Mol Phylogenet Evol 57(2):634–640

Moss FP, Leblond CP (1971) Satellite cells as the source of nuclei in muscles of growing rats. Anat Rec 170(4):421–435

Ozawa S, Mitsuhashi T, Mitsumoto M, Matsumoto S, Itoh N, Itagaki K et al. (2000) The characteristics of muscle fiber types of longissimus thoracis muscle and their influences on the quantity and quality of meat from Japanese Black steers. Meat Sci 54(1):65–70

Patterson N, Price AL, Reich D (2006) Population structure and eigenanalysis. PLoS Genet 2(12):e190

Payne GW, Bearden SE (2006) The microcirculation of skeletal muscle in aging. Microcirculation 13(4):275–277

Price AL, Patterson NJ, Plenge RM, Weinblatt ME, Shadick NA, Reich D (2006) Principal components analysis corrects for stratification in genome-wide association studies. Nat Genet 38(8):904

Purcell S, Neale B, Todd-Brown K, Thomas L, Ferreira MAR, Bender D et al. (2007) PLINK: a tool set for whole-genome association and population-based linkage analyses. Am J Hum Genet 81(3):559–575

Robinson MD, McCarthy DJ, Smyth GK (2010) edgeR: a Bioconductor package for differential expression analysis of digital gene expression data. Bioinformatics 26(1):139–140

Ryu YC, Choi YM, Lee SH, Shin HG, Choe JH, Kim JM et al. (2008) Comparing the histochemical characteristics and meat quality traits of different pig breeds. Meat Sci 80(2):363–369

Schiaffino S, Dyar KA, Ciciliot S, Blaauw B, Sandri M (2013) Mechanisms regulating skeletal muscle growth and atrophy. FEBS J 280(17):4294–4314

Schworer S, Becker F, Feller C, Baig AH, Kober U, Henze H et al. (2016) Epigenetic stress responses induce muscle stem-cell aging by Hoxa9 developmental signals. Nature 540(7633):428–432

Sousa-Victor P, Gutarra S, García-Prat L, Rodriguez-Ubreva J, Ortet L, Ruiz-Bonilla V et al. (2014) Geriatric muscle stem cells switch reversible quiescence into senescence. Nature 506(7488):316

Suleiman J, Mundt M, Sampath S, El‐Hattab AW (2018) TASP1 is deleted in an infant with developmental delay, microcephaly, distinctive facial features, and multiple congenital anomalies. Clin Genet 94(1):170–173

Szpiech ZA, Hernandez RD (2014) selscan: an efficient multithreaded program to perform EHH-based scans for positive selection. Mol Biol Evol 31(10):2824–2827

Takeda S (2006) Proteolysis of MLL family proteins is essential for Taspase1-orchestrated cell cycle progression. Genes Dev 20(17):2397–2409

Trapnell C, Pachter L, Salzberg SL (2009) TopHat: discovering splice junctions with RNA-Seq. Bioinformatics 25(9):1105–1111

Wang Q, Tian F, Pan Y, Buckler ES, Zhang Z (2014) A SUPER powerful method for genome wide association study. PLoS ONE 9(9):e107684

Wang Z, Heo M, Lee RC, Kotler DP, Withers RT, Heymsfield SB (2001) Muscularity in adult humans: proportion of adipose tissue‐free body mass as skeletal muscle. Am J Hum Biol: Off J Hum Biol Assoc 13(5):612–619

White RB, Biérinx A-S, Gnocchi VF, Zammit PS (2010) Dynamics of muscle fibre growth during postnatal mouse development. BMC Dev Biol 10(1):21

Wysokar A, Tibbetts K, McCown M, Homer N, Fennell T (2014) Picard: a set of tools for working with next generation sequencing data in BAM format. http://picard.sourceforge.net

Zammit PS (2008) The muscle satellite cell: the story of a cell on the edge! In: Skeletal muscle repair and regeneration. Springer, Dordrecht, p 45–64

Zeisig BB, Milne T, García-Cuéllar M-P, Schreiner S, Fuchs MartinM-E et al. (2004) Hoxa9 and Meis1 are key targets for MLL-ENL-mediated cellular immortalization. Mol Cell Biol 24(2):617–628

Zhou Z, Li M, Cheng H, Fan W, Yuan Z, Gao Q et al. (2018) An intercross population study reveals genes associated with body size and plumage color in ducks. Nat Commun 9(1):1–10
Acknowledgements
This work was supported by grants from the National Natural Science Foundation of China (31972523), the Young Top-notch Talent Project of the National Ten Thousand Talent Program, the National Scientific Supporting Projects of China (2015BAD03B06), the China Agriculture Research System of Waterfowl (CARS-42), and the CAAS Innovation Team Project (ASTIP-2016-IAS-9 and CAAS-XTCX2016010-03).
Ethics declarations
Conflict of interest
The authors declare no competing interests.
Ethics approval and consent to participate
All animals used in the study were treated following the guidelines for the experimental animals established by the Council of China Animal Welfare. Protocols of the experiments were approved by the Science Research Department of the Institute of Animal Sciences, Chinese Academy of Agricultural Sciences (CAAS) (Beijing, China).
Additional information
Publisher's note Springer Nature remains neutral with regard to jurisdictional claims in published maps and institutional affiliations.
Associate editor Sara Knott
Supplementary information
About this article
Cite this article
Liu, D., Fan, W., Xu, Y. et al. Genome-wide association studies demonstrate that TASP1 contributes to increased muscle fiber diameter. Heredity 126, 991–999 (2021). https://doi.org/10.1038/s41437-021-00425-w
Received:

Revised:

Accepted:

Published:

Issue Date: