Abstract
Correct species identification and delineation are crucial for effective conservation and management. However, species delineation can be problematic in the presence of morphological ambiguities due to phenotypic plasticity, convergence, and/or interspecific hybridization. Here, we investigated the degree of hybridization between two closely related freshwater mussel species [Bivalvia: Unionidae; Lampsilis siliquoidea (Barnes) and L. radiata (Gmelin)] that present intermediate forms in areas of sympatry. Unionids have a distinct form of mitochondrial DNA (mtDNA) inheritance, termed doubly uniparental inheritance (DUI) where female mtDNA (F-type) is transmitted to all progeny but male mtDNA (M-type) is mostly inherited by the males resulting in mostly homoplasmic females and heteroplasmic males. An individual was identified as hybrid when F-type and M-type mtDNA of the two different species were found in the same individual. Twelve out of 116 sequenced males were identified as hybrids indicating that these species hybridize where their geographic range overlaps in the lower Great Lakes and St. Lawrence basins. Microsatellite analyses further support the occurrence of hybridization but at a larger spatial scale than indicated by the mitochondrial analyses. We also found that strong within-species population genetic structure affects the detection of purebred individuals overestimating the number of hybrids. Given the large geographic scale and proportion of hybrids found in this study, natural hybridization and introgression need to be considered when implementing local biodiversity inventories, identifying waterbodies as source of organisms for relocation and restoration projects and when setting appropriate conservation policies.
Access options
Subscribe to Journal
Get full journal access for 1 year
$399.00
only $33.25 per issue
All prices are NET prices.
VAT will be added later in the checkout.
Tax calculation will be finalised during checkout.
Rent or Buy article
Get time limited or full article access on ReadCube.
from$8.99
All prices are NET prices.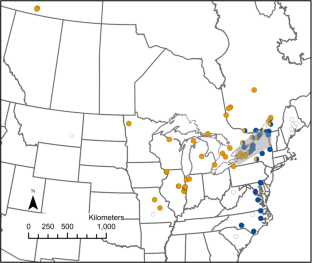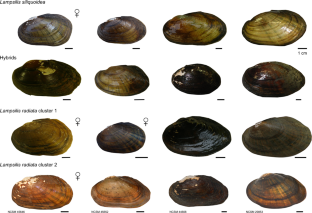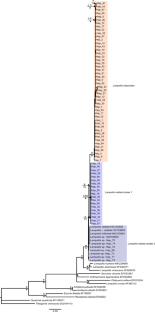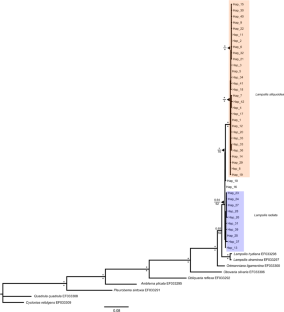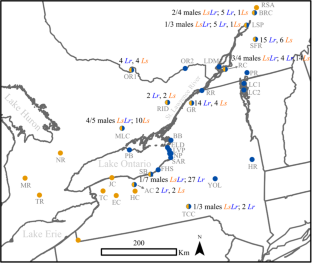 Data availability
Mitochondrial sequences were deposited in GenBank: accession numbers MN432615-MN432653 and MN432654-MN432663. Microsatellite data were deposited in Dryad data repository accessed at https://doi.org/10.5061/dryad.15dv41nwr.
References
Abbott R, Albach D, Ansell S, Arntzen JW, Baird SJE, Bierne N et al. (2013) Hybridization and speciation. J Evol Biol 26(2):229–246

Allendorf FW, Leary RF, Spruell P, Wenburg JK (2001) The problems with hybrids: setting conservation guidelines. Trends Ecol Evol 16:613–622

Anderson EC, Thompson EA (2002) A model-based method for identifying species hybrids using multilocus genetic data. Genetics 160(3):1217–1229

April J, Hanner RH, Dion-Côté AM, Bernatchez L (2013) Glacial cycles as an allopatric speciation pump in north-eastern American freshwater fishes. Mol Ecol 22(2):409–422

April J, Turgeon J (2006) Phylogeography of the banded killifish (Fundulus diaphanus): glacial races and secondary contact. J Fish Biol 69:212–228

Avise JC (1989) A role for molecular genetics in the recognition and conservation of endangered species. Trends Ecol Evol 4(9):279–281

Baack EJ, Rieseberg LH (2007) A genomic view of introgression and hybrid speciation. Curr Opin Genet Dev 17(6):513–518

Barnes DW (1823) On the genera Unio and Alasmodonta; with introductory remarks. Am J Sci Arts 6(1-2):107–127. 258–280 + 113 plates

Barton NH, Hewitt GM (1985) Analysis of hybrid zones. Annu Rev Ecol Syst 16:113–148

Beauchamp K, Beyett T, Scott MW, Zanatta DT (2020) Detection of hybrid Pyganodon grandis and P. lacustris (Bivalvia: Unionidae) using F- and M-lineage mtDNA sequences and geometric morphometrics. J Mollusca Stud 86:233–239

Beaumont M, Barratt EM, Gottelli D, Kitchener AC, Daniels MJ, Pritchard JK et al. (2001) Genetic diversity and introgression in the Scottish wildcat. Mol Ecol 10(2):319–336

Beaver CE, Woolnough DA, Zanatta DT (2019) Assessment of genetic diversity and structure among populations of Epioblasma triquetra in the Laurentian Great Lakes drainage. Freshwater. Science 38(3):527–542

Berg DJ, Haag WR, Guttman SI, Sickel JB (1995) Mantle biopsy: a technique for nondestructive tissue-sampling of freshwater mussels. J N Am Benthol Soc 14(4):577–581

Boecklen WJ, Howard DJ (1997) Genetic analysis of hybrid zones: numbers of markers and power of resolution. Ecology 78(8):2611–2616

Bogan AE (1993) Freshwater bivalve extinctions (Mollusca: Unionoida): a search for causes. Am Zool 33(6):599–609

Bogan AE, Spamer EE, Manville C, Gallagher WB, Cain AJ (1989) Preliminary reexamination of the Fish House local fauna and flora (Pleistocene), Pennsauken, Camden County, New Jersey. Mosasaur: J Del Val Paleontological Soc 4:111–126

Breton S, Beaupre HD, Stewart DT, Hoeh WR, Blier PU (2007) The unusual system of doubly uniparental inheritance of mtDNA: Isn't one enough? Trends Genet 23:465

Breton S, Bouvet K, Auclair G, Ghazal S, Sietman BE, Johnson N et al. (2017) The extremely divergent maternally- and paternally-transmitted mitochondrial genomes are co-expressed in somatic tissues of two freshwater mussel species with doubly uniparental inheritance of mtDNA. PLOS ONE 12(8):e0183529

Campbell DC, Serb JM, Buhay JE, Roe KJ, Minton RL, Lydeard C (2005) Phylogeny of North American amblemines (Bivalvia, Unionoida): prodigious polyphyly proves pervasive across genera. Invertebr Biol 124(2):131–164

Chapuis M-P, Estoup A (2007) Microsatellite null alleles and estimation of population differentiation. Mol Biol Evol 24(3):621–631

Chiesa S, Lucentini L, Freitas R, Nonnis Marzano F, Ferrari C, Filonzi L et al. (2016) Null alleles of microsatellites for Manila clam Ruditapes philippinarum. Anim Genet 47(1):135–136

Christian AD, Harris JL (2008) An introduction to directions in freshwater mollusk conservation: molecules to ecosystems. J N Am Benthol Soc 27(2):345–348

Clarke AH, Berg CO (1959) Mussels of Central New York: with an illustrated key to the species of northeastern North America. Cornell University Agricultural Experiment Station, New York State College of Agriculture, Ithaca, NY, p 79

Curole JP, Kocher TD (2002) Ancient sex-specific extension of the cytochrome c oxidase II gene in bivalves and the fidelity of doubly-uniparental inheritance. Mol Biol Evol 19(8):1323–1328

Cyr F, Paquet A, Martel AL, Angers B (2007) Cryptic lineages and hybridization in freshwater mussels of the genus Pyganodon (Unionidae) in northeastern North America. Can J Zool 85(12):1216–1227

De Queiroz K (1998) The general lineage concept of species, species criteria, and the process of speciation: A conceptual unification and terminological recommendations. In: Howard DJ, Berlocher SH (eds) Endless forms: species and speciation, Oxford University Press, New York, pp 57–75

De Queiroz K (2007) Species concepts and species delimitation. Syst Biol 56(6):879–886

Doucet-Beaupré H, Blier PU, Chapman EG, Piontkivska H, Dufresne F, Sietman BE et al. (2012) Pyganodon (Bivalvia: Unionoida: Unionidae) phylogenetics: a male- and female-transmitted mitochondrial DNA perspective. Mol Phylogen Evol 63:430–444

Eackles MS, King TL (2002) Isolation and characterization of microsatellite loci in Lampsilis abrupta (Bivalvia: Unionidae) and cross-species amplification within the genus. Mol Ecol Notes 2(4):559–562

Earl DA, vonHoldt BM (2012) STRUCTURE HARVESTER: a website and program for visualizing STRUCTURE output and implementing the Evanno method. Conserv Genet Resour 4(2):359–361

Evanno G, Regnaut S, Goudet J (2005) Detecting the number of clusters of individuals using the software STRUCTURE: a simulation study. Mol Ecol 14(8):2611–2620

Falush D, Stephens M, Pritchard JK (2003) Inference of population structure using multilocus genotype data: linked loci and correlated allele frequencies. Genetics 164(4):1567–1587

Falush D, Stephens M, Pritchard JK (2007) Inference of population structure using multilocus genotype data: dominant markers and null alleles. Mol Ecol Notes 7(4):574–578

Feder JL, Egan SP, Nosil P (2014) The genomics of speciation-with-gene-flow. Trends Genet 28(7):342–350

Fitzpatrick BM, Ryan ME, Johnson JR, Corush J, Carter ET (2015) Hybridization and the species problem in conservation. Curr Zool 61(1):206–216

Folmer O, Black M, Hoeh W, Lutz R, Vrijenhoek R (1994) DNA primers for amplification of mitochondrial cytochrome c oxidase subunit I from diverse metazoan invertebrates. Mol Mar Biol Biotechnol 3(5):294–299

Frankham R, Briscoe DA, Ballou JD (2002) Introduction to conservation genetics. Cambridge University Press, 644

Gaston KJ, Fuller RA (2009) The sizes of species' geographic ranges. J Appl Ecol 46(1):1–9

Gmelin JF (1791) Systema Naturae per Regna Tria Naturae, Secundum Classes, Ordines, Genera, Species, cum Characteribus, Differentiis, Synonymis, locis, 13 edn. Typis Ioannis Thomae, Vindobonae [Vienna], Vol 1(6)

Gompert Z, Mandeville EG, Buerkle CA (2017) Analysis of population genomic data from hybrid zones. Annu Rev Ecol, Evolution, Syst 48(1):207–229

Goudet J (1995) FSTAT (version 1.2): a computer program to calculate F-statistics. J Hered 86(6):485–486

Gow JL, Peichel CL, Taylor EB (2006) Contrasting hybridization rates between sympatric Three‐spined sticklebacks highlight the fragility of reproductive barriers between evolutionarily young species. Mol Ecol 15(3):739–752

Graf DL (1997) Northern redistribution of freshwater pearly mussels (Bivalvia: Unionidae) during Wisconsin deglaciation in the southern Great Lake Agassiz region: a review. Am Midl Nat 138:37

Graf DL (2002) The historical biogeography and late glacial origin of the freshwater pearly mussel (Bivalvia: Unionidae) faunas of Lake Erie. North Am Mus Comp Zool, Occasional Pap Molluscs Occasional Pap Mollusks 6:175–211

Graf DL, O'Foighil D (2000) The evolution of brooding characters among the freshwater pearly mussels (Bivalvia: Unionoidea) of North America. J Mollusca Stud 66(2):157–170

Grant PR, Grant BR, Markert JA, Keller LF, Petren K (2004) Convergent evolution of Darwin's finches caused by introgressive hybridization and selection. Evolution 58(7):1588–1599

Guerra D, Plazzi F, Stewart DT, Bogan AE, Hoeh WR, Breton S (2017) Evolution of sex-dependent mtDNA transmission in freshwater mussels (Bivalvia: Unionida). Sci Rep 7(1):1551

Henley WF, Grobler PJ, Neves RJ (2006) Non-invasive method to obtain DNA from freshwater mussels (Bivalvia: Unionidae). J Shellfish Res 25:975–977

Hewitt GM (1996) Some genetic consequences of ice ages, and their role in divergence and speciation. Biol J Linn Soc 58(3):247–276

Hewitt GM (2000) The genetic legacy of the Quaternary ice ages. Nature 405(6789):907–913

Hewitt GM (2011) Quaternary phylogeography: the roots of hybrid zones. Genetica 139(5):617–638

Hewitt TL, Woolnough DA, Zanatta DT (2019) Population genetic analyses of Lampsilis cardium (Bivalvia: Unionida) reveal multiple post–glacial colonization routes into the Great Lakes drainage. Am Malacol Bull 37:21–34

Hoang DT, Chernomor O, Von Haeseler A, Minh BQ, Vinh LS (2018) UFBoot2: improving the ultrafast bootstrap approximation. Mol Biol Evol 35(2):518–522

Hoeh W, Stewart D, Guttman S (2002) High fidelity of mitochondrial genome transmission under the doubly uniparental mode of inheritance in freshwater mussels (Bivalvia: Unionoidea). Evolution 56(11):2252–2261

Hoeh WR, Stewart DT, Sutherland BW, Zouros E (1996) Multiple origins of gender‐associated mitochondrial DNA lineages in bivalves (Mollusca: Bivalvia). Evolution 50(6):2276–2286

Hubisz MJ, Falush D, Stephens M, Pritchard JK (2009) Inferring weak population structure with the assistance of sample group information. Mol Ecol Resour 9:1322–1332

Huelsenbeck JP, Larget B, Alfaro ME (2004) Bayesian phylogenetic model selection using reversible jump Markov chain Monte Carlo. Mol Biol Evol 21(6):1123–1133

Inoue K, Harris JL, Robertson CR, Johnson NA, Randklev CR (2019) A comprehensive approach uncovers hidden diversity in freshwater mussels (Bivalvia: Unionidae) with the description of a novel species. Cladistics 36(1):88–113

Inoue K, McQueen AL, Harris JL, Berg DJ (2014) Molecular phylogenetics and morphological variation reveal recent speciation in freshwater mussels of the genera Arcidens and Arkansia (Bivalvia: Unionidae). Biol J Linn Soc 112(3):535–545

Jiggins CD, Mallet J (2000) Bimodal hybrid zones and speciation. Trends Ecol Evolution 15:250

Jones JW, Neves RJ, Ahlstedt SA, Hallerman EM (2006) A holistic approach to taxonomic evaluation of two closely related endangered freshwater mussel species, the Oyster mussel Epioblasma capsaeformis and Tan Riffleshell Epioblasma florentina walkeri (Bivalvia: Unionidae). J Mollusca Stud 72(3):267–283

Kalyaanamoorthy S, Minh BQ, Wong TK, von Haeseler A, Jermiin LS (2017) ModelFinder: fast model selection for accurate phylogenetic estimates. Nat Methods 14(6):587–589

Kat PW (1983) Fossil evidence from Fish House Clays for the origin and changes in species composition through time of the northern atlantic slope unionid fauna (Mollusca: Bivalvia). Proc Acad Nat Sci Philos 135:85–101

Kat PW (1985) Historical evidence for fluctuation in levels of hybridization. Evolution 39(5):1164–1169

Kat PW (1986) Hybridization in a unionid faunal suture zone. Malacologia 27(1):107–125

Kearse M, Moir R, Wilson A, Stones-Havas S, Cheung M, Sturrock S et al. (2012) Geneious Basic: an integrated and extendable desktop software platform for the organization and analysis of sequence data. Bioinformatics 28(12):1647–1649

Krebs RA (2004) Combining paternally and maternally inherited mitochondrial DNA for analysis of population structure in mussels. Mol Ecol 13:1701

Krebs RA, Borden WC, Evans NM, Doerder FP (2013) Differences in population structure estimated within maternally- and paternally-inherited forms of mitochondria in Lampsilis siliquoidea (Bivalvia: Unionidae). Biol J Linn Soc 109(1):229–240

Kuehnl KF (2009) Exploring levels of genetic variation in the freshwater mussel genus Villosa (Bivalvia Unionidae) at different spatial and systematic scales: Implications for biogeography, taxonomy, and conservation. The Ohio State University

Lanfear R, Calcott B, Ho SYW, Guindon S (2012) PartitionFinder: Combined Selection of Partitioning Schemes and Substitution Models for Phylogenetic Analyses. Mol Biol Evol 29(6):1695–1701

Launey S, Ledu C, Boudry P, Bonhomme F, Naciri-Graven Y (2002) Geographic structure in the european Flat Oyster (Ostrea edulis L.) as revealed by microsatellite polymorphism. J Hered 93(5):331–351

Lopes-Lima M, Burlakova LE, Karatayev AY, Mehler K, Seddon M, Sousa R (2018) Conservation of freshwater bivalves at the global scale: diversity, threats and research needs. Hydrobiologia 810:1–14

Lopes-Lima M, Froufe E, Do VT, Ghamizi M, Mock KE, Kebapçi Ü et al. (2017) Phylogeny of most species rich freshwater bivalve family (Bivalvia: Unionida: Unionidae): defining modern subfamilies and tribes. Mol Phylogen Evol 106:174–191

Lydeard C, Cowie RH, Ponder WF, Bogan AE, Bouchet P, Clark SA et al. (2004) The global decline of nonmarine mollusks. Bioscience 54(4):321–330

Lydeard C, Minton RL, Williams JD (2000) Prodigious polyphyly in imperilled freshwater pearly-mussels (Bivalvia: Unionidae): a phylogenetic test of species and generic designations. Geol Soc, Lond, Spec Publ 177(1):145–158

Lydeard C, Mulvey M, Davis GM (1996) Molecular systematics and evolution of reproductive traits of North American freshwater unionacean mussels (Mollusca: Bivalvia) as inferred from 16S rRNA gene sequences. Philos Trans R Soc Lond, Ser B: Biol Sci 351(1347):1593–1603

Lydeard C, Roe KJ (1998) Phylogenetic systematics: the missing ingredient in the conservation of freshwater unionid bivalves. Fisheries 23:16–17

Mallet J (2005) Hybridization as an invasion of the genome. Trends Ecol Evol 20(5):229–237

Master LL, Stein BA, Kutner LS, Hammerson GA (eds) (2000) Vanishing assets: Conservation status of U.S. species. Oxford University Press, New York, NY, p 118

McCartney MA, Bogan AE, Sommer KM, Wilbur AE (2016) Phylogenetic analysis of Lake Waccamaw endemic freshwater mussel species. Am Malacol Bull 34(2):109–120

McGoldrick DJ, Hedgecock D, English LJ, Baoprasertkul P, Ward RD (2000) The transmission of microsatellite alleles in Australian and North American stocks of the Pacific oyster (Crassostrea gigas): selection and null alleles. J Shellfish Res 19:779–788

Mulvey M, Lydeard C, Pyer DL, Hicks KM, Brim-Box J, Williams JD et al. (1997) Conservation genetics of North American freshwater mussels Amblema and Megalonaias. Conserv Biol 11(4):868–878

Nantón A, Arias-Pérez A, Méndez J, Freire R (2014) Characterization of nineteen microsatellite markers and development of multiplex PCRs for the Wedge clam Donax trunculus (Mollusca: Bivalvia). Mol Biol Rep. 41(8):5351–5357

Nguyen L-T, Schmidt HA, von Haeseler A, Minh BQ (2015) IQ-TREE: A Fast and Effective Stochastic Algorithm for Estimating Maximum-Likelihood Phylogenies. Mol Biol Evol 32(1):268–274

Nosil P (2008) Speciation with gene flow could be common. Mol Ecol 17(9):2103–2106

Ortmann AE (1913) The Alleghenian Divide, and its influence upon the freshwater fauna. Proc Am Philos Soc 52(210):287–390

Passamonti M, Ghiselli F (2009) Doubly uniparental inheritance: two mitochondrial genomes, one precious model for organelle DNA inheritance and evolution. DNA Cell Biol 28(2):79–89

Patel S, Schell T, Eifert C, Feldmeyer B, Pfenninger M (2015) Characterising a hybrid zone between a cryptic species pair of freshwater snails. Mol Ecol 24(3):643–655

Pielou EC (1991) After the Ice Age. the return of life to glaciated North America. The University of Chicago Press, Chicago, p 366

Pieri AM, Inoue K, Johnson NA, Smith CH, Harris JL, Robertson C et al. (2018) Molecular and morphometric analyses reveal cryptic diversity within freshwater mussels (Bivalvia: Unionidae) of the western Gulf coastal drainages of the USA. Biol J Linn Soc 124(2):261–277

Porto-Hannes I, Burlakova LE, Karatayev AY, Lasker HR (2019) Molecular phylogeny, biogeography, and conservation status of the Texas-endemic freshwater mussel Lampsilis bracteata (Bivalvia, Unionidae). Zootaxa 4652(3):442–456

Pritchard JK, Stephens M, Donnelly P (2000) Inference of population structure using multilocus genotype data. Genetics 155(2):945–959

Rambaut A, Drummond A, Xie D, Baele G, Suchard M (2018) Posterior summarisation in Bayesian phylogenetics using Tracer 1.7. Syst Biol 67(5):901–904

Remington CL (1968) Suture-zones of hybrid interaction between recently joined biotas. In: Dobzhansky T, Hecht MK, Steere WC (eds) Evolutionary biology. Appleton-Century-Crofts, New York, NY, p 321–428. Vol. 2

Rhymer JM, Simberloff D (1996) Extinction by hybridization and introgression. Annu Rev Ecol Syst 27:83–109

Rico C, Cuesta JA, Drake P, Macpherson E, Bernatchez L, Marie AD (2017) Null alleles are ubiquitous at microsatellite loci in the Wedge clam (Donax trunculus). PeerJ 5:e3188–e3188

Roe KJ, Hartfield P, Lydeard C (2001a) Molecular systematics of the threatened and endangered superconglutinate-producing mussels of the genus Lampsilis (Bivalvia: Unionidae). Mol Ecol 10:2225

Roe KJ, Hartfield PD, Lydeard C (2001b) Phylogeographic analysis of the threatened and endangered superconglutinate-producing mussels of the genus Lampsilis (Bivalvia: Unionidae). Mol Ecol 10(9):2225–2234

Roe KJ, Lydeard C (1998) Molecular systematics of the freshwater mussel genus Potamilus (Bivalvia: Unionidae). Malacologia 39(1-2):195–205

Ronquist F, Huelsenbeck JP (2003) MrBayes 3: Bayesian phylogenetic inference under mixed models. Bioinformatics 19(12):1572–1574

Roques S, Sévigny JM, Bernatchez L (2001) Evidence for broadscale introgressive hybridization between two redfish (genus Sebastes) in the North‐west Atlantic: a rare marine example. Mol Ecol 10(1):149–165

Rosenberg NA (2004) DISTRUCT: a program for the graphical display of population structure. Mol Ecol Notes 4(1):137–138

Rowe MT, Zanatta DT (2015) Investigating the genetic variation and structure of a native unionid mussel in the Laurentian Great Lakes following an invasion of dreissenid mussels. Biol Invasions 17:351–364

Rozas J, Ferrer-Mata A, Sánchez-DelBarrio JC, Guirao-Rico S, Librado P, Ramos-Onsins SE et al. (2017) DnaSP 6: DNA sequence polymorphism analysis of large datasets. Mol Biol Evol 34(12):3299–3302

Schwenk K, Brede N, Streit B (2008) Introduction. Extent, processes and evolutionary impact of interspecific hybridization in animals. Philos Trans R Soc Lond B: Biol Sci 363(1505):2805–2811

Scott MW, Morris TJ, Zanatta DT (2020) Population structure, genetic diversity, and colonization history of the Eastern Pondmussel, Sagittunio nasutus, in the Great Lakes drainage. Aquat Conserv: Mar Freshwat Ecosyst 30(4):631–646

Seeb LW (1998) Gene flow and introgression within and among three species of rockfishes, Sebastes auriculatus, S. caurinus, and S. maliger. J Hered 89(5):393–403

She J-X, Autem M, Kotulas G, Pasteur N, Bonhomme F (1987) Multivariate analysis of genetic exchanges between Solea aegyptiaca and Solea senegalensis (Teleosts, Soleidae). Biol J Linn Soc 32(4):357–371

Shea CP, Peterson JT, Wisniewski JM, Johnson NA (2011) Misidentification of freshwater mussel species (Bivalvia:Unionidae): contributing factors, management implications, and potential solutions. J N. Am Benthol Soc 30(2):446–458

Stanton LM, Hoeh WR, McAlpine DF, Hebda A, Stewart DT (2012) mtDNA and AFLP markers demonstrate limited genetic differentiation within the Pyganodon cataracta- Pyganodon fragilis freshwater mussel complex in Atlantic Canada. Can J Zool 90(11):1307–1319

Strayer DL, Jirka KJ (1997) The pearly mussels of New York state. Fort Orange Press Incorporated, Albany, New York, NY, p 1–113. Vol 26plates 111-127

Swenson NG, Howard DJ (2005) Clustering of contact zones, hybrid zones, and phylogeographic breaks in North America. Am Naturalist 166(5):581–591

Taylor EB, Boughman JW, Groenenboom M, Sniatynski M, Schluter D, Gow JL (2006) Speciation in reverse: morphological and genetic evidence of the collapse of a Three-spined stickleback (Gasterosteus aculeatus) species pair. Mol Ecol 15(2):343–355

Taylor SA, Larson EL, Harrison RG (2015) Hybrid zones: windows on climate change. Trends Ecol Evol 30(7):398–406

Turgeon DD, Quinn JF, Bogan AE, Coan EV, Hochberg FG, Lyons WG et al. (1998) Common and Scientific Names of Aquatic Invertebrates from the United States and Canada: Mollusks, 2 edn: Bethesta, Maryland, p 536

Vähä J-P, Primmer CR (2006) Efficiency of model-based Bayesian methods for detecting hybrid individuals under different hybridization scenarios and with different numbers of loci. Mol Ecol 15(1):63–72

Van Oosterhout C, Hutchinson WF, Wills DP, Shipley P (2004) MICRO‐CHECKER: software for identifying and correcting genotyping errors in microsatellite data. Mol Ecol Notes 4(3):535–538

van Wyk AM, Dalton DL, Hoban S, Bruford MW, Russo I-RM, Birss C et al. (2017) Quantitative evaluation of hybridization and the impact on biodiversity conservation. Ecol Evol 7(1):320–330

Watters GT (2001) The evolution of the Unionacea in North America, and its implications for the worldwide fauna. In: Bauer G and Wächtler K (eds) Ecology and Evolution of the Freshwater Mussels Unionoida. Springer Berlin Heidelberg. vol. 145, pp. 281–307

Watters GT, Hoggarth MA, Stansbery DH (2009) The Freshwater Mussels of Ohio. The Ohio State University Press, Columbus, Ohio, p 421

Williams JD, Bogan A, Butler RS, Cummings KS, Garner JT, Harris JL et al. (2017) A revised list of the freshwater mussels (Mollusca: Bivalvia: Unionida) of the United States and Canada. Freshw Mollusk Biol Conserv 20:33–58

Williams JD, Mulvey M (1997) Recognition of freshwater mussel taxa: a conservation challenge. In: Meffe GK, Carroll CR (eds) Principles of Conservation Biology. Sinauer Associates, Sunderland, Massachusetts, p 57–58

Williams JD, Warren ML, Cummings KS, Harris JL, Neves RJ (1993) Conservation status of freshwater mussels of the United States and Canada. Fisheries 18(9):6–22

Wilson IG (1997) Inhibition and facilitation of nucleic acid amplification. Appl Environ Microbiol 63(10):3741–3751

Zanatta DT, Murphy RW (2006) Evolution of active host-attraction strategies in the freshwater mussel tribe Lampsilini (Bivalvia: Unionidae). Mol Phylogen Evol 41(1):195–208

Zheng X-M, Ge S (2010) Ecological divergence in the presence of gene flow in two closely related Oryza species (Oryza rufipogon and O. nivara). Mol Ecol 19(12):2439–2454

Zouros E, Ball AO, Saavedra C, Freeman KR (1994) An unusual type of mitochondrial DNA inheritance in the Blue mussel Mytilus. Proc Nat Acad Sci 91(16):7463–7467
Acknowledgements
The authors would like to deeply thank all the colleagues listed in Table 1 who provided tissues. We are very thankful to Nicole Bobel, Susan Daniel, Andrew Hannes, Kimberly McKinnon, Rachel Morganti, Isabelle Picard, Brandon Sansom, Patricia Shulenburg, Vanessa Smilanksi and Brianne Tulumello, who helped in the field collecting tissue. This project was funded by the Student Grants-to-support Research Program, the Great Lakes Research Consortium (IP); Melbourne R. Carriker Student Research Awards in Malacology, The American Malacological Society (IP); and by the Great Lakes Fish and Wildlife Restoration Act "Conservation of Native Freshwater Mussel Refuges in Great Lakes Coastal Wetlands" (project # 30191-A-G152) (DZ and LB). This manuscript is contribution #150 of the Central Michigan University Institute for Great Lakes Research.
Ethics declarations
Conflict of interest
The authors declare no competing interests.
Additional information
Publisher's note Springer Nature remains neutral with regard to jurisdictional claims in published maps and institutional affiliations.
Associate editor: Armando Caballero
Supplementary information
About this article
Cite this article
Porto-Hannes, I., Burlakova, L.E., Zanatta, D.T. et al. Boundaries and hybridization in a secondary contact zone between freshwater mussel species (Family:Unionidae). Heredity 126, 955–973 (2021). https://doi.org/10.1038/s41437-021-00424-x
Received:

Revised:

Accepted:

Published:

Issue Date: