Abstract
In eusocial Hymenoptera, haplodiploidy and polyandry may facilitate selection for hybridization. Interspecific hybridization is widespread in ants and can lead to hybrid inviability as well as the formation of new species through hybrid speciation. However, in ants, polyandry is uncommon. By analyzing microsatellite markers on 15 ant workers per colony, we show that the mating system of 28 pure colonies of Tetramorium immigrans, 15 pure colonies of Tetramorium caespitum, and 27 hybrid colonies is a monogyne/polyandrous mating system, with a higher mating rate in T. caespitum (mean = 2.4 males vs. 1.7 in T. immigrans). Hybrid queens, but no hybrid fathers, were deduced from workers' genotypes, in accordance with Haldane's rule extended to haplodiploid organisms, which states that the haploid sex should more often be sterile or inviable. In five colonies, hybridization and multiple mating allowed the simultaneous production of both hybrid and nonhybrid offspring. Although rare, these situations hinted at asymmetrical, larger contributions of T. immigrans vs. T. caespitum males to offspring production. Together, these findings point toward a complex and dynamic mating system in T. immigrans and T. caespitum, and contribute to better understand interspecific hybridization mechanisms and their consequences on genetic and taxonomic diversity. The study of polyandry within a hybrid zone is unprecedented and opens new opportunities to better understand interspecific hybridization mechanisms and their short- to long-term consequences.
Access options
Subscribe to Journal
Get full journal access for 1 year
$499.00
only $41.58 per issue
All prices are NET prices.
VAT will be added later in the checkout.
Rent or Buy article
Get time limited or full article access on ReadCube.
from$8.99
All prices are NET prices.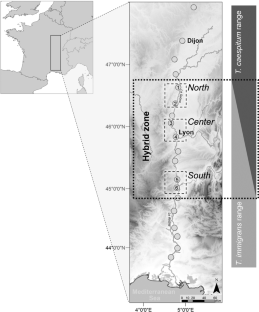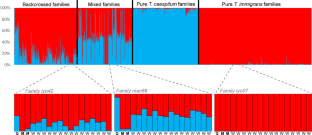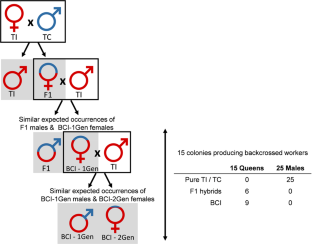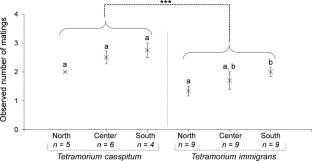 References
Allendorf FW, Leary RF, Spruell P, Wenburg JK (2001) The problems with hybrids: setting conservation guidelines. Trends Ecol Evol 16:613–622

Anderson EC, Thompson EA (2002) A model-based method for identifying species hybrids using multilocus genetic data. Genetics 160:1217–1229

Anderson KE, Novak SJ, Smith JF (2008) Populations composed entirely of hybrid colonies: bidirectional hybridization and polyandry in harvester ants. Biol J Linn Soc 95:320–336

Beresford J, Elias M, Pluckrose L, Sundström L, Butlin RK, Pamilo P, Kulmuni J (2017) Widespread hybridization within mound‐building wood ants in Southern Finland results in cytonuclear mismatches and potential for sex‐specific hybrid breakdown. Mol Ecol 26:4013–4026

Boomsma JJ (2007) Kin selection versus sexual selection: why the ends do not meet. Curr Biol 17:R673–R683

Boomsma JJ (2013) Beyond promiscuity: mate-choice commitments in social breeding. Philos Trans R Soc Lond B Biol Sci 368:20120050

Casquet J, Thebaud C, Gillespie RG (2012) Chelex without boiling, a rapid and easy technique to obtain stable amplifiable DNA from small amounts of ethanol‐stored spiders. Mol Ecol Resour 12:136–141

Cole BJ (1983) Multiple mating and the evolution of social behavior in the Hymenoptera. Behav Ecol Sociobiol 12:191–201

Cordonnier M, Gayet T, Escarguel G, Kaufmann B (2019b) From hybridization to introgression between two closely related sympatric ant species. J Zool Syst Evol Res 57:778–788

Cordonnier M, Gibert C, Bellec A, Kaufmann B, Escarguel G (2019c) Multi-scale impacts of urbanization on species distribution within the genus Tetramorium. Land Ecol 34:1937–1948

Cordonnier M, Bellec A, Dumet A, Escarguel G, Kaufmann B (2019a) Range limits in sympatric cryptic species: a case study in Tetramorium pavement ants (Hymenoptera: Formicidae) across a biogeographical boundary. Insect Conserv Divers 12:109–120

Corley M, Fjerdingstad EJ (2011) Mating strategies of queens in Lasius niger ants—is environment type important? Behav Ecol Sociobiol 65:889–897

Crozier RH, Fjerdingstad EJ (2001) Polyandry in social Hymenoptera—disunity in diversity? In: Annales Zoologici Fennici, Finnish Zoological and Botanical Publishing Board. pp. 267–285

Eberhard W (1996) Female control: sexual selection by cryptic female choice. Princeton University Press: New Jersey

Feldhaar H, Foitzik S, Heinze J (2008) Lifelong commitment to the wrong partner: hybridization in ants. Philos Trans R Soc Lond B Biol Sci 363:2891–2899

Fernández-Escudero I, Pamilo P, Seppä P (2002) Biased sperm use by polyandrous queens of the ant Proformica longiseta. Behav Ecol Sociobiol 51:207–213

Fjerdingstad EJ, Gertsch PJ, Keller L (2003) The relationship between multiple mating by queens, within‐colony genetic variability and fitness in the ant Lasius niger. J Evol Biol 16:844–853

Fournier D, Battaille G, Timmermans I, Aron S (2008) Genetic diversity, worker size polymorphism and division of labour in the polyandrous ant Cataglyphis cursor. Anim Behav 75:151–158

Haapaniemi K, Pamilo P (2012) Reproductive conflicts in polyandrous and polygynous ant Formica sanguinea. Mol Ecol 21:421–430

Hardy OJ, Pearcy M, Aron S (2008) Small‐scale spatial genetic structure in an ant species with sex‐biased dispersal. Biol J Linn Soc 93:465–473

Van der Have TM, Pedersen JS, Boomsma JJ (2011) Mating, hybridisation and introgression in Lasius ants (Hymenoptera: Formicidae). Myrmecol News 15:109–115

Heinze J (2008) The demise of the standard ant (Hymenoptera: Formicidae). Myrmecol News 11:9–20

Irwin DE, Price T (1999) Sexual imprinting, learning and speciation. Heredity 82:347

Jaffé R (2014) An updated guide to study polyandry in social insects. Sociobiology 61:1–8

Jaffé R, Garcia‐Gonzalez F, den Boer S, Simmons LW, Baer B (2012) Patterns of paternity skew among polyandrous social insects: what can they tell us about the potential for sexual selection? Evolution 66:3778–3788

Keller L, Reeve HK (1994) Genetic variability, queen number, and polyandry in social Hymenoptera. Evolution 48:694–704

Koevoets T, Beukeboom LW (2009) Genetics of postzygotic isolation and Haldane's Rule in haplodiploids. Heredity 102:16–23

Kopelman NM, Mayzel J, Jakobsson M, Rosenberg NA, Mayrose I (2015) Clumpak: a program for identifying clustering modes and packaging population structure inferences across K. Mol ecol resour 15:1179–1191

Kronauer DJ, Johnson RA, Boomsma JJ (2007) The evolution of multiple mating in army ants. Evolution 61:413–422

Kronauer DJ, Peters MK, Schöning C, Boomsma JJ (2011) Hybridization in East African swarm-raiding army ants. Front Zool 8:20

Kulmuni J, Pamilo P (2014) Introgression in hybrid ants is favored in females but selected against in males. Proc Natl Acad Sci USA 111:12805–12810

Kulmuni J, Seifert B, Pamilo P (2010) Segregation distortion causes large-scale differences between male and female genomes in hybrid ants. Proc Natl Acad Sci USA 107:7371–7376

Lipshutz SE (2017) Interspecific competition, hybridization, and reproductive isolation in secondary contact: missing perspectives on males and females. Curr Zool 64:75–88

Lowry DB, Willis JH (2010) A widespread chromosomal inversion polymorphism contributes to a major life-history transition, local adaptation, and reproductive isolation. PLoS Biol 8:e1000500

Mallet J (2008) Hybridization, ecological races and the nature of species: empirical evidence for the ease of speciation. Philos Trans R Soc Lond B Biol Sci 363:2971–2986

Moore WS (1987) Random mating in the Northern Flicker hybrid zone: implications for the evolution of bright and contrasting plumage patterns in birds. Evolution 41:539–546

Nonacs P (2006) Interspecific hybridization in ants: at the intersection of ecology, evolution, and behavior. Ecology 87:2143–2147

Parker GA, Partridge L (1998) Sexual conflict and speciation. Philos Trans R Soc Lond B Biol Sci 353:261–274

Peakall ROD, Smouse PE (2006) GENALEX 6: genetic analysis in Excel. Population genetic software for teaching and research Mol ecol 6:288–295

Pickup M, Brandvain Y, Fraisse C, Yakimowski S, Barton NH, Dixit T et al. (2019) Mating system variation in hybrid zones: facilitation, barriers and asymmetries to gene flow. New Phytologist 224:1035–1047

Pizzari T, Wedell N (2013) The polyandry revolution. Philos Trans R Soc Lond B Biol Sci 368:20120041

Pritchard JK, Stephens M, Donnelly P (2000) Inference of population structure using multilocus genotype data. Genetics 155:945–959

Purcell J, Zahnd S, Athanasiades A, Türler R, Chapuisat M, Brelsford A (2016) Ants exhibit asymmetric hybridization in a mosaic hybrid zone. Mol ecol 25:4866–4874

Randler C (2002) Avian hybridization, mixed pairing and female choice. Anim Behav 63:103–119

Rhymer JM, Simberloff D (1996) Extinction by hybridization and introgression. Annu Rev Ecol Evol Syst 27:83–109

Rosenthal GG (2013) Individual mating decisions and hybridization. J Evol Biol 26:252–255

Ross KG, Meer RKV, Fletcher DJ, Vargo EL (1987) Biochemical phenotypic and genetic studies of two introduced fire ants and their hybrid (Hymenoptera: Formicidae). Evolution 41:280–293

Schilthuizen M, Giesbers MCWG, Beukeboom LW (2011) Haldane's rule in the 21st century. Heredity 107:95

Simmons LW (2001) Sperm competition and its evolutionary consequences in the insects (Vol. 68), Princeton University Press: New Jersey

Steiner FM, Seifert B, Moder K, Schlick-Steiner BC (2010) A multisource solution for a complex problem in biodiversity research: description of the cryptic ant species Tetramorium alpestre sp. n.(Hymenoptera: Formicidae). Zool Anz 249:223–254

Steiner FM, Arthofer W, Schlick-Steiner BC, Crozier RH, Stauffer C (2008) Twenty four new microsatellite markers in two invasive pavement ants, Tetramorium sp. E and T. tsushimae (Hymenoptera: Formicidae). Conserv genet 9:757–759

Strassmann J (2001) The rarity of multiple mating by females in the social Hymenoptera. Insectes soc 48:1–13

Twyford AD, Ennos RA (2012) Next-generation hybridization and introgression. Heredity 108:179

Umphrey GJ (2006) Sperm parasitism in ants: selection for interspecific mating and hybridization. Ecology 87:2148–2159

Villesen P, Murakami T, Schultz TR (2002) Identifying the transition between single and multiple mating of queens in fungus-growing ants. Proc R Soc B 269:1541–1548

Wagner HC, Arthofer W, Seifert B, Muster C, Steiner FM, Schlick-Steiner BC (2017) Light at the end of the tunnel: Integrative taxonomy delimits cryptic species in the Tetramorium caespitum complex (Hymenoptera: Formicidae). Myrmecol News 25:95–129
Acknowledgements
This study was funded by the Conseil Départemental de l'Isère. It was also supported by the French National Research Agency (ANR) through the LABEX IMU (ANR-10-LABX-0088) of Université de Lyon, within the program "Investissements d'Avenir" (ANR-11-IDEX-0007). We also thank temporary lab assistants, E. Vernay, M. Reina, L. Herpe, M. Dumet, and C. Richalet, for their invaluable help.
Ethics declarations
Conflict of interest
The authors declare that they have no conflict of interest.
Additional information
Publisher's note Springer Nature remains neutral with regard to jurisdictional claims in published maps and institutional affiliations.
Supplementary information
About this article
Cite this article
Cordonnier, M., Escarguel, G., Dumet, A. et al. Multiple mating in the context of interspecific hybridization between two Tetramorium ant species. Heredity 124, 675–684 (2020). https://doi.org/10.1038/s41437-020-0310-3
Received:

Revised:

Accepted:

Published:

Issue Date: