Abstract
Understanding the ecological and evolutionary processes occurring during species range shifts is important in the current context of global change. Here, we investigate the interplay between recent expansion, gene flow and genetic drift, and their consequences for genetic diversity and structure at landscape and local scales in European beech (Fagus sylvatica L.) On Mont Ventoux, South-Eastern France, we located beech forest refugia at the time of the most recent population minimum, ~150 years ago, and sampled 71 populations (2042 trees) in both refugia and expanding populations over an area of 15,000 ha. We inferred patterns of gene flow and genetic structure using 12 microsatellite markers. We identified six plots as originating from planting, rather than natural establishment, mostly from local genetic material. Comparing genetic diversity and structure in refugia versus recent populations did not support the existence of founder effects: heterozygosity (He = 0.667) and allelic richness (Ar = 4.298) were similar, and FST was low (0.031 overall). Still, significant spatial evidence of colonization was detected, with He increasing along the expansion front, while genetic differentiation from the entire pool (βWT) decreased. Isolation by distance was found in refugia but not in recently expanding populations. Our study indicates that beech capacities for colonization and gene flow were sufficient to preserve genetic diversity despite recent forest contraction and expansion. Because beech has long distance pollen and seed dispersal, these results illustrate a 'best case scenario' for the maintenance of high genetic diversity and adaptive potential under climate-change-related range change.
Access options
Subscribe to Journal
Get full journal access for 1 year
$499.00
only $41.58 per issue
All prices are NET prices.
VAT will be added later in the checkout.
Rent or Buy article
Get time limited or full article access on ReadCube.
from$8.99
All prices are NET prices.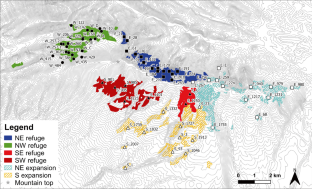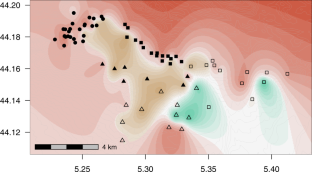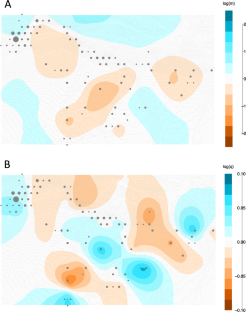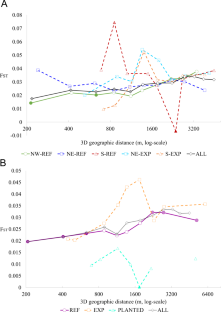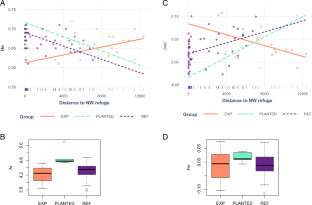 References
Austerlitz F, Machon N, Gouyon P, Godelle B (2000) Effects of colonization processes on genetic diversity: Differences between annual plants and tree species. Genetics 154:1309–1321

Barbero M, Quezel P (1987) La végétation du Ventoux: diversité, stabilité et utilisation actuelles des écosystèmes. Etud Vauclus 3:79–84

R Core Team (2019) R: A language and environment for statistical computing. R Foundation for Statistical Computing, Vienna

Bialozyt R, Ziegenhagen B, Petit RJ (2006) Contrasting effects of long distance seed dispersal on genetic diversity during range expansion. J Evol Biol 19:12–20

Bontemps A, Klein EK, Oddou-Muratorio S (2013) Shift of spatial patterns during early recruitment in Fagus sylvatica: evidence from seed dispersal estimates based on genotypic data. Ecol Manag 305:67–76

Born C, Kjellberg F, Chevallier MH, Vignes H, Dikangadissi JT, Sanguié J et al. (2008) Colonization processes and the maintenance of genetic diversity: Insights from a pioneer rainforest tree, Aucoumea klaineana. Proc R Soc B 275:2171–2179

Brandes U, Furevik BB, Nielsen LR, Kjær ED, Rosef L, Fjellheim S (2019) Introduction history and population genetics of intracontinental scotch broom (Cytisus scoparius) invasion (A Zhan, Ed.). Divers Distrib 25:1773–1786

Cheaib A, Badeau V, Boe J, Chuine I, Delire C, Dufrêne E et al. (2012) Climate change impacts on tree ranges: model intercomparison facilitates understanding and quantification of uncertainty. Ecol Lett 15:533–544

Chen C, Durand E, Forbes F, François O (2007) Bayesian clustering algorithms ascertaining spatial population structure: a new computer program and a comparison study. Mol Ecol Notes 7:747–756

Comps B, Gömöry D, Letouzey J, Thiébaut B, Petit RJ (2001) Diverging trends between heterozygosity and allelic richness during postglacial colonization in the European beech. Genetics 157:389–397

Dyderski MK, Paź S, Frelich LE, Jagodziński AM (2018) How much does climate change threaten European forest tree species distributions? Glob Chang Biol 24:1150–1163

Edmonds CA, Lillie AS, Cavalli-Sforza LL (2004) Mutations arising in the wave front of an expanding population. Proc Natl Acad Sci USA 101:975–979

Elleouet JS, Aitken SN (2019) Long-distance pollen dispersal during recent colonization favors a rapid but partial recovery of genetic diversity in Picea sitchensis. New Phytol 222:1088–1100

Evanno G, Regnaut S, Goudet J (2005) Detecting the number of clusters of individuals using the software STRUCTURE: a simulation study. Mol Ecol 14:2611–2620

Excoffier L, Foll M, Petit RJ (2009) Genetic consequences of range expansions. Annu Rev Ecol Evol Syst 40:481–501

Fayard J, Klein EK, Lefèvre F (2009) Long distance dispersal and the fate of a gene from the colonization front. J Evol Biol 22:2171–2182

Gauzere J, Klein EK, Oddou-Muratorio S (2013) Ecological determinants of mating system within and between three Fagus sylvatica populations along an elevational gradient. Mol Ecol 22:5001–5015

Gauzere J, Klein EK, Brendel O, Davi H, Oddou-Muratorio S (2020) Microgeographic adaptation and the effect of pollen flow on the adaptive potential of a temperate tree species. New Phytol. 227:641–653

Goudet J (1995) FSTAT (Version 1.2): A computer program to calculate F-Statistics. J Hered 86:485–486

Hallatschek O, Nelson DR (2008) Gene surfing in expanding populations. Theor Popul Biol 73:158–170

Hardy OJ, Vekemans X (2002) Spagedi: a versatile computer program to analyse spatial. Mol Ecol Notes 2:618–620

Hewitt GM (2004) Genetic consequences of climatic oscillations in the Quaternary. Philos Trans R Soc B 359:183–195

Hoban SM, Borkowski DS, Brosi SL, McCleary TS, Thompson LM, McLachlan JS et al. (2010) Range-wide distribution of genetic diversity in the North American tree Juglans cinerea: a product of range shifts, not ecological marginality or recent population decline. Mol Ecol 19:4876–4891

IGN-PACA (2002) BDALTI_MNT - V2001, Topographical map of France 1/ 25 000 to 1/ 50 000. BD ALTI ® - © IGN PFAR 2000

Jakobsson M, Rosenberg NA (2007) CLUMPP: a cluster matching and permutation program for dealing with label switching and multimodality in analysis of population structure. Bioinformatics 23:1801–1806

Jean H (2008) Reboisement du Ventoux et restauration des terrains en montagne dans la vallée du Toulourenc. Les Carnets du Vent 61:72–75

Jump AS, Peñuelas J (2005) Running to stand still: adaptation and the response of plants to rapid climate change. Ecol Lett 8:1010–1020

Keenan K, Mcginnity P, Cross TF, Crozier WW, Prodöhl PA (2013) DiveRsity: an R package for the estimation and exploration of population genetics parameters and their associated errors. Methods Ecol Evol 4:782–788

Klein EK, Lavigne C, Gouyon PH (2006) Mixing of propagules from discrete sources at long distance: comparing a dispersal tail to an exponential. BMC Ecol 6:25

Klopfstein S, Currat M, Excoffier L (2006) The fate of mutations surfing on the wave of a range expansion. Mol Biol Evol 23:482–490

Kopelman NM, Mayzel J, Jakobsson M, Rosenberg NA, Mayrose I (2015) Clumpak: a program for identifying clustering modes and packaging population structure inferences across K. Mol Ecol Resour 15:1179–1191

de Lafontaine G, Ducousso A, Lefèvre S, Magnanou E, Petit RJ (2013) Stronger spatial genetic structure in recolonized areas than in refugia in the European beech. Mol Ecol 22:4397–4412

Lander TA, Oddou-Muratorio S, Prouillet-Leplat H, Klein EK (2011) Reconstruction of a beech population bottleneck using archival demographic information and Bayesian analysis of genetic data. Mol Ecol 20:5182–5196

Ledig FT (2000) Founder effects and the genetic structure of Coulter pine. J Hered 91:307–315

Lefevre F, Fady B, Ghosn D, Bariteau M (2004) Impact of founder population, drift and selection on the genetic diversity of a recently translocated tree population. Heredity 94:542–550

Lenoir J, Gégout JC, Marquet PA, De Ruffray P, Brisse H (2008) A significant upward shift in plant species optimum elevation during the 20th century. Science (80-) 320:1768–1771

Lesser MR, Parchman TL, Jackson ST (2013) Development of genetic diversity, differentiation and structure over 500 years in four ponderosa pine populations. Mol Ecol 22:2640–2652

Loiselle BA, Sork VL, Nason J, Graham C (1995) Spatial genetic structure of a tropical understory shrub, Psychotria officinalis (Rubiaceae). Am J Bot 82:1420–1425

Madon O, Médail F (1997) The ecological significance of annuals on a Mediterranean grassland (Mt Ventoux, France). Plant Ecol 129:189–199

Médail F, Diadema K (2009) Glacial refugia influence plant diversity patterns in the Mediterranean Basin. J Biogeogr 36:1333–1345

Nei M (1975) The bottleneck effect and genetic variability in populations. Evolution 29:1–10

Oddou-Muratorio S, Gauzere J, Bontemps A, Rey JF, Klein EK (2018) Tree, sex and size: ecological determinants of male vs. female fecundity in three Fagus sylvatica stands. Mol Ecol 27:3131–3145

Office National des Forêts (2001) Carte des unités d'analyse pour les forêts publiques du Mont-Ventoux (ed. Direction Territoriale Méditerranée)

Paulose J, Hallatschek O (2020) The impact of long-range dispersal on gene surfing. Proc Natl Acad Sci USA 117:7584–7593

Petit RJ, Aguinagalde I, De Beaulieu JL, Bittkau C, Brewer S, Cheddadi R et al. (2003) Glacial refugia: hotspots but not melting pots of genetic diversity. Science (80-) 300:1563–1565

Petkova D, Novembre J, Stephens M (2015) Visualizing spatial population structure with estimated effective migration surfaces. Nat Genet 48:94–100

Pluess AR (2011) Pursuing glacier retreat: genetic structure of a rapidly expanding Larix decidua population. Mol Ecol 20:473–485

Pritchard JK, Stephens M, Donnelly P (2000) Inference of population structure using multilocus genotype data. Genetics 155:945–959

Roques L, Garnier J, Hamel F, Klein EK (2012) Allee effect promotes diversity in traveling waves of colonization. Proc Natl Acad Sci USA 109:8828–8833

Rousset F (1997) Genetic differentiation and estimation of gene flow from FStatistics under isolation by distance. Genetics 145:1219–1228

Rousset F (2000) Genetic differentiation between individuals. J Evol Biol 13:58–62

Shi MM, Chen XY (2012) Leading-edge populations do not show low genetic diversity or high differentiation in a wind-pollinated tree. Popul Ecol 54:591–600

Slatkin M (1993) Isolation by distance in equilibrium and non-equilibrium populations. Evolution 47:264–279

Sluiter R, De Jong SM (2007) Spatial patterns of Mediterranean land abandonment and related land cover transitions. Landsc Ecol 22:559–576

Troupin D, Nathan R, Vendramin GG (2006) Analysis of spatial genetic structure in an expanding Pinus halepensis population reveals development of fine-scale genetic clustering over time. Mol Ecol 15:3617–3630

Vekemans X, Hardy OJ (2004) New insights from fine-scale spatial genetic structure analyses in plant populations. Mol Ecol 13:921–935

Weir BS, Cockerham CC (1984) Estimating F-statistics for the analysis of population structure. Evolution 38:1358–1370

Weir BS, Goudet J (2017) A unified characterization of population structure and relatedness. Genetics 206:2085–2103

Wright S (1942) Isolation by distance. Genetics 80:1514–1520

Zafar SD (2011) Determination of an optimal bike path based on slope & distance data. Web site 17.
Acknowledgements
Historical and ecological information on sampling plots was provided by P. Dreyfus & Fl. Jean (INRAE-URFM) and J Terracole & E Jensel (ONF). We thank N. Turion, O. Gilg, F. Rei, M. Pringarbe (INRAE-UEFM) and E. Jensel (ONF) for field work, M. Correard for assistance with GIS, and M. Lingrand for genotyping and managing the lab work. This study was funded by the French Agence Nationale pour la Recherche (ANR ColonSGS; grant ANR-07-JCJC-0117), the EC-supported Network of Excellence Evoltree (GOCE-016322) and the French programme ECOGER.
Ethics declarations
Conflict of interest
The authors declare that they have no conflict of interest.
Additional information
Publisher's note Springer Nature remains neutral with regard to jurisdictional claims in published maps and institutional affiliations.
Supplementary information
About this article
Cite this article
Lander, T.A., Klein, E.K., Roig, A. et al. Weak founder effects but significant spatial genetic imprint of recent contraction and expansion of European beech populations. Heredity (2020). https://doi.org/10.1038/s41437-020-00387-5
Received:

Revised:

Accepted:

Published: