Abstract
Purpose
In this study, we aimed to characterize the clinical phenotype of a SHANK1-related disorder and define the functional consequences of SHANK1 truncating variants.
Methods
Exome sequencing (ES) was performed for six individuals who presented with neurodevelopmental disorders. Individuals were ascertained with the use of GeneMatcher and Database of Chromosomal Imbalance and Phenotype in Humans Using Ensembl Resources (DECIPHER). We evaluated potential nonsense-mediated decay (NMD) of two variants by making knock-in cell lines of endogenous truncated SHANK1, and expressed the truncated SHANK1 complementary DNA (cDNA) in HEK293 cells and cultured hippocampal neurons to examine the proteins.
Results
ES detected de novo truncating variants in SHANK1 in six individuals. Evaluation of NMD resulted in stable transcripts, and the truncated SHANK1 completely lost binding with Homer1, a linker protein that binds to the C-terminus of SHANK1. These variants may disrupt protein–protein networks in dendritic spines. Dispersed localization of the truncated SHANK1 variants within the spine and dendritic shaft was also observed when expressed in neurons, indicating impaired synaptic localization of truncated SHANK1.
Conclusion
This report expands the clinical spectrum of individuals with truncating SHANK1 variants and describes the impact these variants may have on the pathophysiology of neurodevelopmental disorders.
Access options
Subscribe to Journal
Get full journal access for 1 year
$399.00
only $33.25 per issue
All prices are NET prices.
VAT will be added later in the checkout.
Tax calculation will be finalised during checkout.
Rent or Buy article
Get time limited or full article access on ReadCube.
from$8.99
All prices are NET prices.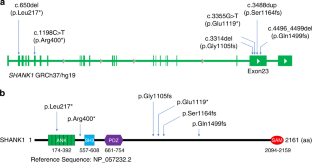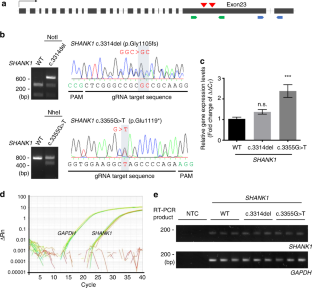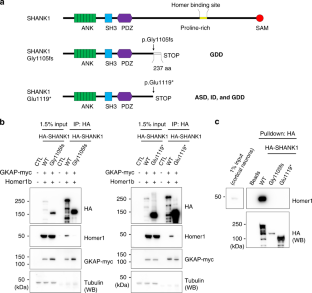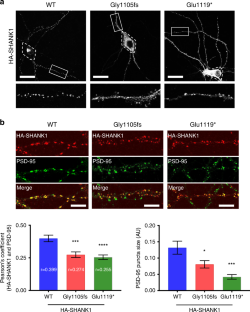 Data availability
The data sets supporting the current study have not been deposited in a public repository but are available from the corresponding author on request.
References
1.

Sheng, M. & Kim, E. The Shank family of scaffold proteins. J. Cell. Sci. 113, 1851–1856 (2000).

2.

Mao, W. et al. Shank1 regulates excitatory synaptic transmission in mouse hippocampal parvalbumin-expressing inhibitory interneurons. Eur. J. Neurosci. 41, 1025–1035 (2015).

3.

Romorini, S. et al. A functional role of postsynaptic density-95-guanylate kinase-associated protein complex in regulating Shank assembly and stability to synapses. J. Neurosci. 24, 9391–9404 (2004).

4.

Sala, C., Piech, V., Wilson, N. R., Passafaro, M., Liu, G. & Sheng, M. Regulation of dendritic spine morphology and synaptic function by Shank and Homer. Neuron. 31, 115–130 (2001).

5.

Hung, A. Y. et al. Smaller dendritic spines, weaker synaptic transmission, but enhanced spatial learning in mice lacking Shank1. J. Neurosci. 28, 1697–1708 (2008).

6.

Collins, S. M., Belagodu, A. P., Reed, S. L. & Galvez, R. SHANK1 is differentially expressed during development in CA1 hippocampal neurons and astrocytes. Dev. Neurobiol. 78, 363–373 (2018).

7.

Collins, S. M. & Galvez, R. Neocortical SHANK1 regulation of forebrain dependent associative learning. Neurobiol. Learn. Mem. 155, 173–179 (2018).

8.

Loi, E. et al. Methylation alteration of SHANK1 as a predictive, diagnostic and prognostic biomarker for chronic lymphocytic leukemia. Oncotarget. 10, 4987–5002 (2019).

9.

Fadda, A. et al. Colorectal cancer early methylation alterations affect the crosstalk between cell and surrounding environment, tracing a biomarker signature specific for this tumor. Int. J. Cancer. 143, 907–920 (2018).

10.

Wang, L., Lv, Y. & Liu, G. The roles of SHANK1 in the development of colon cancer. Cell. Biochem. Funct. 38, 669–675 (2020).

11.

Bahado-Singh, R. O. et al. Artificial intelligence analysis of newborn leucocyte epigenomic markers for the prediction of autism. Brain Res. 1724, 146457 (2019).

12.

Silverman, J. L. et al. Sociability and motor functions in Shank1 mutant mice. Brain Res. 1380, 120–137 (2011).

13.

Sungur, A. O., Vorckel, K. J., Schwarting, R. K. & Wohr, M. Repetitive behaviors in the Shank1 knockout mouse model for autism spectrum disorder: developmental aspects and effects of social context. J. Neurosci. Methods. 234, 92–100 (2014).

14.

Wohr, M. Ultrasonic vocalizations in Shank mouse models for autism spectrum disorders: detailed spectrographic analyses and developmental profiles. Neurosci. Biobehav. Rev. 43, 199–212 (2014).

15.

Sungur, A. O. et al. Aberrant cognitive phenotypes and altered hippocampal BDNF expression related to epigenetic modifications in mice lacking the post-synaptic scaffolding protein SHANK1: Implications for autism spectrum disorder. Hippocampus. 27, 906–919 (2017).

16.

Wohr, M., Roullet, F. I., Hung, A. Y., Sheng, M. & Crawley, J. N. Communication impairments in mice lacking Shank1: reduced levels of ultrasonic vocalizations and scent marking behavior. PLoS One. 6, e20631 (2011).

17.

Sato, D. et al. SHANK1 deletions in males with autism spectrum disorder. Am. J. Hum. Genet. 90, 879–887 (2012).

18.

Wang, T. et al. De novo genic mutations among a Chinese autism spectrum disorder cohort. Nat. Commun. 7, 13316 (2016).

19.

Berkel, S. et al. Mutations in the SHANK2 synaptic scaffolding gene in autism spectrum disorder and mental retardation. Nat. Genet. 42, 489–491 (2010).

20.

Pinto, D. et al. Functional impact of global rare copy number variation in autism spectrum disorders. Nature. 466, 368–372 (2010).

21.

Leblond, C. S. et al. Meta-analysis of SHANK mutations in autism spectrum disorders: a gradient of severity in cognitive impairments. PLoS Genet. 10, e1004580 (2014).

22.

Moessner, R. et al. Contribution of SHANK3 mutations to autism spectrum disorder. Am. J. Hum. Genet. 81, 1289–1297 (2007).

23.

Durand, C. M. et al. Mutations in the gene encoding the synaptic scaffolding protein SHANK3 are associated with autism spectrum disorders. Nat. Genet. 39, 25–27 (2007).

24.

Phelan, K. & McDermid, H. E. The 22q13.3 deletion syndrome (Phelan-McDermid syndrome). Mol. Syndromol. 2, 186–201 (2012).

25.

Fromer, M. et al. De novo mutations in schizophrenia implicate synaptic networks. Nature. 506, 179–184 (2014).

26.

Zhu, X. et al. Whole-exome sequencing in undiagnosed genetic diseases: interpreting 119 trios. Genet. Med. 17, 774–781 (2015).

27.

Sobreira, N., Schiettecatte, F., Valle, D. & Hamosh, A. GeneMatcher: a matching tool for connecting investigators with an interest in the same gene. Hum. Mutat. 36, 928–930 (2015).

28.

Firth, H. V. et al. DECIPHER: Database of Chromosomal Imbalance and Phenotype in Humans Using Ensembl Resources. Am. J. Hum. Genet. 84, 524–533 (2009).

29.

Holbrook, J. A., Neu-Yilik, G., Hentze, M. W. & Kulozik, A. E. Nonsense-mediated decay approaches the clinic. Nat. Genet. 36, 801–808 (2004).

30.

Linde, L. et al. Nonsense-mediated mRNA decay affects nonsense transcript levels and governs response of cystic fibrosis patients to gentamicin. J. Clin. Invest. 117, 683–692 (2007).

31.

Durand, C. M. et al. SHANK3 mutations identified in autism lead to modification of dendritic spine morphology via an actin-dependent mechanism. Mol. Psychiatry 17, 71–84 (2012).

32.

Bonaglia, M. C. et al. Molecular mechanisms generating and stabilizing terminal 22q13 deletions in 44 subjects with Phelan/McDermid syndrome. PLoS Genet. 7, e1002173 (2011).

33.

Zhou, Y. et al. Mice with Shank3 mutations associated with ASD and schizophrenia display both shared and distinct defects. Neuron. 89, 147–162 (2016).

34.

Rost, B., Yachdav, G. & Liu, J. The PredictProtein server. Nucleic Acids Res. 32, W321–326 (2004).

35.

Shiraishi-Yamaguchi, Y. & Furuichi, T. The Homer family proteins. Genome Biol. 8, 206 (2007).

36.

Wang, X. et al. Altered mGluR5-Homer scaffolds and corticostriatal connectivity in a Shank3 complete knockout model of autism. Nat. Commun. 7, 11459 (2016).

37.

Vicidomini, C. et al. Pharmacological enhancement of mGlu5 receptors rescues behavioral deficits in SHANK3 knock-out mice. Mol. Psychiatry 22, 689–702 (2017).

38.

Sarasua, S. M. et al. Association between deletion size and important phenotypes expands the genomic region of interest in Phelan-McDermid syndrome (22q13 deletion syndrome). J. Med. Genet. 48, 761–766 (2011).

39.

Boccuto, L. et al. Prevalence of SHANK3 variants in patients with different subtypes of autism spectrum disorders. Eur. J. Hum. Genet. 21, 310–316 (2013).

40.

Gauthier, J. et al. Novel de novo SHANK3 mutation in autistic patients. Am J. Med. Genet. B Neuropsychiatr. Genet. 150B, 421–424 (2009).

41.

Waga, C. et al. Novel variants of the SHANK3 gene in Japanese autistic patients with severe delayed speech development. Psychiatr. Genet. 21, 208–211 (2011).

42.

Inoue, K. et al. Molecular mechanism for distinct neurological phenotypes conveyed by allelic truncating mutations. Nat. Genet. 36, 361–369 (2004).

43.

Richards, S. et al. Standards and guidelines for the interpretation of sequence variants: a joint consensus recommendation of the American College of Medical Genetics and Genomics and the Association for Molecular Pathology. Genet. Med. 17, 405–424 (2015).
Acknowledgements
We thank all affected individuals and family members for their participation in this work. The DDD study presents independent research commissioned by the Health Innovation Challenge Fund (grant number HICF-1009-003), a parallel funding partnership between Wellcome and the Department of Health, and the Wellcome Sanger Institute (grant number WT098051). The views expressed in this publication are those of the author(s) and not necessarily those of Wellcome or the Department of Health. This study makes use of data generated by the DECIPHER community. A full list of centres who contributed to the generation of the data is available from https://deciphergenomics.org/about/stats and via email from contact@deciphergenomics.org. Funding for the DECIPHER project was provided by Wellcome. Those who carried out the original analysis and collection of the Data bear no responsibility for the further analysis or interpretation of the data. The study has UK Research Ethics Committee approval (10/H0305/83, granted by the Cambridge South REC, and GEN/284/12 granted by the Republic of Ireland REC). The research team acknowledges the support of the National Institute for Health Research, through the Comprehensive Clinical Research Network. This publication was supported by the National Center for Advancing Translational Sciences, National Institutes of Health, through grant number UL1TR001873; the Japan Agency for Medical Research and Development (AMED) under grant numbers JP20ek0109486, JP20dm0107090, JP20ek0109301, JP20ek0109348, and JP20kk0205012 (to N.M.); and by JSPS KAKENHI grant numbers JP17H01539 (to N.M.) and JP19K17865 (to Y.U.); the NINDS Intramural Research Program. The content is solely the responsibility of the authors and does not necessarily represent the official views of the NIH.
Ethics declarations
Ethics declaration
This study has approval through institutional review board–approved research studies at the Institute for Genomic Medicine at Columbia University (protocol AAAO8410) and UK Research Ethics Committee (10/H0305/83, granted by the Cambridge South REC, and GEN/284/12 granted by the Republic of Ireland REC). Written informed consent was obtained for patients 1 and 5 as required by the IRB and REC, and data was de-identified. Written informed consent was obtained for patients 2, 3, 4, and 6 as required by their respective healthcare institutions as well as by the labs that performed their clinical testing. Data were de-identified before being used for the purposes of this study.
Competing interests
A.T. and R.P. are employees of GeneDx, Inc. D.B.G. is a founder of and holds equity in Q State Biosciences and Praxis Therapeutics; holds equity in Apostle Inc.; and serves as a consultant to AstraZeneca, Gilead Sciences, GoldFinch Bio, and Gossamer Bio. The other authors declare no competing interests. Web resources ClinVar browser: http://www.ncbi.nlm.nih.gov/clinvar/. Consensus Coding Sequence (CCDS): https://www.ncbi.nlm.nih.gov/CCDS/. Ensembl genome assembly GRCh37: http://grch37.ensembl.org/Homo_sapiens/Info/Index. Ensembl Variant Effect Predictor (VEP): http://grch37.ensembl.org/Homo_sapiens/Tools/VEP. GenBank: https://www.ncbi.nlm.nih.gov/genbank/. gnomAD: https://gnomad.broadinstitute.org/. OMIM: http://www.omim.org/. PubMed: https://www.ncbi.nlm.nih.gov/pubmed. The Human Gene Mutation Database (HGMD): http://www.hgmd.cf.ac.uk/ac/index.php.
Additional information
Publisher's note Springer Nature remains neutral with regard to jurisdictional claims in published maps and institutional affiliations.
Supplementary information
About this article
Cite this article
May, H.J., Jeong, J., Revah-Politi, A. et al. Truncating variants in the SHANK1 gene are associated with a spectrum of neurodevelopmental disorders. Genet Med (2021). https://doi.org/10.1038/s41436-021-01222-w
Received:

Revised:

Accepted:

Published: