Abstract
Purpose
Copy-number variant (CNV) assessment is recommended for patients undergoing prenatal diagnostic testing. Noninvasive screening tests have not been extensively validated for CNV detection. The objective of this study was to compare the ability of genome-wide noninvasive prenatal screening (NIPS) to chromosomal microarray to detect clinically significant findings.
Methods
We prospectively enrolled 198 subjects at the time of consent for diagnostic prenatal testing. Genome-wide NIPS results were compared with diagnostic testing results to assess NIPS test performance (n = 160, 38 subjects without microarray results excluded). Cohen's kappa statistic was used to assess test agreement.
Results
Genome-wide NIPS did not detect clinically significant chromosomal abnormalities at the same rate as diagnostic testing, κ = 0.75 (95% confidence interval [CI], 0.62–0.87). When excluding CNVs <7 Mb and findings outside the limits of genome-wide NIPS, test agreement improved, κ = 0.88 (0.79–0.97) driven by agreement for common aneuploidies (κ = 1.0). However, among patients with an abnormal fetal survey, agreement was only fair, κ = 0.38 (0.08–0.67).
Conclusion
While NIPS is an excellent screening test for common aneuploidies, genome-wide NIPS misses clinically significant findings detected on routine diagnostic testing. False positive and false negative cases highlight the importance of pretest counseling regarding NIPS limitations, especially in the setting of fetal anomalies.
Access options
Subscribe to Journal
Get full journal access for 1 year
$399.00
only $33.25 per issue
All prices are NET prices.
VAT will be added later in the checkout.
Tax calculation will be finalised during checkout.
Rent or Buy article
Get time limited or full article access on ReadCube.
from$8.99
All prices are NET prices.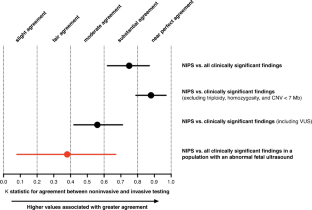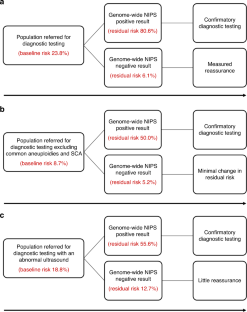 Data availability
Study data are available from the corresponding author on request.
Acknowledgements
We acknowledge our collaborators at Sequenom who ran MaterniT Genome® tests for this study at no cost on a research basis. Sequenom collaborators had the right to review the manuscript prior to publication; however, the authors retained the right to final manuscript preparation and submission. This study was funded by an Expanding the Boundaries grant from the Department of Obstetrics & Gynecology, Brigham and Women's Hospital.
Ethics declarations
Ethics declaration
The Mass General Brigham Human Research Committee approved this study. Informed consent was obtained from all participants as required by the IRB.
Competing interests
L.W.-H. is an editor for the Prenatal Genetics section of UpToDate. S.A. received funding from BillionToOne outside the scope of the submitted work. K.G. receives funding from the NIH and has consulted for Aetion, Illumina, and BillionToOne outside the scope of the submitted work. The other authors declare no competing interests.
Additional information
Publisher's note Springer Nature remains neutral with regard to jurisdictional claims in published maps and institutional affiliations.
Supplementary information
About this article
Cite this article
Guseh, S., Wilkins-Haug, L., Kaimal, A. et al. Utility of noninvasive genome-wide screening: a prospective cohort of obstetric patients undergoing diagnostic testing. Genet Med (2021). https://doi.org/10.1038/s41436-021-01147-4
Received:

Revised:

Accepted:

Published: