Abstract
Mosaicism denotes an individual who has at least two populations of cells with distinct genotypes that are derived from a single fertilized egg. Genetic variation among the cell lines can involve whole chromosomes, structural or copy-number variants, small or single-nucleotide variants, or epigenetic variants. The mutational events that underlie mosaic variants occur during mitotic cell divisions after fertilization and zygote formation. The initiating mutational event can occur in any types of cell at any time in development, leading to enormous variation in the distribution and phenotypic effect of mosaicism. A number of classification proposals have been put forward to classify genetic mosaicism into categories based on the location, pattern, and mechanisms of the disease. We here propose a new classification of genetic mosaicism that considers the affected tissue, the pattern and distribution of the mosaicism, the pathogenicity of the variant, the direction of the change (benign to pathogenic vs. pathogenic to benign), and the postzygotic mutational mechanism. The accurate and comprehensive categorization and subtyping of mosaicisms is important and has potential clinical utility to define the natural history of these disorders, tailor follow-up frequency and interventions, estimate recurrence risks, and guide therapeutic decisions.
Access options
Subscribe to Journal
Get full journal access for 1 year
We are sorry, but there is no personal subscription option available for your country.
Rent or Buy article
Get time limited or full article access on ReadCube.
from$8.99
All prices are NET prices.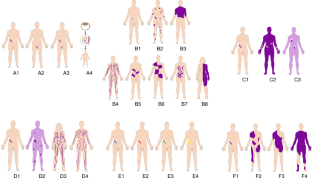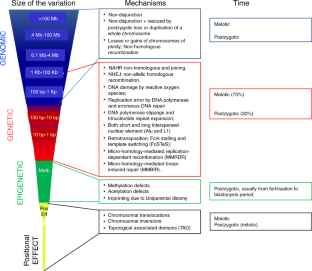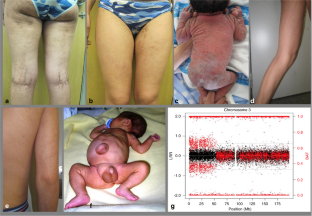 References
1.

De S. Somatic mosaicism in healthy human tissues. Trends Genet. 2011;27:217–223.

2.

Vera-Rodriguez M, Rubio C. Assessing the true incidence of mosaicism in preimplantation embryos. Fertil Steril. 2017;107:1107–1112.

3.

Happle R. Mosaicism in human skin. 1st ed. Berlin: Springer; 2014.

4.

Bamford S, Dawson E, Forbes S, et al. The Cosmic (Catalogue of Somatic Mutations in Cancer) database and website. Br J Cancer. 2004;91:355–358.

5.

Leija-Salazar M, Piette C, Proukakis C. Review: somatic mutations in neurodegeneration. Neuropathol Appl Neurobiol. 2018;44:267–285.

6.

Biesecker LG, Sapp JC. Proteus syndrome. In: Adam MP, Ardinger HH, Pagon RA, et al., editors. GeneReviews. Seattle: University of Washington; 1993.

7.

Gordo G, Tenorio J, Arias P, et al. Mtor mutations in Smith–Kingsmore syndrome: four additional patients and a review. Clin Genet. 2018;93:762–775.

8.

Lapunzina P. Risk of tumorigenesis in overgrowth syndromes: a comprehensive review. Am J Med Genet C Semin Med Genet. 2005;137C:53–71.

9.

Frank SA. Somatic mosaicism and disease. Curr Biol. 2014;24:R577–R581.

10.

Hall JG. Review and hypotheses: somatic mosaicism: observations related to clinical genetics. Am J Hum Genet. 1988;43:355–363.

11.

Marin D, Scott RT Jr, Treff NR. Preimplantation embryonic mosaicism: origin, consequences and the reliability of comprehensive chromosome screening. Curr Opin Obstet Gynecol. 2017;29:168–174.

12.

Forsberg LA, Rasi C, Razzaghian HR, et al. Age-related somatic structural changes in the nuclear genome of human blood cells. Am J Hum Genet. 2012;90:217–228.

13.

Jacobs KB, Yeager M, Zhou W, et al. Detectable clonal mosaicism and its relationship to aging and cancer. Nat Genet. 2012;44:651–658.

14.

Rodriguez-Santiago B, Malats N, Rothman N, et al. Mosaic uniparental disomies and aneuploidies as large structural variants of the human genome. Am J Hum Genet. 2010;87:129–138.

15.

Caceres A, Jene A, Esko T, Perez-Jurado LA, Gonzalez JR Extreme down-regulation of chromosome Y and cancer risk in men. J Natl Cancer Inst. 2020 Jan 7; https://doi.org/10.1093/jnci/djz232 [Epub ahead of print].

16.

Zhou W, Machiela MJ, Freedman ND, et al. Mosaic loss of chromosome Y is associated with common variation near Tcl1a. Nat Genet. 2016;48:563–568.

17.

Forsberg LA, Rasi C, Malmqvist N, et al. Mosaic loss of chromosome Y in peripheral blood is associated with shorter survival and higher risk of cancer. Nat Genet. 2014;46:624–628.

18.

Biesecker LG, Spinner NB. A genomic view of mosaicism and human disease. Nat Rev Genet. 2013;14:307–320.

19.

Ford CE. Human cytogenetics: its present place and future possibilities. Am J Hum Genet. 1960;12:104–117.

20.

Ford CE, Polani PE, Briggs JH, Bishop PM. A presumptive human Xxy/Xx mosaic. Nature. 1959;183:1030–1032.

21.

Fraccaro M, Gemzell CA, Lindsten J. Plasma level of growth hormone and chromosome complement in four patients with gonadal dysgenesis (Turner's syndrome). Acta Endocrinol (Copenh). 1960;34:496–507.

22.

Hirschhorn K, Decker WH, Cooper HL. Human intersex with chromosome mosaicism of type Xy/Xo. Report of a case. N Engl J Med. 1960;263:1044–1048.

23.

Erickson RP. Recent advances in the study of somatic mosaicism and diseases other than cancer. Curr Opin Genet Dev. 2014;26:73–78.

24.

Forsberg LA, Gisselsson D, Dumanski JP. Mosaicism in health and disease—clones picking up speed. Nat Rev Genet. 2017;18:128–142.

25.

Happle R. The categories of cutaneous mosaicism: a proposed classification. Am J Med Genet A. 2016;170A:452–459.

26.

Kromann AB, Ousager LB, Ali IKM, Aydemir N, Bygum A. Pigmentary mosaicism: a review of original literature and recommendations for future handling. Orphanet J Rare Dis. 2018;13:39.

27.

Kouzak SS, Mendes MS, Costa IM. Cutaneous mosaicisms: concepts, patterns and classifications. An Bras Dermatol. 2013;88:507–517.

28.

Happle R, Franco-Guio MF, Santacoloma-Osorio G. Phylloid hypermelanosis: a cutaneous marker of several different disorders? Pediatr Dermatol. 2014;31:504–506.

29.

Spinner NB, Conlin LK. Mosaicism and clinical genetics. Am J Med Genet C Semin Med Genet. 2014;166C:397–405.

30.

Gajecka M. Unrevealed mosaicism in the next-generation sequencing era. Mol Genet Genomics. 2016;291:513–530.

31.

Happle R. Gonosomal versus somatogonadal mosaicism: what is in a name? Am J Med Genet A. 2019;179:1678.

32.

Toutain J, Goutte-Gattat D, Horovitz J, Saura R. Confined placental mosaicism revisited: impact on pregnancy characteristics and outcome. PLoS ONE. 2018;13:e0195905.

33.

Foulkes WD, Real FX. Many mosaic mutations. Curr Oncol. 2013;20:85–87.

34.

Hopp K, Cornec-Le Gall E, Senum SR, et al. Detection and characterization of mosaicism in autosomal dominant polycystic kidney disease. Kidney Int. 2020;97:370–382.

35.

Ohuchi H, Sato K, Habuta M, Fujita H, Bando T. Congenital eye anomalies: more mosaic than thought? Congenit Anom (Kyoto). 2019;59:56–73.

36.

Stosser MB, Lindy AS, Butler E, et al. High frequency of mosaic pathogenic variants in genes causing epilepsy-related neurodevelopmental disorders. Genet Med. 2018;20:403–410.

37.

Ivashko-Pachima Y, Hadar A, Grigg I, et al. Discovery of autism/intellectual disability somatic mutations in Alzheimer's brains: mutated Adnp cytoskeletal impairments and repair as a case study. Mol Psychiatry. 2019 Oct 30; https://doi.org/10.1038/s41380-019-0563-5 [Epub ahead of print].

38.

Lazaro C, Ravella A, Gaona A, Volpini V, Estivill X. Neurofibromatosis type 1 due to germ-line mosaicism in a clinically normal father. N Engl J Med. 1994;331:1403–1407.

39.

Breuss MW, Antaki D, George RD, et al. Autism risk in offspring can be assessed through quantification of male sperm mosaicism. Nat Med. 2020;26:143–150.

40.

Twigg SRF, Hufnagel RB, Miller KA, et al. A recurrent mosaic mutation in Smo, encoding the hedgehog signal transducer smoothened, is the major cause of Curry-Jones syndrome. Am J Hum Genet. 2016;98:1256–1265.

41.

Maher GJ, Ralph HK, Ding Z, et al. Selfish mutations dysregulating Ras-Mapk signaling are pervasive in aged human testes. Genome Res. 2018;28:1779–1790.

42.

Lim J, Maher GJ, Turner GD, et al. Selfish spermatogonial selection: evidence from an immunohistochemical screen in testes of elderly men. PLoS ONE. 2012;7:e42382.

43.

Lund AM, Schwartz M, Raghunath M, Steinmann B, Skovby F. Gly802asp substitution in the pro alpha 2(I) collagen chain in a family with recurrent osteogenesis imperfecta due to paternal mosaicism. Eur J Hum Genet. 1996;4:39–45.

44.

Pyott SM, Pepin MG, Schwarze U, Yang K, Smith G, Byers PH. Recurrence of perinatal lethal osteogenesis imperfecta in sibships: parsing the risk between parental mosaicism for dominant mutations and autosomal recessive inheritance. Genet Med. 2011;13:125–130.

45.

Romanelli V, Arroyo I, Rodriguez JI, et al. Germinal mosaicism in Simpson–Golabi–Behmel syndrome. Clin Genet. 2007;72:384–386.

46.

Callum P, Messiaen LM, Bower PV, et al. Gonosomal mosaicism for an Nf1 deletion in a sperm donor: evidence of the need for coordinated, long-term communication of health information among relevant parties. Hum Reprod. 2012;27:1223–1226.

47.

Liu W, Wong JK, He Q, et al. Chinese family with diffuse oesophageal leiomyomatosis: a new Col4a5/Col4a6 deletion and a case of gonosomal mosaicism. BMC Med Genet. 2015;16:49.

48.

Mensa-Vilaro A, Cham WT, Tang SP, et al. Brief report: first identification of intrafamilial recurrence of Blau syndrome due to gonosomal Nod2 mosaicism. Arthritis Rheumatol. 2016;68:1039–1044.

49.

Halvorsen M, Petrovski S, Shellhaas R, et al. Mosaic mutations in early-onset genetic diseases. Genet Med. 2016;18:746–749.

50.

Zillhardt JL, Poirier K, Broix L, et al. Mosaic parental germline mutations causing recurrent forms of malformations of cortical development. Eur J Hum Genet. 2016;24:611–614.

51.

Moller RS, Liebmann N, Larsen LHG, et al. Parental mosaicism in epilepsies due to alleged de novo variants. Epilepsia. 2019;60:e63–e66.

52.

Myers JN Jr., Davis L, Sheehan D, Kulharya AS. Mosaic tetrasomy 13q and phylloid hypomelanosis: a case report and review of the literature. Pediatr Dermatol. 2015;32:263–266.

53.

Rahbari R, Wuster A, Lindsay SJ, et al. Timing, rates and spectra of human germline mutation. Nat Genet. 2016;48:126–133.

54.

Jonsson H, Sulem P, Arnadottir GA, et al. Multiple transmissions of de novo mutations in families. Nat Genet. 2018;50:1674–1680.

55.

Kalousek DK, Dill FJ. Chromosomal mosaicism confined to the placenta in human conceptions. Science. 1983;221:665–667.

56.

Campbell IM, Shaw CA, Stankiewicz P, Lupski JR. Somatic mosaicism: implications for disease and transmission genetics. Trends Genet. 2015;31:382–392.

57.

Chmara M, Wernstedt A, Wasag B, et al. Multiple pilomatricomas with somatic Ctnnb1 mutations in children with constitutive mismatch repair deficiency. Genes Chromosomes Cancer. 2013;52:656–664.

58.

Hafner C, Toll A, Fernandez-Casado A, et al. Multiple oncogenic mutations and clonal relationship in spatially distinct benign human epidermal tumors. Proc Natl Acad Sci USA. 2010;107:20780–20785.

59.

Happle R. Loss of heterozygosity in human skin. J Am Acad Dermatol. 1999;41:143–164.

60.

Leonard N, Chaggar R, Jones C, Takahashi M, Nikitopoulou A, Lakhani SR. Loss of heterozygosity at cylindromatosis gene locus, Cyld, in sporadic skin adnexal tumours. J Clin Pathol. 2001;54:689–692.

61.

Matt D, Xin H, Vortmeyer AO, Zhuang Z, Burg G, Boni R. Sporadic trichoepithelioma demonstrates deletions at 9q22.3. Arch Dermatol. 2000;136:657–660.

62.

Roh MR, Eliades P, Gupta S, Tsao H. Genetics of melanocytic nevi. Pigment Cell Melanoma Res. 2015;28:661–672.

63.

Ross AL, Sanchez MI, Grichnik JM. Molecular nevogenesis. Dermatol Res Pract. 2011;2011:463184.

64.

Au KS, Hebert AA, Roach ES, Northrup H. Complete inactivation of the Tsc2 gene leads to formation of hamartomas. Am J Hum Genet. 1999;65:1790–1795.

65.

Bignell GR, Warren W, Seal S, et al. Identification of the familial cylindromatosis tumour-suppressor gene. Nat Genet. 2000;25:160–165.

66.

Brems H, Chmara M, Sahbatou M, et al. Germline loss-of-function mutations in Spred1 cause a neurofibromatosis 1-like phenotype. Nat Genet. 2007;39:1120–1126.

67.

Colman SD, Williams CA, Wallace MR. Benign neurofibromas in type 1 neurofibromatosis (Nf1) show somatic deletions of the Nf1 gene. Nat Genet. 1995;11:90–92.

68.

De Schepper S, Maertens O, Callens T, Naeyaert JM, Lambert J, Messiaen L. Somatic mutation analysis in Nf1 cafe au lait spots reveals two Nf1 hits in the melanocytes. J Invest Dermatol. 2008;128:1050–1053.

69.

Kiuru M, Launonen V, Hietala M, et al. Familial cutaneous leiomyomatosis is a two-hit condition associated with renal cell cancer of characteristic histopathology. Am J Pathol. 2001;159:825–829.

70.

Sepp T, Yates JR, Green AJ. Loss of heterozygosity in tuberous sclerosis hamartomas. J Med Genet. 1996;33:962–964.

71.

D'Gama AM, Walsh CA. Somatic mosaicism and neurodevelopmental disease. Nat Neurosci. 2018;21:1504–1514.

72.

Ye Z, McQuillan L, Poduri A, et al. Somatic mutation: the hidden genetics of brain malformations and focal epilepsies. Epilepsy Res. 2019;155:106161.

73.

Kinsler VA, Thomas AC, Ishida M, et al. Multiple congenital melanocytic nevi and neurocutaneous melanosis are caused by postzygotic mutations in codon 61 of Nras. J Invest Dermatol. 2013;133:2229–2236.

74.

Price HN. Congenital melanocytic nevi: update in genetics and management. Curr Opin Pediatr. 2016;28:476–482.

75.

Paller AS, Syder AJ, Chan YM, et al. Genetic and clinical mosaicism in a type of epidermal nevus. N Engl J Med. 1994;331:1408–1415.

76.

Sakuntabhai A, Dhitavat J, Burge S, Hovnanian A. Mosaicism for Atp2a2 mutations causes segmental Darier's disease. J Invest Dermatol. 2000;115:1144–1147.

77.

Albright F, Butler AM, Hampton AO, Smith P. Syndrome characterized by osteitis fibrosa disseminata, areas of pigmentation and endocrine dysfunction, with precocious puberty in females. N Engl J Med. 1937;216:727–746.

78.

Torchia D, Happle R. Segmental hypomelanosis and hypermelanosis arranged in a checkerboard pattern are distinct naevi: flag-like hypomelanotic naevus and flag-like hypermelanotic naevus. J Eur Acad Dermatol Venereol. 2015;29:2088–2099.

79.

Gonzalez-Ensenat MA, Vicente A, Poo P, et al. Phylloid hypomelanosis and mosaic partial trisomy 13: two cases that provide further evidence of a distinct clinicogenetic entity. Arch Dermatol. 2009;145:576–578.

80.

Happle R. Phylloid hypomelanosis is closely related to mosaic trisomy 13. Eur J Dermatol. 2000;10:511–512.

81.

Oiso N, Sakai K, Nishio K, Kawada A. Phylloid hypomelanosis associated with a mosaic trisomy 13 in the 13q31.3-Qter region: atypical phylloid distribution and typical hypomelanosis. Pigment Cell Melanoma Res. 2017;30:269–272.

82.

Happle R. Mosaicism in human skin. Understanding the patterns and mechanisms. Arch Dermatol. 1993;129:1460–1470.

83.

Romanelli V, Nevado J, Fraga M, et al. Constitutional mosaic genome-wide uniparental disomy due to diploidisation: an unusual cancer-predisposing mechanism. J Med Genet. 2011;48:212–216.

84.

Pasmooij AM, Pas HH, Bolling MC, Jonkman MF. Revertant mosaicism in junctional epidermolysis bullosa due to multiple correcting second-site mutations in Lamb3. J Clin Invest. 2007;117:1240–1248.

85.

Kiritsi D, Nanda A, Kohlhase J, et al. Extensive postzygotic mosaicism for a novel keratin 10 mutation in epidermolytic ichthyosis. Acta Derm Venereol. 2014;94:346–348.

86.

Jonkman MF, Scheffer H, Stulp R, et al. Revertant mosaicism in epidermolysis bullosa caused by mitotic gene conversion. Cell. 1997;88:543–551.

87.

Bliksrud YT, Brodtkorb E, Andresen PA, van den Berg IE, Kvittingen EA. Tyrosinaemia type I-de novo mutation in liver tissue suppressing an inborn splicing defect. J Mol Med. 2005;83:406–410.

88.

Hamanoue S, Yagasaki H, Tsuruta T, et al. Myeloid lineage-selective growth of revertant cells in Fanconi anaemia. Br J Haematol. 2006;132:630–635.

89.

Waisfisz Q, Morgan NV, Savino M, et al. Spontaneous functional correction of homozygous Fanconi anaemia alleles reveals novel mechanistic basis for reverse mosaicism. Nat Genet. 1999;22:379–383.

90.

Choate KA, Lu Y, Zhou J, et al. Frequent somatic reversion of Krt1 mutations in ichthyosis with confetti. J Clin Invest. 2015;125:1703–1707.

91.

Jonkman MF, Rulo HF, Duipmans JC. [From gene to disease; epidermolysis bullosa due to mutations in proteins in or around the hemidesmosome]. Ned Tijdschr Geneeskd. 2003;147:1108–1113.

92.

Kiritsi D, He Y, Pasmooij AM, et al. Revertant mosaicism in a human skin fragility disorder results from slipped mispairing and mitotic recombination. J Clin Invest. 2012;122:1742–1746.

93.

Pasmooij AM, Jonkman MF, Uitto J. Revertant mosaicism in heritable skin diseases: mechanisms of natural gene therapy. Discov Med. 2012;14:167–179.

94.

Smith FJ, Morley SM, McLean WH. Novel mechanism of revertant mosaicism in Dowling-Meara epidermolysis bullosa simplex. J Invest Dermatol. 2004;122:73–77.

95.

Almaani N, Nagy N, Liu L, et al. Revertant mosaicism in recessive dystrophic epidermolysis bullosa. J Invest Dermatol. 2010;130:1937–1940.

96.

Gudmundsson S, Wilbe M, Ekvall S, et al. Revertant mosaicism repairs skin lesions in a patient with keratitis-ichthyosis-deafness syndrome by second-site mutations in Connexin 26. Hum Mol Genet. 2017;26:1070–1077.

97.

Jongmans MC, Verwiel ET, Heijdra Y, et al. Revertant somatic mosaicism by mitotic recombination in dyskeratosis congenita. Am J Hum Genet. 2012;90:426–433.

98.

Lai-Cheong JE, Moss C, Parsons M, Almaani N, McGrath JA. Revertant mosaicism in Kindler syndrome. J Invest Dermatol. 2012;132 (3 Pt 1):730–732.

99.

Suzuki S, Nomura T, Miyauchi T, et al. Revertant mosaicism in ichthyosis with confetti caused by a frameshift mutation in Krt1. J Invest Dermatol. 2016;136:2093–2095.

100.

Twaroski K, Eide C, Riddle MJ, et al. Revertant mosaic fibroblasts in recessive dystrophic epidermolysis bullosa. Br J Dermatol. 2019;181:1247–1253.

101.

van den Akker PC, Pasmooij AMG, Joenje H, Hofstra RMW, Te Meerman GJ, Jonkman MFA. "Late-but-fitter revertant cell" explains the high frequency of revertant mosaicism in epidermolysis bullosa. PLoS ONE. 2018;13:e0192994.

102.

Choate KA, Lu Y, Zhou J, et al. Mitotic recombination in patients with ichthyosis causes reversion of dominant mutations in Krt10. Science. 2010;330:94–97.

103.

Wada T, Schurman SH, Jagadeesh GJ, Garabedian EK, Nelson DL, Candotti F. Multiple patients with revertant mosaicism in a single Wiskott–Aldrich syndrome family. Blood. 2004;104:1270–1272.

104.

Niessen RC, Jonkman MF, Muis N, Hordijk R, van Essen AJ. Pigmentary mosaicism following the lines of Blaschko in a girl with a double aneuploidy mosaicism: (47,Xx,+7/45,X). Am J Med Genet A. 2005;137A:313–322.

105.

Happle R, Konig A. Dominant traits may give rise to paired patches of either excessive or absent involvement. Am J Med Genet. 1999;84:176–177.

106.

Ruggieri M, Milone P, Pavone P, et al. Nevus vascularis mixtus (cutaneous vascular twin nevi) associated with intracranial vascular malformation of the Dyke-Davidoff-Masson type in two patients. Am J Med Genet A. 2012;158A:2870–2880.

107.

Tinschert S, Naumann I, Stegmann E, et al. Segmental neurofibromatosis is caused by somatic mutation of the neurofibromatosis type 1 (Nf1) gene. Eur J Hum Genet. 2000;8:455–459.

108.

Verhoef S, Vrtel R, van Essen T, et al. Somatic mosaicism and clinical variation in tuberous sclerosis complex. Lancet. 1995;345:202.

109.

Easton JA, Donnelly S, Kamps MA, et al. Porokeratotic eccrine nevus may be caused by somatic Connexin26 mutations. J Invest Dermatol. 2012;132:2184–2191.

110.

Jamora MJ, Celis MA. Generalized porokeratotic eccrine ostial and dermal duct nevus associated with deafness. J Am Acad Dermatol. 2008;59 2 Suppl 1:S43–45.

111.

Happle R. Superimposed segmental manifestation of polygenic skin disorders. J Am Acad Dermatol. 2007;57:690–699.

112.

Vazquez-Osorio I, Chmel N, Rodriguez-Diaz E, et al. A case of mosaicism in ectodermal dysplasia-skin fragility syndrome. Br J Dermatol. 2017;177:e101–e102.

113.

van Leersum FS, Seyger MMB, Theunissen TEJ, Bongers E, Steijlen PM, van Geel M. Recessive mosaicism in Abca12 causes Blaschkoid congenital ichthyosiform erythroderma. Br J Dermatol. 2020;182:208–211.

114.

Folster-Holst R, Nellen RG, Jensen JM, et al. Molecular genetic support for the rule of dichotomy in type 2 segmental Darier disease. Br J Dermatol. 2012;166:464–466.

115.

Poblete-Gutierrez P, Wiederholt T, Konig A, et al. Allelic loss underlies type 2 segmental Hailey–Hailey disease, providing molecular confirmation of a novel genetic concept. J Clin Invest. 2004;114:1467–1474.

116.

Caux F, Plauchu H, Chibon F, et al. Segmental overgrowth, lipomatosis, arteriovenous malformation and epidermal nevus (Solamen) syndrome is related to mosaic Pten nullizygosity. Eur J Hum Genet. 2007;15:767–773.

117.

Happle R. Type 2 segmental Cowden disease vs. Proteus syndrome. Br J Dermatol. 2007;156:1089–1090.

118.

Steinmann K, Kluwe L, Friedrich RE, Mautner VF, Cooper DN, Kehrer-Sawatzki H. Mechanisms of loss of heterozygosity in neurofibromatosis type 1-associated plexiform neurofibromas. J Invest Dermatol. 2009;129:615–621.

119.

Torrelo A, Hernandez-Martin A, Bueno E, et al. Molecular evidence of type 2 mosaicism in Gorlin syndrome. Br J Dermatol. 2013;169:1342–1345.

120.

Sado T, Brockdorff N. Advances in understanding chromosome silencing by the long non-coding RNA Xist. Philos Trans R Soc Lond B Biol Sci. 2013;368:20110325.

121.

Poduri A, Evrony GD, Cai X, Walsh CA. Somatic mutation, genomic variation, and neurological disease. Science. 2013;341:1237758.

122.

Happle R. Lethal genes surviving by mosaicism: a possible explanation for sporadic birth defects involving the skin. J Am Acad Dermatol. 1987;16:899–906.

123.

McCune DBH. Progress in pediatrics: osteodystrophia fibrosa. Am J Dis Child. 1937;54:806–848.

124.

Keppler-Noreuil KM, Rios JJ, Parker VE, et al. Pik3ca-related overgrowth spectrum (PROS): diagnostic and testing eligibility criteria, differential diagnosis, and evaluation. Am J Med Genet A. 2015;167A:287–295.

125.

Artomov M, Rivas MA, Genovese G, Daly MJ. Mosaic mutations in blood DNA sequence are associated with solid tumor cancers. NPJ Genom Med. 2017;2:22.

126.

Ruark E, Snape K, Humburg P, et al. Mosaic Ppm1d mutations are associated with predisposition to breast and ovarian cancer. Nature. 2013;493:406–410.

127.

Jaiswal S, Fontanillas P, Flannick J, et al. Age-related clonal hematopoiesis associated with adverse outcomes. N Engl J Med. 2014;371:2488–2498.

128.

Genovese G, Kahler AK, Handsaker RE, et al. Clonal hematopoiesis and blood-cancer risk inferred from blood DNA sequence. N Engl J Med. 2014;371:2477–2487.

129.

Dibbens LM, Tarpey PS, Hynes K, et al. X-Linked protocadherin 19 mutations cause female-limited epilepsy and cognitive impairment. Nat Genet. 2008;40:776–781.

130.

Liu A, Yang X, Yang X, et al. Mosaicism and incomplete penetrance of Pcdh19 mutations. J Med Genet. 2019;56:81–88.

131.

Miller DT, Adam MP, Aradhya S, et al. Consensus statement: chromosomal microarray is a first-tier clinical diagnostic test for individuals with developmental disabilities or congenital anomalies. Am J Hum Genet. 2010;86:749–764.

132.

Machiela MJ, Zhou W, Sampson JN, et al. Characterization of large structural genetic mosaicism in human autosomes. Am J Hum Genet. 2015;96:487–497.

133.

Nevado J, Mergener R, Palomares-Bralo M, et al. New microdeletion and microduplication syndromes: a comprehensive review. Genet Mol Biol. 2014;37 (1 Suppl):210–219.

134.

Markello TC, Carlson-Donohoe H, Sincan M, et al. Sensitive quantification of mosaicism using high density SNP arrays and the cumulative distribution function. Mol Genet Metab. 2012;105:665–671.

135.

Valli R, Marletta C, Pressato B, et al. Comparative genomic hybridization on microarray (a-Cgh) in constitutional and acquired mosaicism may detect as low as 8% abnormal cells. Mol Cytogenet. 2011;4:13.

136.

Conlin LK, Thiel BD, Bonnemann CG, et al. Mechanisms of mosaicism, chimerism and uniparental disomy identified by single nucleotide polymorphism array analysis. Hum Mol Genet. 2010;19:1263–1275.

137.

Bruno DL, White SM, Ganesamoorthy D, et al. Pathogenic aberrations revealed exclusively by single nucleotide polymorphism (SNP) genotyping data in 5000 samples tested by molecular karyotyping. J Med Genet. 2011;48:831–839.

138.

Epi KC. De novo mutations in Slc1a2 and Cacna1a are important causes of epileptic encephalopathies. Am J Hum Genet. 2016;99:287–298.

139.

Chess A. Mechanisms and consequences of widespread random monoallelic expression. Nat Rev Genet. 2012;13:421–428.

140.

Brioude F, Kalish JM, Mussa A, et al. Expert consensus document: clinical and molecular diagnosis, screening and management of Beckwith–Wiedemann syndrome: an international consensus statement. Nat Rev Endocrinol. 2018;14:229–249.

141.

Brunning RD. Philadelphia chromosome positive leukemia. Hum Pathol. 1980;11:307–309.

142.

Stoll C, Alembik Y, Grosshans E, de Saint Martin A. An unusual human mosaic for skin pigmentation. Genet Couns. 2002;13:281–287.

143.

Dereser-Dennl M, Brude E, Konig R. [Hypomelanosis Ito in translocation trisomy 9/mosaicism (46,Xx/46,Xx,T(9;9)(P24;P24)). Spontaneous remission in childhood]. Hautarzt. 2000;51:688–692.

144.

Sybert VP, Pagon RA, Donlan M, Bradley CM. Pigmentary abnormalities and mosaicism for chromosomal aberration: association with clinical features similar to hypomelanosis of Ito. J Pediatr. 1990;116:581–586.

145.

Denoix P Nomenclature des cancer. Bull Inst Nat Hyg (Paris) 1944:69–73.

146.

Denoix P Nomenclature des cancer. Bull Inst Nat Hyg (Paris) 1952:743–748.

147.

Brockmann K, Happle R, Oeffner F, Konig A. Monozygotic twins discordant for Proteus syndrome. Am J Med Genet A. 2008;146A:2122–2125.

148.

Han JY, Lee IG, Jang W, Shin S, Park J, Kim M. Identification of a novel de novo nonsense mutation of the Nsd1 gene in monozygotic twins discordant for Sotos syndrome. Clin Chim Acta. 2017;470:31–35.

149.

Vogt J, Kohlhase J, Morlot S, et al. Monozygotic twins discordant for neurofibromatosis type 1 due to a postzygotic Nf1 gene mutation. Hum Mutat. 2011;32:E2134–2147.

150.

Madsen RR, Vanhaesebroeck B, Semple RK. Cancer-associated Pik3ca mutations in overgrowth disorders. Trends Mol Med. 2018;24:856–870.
Ethics declarations
Ethics statement
We obtained consent for including patients' photographs even though none of them show recognizable individuals.
Disclosure
L.G.B. receives in-kind research support from ArQule Inc. (now wholly owned by Merck, Inc.) and is an uncompensated member of the Illumina Corp medical ethics board. L.A.P.-J. is founding partner and scientific advisor of qGenomics Laboratory SL. The other authors declare no conflicts of interest.
Additional information
Publisher's note Springer Nature remains neutral with regard to jurisdictional claims in published maps and institutional affiliations.
Supplementary information
About this article
Cite this article
Martínez-Glez, V., Tenorio, J., Nevado, J. et al. A six-attribute classification of genetic mosaicism. Genet Med 22, 1743–1757 (2020). https://doi.org/10.1038/s41436-020-0877-3
Received:

Revised:

Accepted:

Published:

Issue Date:
Key words
mosaicism

postzygotic

new classification

mutational event
Further reading
Monatsschrift Kinderheilkunde (2021)

Daniela Hainz

,

Marcus Krüger

,

Daniela Reber

,

Karl Mehnert

,

Theresa Brunet

,

Gabriele Lederer

,

Sabine Langer-Freitag

&

Julia Hoefele

World Journal of Pediatrics (2021)