Abstract
Purpose
Increased implementation of complex genetic technologies in clinical practice emphasizes the urgency of genomic literacy and proficiency for medical professionals. We evaluated our genomic education model.
Methods
We assessed the 5-day, extended format program, encompassing lectures, videos, interactive tests, practice cases, and clinical exercises. Pre- and post questionnaires assessed knowledge change, using t-tests to compare groups. Satisfaction on program completion and after 3 years were evaluated. Implementation in other centers determined acceptability.
Results
During 2012–2018, 774 clinicians from multiple disciplines and career stages attended 35 programs; 334 (43%) attended the 5-day extended format. Evaluations showed significant improvement of genomic literacy (mean 15.05/100 points, p < 0.001). Residents initially had higher scores than specialists (pre: 66.3 ± 17.3 vs. 58.7 ± 16.6, respectively, p = 0.002); both significantly improved, with specialists "catching up" (post: 79.1 ± 17.2 vs. 75.7 ± 15.9, nonsignificant (NS)); there was a similar trend between fellows and subspecialists (pre: 70 ± 18 vs. 59.4 ± 16.4, respectively, p = 0.007; post: 78.6 ± 16.4 vs. 73.2 ± 17.7, respectively, NS). Younger specialists (≤10 years residency) had significantly higher pre- and post scores. Absolute improvement in scores did not depend on medical specialties.
Conclusion
Our program is effective in improving genomics literacy for clinicians, irrespective of career length or expertise, and could be a model for improving skills in practical genomics for all medical professionals.
Access options
Subscribe to Journal
Get full journal access for 1 year
$1,138.00
only $94.83 per issue
All prices are NET prices.
VAT will be added later in the checkout.
Rent or Buy article
Get time limited or full article access on ReadCube.
from$8.99
All prices are NET prices.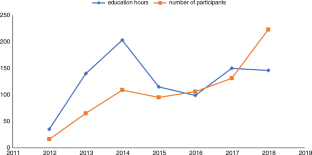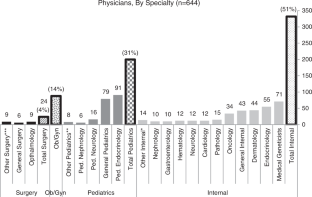 References
1.

Calzone KA, Cashion A, Feetham S, et al. Nurses transforming health care using genetics and genomics. Nurs Outlook. 2010;58:26–35.

2.

Farwell Hagman KD, Lamb Thrush D, Freeze S, Dorsainville DL, Eichmeyer J, Banks KC. Genomic Technologies Special Interest Group of the National Society of Genetic Counselors. Facing the challenge of genetic counselors' need for rapid continuing education about genomic technologies. J Genet Couns. 2020 Jan 9; https://doi.org/10.1002/jgc4.1213 [Epub ahead of print].

3.

Mikat-Stevens NA, Larson IA, Tarini BA. Primary-care providers' perceived barriers to integration of genetics services: a systematic review of the literature. Genet Med. 2015;17:169–176.

4.

Simpson S, Seller A, Bishop M. Using the findings of a national survey to inform the work of England's Genomics Education Programme. Front Genet. 2019;10:1265.

5.

Talwar D, Tseng TS, Foster M, Xu L, Chen LS. Genetics/genomics education for nongenetic health professionals: a systematic literature review. Genet Med. 2017;19:725–732.

6.

Rubanovich CK, Cheung C, Mandel J, Bloss CS. Physician preparedness for big genomic data: a review of genomic medicine education initiatives in the United States. Hum Mol Genet. 2018;27:R250–R258.

7.

Selkirk CG, Weissman SM, Anderson A, Hulick PJ. Physicians' preparedness for integration of genomic and pharmacogenetic testing into practice within a major healthcare system. Genet Test Mol Biomarkers. 2013;17:219–225.

8.

Wilkins-Haug L, Hill LD, Power ML, Holzman GB, Schulkin J. Gynecologists' training, knowledge, and experiences in genetics: a survey. Obstet Gynecol. 2000;95:421–424.

9.

Baars MJH, Henneman L, Ten Kate LP. Deficiency of knowledge of genetics and genetic tests among general practitioners, gynecologists, and pediatricians: a global problem. Genet Med. 2005;7:605–610.
Ethics declarations
Disclosure
The authors declare no conflicts of interest.
Additional information
Publisher's note Springer Nature remains neutral with regard to jurisdictional claims in published maps and institutional affiliations.
About this article
Cite this article
Michaelson-Cohen, R., Salzer-Sheelo, L., Sukenik-Halevy, R. et al. Teaching clinicians practical genomic medicine: 7 years' experience in a tertiary care center. Genet Med (2020). https://doi.org/10.1038/s41436-020-0868-4
Received:

Revised:

Accepted:

Published:
Key words
training genomic literacy

genetics education

teaching clinicians

next-generation sequencing (NGS)

complex genetic technologies