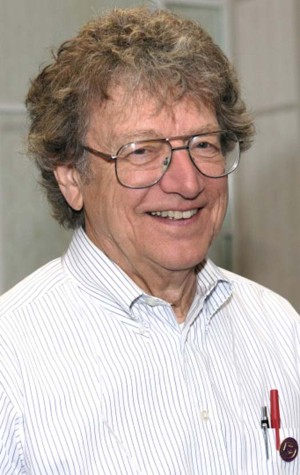 Laird G. Jackson, MD, FACMG, 89, recipient of the 2017 ACMG Foundation for Genetic and Genomic Medicine David L. Rimoin Lifetime Achievement Award in Medical Genetics, passed away in October 2019. Laird was a professor of obstetrics, gynecology, and medical genetics at Drexel University College of Medicine in Philadelphia, Pennsylvania. He was honored with the ACMG Foundation David L. Rimoin Lifetime Achievement Award for his commitment to teaching, his leadership in the field of prenatal genetic screening, and his decades of work on Cornelia de Lange syndrome (CdLS).
During his career, Laird wrote more than 50 research articles and book chapters, was a founding member of the International Society for Prenatal Diagnosis and the ACMG, and served on editorial boards for several prominent research journals, including the American Journal of Medical Genetics.
Born in Seattle, Washington, Laird, the son of a successful accountant, respected his father's career but was not interested in following the same path. After graduating high school at age 16, Laird entered Pomona College in California and set his sights on medical school. After serving three years with the US Air Force in Montgomery, Alabama, he began his internal medicine residency at Jefferson Medical College (now Thomas Jefferson University) in Philadelphia, where a supervising physician drew his attention to a seven-year-old patient who had what appeared to be a tumor in her abdomen. It was, in fact, an enlarged spleen due to chronic myelogenous leukemia (CML). Laird and his supervisor collaborated on the case with Dr. David Hungerford and Dr. Peter Nowell, who were making the connection between CML and a cancer-causing mutation that was eventually named the Philadelphia chromosome.
Laird then completed a series of leukemia research fellowships and taught medical students at Jefferson Medical College between 1969 and 1970. Meanwhile, his focus shifted to pediatric genetics and prenatal genetic testing, fields in which he played a leading role in some of the most celebrated advances ever since.
When first-trimester chorionic villus sampling was developed as an alternative to amniocentesis, Laird was the one who spearheaded a clinical trial to test it in the United States, leading to a landmark paper published in the New England Journal of Medicine in 1989.1 He generated the proposal for a multicenter trial comparing chromosomal microarray with G-banded karyotype, the results of which were published in the New England Journal of Medicine in 2012.2 Along with improvements in genetic testing, Laird championed genetic counseling as a critical component of effective and ethical patient care.
But Laird is perhaps best known for his work on CdLS. During the course of his research, Laird generously offered CdLS patient samples to Dr. Ian Krantz at the Children's Hospital of Philadelphia. Together, Laird and Dr. Krantz discovered one of the first genes linked with the disorder in 2004.3 Laird also organized patients and their families to form the Cornelia de Lange Syndrome Foundation in 1981, and helped raise funds for the Center for Cornelia de Lange Syndrome and Related Disorders at the Children's Hospital of Philadelphia, the first-ever medical research facility that allows families single-location access to a spectrum of research specialists and caregivers who are familiar with the nuances of CdLS.
Reprinted with permission of The ACMG Medical Geneticist member newsmagazine.
References
Rhoads GG, Jackson LG, Schlesselman SE, de la Cruz FF, Desnick RJ, Golbus MS, Ledbetter DH, Lubs HA, Mahoney MJ, Pergament E, et al. The safety and efficacy of chorionic villus sampling for early prenatal diagnosis of cytogenetic abnormalities. N Engl J Med. 1989;320:609–17.

Wapner RJ, Martin CL, Levy B, Ballif BC, Eng CM, Zachary JM, Savage M, Platt LD, Saltzman D, Grobman WA, Klugman S, Scholl T, Simpson JL, McCall K, Aggarwal VS, Bunke B, Nahum O, Patel A, Lamb AN, Thom EA, Beaudet AL, Ledbetter DH, Shaffer LG, Jackson L. Chromosomal microarray versus karyotyping for prenatal diagnosis. N Engl J Med. 2012;367:2175–84.

Krantz ID, McCallum J, DeScipio C, Kaur M, Gillis LA, Yaeger D, Jukofsky L, Wasserman N, Bottani A, Morris CA, Nowaczyk MJ, Toriello H, Bamshad MJ, Carey JC, Rappaport E, Kawauchi S, Lander AD, Calof AL, Li HH, Devoto M, Jackson LG. Cornelia de Lange syndrome is caused by mutations in NIPBL, the human homolog of Drosophila melanogaster Nipped-B. Nat Genet. 2004;36:631–5.
Additional information
Publisher's note Springer Nature remains neutral with regard to jurisdictional claims in published maps and institutional affiliations.
About this article
Cite this article
Moran, K. Laird G. Jackson, MD, FACMG. Genet Med 22, 238–239 (2020). https://doi.org/10.1038/s41436-019-0710-z
Received:

Accepted:

Published:

Issue Date:

DOI: https://doi.org/10.1038/s41436-019-0710-z