Abstract
Purpose
We describe parental perceptions of and experiences with genomic sequencing (GS) in the care of seriously ill children. Understanding parents' perspectives is vital for clinicians caring for children, given the uptake of genomic technologies into clinical practice.
Methods
Longitudinal, semistructured interviews were conducted with parents of pediatric cancer patients who underwent exome sequencing (ES) as a part of the BASIC3 study. Interviews were conducted at baseline, one to eight months after results disclosure, and approximately one year after disclosure. Using thematic qualitative analysis, parent interviews were coded with both inductive and deductive approaches.
Results
Before receiving genomic information, parents indicated that they saw ES as something responsible parents would agree to if their child had cancer. Some parents talked about the possibility of sequencing affecting feelings of culpability for their child's cancer, worrying that they passed on a cancer-causing gene or made parenting decisions that caused the disease. However, after receiving their child's ES results many reported feeling relieved of guilt and worry, and felt they had fulfilled parental duties by agreeing to ES for their child.
Conclusion
These results reveal a layer of meaning that parents associate with GS that may inform clinicians' approach to care.
Access options
Subscribe to Journal
Get full journal access for 1 year
$1,138.00
only $94.83 per issue
All prices are NET prices.
VAT will be added later in the checkout.
Rent or Buy article
Get time limited or full article access on ReadCube.
from$8.99
All prices are NET prices.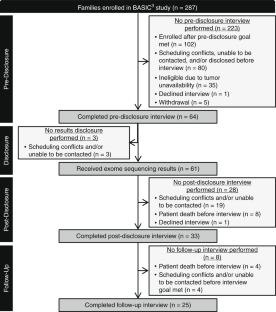 References
1.

Bowdin S, Gilbert A, Bedoukian E. Recommendations for the integration of genomics into clinical practice. Genet Med. 2016;18:1075.

2.

Rahimzadeh V, Schickhardt C, Knoppers BM, et al. Key implications of data sharing in pediatric genomics. JAMA Pediatr. 2018;172:476–481.

3.

Malek J, Slashinski MJ, Robinson JO, et al. Parental perspectives on whole-exome sequencing in pediatric cancer: a typology of perceived utility. JCO Precis Oncol. 2017;1:1–10.

4.

Sapp JC, Dong D, Start C, et al. Parental attitudes, values, and beliefs toward the return of results from exome sequencing in children. Clin Genet. 2014;85:120–126.

5.

Rosell AM, Pena LD, Schoch K, et al. Not the end of the odyssey: parental perceptions of whole exome sequencing (WES) in pediatric undiagnosed disorders. J Genet Couns. 2016;25:1019–1031.

6.

Anderson JA, Meyn MS, Shuman C, et al. Parents perspectives on whole genome sequencing for their children: qualified enthusiasm? J Med Ethics. 2017;43:535–539.

7.

Hens K, Peeters H, Dierickx K. Genetic testing and counseling in the case of an autism diagnosis: a caregivers perspective. Eur J Med Genet. 2016;59:452–458.

8.

Tabor HK, Brazg T, Crouch J, et al. Parent perspectives on pediatric genetic research and implications for genotype-driven research recruitment. J Empir Res Hum Res Ethics. 2011;6:41–52.

9.

Shostak S, Zarhin D, Ottman R. What's at stake? Genetic information from the perspective of people with epilepsy and their family members. Soc Sci Med. 2011;73:645–654.

10.

James CA, Hadley DW, Holtzman NA, Winkelstein JA. How does the mode of inheritance of a genetic condition influence families? A study of guilt, blame, stigma and understanding of inheritance and reproductive risks in families with X-linked and autosomal recessive diseases. Genet Med. 2006;8:234–242.

11.

Reiff M, Giarelli E, Bernhardt BA, et al. Parents' perceptions of the usefulness of chromosomal microarray analysis for children with autism spectrum disorders. J Autism Dev Disord. 2015;45:3262–3275.

12.

Clarke A. Anticipated stigma and blameless guilt: mothers' evaluation of life with the sex-linked disorder, hypohidrotic ectodermal dysplasia. Soc Sci Med. 2016;158:141–148.

13.

Matteo B, Pierluigi B. Descriptive survey about causes of illness given by the parents of children with cancer. Eur J Oncol Nurs. 2008;12:134–141.

14.

Krabbenborg L, LELM Vissers, Schieving J, et al. Understanding the psychosocial effects of WES test results on parents of children with rare diseases. J Genet Couns. 2016;25:1207–1214.

15.

Stivers T, Timmermans S. The actionability of exome sequencing testing results. Sociol Health Illn. 2017;39:1542–1556.

16.

McLaughlin J, Clavering EK. Questions of kinship and inheritance in pediatric genetics: substance and responsibility. New Genet Soc. 2011;30:399–413.

17.

Scollon S, Bergstrom K, Kerstein RA, et al. Obtaining informed consent for clinical tumor and germline exome sequencing of newly diagnosed childhood cancer patients. Genome Med. 2014;6:69. https://doi.org/10.1186/s13073-014-0069-3. Accessed 7 Jun 2019.

18.

Parsons DW, Roy A, Yang Y, et al. Diagnostic yield of clinical tumor and germline whole-exome sequencing for children with solid tumors. JAMA Oncol. 2016;2:616.

19.

Creswell JW. Qualitative inquiry and research design: choosing among five approaches. 2nd ed. Thousand Oaks, CA: Sage Publications; 2012.

20.

McCullough LB, Slashinski MJ, McGuire AL, et al. Is whole-exome sequencing an ethically disruptive technology? Perspectives of pediatric oncologists and parents of pediatric patients with solid tumors. Pediatr Blood Cancer. 2016;63:511–515.

21.

Hallowell N. Doing the right thing: genetic risk and responsibility. Sociol Health Illn. 1999;21:597–621.
Acknowledgements
We thank Robin Raesz-Martinez, study coordinator; Sarah Scollon and Katie Bergstrom, study genetic counselors; and Uma Ramamurthy and her team at the Baylor College of Medicine Institute for Clinical and Translational Research. We also appreciated Larry McCullough's foundational contributions to this project. Finally, we offer particular gratitude to the oncologists and parents who participated in this study. The BASIC3 study is a Clinical Sequencing Exploratory Research (CSER) program project supported by the National Human Genome Research Institute and the National Cancer Institute (1U01HG006485).
Ethics declarations
Disclosure
Baylor College of Medicine and Miraca Holdings Inc. have formed a joint venture with shared ownership and governance of the Baylor Genetics Laboratory, which performs exome sequencing. S.E.P. serves on the Scientific Advisory board of Baylor Genetics Laboratory. The other authors declare no conflicts of interest.
Additional information
Publisher's note: Springer Nature remains neutral with regard to jurisdictional claims in published maps and institutional affiliations.
About this article
Cite this article
Malek, J., Pereira, S., Robinson, J.O. et al. Responsibility, culpability, and parental views on genomic testing for seriously ill children. Genet Med 21, 2791–2797 (2019). https://doi.org/10.1038/s41436-019-0570-6
Received:

Accepted:

Published:

Issue Date:
Keywords
guilt

blame

responsibility

genomic sequencing

parent perspectives