Abstract
Purpose
Several studies have reported diagnostic yields up to 57% for rapid exome or genome sequencing (rES/GS) as a single test in neonatal intensive care unit (NICU) patients, but the additional yield of rES/GS compared with other available diagnostic options still remains unquantified in this population.
Methods
We retrospectively evaluated all genetic NICU consultations in a 2-year period.
Results
In 132 retrospectively evaluated NICU consultations 27 of 32 diagnoses (84.4%) were made using standard genetic workup. Most diagnoses (65.6%) were made within 16 days. Diagnostic ES yield was 5/29 (17.2%). Genetic diagnoses had a direct effect on clinical management in 90.6% (29/32) of patients.
Conclusions
Our study shows that exome sequencing has a place in NICU diagnostics, but given the associated costs and the high yield of alternative diagnostic strategies, we recommend to first perform clinical genetic consultation.
Access options
Subscribe to Journal
Get full journal access for 1 year
$1,138.00
only $94.83 per issue
All prices are NET prices.
VAT will be added later in the checkout.
Rent or Buy article
Get time limited or full article access on ReadCube.
from$8.99
All prices are NET prices.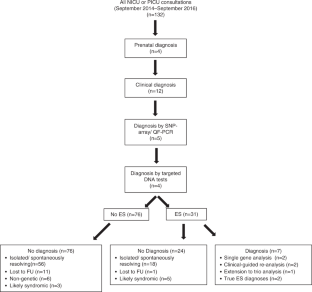 References
1.

Petrikin JE, Cakici JA, Clark MM, et al. The NSIGHT1-randomized controlled trial: rapid whole-genome sequencing for accelerated etiologic diagnosis in critically ill infants. NPJ Genom Med. 2018;3:6.

2.

Willig LK, Petrikin JE, Smith LD, et al. Whole-genome sequencing for identification of Mendelian disorders in critically ill infants: a retrospective analysis of diagnostic and clinical findings. Lancet Respir Med. 2015;3:377–387.

3.

Meng L, Pammi M, Saronwala A, et al. Use of exome sequencing for infants in intensive care units: ascertainment of severe single-gene disorders and effect on medical management. JAMA Pediatr. 2017;171:e173438.

4.

van Diemen CC, Kerstjens-Frederikse WS, Bergman KA, et al. Rapid targeted genomics in critically ill newborns. Pediatrics. 2017;140:e20162854.

5.

McKenna A, Hanna M, Banks E, et al. The Genome Analysis Toolkit: a MapReduce framework for analyzing next-generation DNA sequencing data. Genome Res. 2010;20:1297–1303.

6.

Peeters-Scholte C, Adama van Scheltema PN, Klumper F, et al. Genotype-phenotype correlation in ATAD3A deletions: not just of scientific relevance. Brain. 2017;140:e66.

7.

Daoud H, Luco SM, Li R, et al. Next-generation sequencing for diagnosis of rare diseases in the neonatal intensive care unit. CMAJ. 2016;188:E254–260.

8.

Trujillano D, Bertoli-Avella AM, Kumar Kandaswamy K, et al. Clinical exome sequencing: results from 2819 samples reflecting 1000 families. Eur J Hum Genet. 2017;25:176–182.

9.

Meienberg J, Bruggmann R, Oexle K, Matyas G. Clinical sequencing: is WGS the better WES? Hum Genet. 2016;135:359–362.

10.

Sun Y, Ruivenkamp CA, Hoffer MJ, et al. Next-generation diagnostics: gene panel, exome, or whole genome? Hum Mutat. 2015;36:648–655.

11.

Lelieveld SH, Spielmann M, Mundlos S, Veltman JA, Gilissen C. Comparison of exome and genome sequencing technologies for the complete capture of protein-coding regions. Hum Mutat. 2015;36:815–822.

12.

LaDuca H, Farwell KD, Vuong H, et al. Exome sequencing covers >98% of mutations identified on targeted next generation sequencing panels. PLoS One. 2017;12:e0170843.

13.

Gilissen C, Hehir-Kwa JY, Thung DT, et al. Genome sequencing identifies major causes of severe intellectual disability. Nature. 2014;511:344–347.

14.

Borghesi A, Mencarelli MA, Memo L, et al. Intersociety policy statement on the use of whole-exome sequencing in the critically ill newborn infant. Ital J Pediatr. 2017;43:100.
Ethics declarations
Disclosure
The authors declare no conflicts of interest.
Electronic supplementary material
About this article
Cite this article
van der Sluijs, P.J., Aten, E., Barge-Schaapveld, D.Q.C.M. et al. Putting genome-wide sequencing in neonates into perspective. Genet Med 21, 1074–1082 (2019). https://doi.org/10.1038/s41436-018-0293-0
Received:

Accepted:

Published:

Issue Date:
Keywords
ES

NICU

clinical geneticists

rapid

sequencing
Further reading
Maayke A. de Koning

,

Monique C. Haak

,

Phebe N. Adama van Scheltema

,

Cacha M. P. C. D. Peeters-Scholte

,

Tamara T. Koopmann

,

Esther A. R. Nibbeling

,

Emmelien Aten

,

Nicolette S. den Hollander

,

Claudia A. L. Ruivenkamp

,

Mariëtte J. V. Hoffer

&

Gijs W. E. Santen

Genetics in Medicine (2019)