Abstract
Genetic association between E3 ubiquitin ligase SMURF2 and colorectal cancer (CRC) has been identified, while the mechanism remains undefined. Tumor-promoting gene YY1 represents a downstream factor of SMURF2. The study was designed to evaluate the effect of SMURF2 on the malignant phenotypes of CRC cells and the underlying mechanism. The expression pattern of SMURF2 and YY1 in CRC clinical tissues and cells was characterized by immunohistochemistry (IHC) and Western blot. Gain- and loss-of-function experiments were conducted to assess the effect of SMURF2 and YY1 on the behaviors of CRC cells. After bioinformatics analysis, the relationship between YY1 and SENP1 as well as between SENP1 and c-myc was determined by luciferase reporter and ChIP assays. Rescue experiments were performed to show their involvement during CRC progression. Finally, in vivo models of tumor growth were established for validation. SMURF2 was lowly expressed and YY1 was highly expressed in CRC tissues and cells. YY1 overexpression resulted in promotion of CRC cell proliferation, migration, and invasion, which could be reversed by SMURF2. Furthermore, SMURF2 could induce ubiquitination-mediated degradation of YY1, which bound to the SENP1 promoter and upregulated SENP1 expression, leading to enhancement of c-myc expression. The in vivo data revealed the suppressive role of SMURF2 gain-of-function in tumor growth through downregulation of YY1, SENP1, or c-myc. Altogether, our data demonstrate the antitumor activity of SMURF2 in CRC and the anti-tumor mechanism associated with degradation of YY1 and downregulation of SENP1/c-myc.
Relevant articles
Open Access articles citing this article.
Liangzi Cao

,

Hao Li

…

Jingwei Liu

BMC Cancer Open Access 08 June 2023

Nami Sato

,

Nozomu Sakai

…

Masayuki Ohtsuka

Scientific Reports Open Access 31 March 2022

Yin-Ling Zhang

,

Jin-Ling Cao

…

Da-Qiang Li

Medical Oncology Open Access 01 February 2022
Access options
Subscribe to this journal
Receive 12 print issues and online access
$259.00 per year
only $21.58 per issue
Rent or buy this article
Prices vary by article type
from$1.95
to$39.95
Prices may be subject to local taxes which are calculated during checkout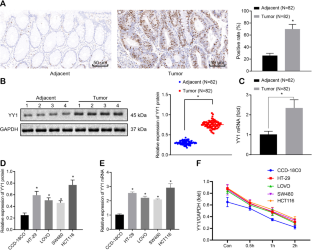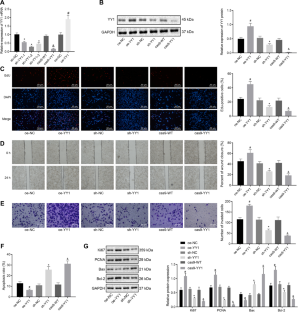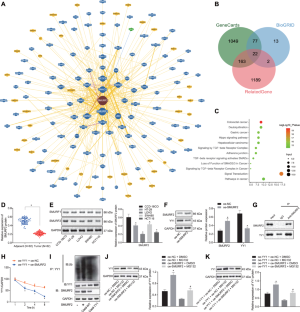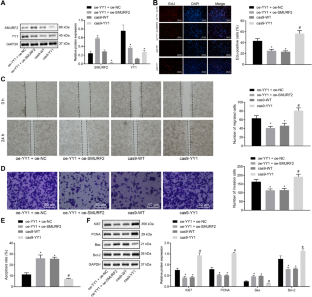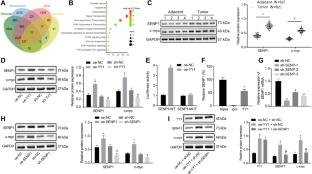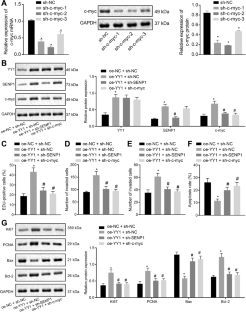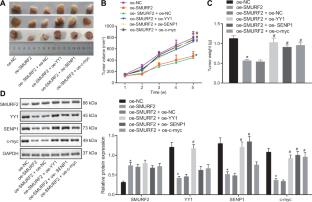 Availability of data and materials
The datasets generated and/or analyzed during the current study are available from the corresponding author on reasonable request.
References
Bray F, Ferlay J, Soerjomataram I, Siegel RL, Torre LA, Jemal A. Global cancer statistics 2018: GLOBOCAN estimates of incidence and mortality worldwide for 36 cancers in 185 countries. CA Cancer J Clin. 2018;68:394–424.

Arnold M, Sierra MS, Laversanne M, Soerjomataram I, Jemal A, Bray F. Global patterns and trends in colorectal cancer incidence and mortality. Gut. 2017;66:683–91.

Brody H. Colorectal cancer. Nature. 2015;521:S1.

Han G, Wei Z, Cui H, Zhang W, Wei X, Lu Z, et al. NUSAP1 gene silencing inhibits cell proliferation, migration and invasion through inhibiting DNMT1 gene expression in human colorectal cancer. Exp Cell Res. 2018;367:216–21.

Perea J, Cano JM, Rueda D, Garcia JL, Inglada L, Osorio I, et al. Classifying early-onset colorectal cancer according to tumor location: new potential subcategories to explore. Am J Cancer Res. 2015;5:2308–13.

Bi H, Tian T, Zhu L, Zhou H, Hu H, Liu Y, et al. Copy number variation of E3 ubiquitin ligase genes in peripheral blood leukocyte and colorectal cancer. Sci Rep. 2016;6:29869.

Shen J, Yu Z, Li N. The E3 ubiquitin ligase RNF146 promotes colorectal cancer by activating the Wnt/beta-catenin pathway via ubiquitination of Axin1. Biochem Biophys Res Commun. 2018;503:991–7.

Koganti P, Levy-Cohen G, Blank M. Smurfs in protein homeostasis, signaling, and cancer. Front Oncol. 2018;8:295.

Jeong HM, Lee SH, Yum J, Yeo CY, Lee KY. Smurf2 regulates the degradation of YY1. Biochim Biophys Acta. 2014;1843:2005–11.

Zhang N, Li X, Wu CW, Dong Y, Cai M, Mok MT, et al. microRNA-7 is a novel inhibitor of YY1 contributing to colorectal tumorigenesis. Oncogene. 2013;32:5078–88.

Tang W, Zhou W, Xiang L, Wu X, Zhang P, Wang J, et al. The p300/YY1/miR-500a-5p/HDAC2 signalling axis regulates cell proliferation in human colorectal cancer. Nat Commun. 2019;10:663.

Wu T, Donohoe ME. Yy1 regulates Senp1 contributing to AMPA receptor GluR1 expression following neuronal depolarization. J Biomed Sci. 2019;26:79.

Zhou GQ, Han F, Shi ZL, Yu L, Li XF, Yu C, et al. miR-133a-3p targets SUMO-specific protease 1 to inhibit cell proliferation and cell cycle progress in colorectal cancer. Oncol Res. 2018;26:795–800.

Stine ZE, Walton ZE, Altman BJ, Hsieh AL, Dang CV. MYC, metabolism, and cancer. Cancer Discov. 2015;5:1024–39.

Sun XX, Chen Y, Su Y, Wang X, Chauhan KM, Liang J, et al. SUMO protease SENP1 deSUMOylates and stabilizes c-Myc. Proc Natl Acad Sci USA. 2018;115:10983–8.

Elbadawy M, Usui T, Yamawaki H, Sasaki K. Emerging roles of C-Myc in cancer stem cell-related signaling and resistance to cancer chemotherapy: a potential therapeutic target against colorectal cancer. Int J Mol Sci. 2019;20:2340.

Wang H, Cao F, Li X, Miao H, Jifu E, Xing J, et al. miR-320b suppresses cell proliferation by targeting c-Myc in human colorectal cancer cells. BMC Cancer. 2015;15:748.

Wei Y, Zhao W, Huang Y, Yu Q, Zhu S, Wang S, et al. A comparative study of noninvasive hypoxia imaging with 18F-fluoroerythronitroimidazole and 18F-fluoromisonidazole PET/CT in patients with lung cancer. PLoS One. 2016;11:e0157606.

Lu H, Wang X, Li T, Urvalek AM, Yu L, Li J, et al. Identification of poly (ADP-ribose) polymerase-1 (PARP-1) as a novel Kruppel-like factor 8-interacting and -regulating protein. J Biol Chem. 2011;286:20335–44.

Lu H, Hu L, Li T, Lahiri S, Shen C, Wason MS, et al. A novel role of Kruppel-like factor 8 in DNA repair in breast cancer cells. J Biol Chem. 2012;287:43720–9.

Lahiri SK, Lu H, Mukherjee D, Yu L, Zhao J. ERK2 phosphorylates Kruppel-like factor 8 protein at serine 48 to maintain its stability. Am J Cancer Res. 2016;6:910–23.

Li Y, Yang D, Tian N, Zhang P, Zhu Y, Meng J, et al. The ubiquitination ligase SMURF2 reduces aerobic glycolysis and colorectal cancer cell proliferation by promoting ChREBP ubiquitination and degradation. J Biol Chem. 2019;294:14745–56.

Ramkumar C, Cui H, Kong Y, Jones SN, Gerstein RM, Zhang H. Smurf2 suppresses B-cell proliferation and lymphomagenesis by mediating ubiquitination and degradation of YY1. Nat Commun. 2013;4:2598.

Bray C, Bell LN, Liang H, Collins D, Yale SH. Colorectal cancer screening. WMJ. 2017;116:27–33.

Issa IA, Noureddine M. Colorectal cancer screening: an updated review of the available options. World J Gastroenterol. 2017;23:5086–96.

Muller MF, Ibrahim AE, Arends MJ. Molecular pathological classification of colorectal cancer. Virchows Arch. 2016;469:125–34.

Wottrich S, Kaufhold S, Chrysos E, Zoras O, Baritaki S, Bonavida B. Inverse correlation between the metastasis suppressor RKIP and the metastasis inducer YY1: Contrasting roles in the regulation of chemo/immuno-resistance in cancer. Drug Resist Updat. 2017;30:28–38.

Yu L, Dong L, Wang Y, Liu L, Long H, Li H, et al. Reversible regulation of SATB1 ubiquitination by USP47 and SMURF2 mediates colon cancer cell proliferation and tumor progression. Cancer Lett. 2019;448:40–51.

Klupp F, Giese C, Halama N, Franz C, Lasitschka F, Warth A, et al. E3 ubiquitin ligase Smurf2: a prognostic factor in microsatellite stable colorectal cancer. Cancer Manag Res. 2019;11:1795–803.

Nguyen HT, Duong HQ. The molecular characteristics of colorectal cancer: implications for diagnosis and therapy. Oncol Lett. 2018;16:9–18.

Marmol I, Sanchez-de-Diego C, Pradilla Dieste A, Cerrada E, Rodriguez Yoldi MJ. Colorectal carcinoma: a general overview and future perspectives in colorectal cancer. Int J Mol Sci. 2017;18:197.

Wang Q, Zhou Y, Rychahou P, Harris JW, Zaytseva YY, Liu J, et al. Deptor is a novel target of Wnt/beta-Catenin/c-Myc and contributes to colorectal cancer cell growth. Cancer Res. 2018;78:3163–75.

Emanuelli A, Manikoth Ayyathan D, Koganti P, Shah PA, Apel-Sarid L, Paolini B, et al. Altered expression and localization of tumor suppressive E3 ubiquitin ligase SMURF2 in human prostate and breast cancer. Cancers. 2019;11:556.

Wang W, Li D, Sui G. YY1 is an inducer of cancer metastasis. Crit Rev Oncog. 2017;22:1–11.

Bawa-Khalfe T, Yang FM, Ritho J, Lin HK, Cheng J, Yeh ET. SENP1 regulates PTEN stability to dictate prostate cancer development. Oncotarget. 2017;8:17651–64.

Yin S, Cheryan VT, Xu L, Rishi AK, Reddy KB. Myc mediates cancer stem-like cells and EMT changes in triple negative breast cancers cells. PLoS One. 2017;12:e0183578.
Acknowledgements
We acknowledge and appreciate our colleagues for their valuable suggestions and technical assistance for this study.
Ethics declarations
Competing interests
The authors declare no competing interests.
Ethics approval and consent to participate
This study was conducted with approval of the Ethics Committee of Linyi People's Hospital and in line with the Declaration of Helsinki. All patients and/or legal guardians signed the informed consent documentation prior to sample collection. Animal experiments were approved by the Animal Ethics Committee of Linyi People's Hospital. Great efforts were made to minimize the number of animals used in the experiments and their suffering.
Additional information
Publisher's note Springer Nature remains neutral with regard to jurisdictional claims in published maps and institutional affiliations.
Supplementary information
About this article
Cite this article
Gao, Q., Wang, S. & Zhang, Z. E3 ubiquitin ligase SMURF2 prevents colorectal cancer by reducing the stability of the YY1 protein and inhibiting the SENP1/c-myc axis. Gene Ther 30, 51–63 (2023). https://doi.org/10.1038/s41434-021-00289-z
Received:

Revised:

Accepted:

Published:

Issue Date:

DOI: https://doi.org/10.1038/s41434-021-00289-z