Abstract
While targeting CD19+ hematologic malignancies with CAR T cell therapy using single chain variable fragments (scFv) has been highly successful, novel strategies for applying CAR T cell therapy with other tumor types are necessary. In the current study, CAR T cells were designed using a ligand binding domain instead of an scFv to target stem-like leukemia cells. Thrombopoietin (TPO), the natural ligand to the myeloproliferative leukemia protein (MPL) receptor, was used as the antigen binding domain to engage MPL expressed on hematopoietic stem cells (HSC) and erythropoietic and megakaryocytic acute myeloid leukemias (AML). TPO-CAR T cells were tested in vitro against AML cell lines with varied MPL expression to test specificity. TPO-CAR T cells were specifically activating and cytotoxic against MPL+ leukemia cell lines. Though the TPO-CAR T cells did not extend survival in vivo, it successfully cleared the MPL+ fraction of leukemia cells. As expected, we also show the TPO-CAR is cytotoxic against MPL expressing bone marrow compartment in AML xenograft models. The data collected demonstrate preclinical potential of TPO-CAR T cells for stem-like leukemia through assessment of targeted killing of MPL+ cells and may facilitate subsequent HSC transplant under reduced intensity conditioning regimens.
Relevant articles
Open Access articles citing this article.
Chunrun Qu

,

Hao Zhang

…

Quan Cheng

Molecular Cancer Open Access 19 October 2022

Dong-Rui Wang

,

Xian-Lin Wu

&

Ying-Li Sun

Signal Transduction and Targeted Therapy Open Access 19 September 2022
Access options
Subscribe to this journal
Receive 12 print issues and online access
$259.00 per year
only $21.58 per issue
Rent or buy this article
Get just this article for as long as you need it
$39.95
Prices may be subject to local taxes which are calculated during checkout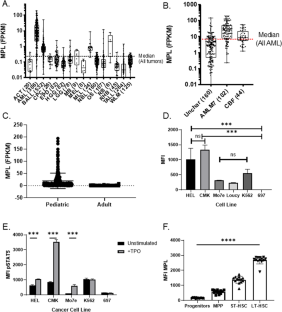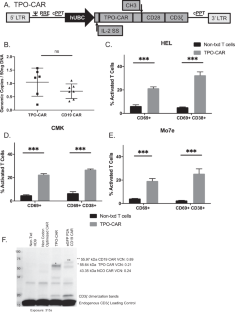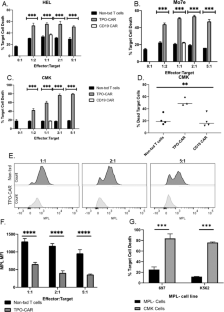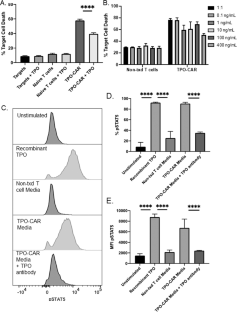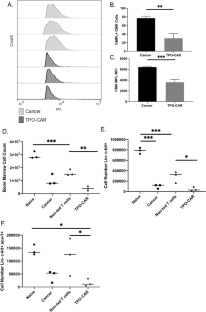 References
Sadelain M, Brentjens R, Rivière I. The basic principles of chimeric antigen receptor design. Cancer Discov. 2013;3:388–98.

Huston MM-H JS, Tai MS, McCartney J, Warren F, Haber E, Oppermann. H. Protein engineering of single-chain Fv analogs and fusion proteins. Methods Enzymol. 1991;203:46–52.

Brentjens RJ, Davila ML, Riviere I, Park J, Wang X, Cowell LG, et al. CD19-targeted T cells rapidly induce molecular remissions in adults with chemotherapy-refractory acute lymphoblastic leukemia. Sci Transl Med. 2013;5:177ra38.

Chang ZL, Chen YY. CARs: synthetic immunoreceptors for cancer therapy and beyond. Trends Mol Med. 2017;23:430–50.

Grupp SA, Kalos M, Barrett D, Aplenc R, Porter DL, Rheingold SR, et al. Chimeric antigen receptor-modified T cells for acute lymphoid leukemia. N Engl J Med. 2013;368:1509–18.

Kochenderfer JN, Dudley ME, Carpenter RO, Kassim SH, Rose JJ, Telford WG, et al. Donor-derived CD19-targeted T cells cause regression of malignancy persisting after allogeneic hematopoietic stem cell transplantation. Blood. 2013;122:4129–39.

Chmielewski M, Abken H. TRUCKs: the fourth generation of CARs. Expert Opin Biol Ther. 2015;15:1145–54.

Townsend MH, Shrestha G, Robison RA, O'Neill KL. The expansion of targetable biomarkers for CAR T cell therapy. J Exp Clin Cancer Res. 2018;37:163.

Murad JM, Graber DJ, Sentman CL. Advances in the use of natural receptor- or ligand-based chimeric antigen receptors (CARs) in haematologic malignancies. Best Pract Res Clin Haematol. 2018;31:176–83.

Lok S, Kaushansky K, Holly RD, Kuijper JL, Lofton-Day CE, Oort PJ, et al. Cloning and expression of murine thrombopoietin cDNA and stimulation of platelet production in vivo. Nature. 1994;369:565–8.

Fox N, Priestley G, Papayannopoulou T, Kaushansky K. Thrombopoietin expands hematopoietic stem cells after transplantation. J Clin Investig. 2002;110:389–94.

Kaushansky K, Lok S, Holly RD, Broudy VC, Lin N, Bailey MC, et al. Promotion of megakaryocyte progenitor expansion and differentiation by the c-Mpl ligand thrombopoietin. Nature. 1994;369:568–71.

Yoshihara H, Arai F, Hosokawa K, Hagiwara T, Takubo K, Nakamura Y, et al. Thrombopoietin/MPL signaling regulates hematopoietic stem cell quiescence and interaction with the osteoblastic niche. Cell Stem Cell. 2007;1:685–97.

Lok S, Foster DC. The structure, biology and potential therapeutic applications of recombinant thrombopoietin. STEM CELLS. 1994;12:586–98.

Albitar M, Manshouri T, Kantarjian H, Keating M, Estrov Z, Faber J, et al. Correlation between lower c-mpl protein expression and favorable cytogenetic groups in acute myeloid leukemia. Leukemia Res. 1999;23:63–69.

Lange B. The management of neoplastic disorders of haematopoiesis in children with Down's syndrome. Br J Haematol. 2000;110:512–24.

Li H, Rao Q, Yu P, Chen SY, Li Z, Xing HY, et al. Expression of MPL in leukemia stem cells and its role in stemness maintainance. Blood. 2016;128:1723.

Quentmeier H, Zaborski M, Graf G, Ludwig WD, Drexler HG. Expression of the receptor MPL and proliferative effects of its ligand thrombopoietin on human leukemia cells. Leukemia. 1996;10:297–310.

Rauch PJ, Ellegast JM, Widmer CC, Fritsch K, Goede JS, Valk PJ, et al. MPL expression on AML blasts predicts peripheral blood neutropenia and thrombocytopenia. Blood. 2016;128:2253–7.

Vigon I, Dreyfus F, Melle J, Viguie F, Ribrag V, Cocault L, et al. Expression of the c-mpl proto-oncogene in human hematologic malignancies. Blood. 1993;82:877–83.

Yu P, Qiu SW, Rao Q, Lin D, Xing HY, Tang KJ. et al. Expression of c-MPL in leukemic stem cells from acute myeloid leukemia patients. Zhongguo Shi Yan Xue Ye Xue Za Zhi.2012;20:1052–5.

Wetzler M, Baer MR, Bernstein SH, Blumenson L, Stewart C, Barcos M, et al. Expression of c-mpl mRNA, the receptor for thrombopoietin, in acute myeloid leukemia blasts identifies a group of patients with poor response to intensive chemotherapy. J Clin Oncol. 1997;15:2262–8.

Guan Y, Gerhard B, Hogge DE. Detection, isolation, and stimulation of quiescent primitive leukemic progenitor cells from patients with acute myeloid leukemia (AML). Blood. 2003;101:3142–9.

Boyd AL, Aslostovar L, Reid J, Ye W, Tanasijevic B, Porras DP, et al. Identification of chemotherapy-induced leukemic-regenerating cells reveals a transient vulnerability of human AML recurrence. Cancer Cell. 2018;34:483–498 e5.

Costello RT, Mallet F, Gaugler B, Sainty D, Arnoulet C, Gastaut JA, et al. Human acute myeloid leukemia CD34+/CD38- progenitor cells have decreased sensitivity to chemotherapy and Fas-induced apoptosis, reduced immunogenicity, and impaired dendritic cell transformation capacities. Cancer Res. 2000;60:4403–11.

Dong-Feng Z, Ting L, Yong Z, Cheng C, Xi Z, Pei-Yan K. The TPO/c-MPL pathway in the bone marrow may protect leukemia cells from chemotherapy in AML patients. Pathol Oncol Res. 2014;20:309–17.

Ninos JM, Jefferies LC, Cogle CR, Kerr WG. The thrombopoietin receptor, c-Mpl, is a selective surface marker for human hematopoietic stem cells. J Transl Med. 2006;4:9.

Li H, Zhao N, Li Y, Xing H, Chen S, Xu Y, et al. c-MPL is a candidate surface marker and confers self-renewal, quiescence, chemotherapy resistance, and leukemia initiation potential in leukemia. Stem Cells. Stem Cells. 2018;36:1685–96.

Sakashita K, Kato I, Daifu T, Saida S, Hiramatsu H, Nishinaka Y, et al. In vitro expansion of CD34(+)CD38(-) cells under stimulation with hematopoietic growth factors on AGM-S3 cells in juvenile myelomonocytic leukemia. Leukemia. 2015;29:606–14.

Bouscary D, Prudhomme C, Quesnel B, Melle J, Picard F, Dreyfus F. c-mpl expression in hematologic disorders. Leuk Lymphoma. 1995;17:19–26.

Wegehaupt AK, Roufs EK, Hewitt CR, Killian ML, Gorbatenko O, Anderson CM, et al. Recovery and assessment of leukocytes from LR Express filters. Biologicals. 2017;49:15–22.

Neron S, Dussault N, Racine C. Whole-blood leukoreduction filters are a source for cryopreserved cells for phenotypic and functional investigations on peripheral blood lymphocytes. Transfusion. 2006;46:537–44.

Feese MD, Tamada T, Kato Y, Maeda Y, Hirose M, Matsukura Y, et al. Structure of the receptor-binding domain of human thrombopoietin determined by complexation with a neutralizing antibody fragment. Proc Natl Acad Sci USA. 2004;101:1816–21.

Downing JR, Wilson RK, Zhang J, Mardis ER, Pui CH, Ding L, et al. The pediatric cancer genome project. Nat Genet. 2012;44:619–22.

Zhang J, Ding L, Holmfeldt L, Wu G, Heatley SL, Payne-Turner D, et al. The genetic basis of early T-cell precursor acute lymphoblastic leukaemia. Nature. 2012;481:157–63.

Zhang J, Wu G, Miller CP, Tatevossian RG, Dalton JD, Tang B, et al. Whole-genome sequencing identifies genetic alterations in pediatric low-grade gliomas. Nat Genet. 2013;45:602–12.

Zhang J, Benavente CA, McEvoy J, Flores-Otero J, Ding L, Chen X, et al. A novel retinoblastoma therapy from genomic and epigenetic analyses. Nature. 2012;481:329–34.

Robinson G, Parker M, Kranenburg TA, Lu C, Chen X, Ding L, et al. Novel mutations target distinct subgroups of medulloblastoma. Nature. 2012;488:43–8.

Chen X, Stewart E, Shelat AA, Qu C, Bahrami A, Hatley M, et al. Targeting oxidative stress in embryonal rhabdomyosarcoma. Cancer Cell. 2013;24:710–24.

Holmfeldt L, Wei L, Diaz-Flores E, Walsh M, Zhang J, Ding L, et al. The genomic landscape of hypodiploid acute lymphoblastic leukemia. Nat Genet. 2013;45:242–52.

Arai Y, Choi U, Corsino CI, Koontz SM, Tajima M, Sweeney CL, et al. Myeloid conditioning with c-kit-Targeted CAR-T cells enables donor stem cell engraftment. Mol Ther. 2018;26:1181–97.

Kuter DJ. The biology of thrombopoietin and thrombopoietin receptor agonists. Int J Hematol. 2013;98:10–23.

Brown HC, Zakas PM, George SN, Parker ET, Spencer HT, Doering CB. Target-cell-directed bioengineering approaches for gene therapy of hemophilia A. Mol Ther Methods Clin Dev. 2018;9:57–69.

Alessio M, Roggero S, Funaro A, De Monte LB, Peruzzi L, Geuna M, et al. CD38 molecule: structural and biochemical analysis on human T lymphocytes, thymocytes, and plasma cells. J Immunol. 1990;145:878–84.

Chaturvedi V, Marsh RA, Lorenz AZ, Owsley E, Chaturvedi V, Nguyen T, et al. T cell activation profiles distinguish hemophagocytic lymphohistiocytosis and early sepsis. Blood 2021;137:2337–46.

Shubinsky G, Schlesinger M. The CD38 lymphocyte differentiation marker: new insight into its ectoenzymatic activity and its role as a signal transducer. Immunity. 1997;7:315–24.

Huang G, Yu L, Cooper LJ, Hollomon M, Huls H, Kleinerman ES. Genetically modified T cells targeting interleukin-11 receptor alpha-chain kill human osteosarcoma cells and induce the regression of established osteosarcoma lung metastases. Cancer Res. 2012;72:271–81.

Kahlon KS, Brown C, Cooper LJ, Raubitschek A, Forman SJ, Jensen MC. Specific recognition and killing of glioblastoma multiforme by interleukin 13-zetakine redirected cytolytic T cells. Cancer Res. 2004;64:9160–6.

Han X, Cinay GE, Zhao Y, Guo Y, Zhang X, Wang P. Adnectin-based design of chimeric antigen receptor for T cell engineering. Mol Ther. 2017;25:2466–76.

Perales-Puchalt A, Svoronos N, Rutkowski MR, Allegrezza MJ, Tesone AJ, Payne KK, et al. Follicle-stimulating hormone receptor is expressed by most ovarian cancer subtypes and is a safe and effective immunotherapeutic target. Clin Cancer Res. 2017;23:441–53.

Nakazawa Y, Matsuda K, Kurata T, Sueki A, Tanaka M, Sakashita K, et al. Anti-proliferative effects of T cells expressing a ligand-based chimeric antigen receptor against CD116 on CD34(+) cells of juvenile myelomonocytic leukemia. J Hematol Oncol. 2016;9:27.

Qian H, Buza-Vidas N, Hyland CD, Jensen CT, Antonchuk J, Mansson R, et al. Critical role of thrombopoietin in maintaining adult quiescent hematopoietic stem cells. Cell Stem Cell. 2007;1:671–84.

Abdullah LN, Chow EK. Mechanisms of chemoresistance in cancer stem cells. Clin Transl Med. 2013;2:3.

Yogarajah M, Tefferi A. Leukemic transformation in myeloproliferative neoplasms: a literature review on risk, characteristics, and outcome. Mayo Clin Proc. 2017;92:1118–28.

Breems DA, Van Putten WL, Huijgens PC, Ossenkoppele GJ, Verhoef GE, Verdonck LF, et al. Prognostic index for adult patients with acute myeloid leukemia in first relapse. J Clin Oncol. 2005;23:1969–78.

Burnett AK, Goldstone A, Hills RK, Milligan D, Prentice A, Yin J, et al. Curability of patients with acute myeloid leukemia who did not undergo transplantation in first remission. J Clin Oncol. 2013;31:1293–301.

Ganzel C, Sun Z, Cripe LD, Fernandez HF, Douer D, Rowe JM, et al. Very poor long-term survival in past and more recent studies for relapsed AML patients: the ECOG-ACRIN experience. Am J Hematol. 2018. https://doi.org/10.1002/ajh.25162.

Zoine JT, Knight KA, Fleischer LC, Sutton KS, Goldsmith KC, Doering CB, et al. Ex vivo expanded patient-derived gammadelta T-cell immunotherapy enhances neuroblastoma tumor regression in a murine model. Oncoimmunology. 2019;8:1593804.

Rosenberg SA, Restifo NP, Yang JC, Morgan RA, Dudley ME. Adoptive cell transfer: a clinical path to effective cancer immunotherapy. Nat Rev Cancer. 2008;8:299–308.

Patel S, Burga RA, Powell AB, Chorvinsky EA, Hoq N, McCormack SE, et al. Beyond CAR T cells: other cell-based immunotherapeutic strategies against cancer. Front Oncol. 2019;9:196.

Martinez M, Moon EK. CAR T cells for solid tumors: new strategies for finding, infiltrating, and surviving in the tumor microenvironment. Front Immunol. 2019;10:128.

Morsut L, Roybal Kole T, Xiong X, Gordley Russell M, Coyle Scott M, Thomson M, et al. Engineering customized cell sensing and response behaviors using synthetic notch receptors. Cell. 2016;164:780–91.
Acknowledgements
NHLBI 1K08HL141635-01A1 and Atlanta Pediatric Scholars Program K12 Scholar supported by grant K12HD072245.
Ethics declarations
Competing interests
The authors declare no competing interests.
Additional information
Publisher's note Springer Nature remains neutral with regard to jurisdictional claims in published maps and institutional affiliations.
Supplementary information
About this article
Cite this article
Zoine, J.T., Prince, C., Story, J.Y. et al. Thrombopoietin-based CAR-T cells demonstrate in vitro and in vivo cytotoxicity to MPL positive acute myelogenous leukemia and hematopoietic stem cells. Gene Ther 29, 1–12 (2022). https://doi.org/10.1038/s41434-021-00283-5
Received:

Revised:

Accepted:

Published:

Issue Date:

DOI: https://doi.org/10.1038/s41434-021-00283-5
This article is cited by
Chunrun Qu
Hao Zhang
Quan Cheng

Molecular Cancer (2022)

Dong-Rui Wang
Xian-Lin Wu
Ying-Li Sun

Signal Transduction and Targeted Therapy (2022)