Abstract
Various administration routes of adeno-associated virus (AAV)-based gene therapy have been examined to target the central nervous system to answer the question what the most optimal delivery route is for treatment of the brain with certain indications. In this study, we evaluated AAV5 vector system for its capability to target the central nervous system via intrastriatal, intrathalamic or intracerebroventricular delivery routes in rats. AAV5 is an ideal candidate for gene therapy because of its relatively low level of existing neutralizing antibodies compared to other serotypes, and its broad tissue and cell tropism. Intrastriatal administration of AAV5-GFP resulted in centralized localized vector distribution and expression in the frontal part of the brain. Intrathalamic injection showed transduction and gradient expression from the rostral brain into lumbar spinal cord, while intracerebroventricular administration led to a more evenly, albeit relatively superficially distributed, transduction and expression throughout the central nervous system. To visualize the differences between localized and intra-cerebral spinal fluid administration routes, we compared intrastriatal to intracerebroventricular and intrathecal administration of AAV5-GFP. Together, our results demonstrate that for efficient transgene expression, various administration routes can be applied.
Relevant articles
Open Access articles citing this article.
Tess Torregrosa

,

Sydney Lehman

…

Shih-Ching Lo

Gene Therapy Open Access 22 February 2021
Access options
Subscribe to this journal
Receive 12 print issues and online access
$259.00 per year
only $21.58 per issue
Rent or buy this article
Prices vary by article type
from$1.95
to$39.95
Prices may be subject to local taxes which are calculated during checkout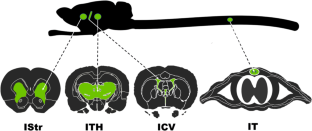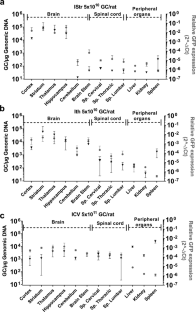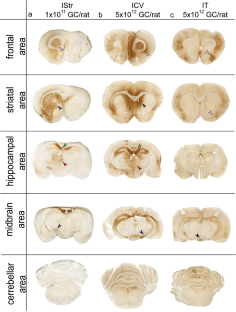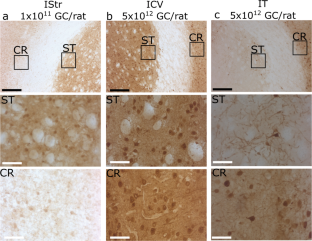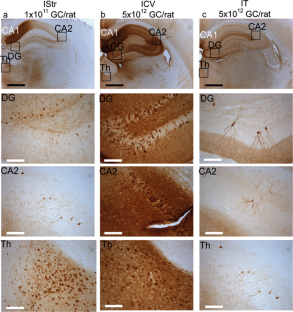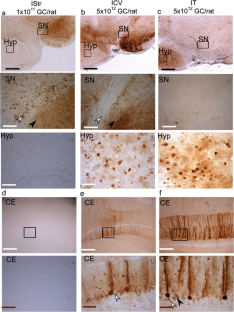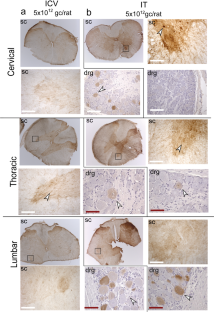 References
Leone P, Shera D, McPhee S, Francis JS, Kolodny EH, Bilaniuk LT, et al. Long-term follow-up after gene therapy for canavan disease. Sci Transl Med. 2012;4:165ra163–165ra163.

Boutin S, Monteilhet V, Veron P, Leborgne C, Benveniste O, Montus M, et al. Prevalence of serum IgG and neutralizing factors against adeno-associated virus (aav) types 1, 2, 5, 6, 8, and 9 in the healthy population: implications for gene therapy using AAV vectors. Hum Gene Ther. 2010;21:704–12.

Aschauer DF, Kreuz S, Rumpel S. Analysis of transduction efficiency, tropism and axonal transport of AAV serotypes 1, 2, 5, 6, 8 and 9 in the mouse brain. PloS ONE. 2013;8:e76310.

Lisowski L, Tay S, Alexander I. Adeno-associated virus serotypes for gene therapeutics. Curr Opin Pharmacol. 2015;24:59–67.

Paterna J-C, Feldon J, Büeler H. Transduction profiles of recombinant adeno-associated virus vectors derived from serotypes 2 and 5 in the nigrostriatal system of rats. J Virol. 2004;78:6808–17.

Dodiya HB, Bjorklund T III, J Mandel RJ, Kirik D, Kordower JH. Differential transduction following basal ganglia administration of distinct pseudotyped AAV capsid serotypes in nonhuman primates. Mol Ther. 2010;18:579–87.

Markakis EA, Vives KP, Bober J, Leichtle S, Leranth C, Beecham J, et al. Comparative transduction efficiency of AAV vector serotypes 1–6 in the substantia nigra and striatum of the primate brain. Mol Ther. 2010;18:588–93.

Samaranch L, Blits B, Sebastian SW, Hadaczek P, Bringas J, Sudhakar V, et al. MR-guided parenchymal delivery of adeno-associated viral vector serotype 5 in non-human primate brain. Gene Ther. 2017;24:253–61.

Martier R, Liefhebber JM, García-Osta A, Miniarikova J, Cuadrado-Tejedor M, Espelosin M, et al. Targeting RNA-mediated toxicity in C9ORF72 ALS/FTD by RNAi-based gene therapy. Mol Ther—Nucleic Acids. 2019;16:26–37.

Schuster DJ, Belur LR, Riedl MS, Schnell SA, Podetz-Pedersen KM, Kitto KF, et al. Supraspinal gene transfer by intrathecal adeno-associated virus serotype 5. Front Neuroanat. 2014;8:66.

Schapira A, Chiasserini D, Beccari T, Parnetti L. Glucocerebrosidase in Parkinson's disease: insights into pathogenesis and prospects for treatment. Movement Disord. 2016;31:830–5.

Reiner A, Dragatsis I, Dietrich P.Genetics and neuropathology of Huntington's disease. Int Rev Neurobiol. 2011;98:325–72.

Salegio E, Samaranch L, Kells A, Mittermeyer G, Sebastian SW, Zhou S, et al. Axonal transport of adeno-associated viral vectors is serotype-dependent. Gene Ther. 2012;20:gt201227.

Furman JL, ma D, Gant JC, Beckett TL, Murphy PM, Bachstetter AD, et al. Targeting astrocytes ameliorates neurologic changes in a mouse model of Alzheimer's disease. J Neurosci. 2012;32:16129–40.

Hardcastle N, Boulis NM, Federici T. AAV gene delivery to the spinal cord: serotypes, methods, candidate diseases, and clinical trials. Exp Opin Biol Ther. 2017;18:1–15.

Tardieu M, Zérah M, Gougeon M-L, Ausseil J, de Bournonville S, Husson B, et al. Intracerebral gene therapy in children with mucopolysaccharidosis type IIIB syndrome: an uncontrolled phase 1/2 clinical trial. Lancet Neurol. 2017. https://doi.org/10.1016/s1474-4422(17)30169-2.

Bosma B, du Plessis F, Ehlert E, Nijmeijer B, de Haan M, Petry H, et al. Optimization of viral protein ratios for production of rAAV serotype 5 in the baculovirus system. Gene Ther. 2018;25:415–24.

Oudega M, Varon S, Hagg T. Regeneration of adult rat sensory axons into intraspinal nerve grafts: promoting effects of conditioning lesion and graft predegeneration. Exp Neurol. 1994;129:194–206.

Gray SJ, Foti SB, Schwartz JW, Bachaboina L, Taylor-Blake B, Coleman J, et al. Optimizing promoters for recombinant adeno-associated virus-mediated gene expression in the peripheral and central nervous system using self-complementary vectors. Hum Gene Ther. 2011;22:1143–53.

Casaca-Carreira J, Temel Y, Hescham S-A, Jahanshahi A. Transependymal cerebrospinal fluid flow: opportunity for drug delivery? Mol Neurobiol. 2018;55:2780–8.

Schuster DJ, Dykstra JA, Riedl MS, Kitto KF, Belur LR, McIvor SR, et al. Biodistribution of adeno-associated virus serotype 9 (AAV9) vector after intrathecal and intravenous delivery in mouse. Front Neuroanat. 2014;8:42.

Guo Y, Wang D, Qiao T, Yang C, Su Q, Gao G, et al. A single injection of recombinant adeno-associated virus into the lumbar cistern delivers transgene expression throughout the whole spinal cord. Mol Neurobiol. 2016;53:3235–48.

Meyer K, Ferraiuolo L, Schmelzer L, Braun L, McGovern V, Likhite S, et al. Improving single injection CSF delivery of AAV9-mediated gene therapy for SMA: a dose–response study in mice and nonhuman primates. Mol Ther. 2015;23:477–87.

Chen B, He C, Chen X, Pan S, Liu F, Ma X, et al. Targeting transgene to the heart and liver with AAV9 by different promoters. Clin Exp Pharmacol Physiol. 2015;42:1108–17.

Cearley CN, Wolfe JH. Transduction characteristics of adeno-associated virus vectors expressing cap serotypes 7, 8, 9, and Rh10 in the mouse brain. Mol Ther. 2006;13:528–37.

Emborg ME, Hurley SA, Joers V, Tromp DPM, Swanson CR, Ohshima-Hosoyama S, et al. Titer and product affect the distribution of gene expression after intraputaminal convection-enhanced delivery. Stereotactic Funct Neurosurg. 2014;92:182–94.

Haurigot V, Marcó S, Ribera A, Garcia M, Ruzo A, Villacampa P, et al. Whole body correction of mucopolysaccharidosis IIIA by intracerebrospinal fluid gene therapy. J Clin Investig. 2013;123:3254–71.

Evers MM, Miniarikova J, Juhas S, Vallès A, Bohuslavova B, Juhasova J. et al. AAV5-miHTT gene therapy demonstrates broad distribution and strong human mutant huntingtin lowering in a Huntington disease minipig model. Mol Ther. 2018;26:2163–77.
Acknowledgements
The authors would like thank E. Broug and E. Sawyer for critically reviewing this manuscript.
Ethics declarations
Conflict of interest
The authors declare that they have no conflict of interest.
Additional information
Publisher's note Springer Nature remains neutral with regard to jurisdictional claims in published maps and institutional affiliations.
About this article
Cite this article
Pietersz, K.L., Martier, R.M., Baatje, M.S. et al. Transduction patterns in the CNS following various routes of AAV-5-mediated gene delivery. Gene Ther 28, 435–446 (2021). https://doi.org/10.1038/s41434-020-0178-0
Received:

Revised:

Accepted:

Published:

Issue Date:

DOI: https://doi.org/10.1038/s41434-020-0178-0