Abstract
The FoxM1 transcription factor plays an important role in the progression of HCC. Therefore, it is necessary to study cell regulation of FoxM1. In this study, we determined the expression of miR-214 and it was inversely associated with FoxM1 protein level in HCC; and suppression of FoxM1 translation by miR-214 mimics. We found that miR-214 targeted the 3′untranslated region of FoxM1 mRNA. In addition, the study found that DLX1 was the direct target of FoxM1 in HCC. Downregulation of FoxM1 inhibits the proliferation, migration, and invasion of HCC cells by miR-214. These results indicate that miR-214 may be used as a completely new molecular target by influencing FoxM1 expression in HCC.
Relevant articles
Open Access articles citing this article.
Jing-Ran Sun

,

Xiao Zhang

&

Ya Zhang

Cellular & Molecular Biology Letters Open Access 04 December 2019
Access options
Subscribe to Journal
Get full journal access for 1 year
$119.00
only $9.92 per issue
All prices are NET prices.
VAT will be added later in the checkout.
Tax calculation will be finalised during checkout.
Buy article
Get time limited or full article access on ReadCube.
$32.00
All prices are NET prices.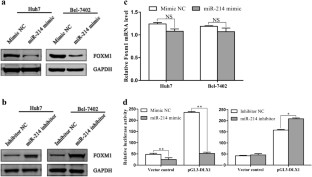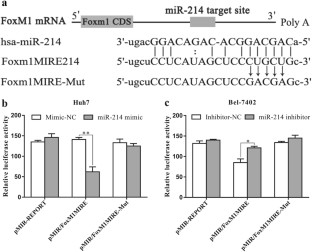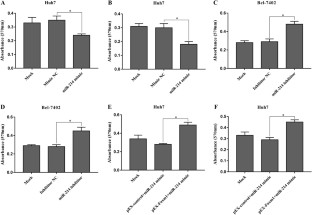 References
Siegel RL, Miller KD, Jemal A. Cancer statistics, 2017. CA Cancer J Clin. 2017;67:7–30.

Kudo M, Lencioni R, Marrero JA, Venook AP, Bronowicki JP, Chen XP, et al. Regional differences in sorafenib-treated patients with hepatocellular carcinoma: GIDEON observational study. Liver Int. 2016;36:1196–205.

Zhang X, Zhang L, Du Y, Zheng H, Zhang P, Sun Y, et al. A novel FOXM1 isoform, FOXM1D, promotes epithelial-mesenchymal transition and metastasis through ROCKs activation in colorectal cancer. Oncogene. 2017;36:807–19.

Yan Chen,Yifei Liu, Haosheng Ni, Chuanjin Ding, Xiaobo Zhang, Zhenxin Zhang, et al. FoxM1 overexpression promotes cell proliferation and migration and inhibits apoptosis in hypopharyngeal squamous cell carcinoma resulting in poor clinical prognosis. Int. J. Oncol. 2017; 51(4):1045-1054.

John Le Lay, Klaus H Kaestner. The Fox genes in the liver: from organogenesis tofunctional integration. Physiol. Rev. 2010; 90(1)1-22.

Artem Smirnov, Emanuele Panatta, AnnaMaria Lena, Daniele Castiglia, Nicola DiDaniele, Gerry Melino,et al. Aging (Albany NY) 2016; 8(7):1384-97.

Guanghong Xiu, Xiujie Sui, Yirong Wang, Ze Zhang. FOXM1 regulates radiosensitivity of lung cancer cell partly by upregulating KIF20A. Eur. J. Pharmacol. 2018; 83379-85.

Kiselev FL. MicroRNA and cancer. Mol Biol. 2014;48:232–42.

Zu Y, Yang Y, Zhu J, Bo X, Hou S, Zhang B, et al. MiR-146a suppresses hepatocellular carcinoma by downregulating TRAF6. Am J Cancer Res. 2016;6:2502–13.

Chen H, Liu C, Jiang H, Gao Y, Xu M, Wang J, et al. Regulatory role of miRNA-375 in expression of BMP15/GDF9 receptors and its effect on proliferation and apoptosis of bovine cumulus cells. Cell Physiol Biochem. 2017;41:439–50.

Hartig SM, Hamilton MP, Bader DA, McGuire SE. The miRNA interactome in metabolic homeostasis. Trends Endocrinol Metab. 2015;26:733–45.

Xiaoyan Liu, Lei Bi, Qin Wang, Mingxin Wen, Ce Li, Yidan Ren, Qinlian Jiao, et al. miR-1204 targets VDR to promotes epithelial-mesenchymal transition and metastasis in breast cancer. Oncogene 2018; 37(25):3426-3439.

Cristobal I, Carames C, Madoz-Gurpide J, Rojo F, Aguilera O, Garcia-Foncillas J. Downregulation of miR-214 is specific of liver metastasis in colorectal cancer and could play a role determining the metastatic niche. Int J Colorectal Dis. 2014;29:885.

Guo J, Ma J, Zhao G, Li G, Fu Y, Luo Y, Long Non-Coding RNA. LINC0086 functions as a tumor suppressor in nasopharyngeal carcinoma by targeting miR-214. Oncol Res. 2017;25:1189–97.

Liu WH, Chen CH, Yeh KH, Li CL, Wu YJ, Chen DS, et al. ADAR2-mediated editing of miR-214 and miR-122 precursor and antisense RNA transcripts in liver cancers. PLoS ONE. 2013;8:e81922.

Chan DW, Hui WW, Wang JJ, Yung MM, Hui LM, Qin Y et al. DLX1 acts as a crucial target of FOXM1 to promote ovarian cancer aggressiveness by enhancing TGF-beta/SMAD4 signaling. Oncogene 2017; 36(10):1404-1416.

Jian-Mei Wang, Bao-Hui Ju, Cai-Jun Pan, Yan Gu, Meng-Qi Li, Li Sun, et al. MiR-214 inhibits cell migration, invasion and promotes the drug sensitivity in human cervical cancer by targeting FOXM1. Am J Transl Res 2017; 9(8):3541-3557.

Zhu XB, Zhang ZC, Han GS, Han JZ, Qiu DP. Overexpression of miR214 promotes the progression of human osteosarcoma by regulating the Wnt/betacatenin signaling pathway. Mol Med Rep. 2017;15:1884–92.

Liao J, Lin J, Lin D, Zou C, Kurata J, Lin R, et al. Down-regulation of miR-214 reverses erlotinib resistance in non-small-cell lung cancer through up-regulating LHX6 expression. Sci Rep. 2017;7:781.

Li TK, Yin K, Chen Z, Bao Y, Zhang SX. MiR-214 regulates oral cancer KB cell apoptosis through targeting RASSF5. Genet Mol Res. 2017 Mar 8;16(1).

Liu B, Tian Y, Li F, Zhao Z, Jiang X, Zhai C, et al. Tumor-suppressing roles of miR-214 and miR-218 in breast cancer. Oncol Rep. 2016;35:3178–84.

Xin R, Bai F, Feng Y, Jiu M, Liu X, Bai F, et al. MicroRNA-214 promotes peritoneal metastasis through regulating PTEN negatively in gastric cancer. Clin Res Hepatol Gastroenterol. 2016;40:748–54.

Schickel R, Boyerinas B, Park SM, Peter ME. MicroRNAs: key players in the immune system, differentiation, tumorigenesis and cell death. Oncogene. 2008;27:5959–74.

Wang J, Zhou M, Wang X, Yang X, Wang M, Zhang C, et al. Impact of ketamine on learning and memory function, neuronal apoptosis and its potential association with miR-214 and PTEN in adolescent rats. PLoS ONE. 2014;9:e99855.

Yang Z, Chen S, Luan X, Li Y, Liu M, Li X, et al. MicroRNA-214 is aberrantly expressed in cervical cancers and inhibits the growth of HeLa cells. IUBMB Life. 2009;61:1075–82.

Gao M, Liu Y, Chen Y, Yin C, Chen JJ, Liu S. miR-214 protects erythroid cells against oxidative stress by targeting ATF4 and EZH2. Free Radic Biol Med. 2016;92:39–49.

Tian X, Zeng G, Li X, Wu Z, Wang L. Cantharidin inhibits cell proliferation and promotes apoptosis in tongue squamous cell carcinoma through suppression of miR-214 and regulation of p53 and Bcl-2/Bax. Oncol Rep. 2015;33:3061–8.

Zhenfeng Zhang, Pengfei Ma, Ying Jing, Ying Yan, Mei-Chun Cai, Meiying Zhang, et al. BET Bromodomain Inhibition as a Therapeutic Strategy in Ovarian Cancer by Downregulating FoxM1. Theranostics 2016; 6(2):219-30.

Kang JG, Majerciak V, Uldrick TS, Wang X, Kruhlak M, Yarchoan R, et al. Kaposi's sarcoma-associated herpesviral IL-6 and human IL-6 open reading frames contain miRNA binding sites and are subject to cellular miRNA regulation. J Pathol. 2011;225:378–89.

Zheng WW, Zhou J, Zhang CH, Liu XS. MicroRNA-216b is downregulated in hepatocellular carcinoma and inhibits HepG2 cell growth by targeting Forkhead box protein M1. Eur Rev Med Pharmacol Sci. 2016;20:2541–50.

Meng FD, Wei JC, Qu K, Wang ZX, Wu QF, Tai MH, et al. FoxM1 overexpression promotes epithelial-mesenchymal transition and metastasis of hepatocellular carcinoma. World J Gastroenterol. 2015;21:196–213.

Wei JC, Meng FD, Qu K, Wang ZX, Wu QF, Zhang LQ, et al. Sorafenib inhibits proliferation and invasion of human hepatocellular carcinoma cells via up-regulation of p53 and suppressing FoxM1. Acta Pharmacol Sin. 2015;36:241–51.

Qu K, Xu X, Liu C, Wu Q, Wei J, Meng F, et al. Negative regulation of transcription factor FoxM1 by p53 enhances oxaliplatin-induced senescence in hepatocellular carcinoma. Cancer Lett. 2013;331:105–14.

Dai X, Iwasaki H, Watanabe M, Okabe S. DLX1 transcription factor regulates dendritic growth and postsynaptic differentiation through inhibition of neuropilin-2 and PAK3 expression. Eur J Neurosci. 2014;39:531–47.
Acknowledgements
This work is supported by the Science and Technology Foundation of the Health and Family Planning Commission of Guizhou province, China (gzwjkj2017-1-005).
Ethics declarations
Conflict of interest
The authors declare that they have no conflict of interest.
Additional information
These authors contributed equally: Chuan Tian, Haixia Wu, Chan Li.
About this article
Cite this article
Tian, C., Wu, H., Li, C. et al. Downreguation of FoxM1 by miR-214 inhibits proliferation and migration in hepatocellular carcinoma. Gene Ther 25, 312–319 (2018). https://doi.org/10.1038/s41434-018-0029-4
Received:

Revised:

Accepted:

Published:

Issue Date:

DOI: https://doi.org/10.1038/s41434-018-0029-4
This article is cited by
Hongping Guo
Yuhong Jiang
Canquan Mao

International Journal of Peptide Research and Therapeutics (2021)

Jing-Ran Sun
Xiao Zhang
Ya Zhang

Cellular & Molecular Biology Letters (2019)