Abstract
Background
To assess the relationship between sleep duration and the risk of major eye disorders including myopia, glaucoma, cataract, age-related macular degeneration (AMD), and diabetic retinopathy (DR).
Methods
Databases including PubMed, Embase, Web of Science, and Cochrane library were searched for eligible publications before July 2021. Studies assessing the relationship between sleep duration and any one of the major eye disorders were identified. Pooled odds ratios (ORs) and their corresponding 95% confidence intervals (95% CIs) were estimated using random-effects models.
Results
We identified 21 relevant articles including 777348 participants, and 17 were cross-sectional, 3 were longitudinal, and 1 was case-control. Pooled results indicated that long sleep duration was significantly associated with the risk of DR (OR = 1.84, 95% CI 1.24, 2.73), and short sleep duration was significantly associated with the risk of cataract (OR = 1.20, 95% CI 1.05, 1.36). Besides, a significant relationship was observed between the risk of DR and long sleep duration per day (i.e., nighttime sleep plus daytime napping, OR = 1.74, 95% CI 1.23, 2.44) rather than per night (OR = 2.17, 95% CI 0.95, 4.99). The extreme of long sleep duration (i.e., >10 h per night) increased the risk of myopia (OR = 1.02, 95% CI 1.01, 1.04).
Conclusions
Inappropriate sleep duration might increase the risk of major eye disorders. The findings could contribute to the growing knowledge on the possible relationship between circadian rhythms and eye disorders.
Access options
Subscribe to this journal
Receive 18 print issues and online access
$259.00 per year
only $14.39 per issue
Rent or buy this article
Get just this article for as long as you need it
$39.95
Prices may be subject to local taxes which are calculated during checkout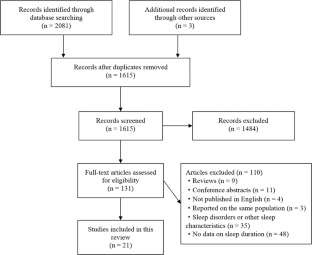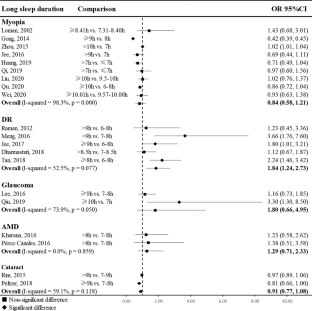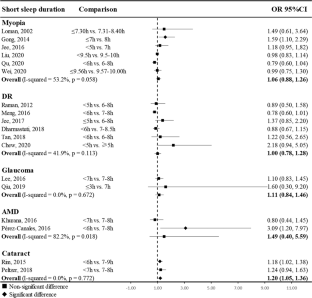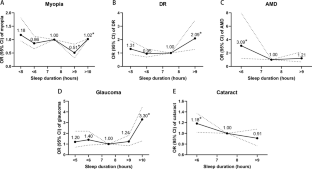 Data availability
The data that support the findings of this study are available from the corresponding author upon reasonable request.
References
Bourne RRA, Flaxman SR, Braithwaite T, Cicinelli MV, Das A, Jonas JB, et al. Magnitude, temporal trends, and projections of the global prevalence of blindness and distance and near vision impairment: a systematic review and meta-analysis. Lancet Glob Health. 2017;5:e888–97.

Congdon N, O'Colmain B, Klaver CC, Klein R, Muñoz B, Friedman DS, et al. Causes and prevalence of visual impairment among adults in the United States. Arch Ophthalmol (Chic, Ill: 1960). 2004;122:477–85.

Saw SM, Foster PJ, Gazzard G, Seah S. Causes of blindness, low vision, and questionnaire-assessed poor visual function in Singaporean Chinese adults: The Tanjong Pagar Survey. Ophthalmology. 2004;111:1161–8.

Klein R, Klein BE, Linton KL, De Mets DL. The Beaver Dam Eye Study: visual acuity. Ophthalmology. 1991;98:1310–5.

Pascolini D, Mariotti SP. Global estimates of visual impairment: 2010. Br J Ophthalmol. 2012;96:614–8.

Shan Z, Ma H, Xie M, Yan P, Guo Y, Bao W, et al. Sleep duration and risk of type 2 diabetes: a meta-analysis of prospective studies. Diabetes Care. 2015;38:529–37.

Yin J, Jin X, Shan Z, Li S, Huang H, Li P, et al. Relationship of sleep duration with all-cause mortality and cardiovascular events: a systematic review and dose-response meta-analysis of prospective cohort studies. J Am Heart Assoc. 2017;6:e005947.

Short MA, Booth SA, Omar O, Ostlundh L, Arora T. The relationship between sleep duration and mood in adolescents: a systematic review and meta-analysis. Sleep Med Rev. 2020;52:101311.

Jee D, Morgan IG, Kim EC. Inverse relationship between sleep duration and myopia. Acta Ophthalmol. 2016;94:e204–10.

Wei SF, Li SM, Liu L, Li H, Kang MT, Sun YY, et al. Sleep duration, bedtime, and myopia progression in a 4-year follow-up of Chinese children: The Anyang childhood eye study. Investig Ophthalmol Vis Sci. 2020;61:37.

Chew M, Tan NYQ, Lamoureux E, Cheng CY, Wong TY, Sabanayagam C. The associations of objectively measured sleep duration and sleep disturbances with diabetic retinopathy. Diabetes Res Clin Pract. 2020;159:107967.

Stone RA, Pardue MT, Iuvone PM, Khurana TS. Pharmacology of myopia and potential role for intrinsic retinal circadian rhythms. Exp Eye Res. 2013;114:35–47.

Xu X, Wang D, Xiao G, Yu K, Gong Y. Sleep less, myopia more. Theory Clin Pract Pediat. 2017;1:11–7.

Qi LS, Yao L, Wang XF, Shi JM, Liu Y, Wu TY, et al. Risk factors for incident myopia among teenaged students of the experimental class of the air force in China. J Ophthalmol. 2019;2019:3096152.

Moher D, Liberati A, Tetzlaff J, Altman DG, Group P. Preferred reporting items for systematic reviews and meta-analyses: the PRISMA statement. Ann Intern Med. 2009;151:264–9.

Zizi F, Pandey A, Murrray-Bachmann R, Vincent M, McFarlane S, Ogedegbe G, et al. Race/ethnicity, sleep duration, and diabetes mellitus: analysis of the National Health Interview Survey. Am J Med. 2012;125:162–7.

Adenekan B, Pandey A, McKenzie S, Zizi F, Casimir GJ, Jean-Louis G. Sleep in America: role of racial/ethnic differences. Sleep Med Rev. 2013;17:255–62.

Lauderdale DS, Knutson KL, Yan LL, Rathouz PJ, Hulley SB, Sidney S, et al. Objectively measured sleep characteristics among early-middle-aged adults: the CARDIA study. Am J Epidemiol. 2006;164:5–16.

Silva GE, Goodwin JL, Sherrill DL, Arnold JL, Bootzin RR, Smith T, et al. Relationship between reported and measured sleep times: the sleep heart health study (SHHS). J Clin Sleep Med. 2007;3:622–30.

Zeng X, Zhang Y, Kwong JS, Zhang C, Li S, Sun F, et al. The methodological quality assessment tools for preclinical and clinical studies, systematic review and meta-analysis, and clinical practice guideline: a systematic review. J Evid Based Med. 2015;8:2–10.

Stang A. Critical evaluation of the Newcastle-Ottawa scale for the assessment of the quality of nonrandomized studies in meta-analyses. Eur J Epidemiol. 2010;25:603–5.

Lee SH, Kim HB, Lee KW. Association between sleep duration and attention-deficit hyperactivity disorder: a systematic review and meta-analysis of observational studies(✰). J Affect Disord. 2019;256:62–9.

Bucher HC, Guyatt GH, Griffith LE, Walter SD. The results of direct and indirect treatment comparisons in meta-analysis of randomized controlled trials. J Clin Epidemiol. 1997;50:683–91.

Qu Y, Yu J, Xia W, Cai H. Correlation of myopia with physical exercise and sleep habits among suburban adolescents. J Ophthalmol. 2020;2020:2670153.

Higgins JP, Thompson SG, Deeks JJ, Altman DG. Measuring inconsistency in meta-analyses. BMJ. 2003;327:557–60.

Egger M, Davey Smith G, Schneider M, Minder C. Bias in meta-analysis detected by a simple, graphical test. Bmj. 1997;315:629–34.

Chew M, Tan NYQ, Lamoureux E, Cheng CY, Wong TY, Sabanayagam C. The associations of objectively measured sleep duration and sleep disturbances with diabetic retinopathy. Graefe's Arch Clin Exp Ophthalmol = Albrecht von Graefes Arch fur klinische und experimentelle Ophthalmologie. 2020;159:107967.

Rim TH, Kim DW, Kim SE, Kim SS. Factors associated with Cataract in Korea: a Community Health Survey 2008–2012. Yonsei Med J. 2015;56:1663–70.

Loman J, Quinn GE, Kamoun L, Ying GS, Maguire MG, Hudesman D, et al. Darkness and near work: myopia and its progression in third-year law students. Ophthalmology. 2002;109:1032–8.

Gong Y, Zhang X, Tian D, Wang D, Xiao G. Parental myopia, near work, hours of sleep and myopia in Chinese children. Health. 2014;06:64–70.

Zhou Z, Morgan IG, Chen Q, Jin L, He M, Congdon N. Disordered sleep and myopia risk among chinese children. PLoS ONE. 2015;10:e0121796.

Huang L, Kawasaki H, Liu Y, Wang Z. The prevalence of myopia and the factors associated with it among university students in Nanjing: a cross-sectional study. Medicine. 2019;98:e14777.

Liu XN, Naduvilath TJ, Wang J, Xiong S, He X, Xu X, et al. Sleeping late is a risk factor for myopia development amongst school-aged children in China. Sci Rep. 2020;10:17194.

Raman R, Gupta A, Venkatesh K, Kulothungan V, Sharma T. Abnormal sleep patterns in subjects with type II diabetes mellitus and its effect on diabetic microangiopathies: Sankara Nethralaya Diabetic Retinopathy Epidemiology and Molecular Genetic Study (SN-DREAMS, report 20). Acta Diabetol. 2012;49:255–61.

Meng LL, Liu Y, Geng RN, Tang YZ, Li DQ. Association of diabetic vascular complications with poor sleep complaints. Diabetol Metab Syndr. 2016;8:80.

Jee D, Keum N, Kang S, Arroyo JG. Sleep and diabetic retinopathy. Acta Ophthalmol. 2017;95:41–7.

Dharmastuti DP, Agni AN, Widyaputri F, Pawiroranu S, Sofro ZM, Wardhana FS, et al. Associations of physical activity and sedentary behaviour with vision-threatening diabetic retinopathy in indonesian population with type 2 diabetes mellitus: Jogjakarta Eye Diabetic Study in the Community (JOGED.COM). Ophthalmic Epidemiol. 2018;25:113–9.

Tan NYQ, Chew M, Tham YC, Nguyen QD, Yasuda M, Cheng CY, et al. Associations between sleep duration, sleep quality and diabetic retinopathy. PLoS ONE. 2018;13:e0196399.

Lee JA, Han K, Min JA, Choi JA. Associations of sleep duration with open angle glaucoma in the Korea national health and nutrition examination survey. Med (US). 2016;95:e5704.

Qiu M, Ramulu PY, Boland MV. Association between sleep parameters and glaucoma in the United States population: National Health and Nutrition Examination Survey. J Glaucoma. 2019;28:97–104.

Khurana RN, Porco TC, Claman DM, Boldrey EE, Palmer JD, Wieland MR. Increasing sleep duration is associated with geographic atrophy and age-related macular degeneration. Retina. 2016;36:255–8.

Pérez-Canales JL, Rico-Sergado L, Pérez-Santonja JJ. Self-reported sleep duration in patients with neovascular age-related macular degeneration. Ophthalmic Epidemiol. 2016;23:20–6.

Peltzer K, Pengpid S. Self-reported sleep duration and its correlates with sociodemographics, health behaviours, poor mental health, and chronic conditions in rural persons 40 years and older in South Africa. Int J Environ Res Public Health. 2018;15:1357.

Liu Y, Wheaton AG, Chapman DP, Cunningham TJ, Lu H, Croft JB. Prevalence of healthy sleep duration among adults—United States, 2014. MMWR Morb Mortal Wkly Rep. 2016;65:137–41.

McEwen BS. Sleep deprivation as a neurobiologic and physiologic stressor: allostasis and allostatic load. Metab: Clin Exp. 2006;55:S20–23.

Ba-Ali S, Brøndsted AE, Andersen HU, Sander B, Jennum PJ, Lund-Andersen H. Assessment of diurnal melatonin, cortisol, activity, and sleep−wake cycle in patients with and without diabetic retinopathy. Sleep Med. 2019;54:35–42.

Knutson KL, Leproult R. Apples to oranges: comparing long sleep to short sleep. J Sleep Res. 2010;19:118.

Grandner MA, Drummond SP. Who are the long sleepers? Towards an understanding of the mortality relationship. Sleep Med Rev. 2007;11:341–60.

Irwin MR, Olmstead R, Carroll JE. Sleep disturbance, sleep duration, and inflammation: a systematic review and meta-analysis of cohort studies and experimental sleep deprivation. Biol Psychiatry. 2016;80:40–52.

Linsenmeier RA. Effects of light and darkness on oxygen distribution and consumption in the cat retina. J Gen Physiol. 1986;88:521–42.

Zizi F, Jean-Louis G, Brown CD, Ogedegbe G, Boutin-Foster C, McFarlane SI. Sleep duration and the risk of diabetes mellitus: epidemiologic evidence and pathophysiologic insights. Curr Diab Rep. 2010;10:43–7.

Hirshkowitz M, Whiton K, Albert SM, Alessi C, Bruni O, DonCarlos L, et al. National Sleep Foundation's updated sleep duration recommendations: final report. Sleep Health. 2015;1:233–43.

Xie J, Li Y, Zhang Y, Vgontzas AN, Basta M, Chen B, et al. Sleep duration and metabolic syndrome: an updated systematic review and meta-analysis. Sleep Med Rev. 2021;59:101451.

Wu JQ, Appleman ER, Salazar RD, Ong JC. Cognitive behavioral therapy for insomnia comorbid with psychiatric and medical conditions: a meta-analysis. JAMA Intern Med. 2015;175:1461–72.

Zachariae R, Lyby MS, Ritterband LM, O'Toole MS. Efficacy of internet-delivered cognitive-behavioral therapy for insomnia - a systematic review and meta-analysis of randomized controlled trials. Sleep Med Rev. 2016;30:1–10.
Funding
This study was supported by the National Natural Science Foundation of China (82122059).
Ethics declarations
Competing interests
The authors declare no competing interests.
Additional information
Publisher's note Springer Nature remains neutral with regard to jurisdictional claims in published maps and institutional affiliations.
Supplementary information
Rights and permissions
Springer Nature or its licensor (e.g. a society or other partner) holds exclusive rights to this article under a publishing agreement with the author(s) or other rightsholder(s); author self-archiving of the accepted manuscript version of this article is solely governed by the terms of such publishing agreement and applicable law.
About this article
Cite this article
Zhou, M., Li, DL., Kai, JY. et al. Sleep duration and the risk of major eye disorders: a systematic review and meta-analysis. Eye (2023). https://doi.org/10.1038/s41433-023-02403-4
Received:

Revised:

Accepted:

Published:

DOI: https://doi.org/10.1038/s41433-023-02403-4