Abstract
Objective
To illustrate the role of non-contact widefield retinal imaging (NC-WFI) of retinopathy of prematurity (ROP) using the Clarus 700 high resolution true colour reflectance imaging.
Methods
All babies were examined by the vitreoretinal faculty in a tertiary eye care centre from a period of March 2021 to November 2021 using the indirect ophthalmoscope after pupillary dilatation. ROP grading was done according to the revised ICROP (2005) classification. NC-WFI was then performed using the Clarus 700 high resolution true colour reflectance imaging (Carl Zeiss Meditec, Dublin, CA) in the retina diagnostic set up of a tertiary eye care centre.
Results
A total of 22 babies (44 eyes) underwent NC-WFI from March 2021 to November 2021. 13 unique cases of retinopathy of prematurity with images captured on Clarus 700 and the clinical summary is described.
Conclusion
Clarus is a non-contact wide field imaging (NC-WFI) system that can capture high resolution and true colour images (images of the fundus appear similar colour to direct observation by ophthalmoscopy) helping in more accurate diagnosis and grading of the severity of ROP.
Access options
Subscribe to Journal
Get full journal access for 1 year
$119.00
only $6.61 per issue
All prices are NET prices.
VAT will be added later in the checkout.
Tax calculation will be finalised during checkout.
Buy article
Get time limited or full article access on ReadCube.
$32.00
All prices are NET prices.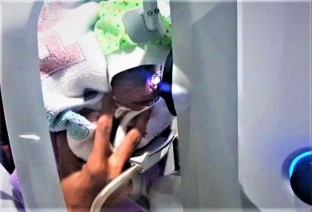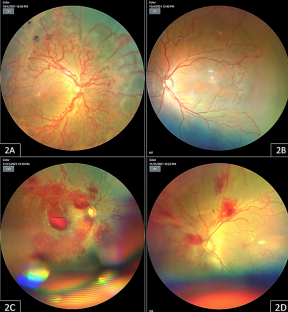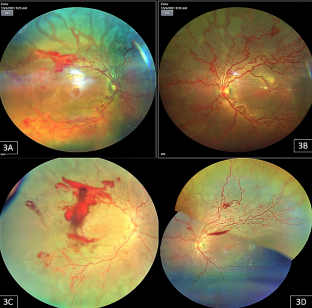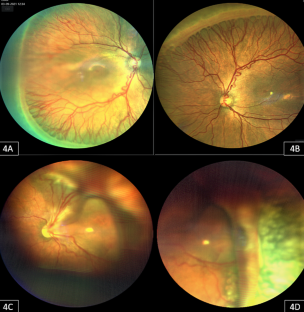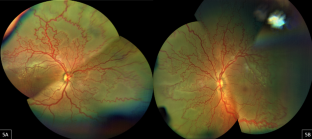 Data availability
Data set is available with author AB and at ROP database office at LV Prasad Eye Institute, Hyderabad, Telangana, India-500034.
References
Khanna RC, Garg P, Vaddavalli PK, Fernandes M, Rath S, Nayak S. et al. Response of L V Prasad Eye Institute to COVID-19 outbreak in India: experience at its tertiary eye care centre and adoption to its Eye Health Pyramid. Int J Ophthalmol. 2021;14:1–9. https://doi.org/10.18240/ijo.2021.01.01.

Sengupta S, Honavar SG, Sachdeva MS, Sharma N, Kumar A, Ram J, et al. All India Ophthalmological society-Indian Journal of Ophthalmology consensus statement on preferred practices during the COVID-19 pandemic. Ind J Ophthalmol. 2020;68:711–24.

Patel CK, Fung TH, Muqit MM, Mordant DJ, Brett J, Smith L, et al. Non-contact ultra-widefield imaging of retinopathy of prematurity using the Optos dual wavelength scanning laser ophthalmoscope. Eye (Lond). 2013;27:589–96.

Mintz-Hittner HA, Kennedy KA, Chuang AZ, BEAT-ROP Cooperative Group. Efficacy of intravitreal bevacizumab for stage 3+ retinopathy of prematurity. N. Engl J Med. 2011;364:603–15.

Mukherjee AN, Watts P, Al-Madfai H, Manoj B, Roberts D. Impact of retinopathy of prematurity screening examination on cardiorespiratory indices: a comparison of indirect ophthalmoscopy and retcam imaging. Ophthalmology. 2006;113:1547–52.

Patel CK, Fung TH, Muqit MM, Mordant DJ, Geh V. Non-contact ultra-widefield retinal imaging and fundus fluorescein angiography of an infant with incontinentia pigmenti without sedation in an ophthalmic office setting. J AAPOS. 2013;17:309–11.

Jalali S, Anand R, Kumar H, Dogra MR, Azad R, Gopal L. Programme planning and screening strategy in retinopathy of prematurity. Indian J Ophthalmol. 2003;51:89–99.

Jalali S, Matalia J, Hussain A, Anand R. Modification of screening criteria for Retinopathy of Prematurity in India and other middle-income group countries. Am J Ophthalmol. 2006;141:966–8.

Jalali S, Kesarwani S, Hussain A. Outcomes of a protocol-based management for zone I retinopathy of prematurity. The Indian twin cities Retinopathy of Prematurity screening program report number 2. Am J Ophthalmol. 2011;151:719–24.

International Committee for the Classification of Retinopathy of Prematurity. The International Classification of Retinopathy of Prematurity revisited. Arch Ophthalmol. 2005;123:991–9.

Richter GM, Williams SL, Starren J, Flynn JT, Chiang MF. Telemedicine for retinopathy of prematurity diagnosis: evaluation and challenges. Surv Ophthalmol. 2009;54:671–85. https://doi.org/10.1016/j.survophthal.2009.02.020.

Chiang MF, Wang L, Busuioc M, Du YE, Chan P, Kane SA, et al. Telemedical retinopathy of prematurity diagnosis: accuracy, reliability, and image quality. Arch Ophthalmol. 2007;125:1531–8.
Funding
Hyderabad Eye Research Foundation (2020), Hyderabad, India. The institute has received funding or support for its ongoing Retinopathy of Prematurity programs from Miriam Hyman Memorial Trust (MHMT, UK), Dalmia Holdings (India), Queen Elizabeth Diamond Jubilee Trust (UK), Public Health Foundation of India, Cognizant Foundation and the Government of India. Grant number LEC 08088.
Ethics declarations
Competing interests
The authors declare no competing interests.
Additional information
Publisher's note Springer Nature remains neutral with regard to jurisdictional claims in published maps and institutional affiliations.
Supplementary information
Rights and permissions
Springer Nature or its licensor holds exclusive rights to this article under a publishing agreement with the author(s) or other rightsholder(s); author self-archiving of the accepted manuscript version of this article is solely governed by the terms of such publishing agreement and applicable law.
About this article
Cite this article
Belenje, A., Reddy, R.U., Optom, B. et al. Non-contact widefield neonatal retinal imaging for retinopathy of prematurity using the Clarus 700 high resolution true colour reflectance imaging. Eye (2022). https://doi.org/10.1038/s41433-022-02273-2
Received:

Revised:

Accepted:

Published:

DOI: https://doi.org/10.1038/s41433-022-02273-2