Abstract
Background
Patients with benign eyelid lesions make up a large proportion of referrals to the oculoplastic service and lend themselves well to telemedicine with assessments heavily reliant on history, observation-based examination and photographs to enable management decision-making. Our tertiary unit set up tele-oculoplastics clinics for all new patients referred for benign eyelid lesions comprising tele-consultation with antecedent patient photograph: Benign Eyelid Lesion Pathway (BELP). One year on, we describe a retrospective analysis of 974 patients looking at distinct parameters of effectiveness.
Methods
We retrospectively collected data from electronic patient records (EPR) for BELP patients from July 2020 to August 2021 (n = 974). We analysed time efficiency (referral time to treatment plan, consultation duration in minutes, average waiting times, number of patients seen per clinician and DNA rate), accessibility, safety (via video surveillance clinic) and theatre utilisation.
Results
57.3% (n = 558) were listed for a surgical procedure direct from tele-consultation with 94.9% (n = 513) of these proceeding to surgery; 22.8% (n = 222) were discharged, 10.7% (n = 104) had further video follow-up and 6.7% (n = 65) required face-to-face follow-up. Our results showed efficient referral-to-treatment times, waiting times, consultation times and non-attendance rate. There was only a 2.57% non-attendance rate. There was no missed diagnosis of a malignancy of a presumed benign lesion.
Conclusion
Tele-oculoplastics provides a streamlined, safe, effective, and logistically convenient way to review benign eyelid lesions. With the increased waiting times for referral to biopsy of eyelid lesions, this clinic shows it is imperative to provide digital accessibility for patient assessment and booking to operating theatre.
Access options
Subscribe to Journal
Get full journal access for 1 year
$119.00
only $9.92 per issue
All prices are NET prices.
VAT will be added later in the checkout.
Tax calculation will be finalised during checkout.
Buy article
Get time limited or full article access on ReadCube.
$32.00
All prices are NET prices.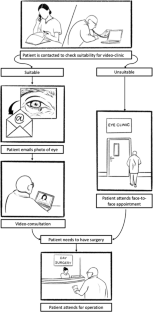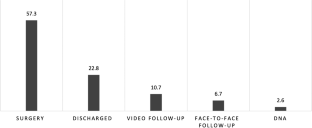 Data availability
The datasets generated and/or analysed during the current study are not publicly available due to patient identifiable data but are available from the corresponding author on reasonable request.
References
NHS Digital. Hospital Outpatient Activity 2020-21—NHS Digital. 2021. Accessed 21 Nov 2021. https://digital.nhs.uk/data-and-information/publications/statistical/hospital-outpatient-activity/2020-21#

Royal College of Ophthalmology. Workforce Census 2018. 2019. Accessed 21 Nov 2021 https://www.rcophth.ac.uk/wp-content/uploads/2019/02/RCOphth-Workforce-Census-2018.pdf

Kang S, Dehabadi M, Sim DA, Thomas PBM, Appiah Ewusi D, Ezra D. Accuracy of periocular lesion assessment using telemedicine. BMJ Health Care Inform. 2021;28:e100287.

Verma M, Raman R, Mohan RE. Application of tele-ophthalmology in remote diagnosis and management of adnexal and orbital diseases. Indian J Ophthalmol. 2009;57:381–4. http://www.who.int/archives/int-pr-1997/en/pr97-98.html

Rossato LA, Carneiro RC, Miyazaki A, Matayoshi S. Accuracy of clinical examination in the diagnosis of eyelid lesions. Rev Brasileira de Oftalmologia 2014;73:324–8.

Soto JL, Vrcek I, Ozgur O, Mancini R. Evaluating the growth of eyelid lesions: comparison of clinical evaluation and a software-based model. Int Ophthalmol. 2017;37:1257–61.

Kersten RC, Ewing-Chow D, Kulwin DR, Gallon M. Accuracy of clinical diagnosis of cutaneous eyelid lesions. Ophthalmology 1997;104:479–84.

Hind J, Edington M, McFall K, Salina E, Diaper C, Drummond S. et al. An image-based eyelid lesion management service—evaluation of a pilot. Eye. 2022;36:1314–8.

Rayner S, Beaconsfield M, Kennedy C, Collin R, Taylor P, Murdoch I. Subspecialty adnexal ophthalmological examination using telemedicine. J Telemed telecare. 2001;7:29–31.

Threlkeld AB, Fahd T, Camp M, Johnson MH. Telemedical evaluation of ocular adnexa and anterior segment. Am J Ophthalmol. 1999;127:464–6. https://www.sciencedirect.com/science/article/abs/pii/S0002939498003559

Hwang CJ, Eftekhari K, Schwarcz RM, Massry GG. The aesthetic oculoplastic surgery video teleconference consult. Aesthetic Surg J. 2019;39:714–8.

Lelli GJ, Luo S, Liu Y, van Landingham SW. Telemedicine Use by Oculoplastic Surgeons During the COVID-19 Pandemic. Telemed e-Health. 2021.

Kang S, Thomas PBM, Sim DA, Parker RT, Daniel C, Uddin JM. Oculoplastic video-based telemedicine consultations: Covid-19 and beyond. Eye. 2020;34:1193–5.

Kang S, Raja L, Sim DA, Thomas PBM, Ezra DG Telemedicine in oculoplastic and adnexal surgery: clinicians perspectives in the UK. Br J Ophthalmol. 2021. https://bjo.bmj.com/content/early/2021/04/27/bjophthalmol-2020-318696

Kiruparan P, Kiruparan N, Debnath D. Impact of pre-appointment contact and short message service alerts in reducing 'Did Not Attend'(DNA) rate on rapid access new patient breast clinics: a DGH perspective. BMC Health Serv Res. 2020;20:1–9.

NHS England. NHS England. Quarterly Hospital Activity Data. 2018-2019.

Almathami HKY, Win KT, Vlahu-Gjorgievska E. Barriers and Facilitators That Influence Telemedicine-Based, Real-Time, Online Consultation at Patients' Homes: Systematic Literature Review. J Med Internet Res. 2020;22:e16407–e16407. https://pubmed.ncbi.nlm.nih.gov/32130131

Karlsson M, Öhman DP. Material consumption in the healthcare sector: Strategies to reduce its impact on climate change—The case of Region Scania in South Sweden. J Clean Prod. 2005;13:1071–81.

Fryer K, Delgado A, Foti T, Reid CN, Marshall J. Implementation of Obstetric Telehealth During COVID-19 and Beyond. Matern child health J. 2020;24:1104–10. https://pubmed.ncbi.nlm.nih.gov/32564248
Acknowledgements
We would like to thank the clinicians who see patients in the BELP clinic and Caroline Kilduff for creating the illustrations.
Ethics declarations
Competing interests
The authors declare no competing interests.
Ethics approval
Permission to perform this study as a clinical audit was granted by Moorfields Eye Hospital NHS Foundation Trust. Ethical approval was not required.
Additional information
Publisher's note Springer Nature remains neutral with regard to jurisdictional claims in published maps and institutional affiliations.
About this article
Cite this article
Ah-Kye, L., Butt, A., Gupta, A. et al. Introducing the 'Benign Eyelid Lesion Pathway': 1 year experience of synchronous tele-oculoplastics in a tertiary hospital. Eye (2022). https://doi.org/10.1038/s41433-022-02166-4
Received:

Revised:

Accepted:

Published:

DOI: https://doi.org/10.1038/s41433-022-02166-4