Abstract
Objectives
The choice of suture is an important consideration in entropion repair, with implications on wound strength, inflammation and scar formation. There is no consensus on the best suture material or gauge of suture at present. We aim to assess the long-term outcome of entropion repair using 8-0 polyglactin sutures, with specific focus on rates of recurrence, wound dehiscence, infection and scarring.
Methods
This retrospective case series included consecutive patients from two institutions (84 eyes) undergoing entropion repair using a subciliary incision and a lateral wedge resection. Patients were invited for follow up review and patient records were evaluated to assess for cosmetic and functional outcome, complications and patient satisfaction.
Results
The median follow-up time from surgery was 48 months (range 20–100). There were five cases of entropion recurrence (5.9%), taking place between 8 months to 4 years after surgery, two cases required further surgery, while three were conservatively treated. There was no wound dehiscence. Two cases (2.4%) of mild superficial wound infections occurred which were successfully treated with topical antibiotics, 1 case (1.2%) of mild lid notching, and 1 case (1.2%) of scarring were recorded. 97% of patients reported to be satisfied with the outcome of their surgery.
Conclusions
The use of 8-0 polyglactin suture in entropion repair has resulted in good aesthetic and functional outcome in this case series, with low rates of recurrence, complications, and no case of wound dehiscence, suggesting this suture provides sufficient tensile strength to enable wound closure and healing.
Access options
Subscribe to this journal
Receive 18 print issues and online access
$259.00 per year
only $14.39 per issue
Rent or buy this article
Get just this article for as long as you need it
$39.95
Prices may be subject to local taxes which are calculated during checkout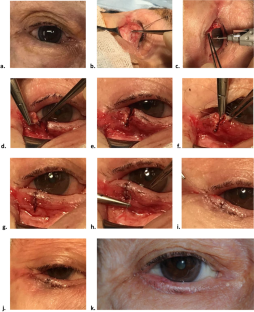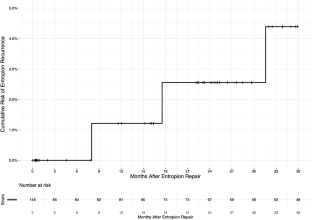 References
Damasceno R, Osaki M, Dantas P, Belfort R. Involutional Entropion and Ectropion of the Lower Eyelid: Prevalence and Associated Risk Factors in the Elderly Population. Ophthalmic Plast Reconstructive Surg. 2011;27:317–20.

Marcet M, Phelps P, Lai J. Involutional entropion. Curr Opin Ophthalmol. 2015;26:416–21.

Schulz CB, Fallico M, Rothwell A, Siah WF. Lower eyelid involutional entropion following cataract surgery. Eye (2021). https://doi.org/10.1038/s41433-021-01466-5.

Benger R, Musch D. A Comparative Study of Eyelid Parameters in Involutional Entropion. Ophthalmic Plast Reconstructive Surg. 1989;5:281–7.

Smith H, Jyothi S, Mahroo O, Shams P, Sira M, Dey S, et al. Patient-reported benefit from oculoplastic surgery. Eye. 2012;26:1418–23.

Collin J, Rathbun J. Involutional Entropion: a review with evaluation of a procedure. Arch Ophthalmol. 1978;96:1058.

Altieri M, Iester M, Harman F, Bertagno R, Capris P, Venzano D, et al. Comparison of Three Techniques for Repair of Involutional Lower Lid Entropion: a three-year follow-up study. Ophthalmologica. 2003;217:265–72.

Ho S, Pherwani A, Elsherbiny S, Reuser T. Lateral Tarsal Strip and Quickert Sutures for Lower Eyelid Entropion. Ophthalmic Plast Reconstruct Surg. 2005;21:345–8.

Jang S, Choi S, Jang J, Kim S, Choi H. Long-term surgical outcomes of Quickert sutures for involutional lower eyelid entropion. J Cranio-Maxillofac Surg. 2014;42:1629–31.

Lee H, Takahashi Y, Ichinose A, Kakizaki H. Comparison of surgical outcomes between simple posterior layer advancement of lower eyelid retractors and combination with a lateral tarsal strip procedure for involutional entropion in a Japanese population. Br J Ophthalmol. 2014;98:1579–82.

Danks J, Rose G. Involutional lower lid entropion. Ophthalmology. 1998;105:2065–7.

Scheepers M, Singh R, Ng J, Zuercher D, Gibson A, Bunce C, et al. A Randomized Controlled Trial Comparing Everting Sutures with Everting Sutures and a Lateral Tarsal Strip for Involutional Entropion. Ophthalmology. 2010;117:352–5.

Denniston A, Murray P. Oxford handbook of ophthalmology. 4th ed. Oxford: Oxford University Press; 2018. p. 166–7.

Altieri M, Kingston A, Bertagno R, Altieri G. Modified retractor plication technique in lower lid entropion repair: a 4-Year follow-up study. Can J Ophthalmol. 2004;39:650–5.

Ranno S, Sacchi M, Gilardi D, Lembo A, Nucci P. Retractor Plication versus Retractor Plication and Lateral Tarsal Strip for Eyelid Entropion Correction. Eur J Ophthalmol. 2014;24:141–6.

Roberts M, Baddeley P, Sinclair N, Lane C. The Lower Lid Diamond. Ophthalmic Plast Reconstruct Surg. 2012;28:44–6.

Brauner S, Berry J, Pye J, Lee E, Rhee D. Effect of Saline Conditions on the Tensile Strength of Ophthalmic Sutures. Ophthalmic Surg, Lasers Imaging Retin. 2011;42:148–51.

Cartmill B, Parham D, Strike P, Griffiths L, Parkin B. How Do Absorbable Sutures Absorb? A Prospective Double-Blind Randomized Clinical Study of Tissue Reaction to Polyglactin 910 Sutures in Human Skin. Orbit. 2014;33:437–43.

Setzen G, Williams E. Tissue Response to Suture Materials Implanted Subcutaneously in a Rabbit Model. Plast Reconstructive Surg. 1997;100:1788–95.

Postlethwait R. Long-Term Comparative Study of Nonabsorbable Sutures. Ann Surg. 1970;171:892–8.

DeLee J, Smith M, Green D. The reaction of nerve tissue to various suture materials: a study in rabbits. J Hand Surg. 1977;2:38–43.

Everett W. Sutures, incisions, and anastomoses. Ann R Coll Surg Engl. 1974;55:31–8.

Edlich R, Panek P, Rodeheaver G, Kurtz L, Edgerton M. Surgical sutures and infection: a biomaterial evaluation. J Biomed Mater Res. 1974;8:115–26.

J408G | Ethicon [Internet]. Ethicon.com. 2021 [cited 26 August 2021]. https://www.ethicon.com/na/epc/code/j408g?lang=en-default.

Weitzul S, Taylor RS. Suturing Technique and Other Closure Materials. In Surgery of the Skin. Elsevier Inc. 2005. p. 225–244. https://doi.org/10.1016/B978-0-323-02752-6.50021-3.

Boboridis K, Bunce C, Rose G. A comparative study of two procedures for repair of involutional lower lid entropion. Ophthalmology 2000;107:959–61.

Hedin A. Senile entropion - cure rate by retractor tightening and horizontal shortening. Acta Ophthalmologica Scandinavica. 2009;75:443–6.

Leibovitch I. Lateral Wedge Resection: A Simple Technique for Repairing Involutional Lower Eyelid Entropion. Dermatologic Surg. 2010;36:1412–8.
Ethics declarations
Competing interests
The authors declare no competing interests.
Additional information
Publisher's note Springer Nature remains neutral with regard to jurisdictional claims in published maps and institutional affiliations.
About this article
Cite this article
Yang, Y., Chihaia, M., Schulz, C.B. et al. 8-0 polyglactin 910 suture in entropion repair: long term follow up and rates of recurrence. Eye 37, 618–623 (2023). https://doi.org/10.1038/s41433-022-01997-5
Received:

Revised:

Accepted:

Published:

Issue Date:

DOI: https://doi.org/10.1038/s41433-022-01997-5