Abstract
Purpose
To establish the factors responsible for attenuation of the optical coherence tomography (OCT) signal beneath the neurosensory detachment (NSD).
Methods
We retrospectively reviewed 33 eyes with acute central serous chorioretinopathy. The thickness of the neurosensory retina, the thickness of the photoreceptor outer segment (PROS) layer, the height of the NSD, and the reflectivity of the underlying retinal pigment epithelium (RPE) were measured at selected points of B-scans exported from 6 × 6 mm OCT angiography protocols. The intensity of the flow signal was measured at the corresponding regions of the choriocapillaris slab. The correlation between the parameters of the NSD and both the reflectivity of underlying RPE and the intensity of the flow signal in the choriocapillaris was calculated.
Results
Correlation coefficients between RPE reflectivity and neurosensory retinal thickness, PROS layer thickness, and NSD height were −0.32, −0.64, and −0.25, respectively (p < 0.001). Correlation coefficients between the intensity of the flow signal and neurosensory retinal thickness, PROS layer thickness, and NSD height were −0.24 (p = 0.004), −0.52 (p < 0.001), and 0.13 (p = 0.13), respectively.
Conclusion
The thickness of the PROS layer is the most significant factor affecting OCT signal at the level of RPE and OCT angiography flow signal in the choriocapillaris beneath the NSD.
This is a preview of subscription content
Access options
Subscribe to Journal
Get full journal access for 1 year
$119.00
only $9.92 per issue
All prices are NET prices.
VAT will be added later in the checkout.
Tax calculation will be finalised during checkout.
Rent or Buy article
Get time limited or full article access on ReadCube.
from$8.99
All prices are NET prices.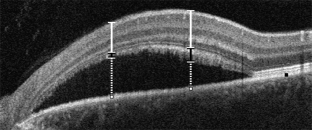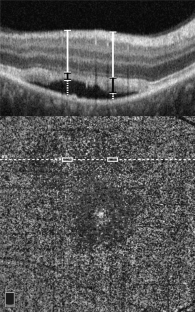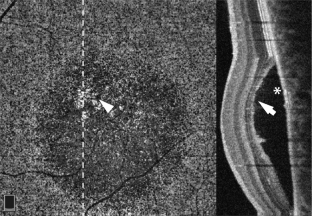 References
1.

Wang Q, Chan S, Yang JY, You B, Wang YX, Jonas JB, et al. Vascular density in retina and choriocapillaris as measured by optical coherence tomography angiography. Am J Ophthalmol. 2016;168:95–109.

2.

Lumbroso B, Rispoli M, Savastano MC. Longitudinal optical coherence tomography–angiography study of type 2 naive choroidal neovascularization early response after treatment. Retina. 2015;35:2242–51.

3.

de Carlo TE, Bonini Filho MA, Chin AT, Adhi M, Ferrara D, Baumal CR, et al. Spectral-domain optical coherence tomography angiography of choroidal neovascularization. Ophthalmology 2015;122:1228–38.

4.

Kayat KV, Roisman L, Zett C, Novais EA, Farah ME. Choriocapillaris hypoperfusion artifact in OCT angiography. Ophthalmic Surg Lasers Imaging Retin. 2018;49:603–10.

5.

van den Berg TJ, Spekreijse H. Near infrared light absorption in the human eye media. Vis Res. 1997;37:249–53.

6.

Asano KS, Asaoka R, Asano S, Azuma K, Inoue T, Obata R. Elongated photoreceptor outer segment length and prognosis of chronic central serous chorioretinopathy. Retin. 2020;40:750–7.

7.

Maltsev DS, Kulikov AN, Chhablani J. Topography-guided identification of leakage point in central serous chorioretinopathy: a base for fluorescein angiography-free focal laser photocoagulation. Br J Ophthalmol. 2018;102:1218–25.

8.

Daruich A, Matet A, Dirani A, Bousquet E, Zhao M, Farman N, et al. Central serous chorioretinopathy: recent findings and new physiopathology hypothesis. Prog Retinal Eye Res. 2015;48:82–118.
Ethics declarations
Competing interests
The authors declare no competing interests.
Additional information
Publisher's note Springer Nature remains neutral with regard to jurisdictional claims in published maps and institutional affiliations.
About this article
Cite this article
Maltsev, D.S., Kulikov, A.N. & Kazak, A.A. Photoreceptor outer segment layer contributes to optical coherence tomography signal attenuation beneath neurosensory detachments. Eye (2021). https://doi.org/10.1038/s41433-021-01736-2
Received:

Revised:

Accepted:

Published: