Abstract
Objectives
To investigate the potential association between uveitis and an increased risk of developing inflammatory bowel disease (IBD).
Methods
We conducted a retrospective cohort study by interrogating data from the Taiwan National Health Insurance Research Database entered between January 1, 2001 and December 31, 2013 to identify uveitis patients and age- and gender-matched controls. The cumulative incidence rates of subsequent IBD in the two groups were compared. The adjusted hazard ratio (HR) of IBD related to uveitis was generated by a multivariate cox regression model after adjustment for hypertension, diabetes, hyperlipidaemia, obesity and smoking. Furthermore, the HRs of the Crohn's disease (CD) and ulcerative colitis (UC) IBD subtypes were calculated separately.
Results
A total of 198,923 subjects with uveitis and 397,846 controls were enroled. The mean age of the cohort was 47.7 ± 18.9 years. A significantly higher cumulative incidence of IBD was found in the uveitis group than in controls (4.13% vs. 1.48%, p < 0.0001). Under univariate cox regression analysis, uveitis patients had a significantly higher risk of IBD (HR = 1.47; 95% confidence interval (CI): 1.43–1.52, p < 0.0001). The association remained significant in the multivariate regression model, with an adjusted HR of 1.44 (95% CI: 1.39–1.49, p < 0.0001). Moreover, in subgroup analysis, uveitis was significantly associated with an increased risk of Crohn's disease (adjusted HR = 1.49; 95% CI: 1.44–1.54), but not with ulcerative colitis (adjusted HR = 1.03; 95% CI: 0.92–1.15).
Conclusions
Patients with uveitis are at significantly greater risk of developing IBD than individuals without uveitis.
Access options
Subscribe to Journal
Get full journal access for 1 year
$119.00
only $9.92 per issue
All prices are NET prices.
VAT will be added later in the checkout.
Tax calculation will be finalised during checkout.
Rent or Buy article
Get time limited or full article access on ReadCube.
from$8.99
All prices are NET prices.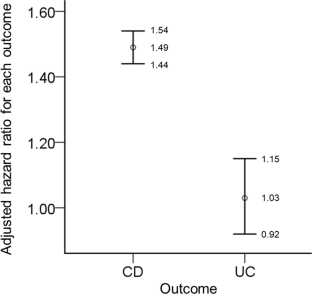 References
1.

Rosenbaum JT. Uveitis in spondyloarthritis including psoriatic arthritis, ankylosing spondylitis, and inflammatory bowel disease. Clin Rheumatol. 2015;34:999–1002.

2.

Egeberg A, Khalid U, Gislason GH, Mallbris L, Skov L, Hansen PR. Association of psoriatic disease with uveitis: a Danish nationwide cohort study. JAMA Dermatol. 2015;151:1200–5.

3.

Chi CC, Tung TH, Wang J, Lin YS, Chen YF, Hsu TK, et al. Risk of uveitis among people with psoriasis: a nationwide cohort study. JAMA Ophthalmol. 2017;135:415–22.

4.

Lyons JL, Rosenbaum JT. Uveitis associated with inflammatory bowel disease compared with uveitis associated with spondyloarthropathy. Arch Ophthalmol. 1997;115:61–4.

5.

Greuter T, Vavricka SR. Extraintestinal manifestations in inflammatory bowel disease - epidemiology, genetics, and pathogenesis. Expert Rev Gastroenterol Hepatol. 2019;13:307–17.

6.

Argollo M, Gilardi D, Peyrin-Biroulet C, Chabot JF, Peyrin-Biroulet L, Danese S. Comorbidities in inflammatory bowel disease: a call for action. Lancet Gastroenterol Hepatol. 2019;4:643–54.

7.

Roberts H, Rai SN, Pan J, Rao JM, Keskey RC, Kanaan Z, et al. Extraintestinal manifestations of inflammatory bowel disease and the influence of smoking. Digestion. 2014;90:122–9.

8.

Vavricka SR, Brun L, Ballabeni P, Pittet V, Prinz Vavricka BM, Zeitz J, et al. Frequency and risk factors for extraintestinal manifestations in the Swiss inflammatory bowel disease cohort. Am J Gastroenterol. 2011;106:110–9.

9.

Vavricka SR, Schoepfer A, Scharl M, Lakatos PL, Navarini A, Rogler G. Extraintestinal manifestations of inflammatory bowel disease. Inflamm Bowel Dis. 2015;21:1982–92.

10.

Mintz R, Feller ER, Bahr RL, Shah SA. Ocular manifestations of inflammatory bowel disease. Inflamm Bowel Dis. 2004;10:135–9.

11.

Ghanchi FD, Rembacken BJ. Inflammatory bowel disease and the eye. Surv Ophthalmol. 2003;48:663–76.

12.

Troncoso LL, Biancardi AL, de Moraes HV Jr, Zaltman C. Ophthalmic manifestations in patients with inflammatory bowel disease: a review. World J Gastroenterol. 2017;23:5836–48.

13.

Yilmaz S, Aydemir E, Maden A, Unsal B. The prevalence of ocular involvement in patients with inflammatory bowel disease. Int J Colorectal Dis. 2007;22:1027–30.

14.

Lanna CC, Ferrari Mde L, Rocha SL, Nascimento E, de Carvalho MA, da Cunha AS. A cross-sectional study of 130 Brazilian patients with Crohn's disease and ulcerative colitis: analysis of articular and ophthalmologic manifestations. Clin Rheumatol. 2008;27:503–9.

15.

Felekis T, Katsanos K, Kitsanou M, Trakos N, Theopistos V, Christodoulou D, et al. Spectrum and frequency of ophthalmologic manifestations in patients with inflammatory bowel disease: a prospective single-center study. Inflamm Bowel Dis. 2009;15:29–34.

16.

Das KM. Relationship of extraintestinal involvements in inflammatory bowel disease: new insights into autoimmune pathogenesis. Digestive Dis Sci. 1999;44:1–13.

17.

Salmon JF, Wright JP, Murray AD. Ocular inflammation in Crohn's disease. Ophthalmology. 1991;98:480–4.

18.

Bandyopadhyay D, Bandyopadhyay S, Ghosh P, De A, Bhattacharya A, Dhali GK, et al. Extraintestinal manifestations in inflammatory bowel disease: Prevalence and predictors in Indian patients. Indian J Gastroenterol. 2015;34:387–94.

19.

Zippi M, Corrado C, Pica R, Avallone EV, Cassieri C, De Nitto D, et al. Extraintestinal manifestations in a large series of Italian inflammatory bowel disease patients. World J Gastroenterol. 2014;20:17463–7.

20.

Cury DB, Moss AC. Ocular manifestations in a community-based cohort of patients with inflammatory bowel disease. Inflamm Bowel Dis. 2010;16:1393–6.

21.

Veloso FT, Carvalho J, Magro F. Immune-related systemic manifestations of inflammatory bowel disease. a prospective study of 792 patients. J Clin Gastroenterol. 1996;23:29–34.

22.

Biedermann L, Renz L, Fournier N, Rossel JB, Butter M, Bluemel S, et al. Uveitis manifestations in patients of the Swiss Inflammatory Bowel Disease Cohort Study. Ther Adv Gastroenterol. 2019;12:1756284819865142.

23.

Aletaha D, Epstein AJ, Skup M, Zueger P, Garg V, Panaccione R. Risk of developing additional immune-mediated manifestations: a retrospective matched cohort study. Adv Ther. 2019;36:1672–83.

24.

Hsieh CY, Su CC, Shao SC, Sung SF, Lin SJ, Kao Yang YH, et al. Taiwan's national health insurance research database: past and future. Clin Epidemiol. 2019;11:349–58.

25.

Sairenji T, Collins KL, Evans DV. An update on inflammatory bowel disease. Prim Care. 2017;44:673–92.

26.

Bradburn MJ, Clark TG, Love SB, Altman DG. Survival analysis part II: multivariate data analysis-an introduction to concepts and methods. Br J Cancer. 2003;89:431–6.

27.

Jones M, Fowler R. Immortal time bias in observational studies of time-to-event outcomes. J Crit Care. 2016;36:195–9.

28.

Hwang DK, Chou YJ, Pu CY, Chou P. Epidemiology of uveitis among the Chinese population in Taiwan: a population-based study. Ophthalmology. 2012;119:2371–6.

29.

Pasvol TJ, Horsfall L, Bloom S, Segal AW, Sabin C, Field N, et al. Incidence and prevalence of inflammatory bowel disease in UK primary care: a population-based cohort study. BMJ Open. 2020;10:e036584.

30.

Chou JW, Lai HC, Chang CH, Cheng KS, Feng CL, Chen TW. Epidemiology and clinical outcomes of inflammatory bowel disease: a hospital-based study in central Taiwan. Gastroenterol Res Pr. 2019;2019:4175923.

31.

Kaplan GG, Ng SC. Understanding and preventing the global increase of inflammatory bowel disease. Gastroenterology. 2017;152:313–21.

32.

Kaplan GG. The global burden of IBD: from 2015 to 2025. Nat Rev Gastroenterol Hepatol. 2015;12:720–7.

33.

Siak J, Jansen A, Waduthantri S, Teoh CS, Jap A, Chee SP. The pattern of uveitis among Chinese, Malays, and Indians in Singapore. Ocul Immunol Inflamm. 2017;25:S81–93.

34.

Llorenç V, Mesquida M, Sainz de la Maza M, Keller J, Molins B, Espinosa G, et al. Epidemiology of uveitis in a Western urban multiethnic population. The challenge of globalization. Acta Ophthalmol. 2015;93:561–7.

35.

Yeung IY, Popp NA, Chan CC. The role of sex in uveitis and ocular inflammation. Int Ophthalmol Clin. 2015;55:111–31.

36.

Nien CW, Lee CY, Chao SC, Hsu HJ, Huang JY, Yeh CB, et al. Effect of uveitis on the development of keratopathy: a population-based cohort study. Investigative Ophthalmol Vis Sci. 2018;59:5053–9.

37.

Muhammad FY, Peters K, Wang D, Lee DJ. Exacerbation of autoimmune uveitis by obesity occurs through the melanocortin 5 receptor. J Leukoc Biol. 2019;106:879–87.

38.

Yuen BG, Tham VM, Browne EN, Weinrib R, Borkar DS, Parker JV, et al. Association between smoking and uveitis: results from the pacific ocular inflammation study. Ophthalmology. 2015;122:1257–61.

39.

Roesel M, Ruttig A, Schumacher C, Heinz C, Heiligenhaus A. Smoking complicates the course of non-infectious uveitis. Graefes Arch Clin Exp Ophthalmol. 2011;249:903–7.

40.

Huang WS, Tseng CH, Chen PC, Tsai CH, Lin CL, Sung FC, et al. Inflammatory bowel diseases increase future ischemic stroke risk: a Taiwanese population-based retrospective cohort study. Eur J Intern Med. 2014;25:561–5.

41.

Yarur AJ, Deshpande AR, Pechman DM, Tamariz L, Abreu MT, Sussman DA. Inflammatory bowel disease is associated with an increased incidence of cardiovascular events. Am J Gastroenterol. 2011;106:741–7.

42.

Mahid SS, Minor KS, Soto RE, Hornung CA, Galandiuk S. Smoking and inflammatory bowel disease: a meta-analysis. Mayo Clin Proc. 2006;81:1462–71.

43.

Wang P, Hu J, Ghadermarzi S, Raza A, O'Connell D, Xiao A, et al. Smoking and inflammatory bowel disease: a comparison of China, India, and the USA. Digestive Dis Sci. 2018;63:2703–13.

44.

Thomas T, Chandan JS, Li VSW, Lai CY, Tang W, Bhala N, et al. Global smoking trends in inflammatory bowel disease: a systematic review of inception cohorts. PloS One. 2019;14:e0221961.

45.

Das KM, Vecchi M, Sakamaki S. A shared and unique epitope(s) on human colon, skin, and biliary epithelium detected by a monoclonal antibody. Gastroenterology. 1990;98:464–9.

46.

Stolwijk C, van Tubergen A, Castillo-Ortiz JD, Boonen A. Prevalence of extra-articular manifestations in patients with ankylosing spondylitis: a systematic review and meta-analysis. Ann Rheum Dis. 2015;74:65–73.

47.

Juanola X, Loza Santamaría E, Cordero-Coma M. Description and prevalence of spondyloarthritis in patients with anterior uveitis: the SENTINEL Interdisciplinary Collaborative Project. Ophthalmology. 2016;123:1632–6.

48.

Martin TM, Smith JR, Rosenbaum JT. Anterior uveitis: current concepts of pathogenesis and interactions with the spondyloarthropathies. Curr Opin Rheumatol. 2002;14:337–41.

49.

Craven M, Egan CE, Dowd SE, McDonough SP, Dogan B, Denkers EY, et al. Inflammation drives dysbiosis and bacterial invasion in murine models of ileal Crohn's disease. PloS One. 2012;7:e41594.

50.

Boorom KF, Smith H, Nimri L, Viscogliosi E, Spanakos G, Parkar U, et al. Oh my aching gut: irritable bowel syndrome, Blastocystis, and asymptomatic infection. Parasit Vectors. 2008;1:40.

51.

Hugot JP, Alberti C, Berrebi D, Bingen E, Cézard JP. Crohn's disease: the cold chain hypothesis. Lancet. 2003;362:2012–5.

52.

Akiho H, Yokoyama A, Abe S, Nakazono Y, Murakami M, Otsuka Y, et al. Promising biological therapies for ulcerative colitis: a review of the literature. World J Gastrointest Pathophysiol. 2015;6:219–27.

53.

Elson CO, Cong Y, Weaver CT, Schoeb TR, McClanahan TK, Fick RB, et al. Monoclonal anti-interleukin 23 reverses active colitis in a T cell-mediated model in mice. Gastroenterology. 2007;132:2359–70.

54.

Targan SR, Karp LC. Defects in mucosal immunity leading to ulcerative colitis. Immunological Rev. 2005;206:296–305.
Acknowledgements
We would like to acknowledge National Health Insurance Research Database for all these data for research.
Funding
This work was supported by the Taichung Veterans General Hospital [grant number TCVGH-1106901B].
Ethics declarations
Competing interests
The authors declare no competing interests.
Additional information
Publisher's note Springer Nature remains neutral with regard to jurisdictional claims in published maps and institutional affiliations.
About this article
Cite this article
Lo, TC., Chen, YY. & Chen, HH. Risk of inflammatory bowel disease in uveitis patients: a population-based cohort study. Eye (2021). https://doi.org/10.1038/s41433-021-01645-4
Received:

Revised:

Accepted:

Published: