Abstract
Background/objectives
Strabismus surgery training has historically focussed on the "see one, do one and teach one" approach. Simulation training offers an alternative to practice surgical skills without direct patient involvement. However, current simulation models for strabismus surgery are limited due to concerns regarding use of animal or human tissue and financial cost limiting practice. Our aim was to build and validate a low-cost model for obtaining the core skills required in strabismus surgery.
Subjects/methods
A low-cost strabismus model was developed using commercially available materials. Ophthalmic trainees, fellows and consultants were surveyed using a questionnaire to assess the realism and training utility of the model using a five-point Likert scale (1 = unacceptable, 2 = poor, 3 = acceptable, 4 = favourable and 5 = excellent) whilst simulating a horizontal muscle resection task.
Results
Forty-two ophthalmologists completed the questionnaire. The model scored highly for muscle securing and suturing (median: 4.00) and suturing. Muscle dissection and conjunctiva were considered poor (median: 3.00, 2.50, respectively). Overall, participants felt that the model simulated strabismus surgery well (median: 4.00) and was comparable to other dry simulation models (median: 4.00).
Conclusion
Our study describes a favourable training model that can be used for independent practice of core strabismus surgical techniques. However, it remains a technical challenge to replicate certain ocular anatomy using commercially available materials.
Access options
Subscribe to Journal
Get full journal access for 1 year
$499.00
only $41.58 per issue
All prices are NET prices.
VAT will be added later in the checkout.
Rent or Buy article
Get time limited or full article access on ReadCube.
from$8.99
All prices are NET prices.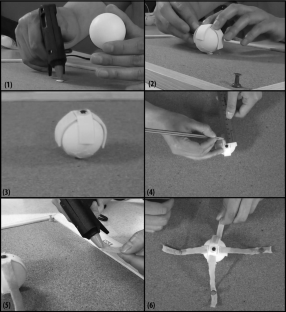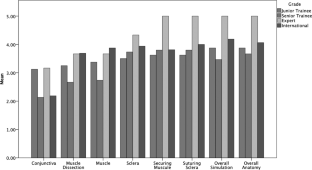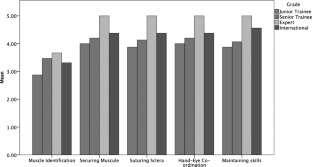 References
1.

Royal College of Ophthalmology Ophthalmic Specialist Training Curriculum. https://www.rcophth.ac.uk/curriculum/ost/faqs/. Accessed 16 Jul 2019.

2.

Kotsis SV, Chung KC. Applications of see one, do one, teach one concept in surgical training. Plast Reconstr Surg. 2013;131:1194–201.

3.

Royal College of Ophthalmology Ophthalmic Specialist Training Assessments. https://www.rcophth.ac.uk/curriculum/ost/assessments/. Accessed 16 Jul 2019.

4.

Hoffman J, Spencer F, Ezra D, Day AC. Changes in UK Ophthalmology Surgical training: analysis of cumulative surgical experience 2009-2015. BMJ Open. 2017;7:e018526.

5.

Ezra DG, Chandra A, Okhravi N, Sullivan P, McDonnel P, Lee J. Higher surgical training in ophthalmology: trends in cumulative surgical experience 1993–2008. Eye. 2010;24:1466–73.

6.

Kim Y, Kim YG, Kim HJ, Shin JH, Han SB, Lee SJ, et al. Learning curves for strabismus surgery in two ophthalmologists. Indian J Ophthalmol. 2015;63:821–4.

7.

Crespi-Flores VG, Minguini N, Temporini ER, De Carvalho KM. Strabismus surgery learning for ophthalmology resident of university service. Arq Bras Oftalmol. 2012;75:188–91.

8.

McCannel CA. Simulation surgical teaching in ophthalmology. Ophthalmology. 2015;122:2371–2.

9.

Schout BMA, Hendrikx AJM, Scheele F, Bemelmans BLH, Scherpbier AJJA. Validation and implementation of surgical simulators: a critical review of present, past and future. Surg Endosc. 2010;24:536–46.

10.

Selvander M, Åsman P. Virtual reality cataract surgery training: learning curves and concurrent validity. Acta Ophthalmol. 2012;90:412–7.

11.

Belyea DA, Brown SE, Rajjoub LZ. Influence of surgery simulator training on ophthalmology resident phacoemulsification performance. J Cataract Refract Surg. 2011;37:1756–61.

12.

Thomsen AS, Subhi Y, Kiilgaard JF, Cour ML, Konge L. Update on simulation-based surgical training and assessment in ophthalmology. Ophthalmology. 2015;122:1111–30.

13.

White CA, Wrzosek JA, Chesnutt DA, Enyedi LB, Cabrera MT. A Novel method for teaching key steps of strabismus surgery in the wet lab. J AAPOS. 2015;19:470–3.

14.

M Malik, et al. Jain Free Eye Model, YoutTube. 2018. https://www.youtube.com/watch?v=PHGZnPZDdEY.

15.

Gavazzi A, Bahsoun AN, Haute WV, Ahmed K, Elhage O, Jaye P, et al. Face, content and construct validity of a virtual reality simulator for robotic surgery (SEP Robot). Ann R Coll Surg Engl. 2011;93:15426–60.

16.

Simulated Ocular Surgery. http://simulatedocularsurgery.com/product/strabismus-eye-basic/. Accessed 16 Jul 2019.

17.

Metz HS, Aquaella JV, Sgabelloni CE. A model for eye muscle surgery. Arch Ophthalmol. 1980;98:117–8.

18.

Adebayo T, Abendroth M, Elera GG, Kunselman A, Sinz E, Ely A, et al. Developing and validating a simple and cost-effective strabismus surgery simulator. J AAPOS. 2018;22:85–8.

19.

Bjerrum F, Thomsen ASS, Nayahangan LJ, Konge L. Surgical simulation: current practices and future prospectives for technical skills training. Med Teach. 2018;40:668–75.
Ethics declarations
Conflict of interest
The authors declare that they have no conflict of interest.
Additional information
Publisher's note Springer Nature remains neutral with regard to jurisdictional claims in published maps and institutional affiliations.
Supplementary information
About this article
Cite this article
Malik, M., Shah, N., Kit, V. et al. Development of a low-cost strabismus surgery simulation model. Eye (2020). https://doi.org/10.1038/s41433-020-0966-1
Received:

Revised:

Accepted:

Published: