Abstract
Background/Objectives
To evaluate the clinical efficacy of topical tacrolimus 0.1% and cyclosporine 1% on high-risk penetrating keratoplasty (PKP) patients.
Subjects/Methods
A series of 49 high-risk PKP patients (49 eyes), 20 males, 29 females from the age of 4 months to 74 years of age with the mean of 32.5 from 2012 to 2017 were recruited in this study. The patients were randomly divided into two groups by receiving either topical tacrolimus 0.1% or cyclosporine 1% respectively. Twenty five patients were treated with topical tacrolimus 0.1% and 24 patients with topical cyclosporine 1%. The traditional baseline management on these two groups were Tobramycin and Dexamethasone eye drops in the first 3 weeks and then tapered off. Clinical procedures and postoperative follow-up were documented.
Results
After 6–54 months follow-up, with the average of 24 months, 11 of 24 high-risk patients (11 eyes) had graft rejection, the rejection rate was 45.8% in topical cyclosporine 1% group. The rejections occurred from 35 days to 20 months after PKP. Three patients had irreversible rejection. On topical tacrolimus 0.1% group, the rejection occurred in four patients (four eyes) with rejection rate of 16%, and no irreversible rejection was observed. The graft rejection episodes were documented between 23 days and 24 months. As compared with the topical cyclosporine 1%, topical tacrolimus 0.1%, a key immunosuppressant, significantly decreased corneal graft rejection rate (p = 0.02).
Conclusions
Topical tacrolimus 01% on high-risk PKP patients significantly prevented corneal graft rejection, and it had less adverse effects and was very safe to high-risk patients as to topical cyclosporine 1%. Further case controlled randomized clinical trial studies are needed to establish the best management option for these high-risk patients.
Access options
Subscribe to Journal
Get full journal access for 1 year
$411.00
only $34.25 per issue
All prices are NET prices.
VAT will be added later in the checkout.
Rent or Buy article
Get time limited or full article access on ReadCube.
from$8.99
All prices are NET prices.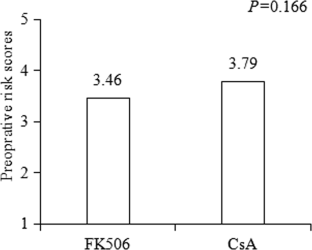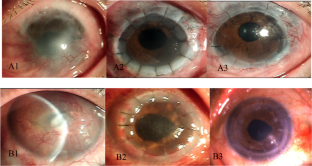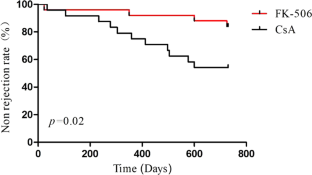 References
1.

Joseph A, Raj D, Shanmuganathan V, Powell RJ, Dua HS. Tacrolimus immunosuppression in high-risk corneal grafts. Br J Ophthalmol. 2007;91:51–5.

2.

Maguire MG, Stark WJ, Gottsch JD, Stulting RD, Sugar A, Fink NE, et al. Risk factors for corneal graft failure and rejection in the collaborative corneal transplantation studies. Collaborative Corneal Transplantation Studies Research Group. Ophthalmology. 1994;101:1536–47.

3.

Hill JC. Systemic cyclosporine in high-risk keratoplasty. Short versus long-term therapy. Ophthalmology. 1994;101:128–33.

4.

Sloper CM, Powell RJ, Dua HS. Tacrolimus (FK506) in the management of high-risk corneal and limbal grafts. Ophthalmology. 2001;108:1838–44.

5.

Magalhaes OA, Marinho DR, Kwitko S. Topical 0.03% tacrolimus preventing rejection in high-risk corneal transplantation: a cohort study. Br J Ophthalmol. 2013;97:1395–8.

6.

Dhaliwal JS, Mason BF, Kaufman SC. Long-term use of topical tacrolimus (FK506) in high-risk penetrating keratoplasty. Cornea. 2008;27:488–93.

7.

Dana MR, Qian Y, Hamrah P. Twenty-five-year panorama of corneal immunology: Emerging concepts in the immunopathogenesis of microbial keratitis, peripheral ulcerative keratitis, and corneal transplant rejection. Cornea. 2000;19:625–643.

8.

Lam H, Dana MR. Corneal graft rejection. Int Ophthalmol Clin. 2009;49:31–41.

9.

Zhu SN, Yamada J, Streilein JW, Dana MR. ICAM-1 deficiency suppresses host allosensitization and rejection of MHC-disparate corneal transplants. Transplantation. 2000;69:1008–1013.

10.

Boisgerault F, Liu Y, Anosova N, Ehrlich E, Dana MR, Benichou G. Role of CD4+ and CD8+ T cells in allorecognition: lessons from corneal transplantation. J Immunol. 2001;167:1891–9.

11.

Hill JC, Maske R. An animal model for corneal graft rejection in high-risk keratoplasty. Transplantation. 1988;46:26–30.

12.

Yuan J, Zhai JJ, Huang X, Zhou SY, Chen JQ. Ocular safety and pharmacokinetics study of FK506 suspension eye drops after corneal transplantation. J Ocul Pharm Ther. 2012;28:153–8.

13.

Coster DJ, Williams KA. The impact of corneal allograft rejection on the long-term outcome of corneal transplantation. Am J Ophthalmol. 2005;140:1112–22.

14.

Griffith BP, Bando K, Hardesty RL, Armitage JM, Keenan RJ, Pham SM, et al. A prospective randomized trial of FK506 versus cyclosporine after human pulmonary transplantation. Transplantation. 1994;57:848–51.

15.

Tamura K, Fujimura T, Iwasaki K, Sakuma S, Fujitsu T, Nakamura K, et al. Interaction of tacrolimus (FK506) and its metabolites with FKBP and calcineurin. Biochem Biophys Res Commun. 1994;202:437–43.

16.

Du S, Hiramatsu N, Hayakawa K, Kasai A, Okamura M, Huang T, et al. Suppression of NF-kappa B by cyclosporin a and tacrolimus (FK506) via induction of the C/EBP family: implication for unfolded protein response. J Immunol. 2009;182:7201–11.

17.

Pleyer U, Lutz S, Jusko WJ, Nguyen KD, Narawane M, Ruckert D, et al. Ocular absorption of topically applied FK506 from liposomal and oil formulations in the rabbit eye. Investig Ophthalmol Vis Sci. 1993;34:2737–42.

18.

Kobayashi C, Kanai A, Nakajima A, Okumura K. Suppression of corneal graft rejection in rabbits by a new immunosuppressive agent, FK-506. Transpl Proc. 1989;21:3156–8.

19.

Mills RA, Jones DB, Winkler CR, Wallace GW, Wilhelmus KR. Topical FK-56 prevents experimental corneal allograft rejection. Cornea. 1995;14:157–60.

20.

Reinhard T, Mayweg S, Reis A, Sundmacher R. Topical FK506 as immunoprophylaxis after allogeneic penetrating normal-risk keratoplasty: a randomized clinical pilot study. Transpl Int. 2005;18:193–7.

21.

Yamazoe K, Yamaguchi T, Omoto M, Shimazaki J. Efficacy and safety of systemic tacrolimus in high-risk penetrating keratoplasty after graft failure with systemic cyclosporine. Cornea. 2014;33:1157–63.

22.

Zhang L, Li S, Zhang N, Bian J, Shi WY. The immunosuppressive activity of tacrolimus eye drops in high-risk corneal transplantation. J Clin Ophthalmol. 2017;25:193–6.

23.

Bachmann B, Taylor RS, Cursiefen C. Corneal neovascularization as a risk factor for graft failure and rejection after keratoplasty. Ophthalmology. 2010;117:1300–5.

24.

Williams KA, Roder D, Esterman A, Muehlberg SM, Coster DJ. Factors predictive of corneal graft survival. Report from the Australian Corneal Graft Registry. Ophthalmology. 1992;99:403–414.

25.

Kamp MT, Fink NE, Enger C, Maguire MG, Stark WJ, Stulting RD. Patient-reported symptoms associated with graft reactions in high-risk patients in the collaborative corneal transplantation studies. Collaborative Corneal Transplantation Studies Research Group. Cornea. 1995;14:43–48.

26.

The Australian Corneal Graft Registry. 1990 to 1992 report. Aust N. Z J Ophthalmol. 1993;21 2 Suppl :1–48.

27.

Khodadoust AA, Silverstein AM. Studies on the nature of the privilege enjoyed by corneal allografts. Investig Ophthalmol. 1972;11:137–48.

28.

Xiang DM, Wang YX, Jia YN, Li SX, Zhai HL, Shi WY, et al. The observation of tacrolimus eye drops preventing the early immunological rejection after penetrating keratoplasty for fungal keratitis. Chin J Ophthalmol. 2017;53:305–10.

29.

Larkin DF. Corneal transplantation for herpes simplex keratitis. Br J Ophthalmol. 1998;82:107–8.

30.

Cobo LM, Coster DJ, Rice NS, Jones BR. Prognosis and management of corneal transplantation for herpetic keratitis. Arch Ophthalmol. 1980;98:1755–9.

31.

Musch DC, Meyer RF. Risk of endothelial rejection after bilateral penetrating keratoplasty. Ophthalmology. 1989;96:1139–43.

32.

Sanfilippo F, MacQueen JM, Vaughn WK, Foulks GN. Reduced graft rejection with good HLA-A and B matching in high-risk corneal transplantation. N. Engl J Med. 1986;315:29–35.

33.

Siekierka JJ, Sigal NH. FK-506 and cyclosporin A: immunosuppressive mechanism of action and beyond. Curr Opin Immunol. 1992;4:548–52.

34.

Geba GP, Ptak W, Askenase PW. Topical tacrolimus and cyclosporin A differentially inhibit early and late effector phases of cutaneous delayed-type and immunoglobulin E hypersensitivity. Immunology. 2001;104:235–42.

35.

Sawada S, Suzuki G, Kawase Y, Takaku F. Novel immunosuppressive agent, FK506. In vitro effects on the cloned T cell activation. J Immunol. 1987;139:1797–803.

36.

Ghaffari R, Ghassemi H, Zarei-Ghanavati M, Latifi G, Dehghani S, Haq Z, et al. Tacrolimus eye drops as adjunct therapy in severe corneal endothelial rejection refractory to corticosteroids. Cornea. 2017;36:1195–9.
Funding
This work was supported by the Bureau of Hebei Science Technology [grant number 182777112D], Shijiazhuang, Hebei, China.
Ethics declarations
Conflict of interest
The authors declare that they have no conflict of interest.
Additional information
Publisher's note Springer Nature remains neutral with regard to jurisdictional claims in published maps and institutional affiliations.
About this article
Cite this article
Zhai, L., Zhang, X., Liu, H. et al. Observation of topical tacrolimus on high-risk penetrating keratoplasty patients: a randomized clinical trial study. Eye (2019) doi:10.1038/s41433-019-0717-3
Received:

Revised:

Accepted:

Published: